New! Phone-friendly work shift sign up.
Our new, responsive calendar and work shift sign up pages are in beta test, and you can help us be sure they are functioning properly. From your mobile device, click
here
to view the calendar and to sign up for a work shift.
News and Information for Members
Notes From The Field
| October 26, 2014
Unpredictable nature of the weather
By Derek McGeehan
It's that time of year when we keep a very close eye on the forecasted temperature lows because there is a cold threshold in the 20s that the vegetables cannot tolerate. It varies between crops. Most roots, because they're close to the warmth of the soil and are protected by their own canopy, tolerate more cold than leaf crops like lettuce and chicories. Salad turnips and daikon radishes, because of their very high water content, are the most susceptible root crop, so must be retrieved from the field before the mid-to-low 20s are reached. Rutabaga and beets seem to be able to tolerate more cold.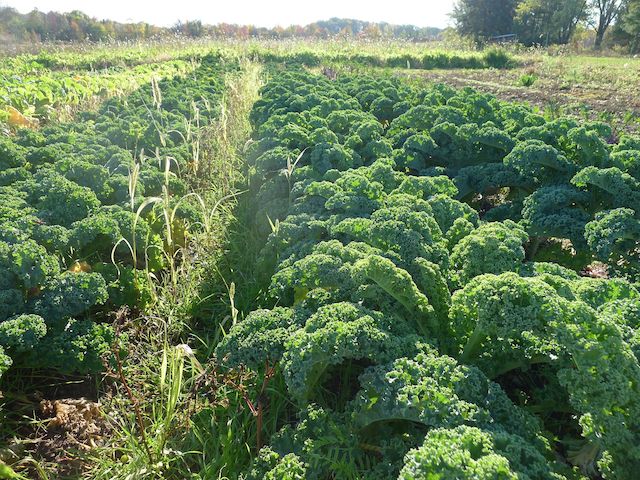 Curly-leaf kale warming up in the morning sun after a cold and frosty night with forecasted lows in the 40s but an actual low of 36.
The aforementioned leaf crops like lettuce and chicory are more susceptible than arugula, broccoli raab, tatsoi, bok choy, kale, collards, and cabbage. These have varying degrees of tolerance as well. Napa Chinese cabbage isn't as tolerant as regular cabbage. Last Monday morning temperatures reached 28 degrees - a week earlier than last year - and we endured a pretty heavy frost. Younger plants tolerated the cold better than the mature ones, probably because the mature plants grew up during more mild weather.
I was fairly surprised to see leaf tip-burn on some of the lettuces and chicories this early in the fall. A consistent inaccuracy in the temperature prediction department of the weather-folks is their inability (or the computer model's inability) to accurately predict the low temperatures achieved in our most local zip code (which is not our mailing zip code of Newtown). Just about every night that I really monitor the lows, basically when they are forecasting the low 40s, we always fall about 5 degrees below the prediction. Hopefully you can see how this really has an affect on the CSA and the tolerance threshold of the crops. One degree or two this time of year could really mean life or death of certain crops and an end to our culinary enjoyment of them until springtime. A slight difference in temperature also means a large difference in workload. It takes about a full day to cover all of the crops with row cover. To really add protection the row cover needs to be raised above the plants with hoops. The barrier of warm air really helps. Plus, with cold and frosty row cover laying directly on the plants, they're still injured. Also, the white fabric tends to reflect the low sun's early warming rays whereas the dark uncovered greens tend to warm up faster. Alas, important choices and decisions need to be made.
October 26, 2014
Registration open for 2014 Winter CSA, 2015 Main Season CSA
By Derek McGeehan
Registration for the 2014 Winter CSA and the 2015 Main Season CSA is available for current farm members on the
Member's Page
of our website. To sign up, simply log in and click on the 'Join' button on the right hand side of the page and follow the few steps. The Winter CSA is a 6-week (for now) season extension CSA with cold hardy greens such as arugula, greens mix, lettuces, chard, chicories, and kale; root crops like radishes, turnips, kohlrabi, rutabaga, and beets; as well as certain storage crops like garlic, winter squash, celeriac, and cabbage. Harvests are very similar to those at the end of the Main Season, and will begin following the final week of the 2014 Main Season, and will run through the last week of December. Pick ups are on Tuesdays from 1-8 PM. The 2015 Main Season CSA should once again last 26 weeks from May to November. Prices for the Main Season, the 12th CSA season, remain unchanged, but we have removed the $5 discount for making one payment instead of two due to some confusion during the sign up process. When you sign up, a $200 deposit or full payment is due to secure your membership. Registration for non-members will begin later in the fall, probably in December. E-mail us if you have any questions.
October 26, 2014
When is the final CSA pick up?
By Derek McGeehan
We're aiming to go through 26 weeks of harvest distribution again this year. Full shares and Week B half shares, your last pick up will either be Monday, November 17, or Thursday, November 20. Week A half shares, your last pick up will either be Monday, November 10, or Thursday, November 13. Let's hope for a mild rest of the season!
October 26, 2014
How did I enjoy my harvest this week?
By Linda Dansbury
I really love this time of the year - cool mornings and warm afternoons, colorful leaves and beautiful sunsets...and amazing food from the farm. Please share some of your ideas with me at
lindadansbury@Comcast.net
Tomatoes, onions, garlic, spaghetti squash - made another batch of tomato sauce with my late tomatoes. I have one more batch to make today. I served it over spaghetti squash.
Broccoli, cauliflower, leeks, garlic, potatoes - roasted in oven. Veggies really are delicious this way.
Fennel, chives - a recipe we made had as a topping for fish a fennel salad that was so simple and yet delicious on its own. Shave the fennel using a mandoline, add chopped fresh chives, salt and pepper to taste, good quality olive oil, and the recipe called for white Spanish anchovies, but knowing it would be difficult to get those locally, I used a can of Italian tuna. For our purposes I only used a bit of the tuna. But I plan on having a couple of nice lunches this week with this use of the fennel and the rest of the tuna. Happy for this discovery!
Fennel, leeks, garlic - made broth to cook clams. Good bread to dunk in the broth while eating the clams is a must have.
Custom greens mix - as with the fennel above, this idea came from a cookbook and was a salad to accompany the rest of the meal. The recipe called for purple mizuna - again, not easy to find, but the custom mix from the farm was perfect. The dressing was Asian flavored: simmered shitake mushroom stems in a mix of sherry, sherry vinegar, soy sauce, fish sauce, tamari, and siracha. Once reduced, removed stems and placed in blender with a bit more sherry vinegar and canola oil and eggs to make an emulsion. It was different and very delicious.
Endive, leeks, parsley - I came down with a bad cold this week, so made my delicious chicken soup. And since I had the nice head of endive, I added some of that near the end of the cooking to boost the healthy quotient up even higher!
Broccoli raab, hot pepper, garlic
- made the
Broccoli Raab and White Bean
dish I added last week. Ate it as a main course with a nice piece of crusty bread and a big salad.
Cauliflower, leeks, thyme, parsley - made a pot of cauliflower soup using the same method I described last week. This is so delicious, warm, and healthy; as creamy as it comes out, it does not use any cream or butter, unlike many veggie cream soups.
October 26, 2014
The chicory family
By Linda Dansbury
Here at the farm, chicory means mostly endive/frisse and escarole, with a bit of radicchio in the mix as well. Many people think of these as bitter greens and don't believe they like them very much. My German grandmother used to make salads using either endive or escarole; she used to soak the escarole in warm water to remove some of the bitterness. She then made a simple dressing of red wine vinegar, neutral oil, pepper and celery salt and chopped some fresh parsley into the mix. The salad would be served alongside rich tasting stews or roast turkey or chicken. The slight bitterness was a wonderful contrast to the richness of the rest of the meal. On the other side of my heritage, my Italian grandmother would braise the escarole with tomatoes, which she grew in her garden, and then generously grate cheese over. I grew up eating a wonderful soup called Escarole Soup - most today know it as Italian Wedding Soup, and it often has spinach in it, but I always make it with escarole.
In thinking about what to recommend today, I looked at the recipes on the website, and realized there aren't that many recipes for these wonderful, versatile greens. If you are a winter share holder, you will be seeing a lot of these through the rest of this share season and the winter share, because they do withstand colder temperatures than the other lettuces.
These lettuces pair really well with other fall ingredients: nuts, pears and apples, strong cheeses such as blue. If you have a favorite way of preparing chicories, please send it to me at
lindadansbury@Comcast.net
. For this week, I am adding Braised Escarole/Endive and Tomatoes. It also has chickpeas in it, which I really enjoy. This reminds me of the dish my grandmother made, and since I still have garden tomatoes that I need to use, I will be using those instead of the canned ones in the recipe. Enjoy your healthy harvest.