New! Phone-friendly work shift sign up.
Our new, responsive calendar and work shift sign up pages are in beta test, and you can help us be sure they are functioning properly. From your mobile device, click
here
to view the calendar and to sign up for a work shift.
News and Information for Members
Notes From The Field
| September 28, 2014
Continued almost-perfect weather
By Derek McGeehan
Last week we began harvesting our best-ever broccoli, two early varieties of fall cabbage, beautiful fennel bulbs, and some succulent kohlrabi. For much of this season when I've harvested nice-looking, tender, and large produce, I wonder where the crops found enough water to satisfy their demands. It really blows my mind how without any irrigation most of these fall crops seemed to fulfill their potential while receiving, on average, a half inch of rain a week during August and September.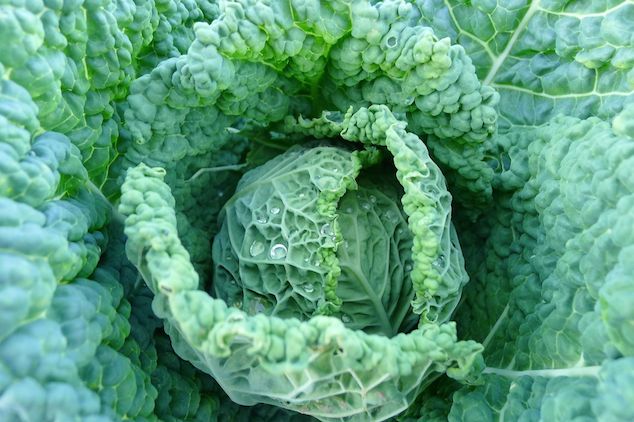 Savoy cabbage forming a nice head of curly and crunchy leaves. Originally almost wiped out by flea beetles after transplanting, fall cabbage is now looking awesome. Best ever?
I think it has to do with many variables successfully coinciding: cooler than average temperatures, fields that face north, reduced tillage, organic matter in the soil. It is also eye-opening to think about how much water these plants actually need, which is not much, at least this season. During this same time period in 2011 we received 24 inches of rain, 20 more than this year. Somehow crops survived that deluge too, but not all made it through. I remember losing our broccoli, cauliflower, cabbage, sweet potatoes, and probably others to Irene and Lee, but that only accounted for half of the 24 inches. Twelve more inches fell from purely wetter weather. Somehow we squeezed our September 24th wedding in there on a nice day, but with 2 inches of rain the night before, from just a passing storm. Is there a pattern to these weather extremes or is it just randomness? Surely we are thankful for the mostly good last 3 seasons, 2012, '13, and '14. The harsh long winter we endured over half a year ago fortunately killed off a lot of invasive crop-destroying bugs such as the harlequin bug. This pest loves to feed on the sap of plants just below the surface rather than eating holes in leaves the way caterpillars and flea beetles do. Without their profusion, our fall cabbage, broccoli, kale, cauliflower, and other brassica family plants are very happy and really flowing.
September 28, 2014
Registration open for 2014 winter CSA, 2015 main season CSA
By Derek McGeehan
Registration for the 2014 Winter CSA and the 2015 Main Season CSA is available for current farm members on the
Member's Page
of our website. To sign up, simply log in and click on the 'Join' button on the right hand side of the page and follow the few steps. The Winter CSA is a 6-week (for now) season extension CSA with cold hardy greens such as arugula, greens mix, lettuces, chard, chicories, and kale; root crops like radishes, turnips, kohlrabi, rutabaga, and beets; as well as certain storage crops like garlic, winter squash, celeriac, and cabbage. Harvests are very similar to those at the end of the Main Season, will begin following the final week of the 2014 Main Season, and will run through the last week of December. Pick ups are on Tuesdays from 1-8 PM. The 2015 Main Season CSA should once again last 26 weeks from May to November. Prices for the Main Season, the 12th CSA season, remain unchanged, but we have removed the $5 discount for making one payment instead of two due to some confusion during the sign up process. When you sign up, a $200 deposit or full payment is due to secure your membership. Registration for non-members will begin later in the fall, probably in December. E-mail us if you have any questions.
September 28, 2014
Several ways to enjoy the abundant broccoli
By Linda Dansbury
In talking with Derek, it looks like we have a few weeks of broccoli coming and they are large beautiful heads. In addition to the most common cooking methods of steaming or boiling, or enjoying raw with your favorite dip, broccoli is delicious in other ways as well. Try it roasted alone, or with the addition of garlic and/or and other veggies. Roast until slightly tender and browned on the edges. Either zest a bit of lemon or squeeze a bit of lemon juice, mix and serve with or without grated parmesan cheese on the top. Yum! Or try
Sauteed Leeks and Broccoli
. Check out the website for a couple of salad ideas too and enjoy the delicious, nutritious and abundant broccoli.
September 28, 2014
An end of summer member recipe
By Linda Dansbury
If you are like me, you still have tomatillos in your refrigerator. We have received more tomatillos in this year's harvest than I can ever remember. Frankly I have been getting a little tired of making salsa. Although I am sure this winter I will really enjoy eating what I have frozen. Fellow CSA member, Carole Dicicco, sent me a recipe for
Tamale Pie
. I made it this past week and it is really good. It is adaptable to ingredients you like and/or have on hand. It also cooks in a single skillet resulting in very easy clean-up.
Remember, if you have any ideas, questions or recipes, please email me at lindadansbury@comcast.net.
September 28, 2014
How did I enjoy my harvest this week?
By Linda Dansbury
I had a very busy work week, but I did manage to squeeze in some cooking. Here is how I enjoyed some of my harvest this past week:
Eggplant, tomatoes, onions, peppers
- I made a large (double) batch of
Caponata
this past week. There are 2 recipes on the website for Caponata, which is basically the Italian version of the French
Ratatouille
.
I actually prefer the flavorings of caponata because there are not many other dishes I prepare that have the briny flavoring that the capers and olives provide in this dish.
Tomatillos, onions, cilantro, hot pepper -
Made the
Tamale Pie
sent to me by member Carole Dicicco. It was really tasty. I substituted the lima beans with green beans, because I had them from my own garden.
Tomatoes - had a tomato and mozzarella salad.
Spaghetti squash, tomatoes, garlic, Swiss chard -
made the
Spaghetti Squash with Sauteed Tomatoes and Basi
l
that is on the website. I used parsley instead of the basil and added Swiss chard. I also sautéed a few shrimp. This made a very delicious meal.
I hope you are enjoying the transition from summer to fall veggies.