Work shift sign up
Important:
Users must first
log in
to sign up for work shifts.
View our calendar to sign up in one of two convenient formats:
Click / tap the
icon next to the shift you are interested in working. A list of those associated with your share appears.
Click / tap the
icon next to the name of each person working the shift.
A box appears around the name of the each person who is signed up. Next to the name, a
icon appears to remove the name if necessary, and a
icon appears to allow the person who has signed up to add a guest.
When the shift leader logs the hours you have worked in our system, the hours will appear in the left column of this page under "Work Requirements and History."
News and Information for Members
Notes From The Field
| October 4, 2015
A Cold Wet Fortunate Week
By Derek McGeehan
This season we've been very lucky with the weather, mostly tolerating what we've been dealt. It's been dry, yes, but we haven't had any major deluges or extreme weather events. This past Wednesday and Thursday, though, the forecast was dire and it could have given us our worst weather of the year. We skated by, though, with a total of 2.6 total inches of rain last week which will probably be soaked up and distributed fairly quickly, considering how dry it has been. I feel sorry for the Carolinas right now knowing that if the farm received what they're getting we'd probably be done for. I hope they get through it okay.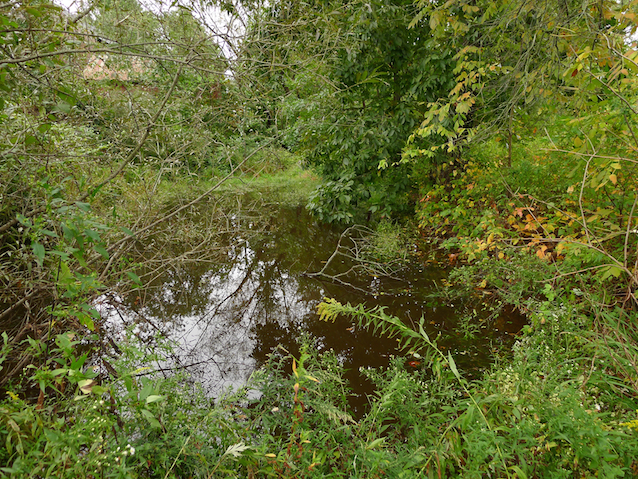 Water in the pond was an unfamiliar sight this season but I'm sure there are creatures and plants that are thrilled to have the water once again.
The cold wet week allowed a bit of a respite from physical work, after the initial rain event Tuesday night. Prior to that we sowed what could be the last of the cover crops for the year. We put oats down where we're planning to grow spring and early summer crops because the oats die in the winter leaving the soil ready for us in the spring. We put a mix of oats, rye, and red clover down in an area where we're planning to enter a fallow period. The rye will survive the winter and add tremendous organic matter while the red clover, as a short-lived perennial, will persist for a few years, covering the soil, adding organic matter and nitrogen, and will allow for monthly mowing during the growing season. We also hosted a class from Delaware Valley University, sharing our farming experience and knowledge with aspiring students of the land. I can talk about farming all day long, but it is hard to find a receptive and captive audience. These kids hopefully will take something away from their time here. Either way, the farm overall and specifically all of the crops looked nice so at least they had a day outside observing plant beauty.
October 4, 2015
Workshifts This Week
Potential work this week includes removing fabric ground cover and staples as well as harvesting crops. Sweet potatoes, beets, and celeriac are at the top of the list.
If you're not planning to contribute labor this season, please send your $15 per missed work hour check made payable to "Anchor Run CSA" as soon as possible (half share - $60, full share - $120). This fills out the balance of your share cost.
Workshifts are scheduled as follows:
Tuesday 10am-12pm
Wednesday 10am-12pm
Friday 10am-12pm
Saturday 8-10am (garlic splitting in the barn for physically limited folks)
Sunday 8-10am
October 4, 2015
2015 Winter Share
By Derek McGeehan
The Winter CSA will officially begin on Tuesday, November 17th. This is the Tuesday right after the 26th and final week of the Main Season CSA. Pick ups will run 1-8pm. The share of produce will be very similar to what you receive the last few weeks of the Main Season and may include potatoes, winter squash, arugula, kale, sweet potatoes, garlic, radishes, turnips, chard, beets, kohlrabi, cabbage, napa cabbage, lettuce, celeriac, and rutabaga. Due to a forecast of a warmer autumn we're looking forward to an extension of greens outside of the high tunnel, similar to 2012. However, forecasts change and oftentimes are incorrect; then we rely more on roots and storage crops. This year we're pleased to offer half shares that pick up every other week. Prices are the same as last year, $200 for a full share and $110 for a half share.
October 4, 2015
How I enjoyed my harvest this week
By Linda Dansbury
Another busy week, but I did manage to cook some things and I also had forgotten to mention something I made last week. Send how you enjoyed your harvest to lindadansbury@comcast.net and please put Anchor Run in the title.
Broccoli, carrots, onions, herbs - made broccoli soup. We ate some of it and froze the rest.
Tomatoes, garlic, cilantro - made a Spanish cold soup called Salmarejo that I learned from a guest that stayed with us. It is so simple and amazingly delicious. It is really for next season at this point, but I am posting it so I can remember it - plus, I did use farm garlic and cilantro.
Kale, Swiss chard, leeks, onions, carrots, tomatoes, garlic - made the soup I described last week but this week I added some ground pork from my Ledamete Grass share and white beans. It was delicious and it kept us up to date with using those delicious greens.
October 4, 2015
Butternut squash, caluiflower and mixed greens
By Linda Dansbury
Anchor Run grows a wide variety of winter squash. I haven't focused on them much except for spaghetti squash which I really like when served with an uncooked tomato sauce, because they keep so well.
To some extent, the winter squashes are interchangeable - butternut, acorn, and pumpkins are especially so because both the color of the flesh and the tastes are similar. Many recipes specify a certain type, but you can use whatever you have on hand. The delicata and dumplings have a more mild, nutty flavor than the others, and at least to me, are best simply roasted and eaten so their subtle flavors come through.
Cauliflower is delicious and can be used in so many ways: raw; roasted either alone or along with other veggies such as leeks, potatoes, broccoli, winter squash and of course garlic and herbs; boiled, and mashed. Enjoy the fresh taste of the just harvested farm cauliflower.
Mixed greens are one of my favorites from the farm (among so many other veggies). They are tender enough to add to salads - I like adding some of the leaves to the more mild lettuces for an added "punch". They are also sturdy enough to cook - stir frying and sauteing work very well because their flavors still come through.