Displaying a Single Post |
Show Recent Posts
March 31, 2017
CSA Information and Reminders
Other News
- A $200 deposit is due when you sign up to secure your share (also confirms your interest)

- CSA Open House and New Member Orientation 10am-2pm Sunday May 7th with field/u-pick and barn/pick-up tours on the hour and half hour, respectively, with a total of 4 tours of each (so you only really need to hang out for about an hour; more information will follow)

- Work hour opportunities will probably begin in mid-April. Look for an e-mail from us announcing a schedule.
-
CSA pick up will probably begin either Monday May 15th or Monday May 22nd, depending on the spring weather.
When you signed up for your share you selected a pick-up day;
log in
to check your selection if you've forgotten. If you're a half share owner and are a returning member you'll have the same pick up week as last year; if you're a new half share owner you'll be assigned Week A or Week B before the season begins.
Log in
to check your week, too.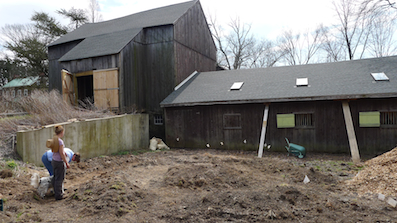 Field Manager/Crew Leader Hannah, her mom Becky, and farm dog Borchie brainstorm and assess new flower garden and CSA member habitat outside of pick up room.