Displaying a Single Post |
Show Recent Posts
April 30, 2017
Pertinent CSA Information
Other News
- A $200 deposit is due when you sign up to secure your share (also confirms your interest)
-
CSA share balance is due by May 1st
-
Log in to check your balance
. If you've only just joined and submitted your deposit, please remit the balance by the middle of May if possible.
- Work hour opportunities will begin soon. Look for an e-mail from us announcing a schedule. We normally spend a lot of time in April cleaning up the strawberry and carrot patches, but this year the strawberry patch is almost perfectly weed free and the carrots are a little behind schedule due to the wet weather.
-
CSA pick up will probably begin Monday May 22nd
, depending on the weather over the next few weeks. When you signed up for your share you selected a pick-up day;
log in
to check your selection if you've forgotten. If you're a half share owner and are a returning member you'll have the same pick up week as last year; if you're a new half share owner you'll be assigned Week A or Week B before the season begins.
Log in
to check your week, too.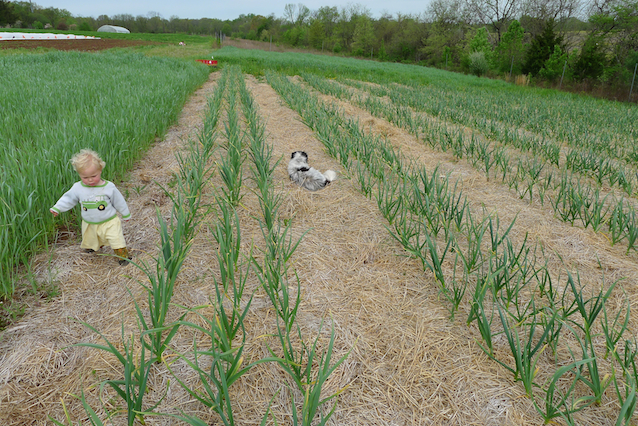 The garlic patch looks great this year and didn't mind all of the moisture!