In the heat of the summer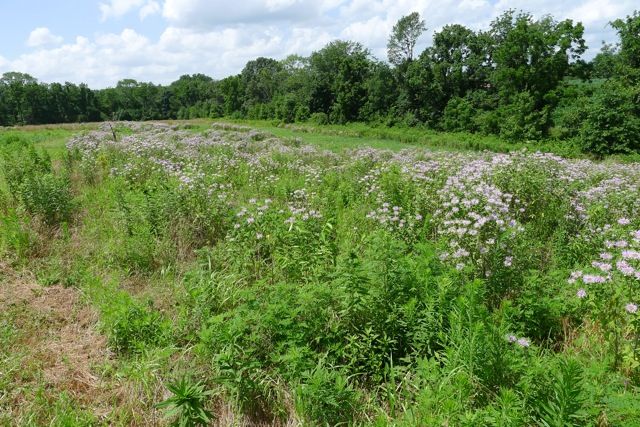 Bee balm flowering in the .8 acre pollinator habitat sown two winters ago.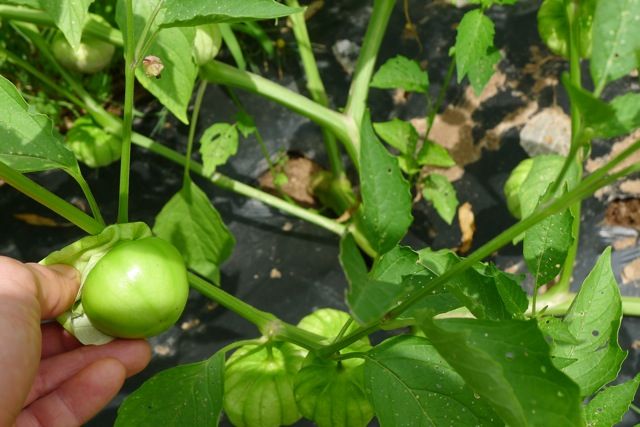 Tomatillos bursting out of their husks, perfect timing for Salsa Verde.
News
Notes From The Field
Fruits a-ripening
By Dana Hunting
After some evasive thunderstorms passed us by most of last week, despite promising forecasts, we finally enjoyed some substantial rainfall over the weekend amounting to about 1.7 inches.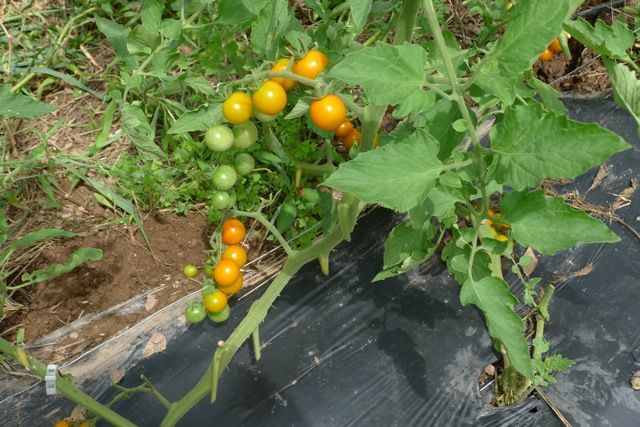 Sungold cherry tomatoes are gold when ripe and ready for the picking!
This pleasant soaking filled up the pond and gave the crops enough of a drink to stave off irrigating for another week or so, just in time to help them through the heat wave expected for most of this week. The farm crew will also be consuming vast quantities of water to replenish liquids lost through physical exertion in this heat and subsequent perspiration.
There's no denying we're in the middle of summer now and subject to the joys and other, sometimes more difficult to perceive as joyous, experiences of the season. But the heat and sun that can seem oppressive and taxing are the same conditions that coax tomatoes, peppers, melons and others to maturity. This recent increase in temperatures has brought on the cherry tomatoes, which will be u-pick starting this week. Hooray! There are a smattering of varieties in the u-pick cherry tomato patch, and each looks uniquely different from another when ripe. They are not all just red when ready to pick. Colors that indicate ripeness include: yellow, gold, red, deep pink and peach. Try them all, the differences in flavors are spectacular. If the heat is keeping you from the u-pick treats in the field, consider coming in the morning or evening when temperatures are more tolerable. Cherry tomato, cucumber and basil salad anyone? See you out there!
Expected Harvest
Green garlic, 'new' potatoes, cherry tomatoes
By Dana Hunting
Included in harvest #9 should be: 'new' potatoes (uncured and need to be refrigerated), green garlic (also uncured and needs to be refrigerated), scallions, cucumbers, summer squash, fennel (last week until the fall!), eggplant, green and purple bell peppers, lettuce, okra, cabbage and beets. Some items listed will be a choice. U-pick will include: yellow wax beans, tomatillos, cherry tomatoes, Italian and other basils, parsley, cilantro, dill, and flowers. Half shares, this is Week A.
New crops this week: new potatoes and fresh garlic
By Linda Dansbury
It is that time of year when new potatoes and fresh garlic make their appearance, which is great. They both have to be stored in the refrigerator because they haven't been "hardened off" so they will not store at room temperature. Keep them each in plastic bags in the fridge where they will keep for at least a couple of weeks. These potatoes are best used simply boiled with butter or olive oil and herbs added after cooking, or made into potato salad, because they are not as starchy as the potatoes that are best for baking or mashing. They also have a high water content so won't crisp up as much in roasting or fries. As for the garlic - beware! It is much stronger than the garlic you have been buying in the supermarket because it is so fresh! Enjoy them both.
Member ideas and new recipe
By Linda Dansbury
Judy Reed took the time to email me a recipe for beet soup. I can say I haven't ever made beet soup, but intend to try it as it does sound delicious. Judy's recipe is similar to one that is already on the website, only a bit more complicated -- based on our exchange of emails, I know Judy is an accomplished cook, so since the one on the site is more simple, I will leave it as is - if you are interested in trying the one Judy sent me, which uses a roux as a thickening agent rather than adding a potato, I would be happy to send it along to you - just email me.
Now that tomato season is starting up, Judy also sent me one of the ways she makes tomato salad: tomatoes, sweet onions, feta cheese, olive oil and balsamic vinegar, salt, pepper, and oregano. Very similar to the salad I make. After eating the salad, be sure to dunk a nice hunk of bread into the dressing left on your plate - and in the bottom of the bowl - it is delicious!
This week I have added a recipe for Quinoa Tabbouleh. I really like taboulleh and normally make it a couple of times during the summer when I have a lot of parsley. Here is a version that uses quinoa rather than the traditional wheat which boosts the protein content and makes it gluten free. Our harvests contain all of the veggie ingredients needed - cucumbers, tomatoes, scallions, parsley and mint.
How did I enjoy my harvest this week?
By Linda Dansbury
Wow! So many veggies to use right now - and so many ways to use them. It is sometimes difficult to decide on what to make! Let me know how you enjoy your harvest at
lindadansbury@comcast.net
Fennel - quartered them, leaving the core in tact, brushed with olive oil and added salt and pepper. Grilled them until brown on all sides and then moved them to indirect heat and cooked until nice and soft. Served along grilled pork chops.
Beets -- roasted the beets and made a beet salad, using the vinaigrette I described a couple of weeks ago. Served on a bed of endive lettuce and topped with goat cheese and toasted almonds. I blanched and froze my beet greens in the method that Mandy sent to me recently.
Dandelion, radicchio and endive greens -- made the Tortellini, beans and greens recipe on the web site. It is delicious and easy - a one pot meal.
Zucchini -- I grilled them all up in a couple different batches - some I served to friends with a very light drizzle of balsamic vinegar right before serving. The rest we just ate right off the grill - delicious.
Cucumbers -- I have been cutting one up every day to have along with lunch. I also cut them up and added to salads. I made a couple of cucumber salads as well.
Beans -- steamed and had some of them plain; some I dipped in hummus as a snack. I am hoping to go do u-pick tomorrow and then make a green bean salad.
Lettuce - beside salads, I used some of these sturdy leaves as a wrap of sorts - spread hummus and then added sliced cucumbers and folded and then just ate it - it was a really good, crunchy snack.
Can't wait to grill up the eggplants and peppers from this week!


Recipes
V Quinoa Tabbouleh
From Bon Appetit; June 2012; serves 6. Ready in under 30 minutes
1 cup quinoa, rinsed well
1/2 teaspoon kosher salt plus more
2 tablespoon fresh lemon juice
1 garlic clove, minced
1/2 cup extra-virgin olive oil
Freshly ground black pepper
1 large or 2 small cucumbers, cut into 1/4" pieces
1 pint cherry tomatoes, halved
2/3 cup chopped flat-leaf parsley
1/2 cup chopped fresh mint
2 scallions, thinly sliced
Bring quinoa, 1/2 teaspoon salt, and 1 1/4 cups water to a boil in a medium saucepan over high heat. Reduce heat to medium-low, cover, and simmer until quinoa is tender, about 10 minutes. Remove from heat and let stand, covered, for 5 minutes. Fluff with a fork.
Meanwhile, whisk lemon juice and garlic in a small bowl. Gradually whisk in olive oil. Season dressing to taste with salt and pepper.
Spread out quinoa on a large rimmed baking sheet; let cool. Transfer to a large bowl; mix in 1/4 cup dressing. Do Ahead: Can be made 1 day ahead. Cover remaining dressing and quinoa separately; chill.
Add cucumber, tomatoes, herbs, and scallions to bowl with quinoa; toss to coat. Season to taste with salt and pepper. Drizzle remaining dressing over.