Another successful season...
An elderly oats, daikon radish, buckwheat, and crimson clover cover crop sown in the middle of August enters the twilight of its pre-winter life.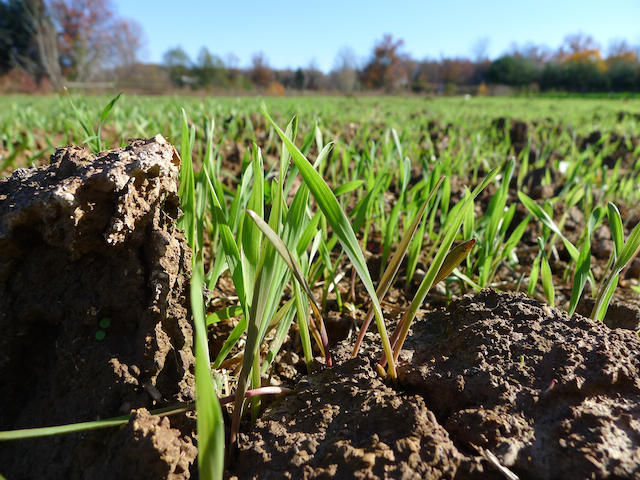 An elderly oats, daikon radish, buckwheat, and crimson clover cover crop sown in the middle of August enters the twilight of its pre-winter life.
News
Notes From The Field
The Final Harvest Week Of 2015
By Derek McGeehan
We made it! Here we are entering the final pick up week of the 2015 and 12th overall season of Anchor Run CSA. Twenty-six weeks, half a year, of produce harvested and distributed to you, our shareholders, our farm members. We thank you immensely for your membership and support. Without you we wouldn't be able to successfully operate a functioning CSA farm. We love the CSA model and believe it truly benefits farmers and members equitably. All of the dollars you invest in us and the farm are returned directly to you in the form of nutritious, non-certified-organically-grown, chemical-free, healthy, tasty produce. We don't sell our/your produce at farmers markets, wholesale, or to restaurants; you receive the bounty only, which to us is a true model of a CSA and one that shouldn't be confused with operations that sell everywhere. I think it is fair to make the distinction because, nowadays, you have many options for purchasing produce and we thank you for your continued support.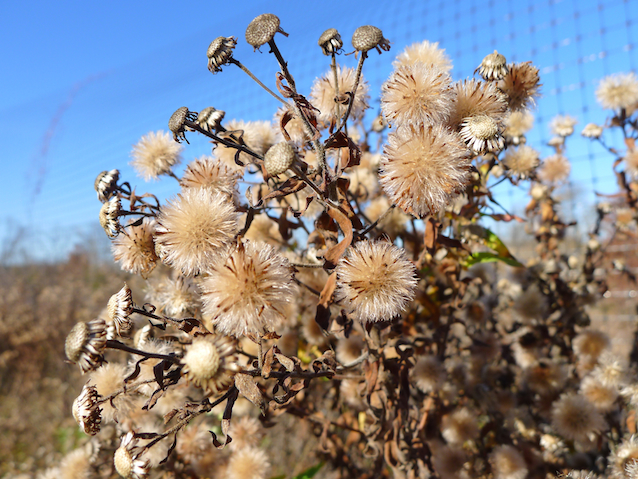 Desiccated New England Aster seeds are ready for dispersal or consumption by wildlife over the winter months.
But what takes place on the farm these days? We're mainly harvesting for pick ups and cleaning up the fields of supplies and temporary infrastructure. The pace is less harried and daylight keeps our days shorter. Soon, we'll embark on plans and purchasing seeds and supplies for next season, but we have most of the winter to undertake those tasks. Soon, we'll be enjoying the pace of the Winter CSA with one pick up a week, no weeds or bugs to contend with, and fewer overall folks to harvest for. Come the New Year, our physical tasks will be over - assuming winter truly arrives - and we'll spend most of our time indoors. However, to keep a clear mind, we'll still engage with the outside world by cleaning out invasive plants and vines, splitting wood, and cleaning/organizing the barn. Much time will be spent going through our records and making plans for next year. We'll update our crop rotation and get ready to contribute to the changing farmscape. For now, we'll enjoy the end of another season. Thank you!
Expected Harvest
The Last One
By Derek McGeehan
Harvest #26 (Week B) should include potatoes, sweet potatoes, kale, garlic, leeks, onions, escarole, bok choy, winter squash, lettuces, tatsoi, cauliflower, fennel, cabbage, napa cabbage, and radishes. There will be choices. U-pick should include herbs.
Workshifts Over For Season
By Derek McGeehan
Workshifts have ended for the year. If you weren't able to finish your hours, please send your $15 per missed work hour check made payable to "Anchor Run CSA" as soon as possible (half share - $60, full share - $120). This fills out the balance of your share cost and saves us the need to contact you for payment.
2015 Winter Share
By Derek McGeehan
The Winter CSA will begin on Tuesday, November 17th, 1-8pm, for Full Shares and Week A Half Shares. Week B Half Shares begin Tuesday, November 24th. The season runs for 6 weeks through the week of December 20th. (Half share folks, we will try to keep your same Week A/B designation you had for the Main Season). CSA members can still sign up for a winter share but we do need payment by Friday, November 13th, to confirm our harvest numbers. Prices are the same as last year, $200 for a full share and $110 for a half share. New this year are string construction lights to get you safely from the parking lot to the barn; a project on our to-do list for years. Six more weeks of harvest sounds great to me!
2016 CSA
By Derek McGeehan
Sign up now and submit full payment or a $200 deposit to secure your share of the 2016 harvest. We're looking forward to another great season next year and plan to implement more improvements to make your CSA experience even better. Season details and updates will be forthcoming in subsequent farm correspondence over the winter. Happy holidays and happy hibernation.
How I enjoyed my harvest this week
By Linda Dansbury
This is the time of year in which emails from food websites, magazines, and catalogs all give constant reminders of the upcoming holidays. I don't know if it is because of the weather change and the local foods that are now available or all the recipes I see for festive recipes but I do find myself looking forward to many of those foods. Here is a sample of what we enjoyed this past week:
Fennel, leeks, tomatoes, garlic, herbs
- made fish soup, and the tomatoes are not a mistake - I had cut up and froze some tomatoes when we were receiving so many, so I added them to this soup. It was delicious!
Delicata squash, sage - for guests, roasted delicatas and made the brown butter with sage to pour on top of them. Guests loved them.

Onion, garlic, potatoes, herbs - made a large pot of venison stew. I froze some of it and we are making more today - it is great for a football Sunday!

Cauliflower, kale, garlic - I tried a new dish this week, Sauteed Kale and Broccoli with Toasted Garlic Butter. It was really good and somewhat different than anything I have made. The recipe sounds a bit complicated, however is simple - and I used cauliflower instead. It turned out really well and is worthy of a Thanksgiving table with guests! I have added it to the website this week.
Salads - a note on salads. I have been adding either endive, escarole, arugula to our salads, and so have been adjusting the dressing to accommodate the more robust greens. Lemon juice, honey, slivered toasted almonds, pecans, goat or feta cheese, dried cranberries, and soon pomegranite seeds - I add one or a couple to the dressing and as salad toppings - most of these just seem like too much in the middle of summer.

Thank you members
By Linda Dansbury
This is the last pick up week for the 2015 regular Anchor Run season - I am always amazed at how fast the season flies by! I met so many amazing new members this year - both in person and via email. It is so nice to meet so many like minded people interested in their food sourcing.
I received more emails with ideas and suggestions than any previous season and I thank all of you that took the time to write. It truly demonstrates the community of Anchor Run - your wonderful recipes and ideas - those found on line, the recipes you came up with on your own, and of course the handed down through generations recipes. I am always excited to receive your emails.
Again, thank you and I look forward to hearing from you again next year!
Member ideas and suggestions
By Linda Dansbury
This week I received a follow-up email to the write up I did on pickled beets from Janine Lazur. Grace Niederriter sent me the following email and I can't wait to make beets again and try some of her family's take on pickled beets:
"I was schooled on pickling beets by my grandmother and, like Janine's and your mom, she cooked by look, feel, taste and "that looks like enough." We make some variations on the basic recipe I thought I'd share with you.
This time of year, I always throw in a cinnamon stick, whole cloves and a dash of either ground nutmeg or dried ground ginger - gives them a wonderful spice twist that pairs well with autumn foods.

In the summer, we like to add some heat - any kind of dried chilies will accomplish this. My husband has been experimenting with curry and prefers to use a hot version when pickling - surprisingly tasty especially when eggs are pickled this way.

We also like to reduce the sugar by at least half and toss in Vidalia or other sweet onions sliced thick.

I use them (both beets and eggs) in salads and as stand alone sides. My sons love the pickled eggs as snacks."

Thank you Grace! Can't wait to try your variations.
Recipes
Sauteed Kale and Broccoli/Cauliflower with Toasted Garlic Butter
From Eating Well Magazine. Ready in about 45 minutes. Serves 6 as written.
1 bunch kale, preferably lacinato
1/2 cup water, divided
1 large head broccoli or cauliflower trimmed and cut into florets (about 6 cups)
2 Tablespoons extra-virgin olive oil, divided
2 Tablespoons unsalted butter
2 cloves garlic, thinly sliced
dash of crushed red pepper, plus more for garnish - if desired
1/4 teaspoon fine sea salt
Maldon sea salt (optional)
Remove tough stems and ribs from kale; coarsely chop the greens. Cook the kale in 1/4 cup water in a large skillet over medium-high heat, covered, until barely tender, 2 to 3 minutes. Transfer to a colander. Cook broccoli/cauliflower the same way with the remaining 1/4 cup water. Transfer the kale to a large bowl; drain the broccoli/cauliflower in the colander. Wipe the pan dry.
Heat 1 tablespoon oil in the pan over medium-high heat. Add the kale and cook, stirring often, until tender and browned in spots, 4 to 6 minutes. Transfer to the bowl. Heat the remaining 1 tablespoon oil in the pan. Add the broccoli and cook, stirring often, until tender and browned in spots, 4 to 6 minutes. Transfer to the bowl.
Heat butter, garlic and crushed red pepper in the pan over medium heat until the butter is melted. Cook, stirring constantly, until the garlic is light brown, 1 to 2 minutes. Drizzle the butter over the vegetables and sprinkle with 1/4 teaspoon salt; gently toss to combine. Serve topped with a sprinkling of Maldon sea salt and crushed red pepper, if desired.