A Sunny Autumn Harvest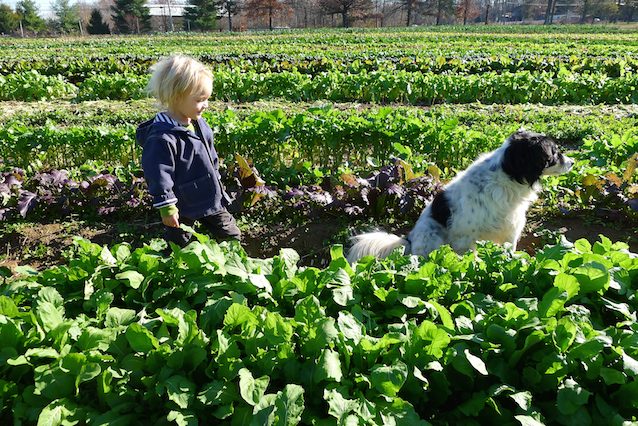 While harvesting, a wonderful perk occurs when Gabe and Borci entertain each other. Here, it appears that Gabriel is getting ready to investigate Borci's tail, which Borci will be less appreciative of.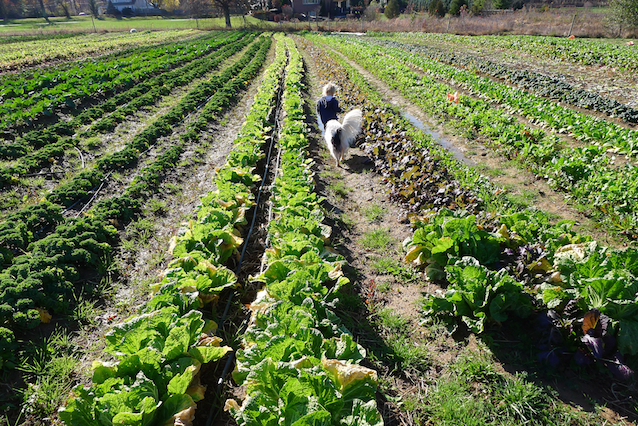 Trained to remain in the walking aisles, farm dog Borci follows farm child Gabe. As you can see a lot of vegetables remain in the field: collards, kale, napa cabbage, bok choy, greens mix, arugula.

News
Notes From The Field
Cold Heading Our Way
By Derek McGeehan
The deepest cold of the season thus far is forecast for early this week, followed by a return to above average temperatures. It will be interesting to observe what the actual low bottoms out at here at the farm; normally we're below the forecasted low. We will also be wondering if the next magical temperature threshold will be passed - about 25 degrees - where mildly sensitive cold hardy crops with a higher water content are damaged. I think they'll be okay. Soon it will be December and by then only the toughest and strongest should survive anyway. Plus, having a reduced footprint to think and worry about is always a slight relief.
I'm still measuring rainfall at the farm, which feels rare for this late in the season. I normally cease when we either begin to receive snow and/or frequent heavy frost or I mentally feel tractor work is completed for the season. I must still be holding out for some final flail mowing and light tillage of some fall crops to either break up the pest cycle or get a jump on spring growing. That last part I really don't want to fully acknowledge now because it is way too early to begin thinking about the next growing season. Of course pretty soon we will fully embrace planning and preparing for next year by buying seeds, ordering supplies, updating our crop rotation and planting schedules, as well as finalizing our CSA plans and employment needs. For now, though, we're thankful for the 1.2 inches of rainfall, bright starry night skies, drying wind, continued harvests, and of course family time. Happy Thanksgiving!
Expected Harvest
Another Week of Thanks
By Derek McGeehan
Winter Harvest #2 (Week B) should include potatoes, sweet potatoes, winter squash, garlic, radicchio, kale, arugula, butterhead lettuce, celery, cauliflower, fennel, cabbage, onions, and radishes. Some items will be a choice. U-pick should include herbs.
Happy Thanksgiving
By Linda Dansbury
It is no mystery why the Thanksgiving pictures on TV and magazines show so much of what is in the harvest room these weeks - even though the days are short and the nights chilly, there is an abundance of locally grown food that is available at this time of the year.
This past week I roasted different combo's of our fall veggies, always including leek or onion, garlic, and herbs. Easy, pretty and, of course, delicious! I also made a frittata using a combo I hadn't in the past: leeks, locally foraged maitake mushroom, cauliflower and greens - I wasn't sure how this would all come together, but it was yummy!
I was just reading a food section article in which the author makes a wild mushroom and sage stuffing for Thanksgiving - it incorporates a bit of fennel and celery - I have never seen a stuffing(dressing) recipe that includes fennel, but since we have beautiful fennel from the farm right now, I think I will be trying it!
If you have the time to try a new salad recipe using the escarole that you have received or will be receiving, try the Escarole Salad with Burnt Orange that I am adding today - it takes a bit of extra time, but does taste delicious and it is a nice complement to the rich foods of Thanksgiving and Christmas.
Safe travels to those that are leaving the area for the holiday and Happy Thanksgiving to all - I know that one of the many, many things I am thankful for is the wonderful food the Anchor Run farmers and employees are providing for us!
Recipes
V Escarole and Burnt Orange Salad
From Eatingwell.com; serves 6. Ready in about 45 minutes but 20 minutes are inactive time.
1 sprig fresh rosemary
2 Tablespoons honey
1/4 cup extra-virgin olive oil
1 1/2 Tablespoons cider vinegar
1 Tablespoon fresh orange juice
1 Tablespoon minced shallot(or onion)
1/4 teaspoon fine sea salt
2 small oranges, peeled and cut crosswise into 4 thick slices
8 cups torn escarole (about a head)
1/4 cup slivered almonds, toasted
Coarsely crush or chop rosemary and place in a small saucepan. Just pound the rosemary - chopping it up makes it impossible to get out of the cooled honey! Add honey and bring to a boil over medium heat. Remove from heat and let steep for 30 minutes. Meanwhile, whisk oil, vinegar, orange juice, shallot and salt in a large bowl until combined.
Strain the rosemary from the honey and pour the honey into a large cast-iron or nonstick skillet. Bring to a boil over medium-high heat. Add orange slices and cook until they just start to brown, about 3 minutes. Carefully turn the slices over and cook for another 3 minutes. Remove the orange slices to a plate. Whisk the honey and juice from the pan into the dressing in the large bowl.
Add escarole to the dressing and toss well to coat. Serve the salad topped with the oranges and sprinkled with almonds.