Harvesting at the End of November
While grandparents watch the kids, Dana makes a triumphant and happy return to getting her hands dirty, harvesting butterhead lettuce that has been protected under our heaviest cover.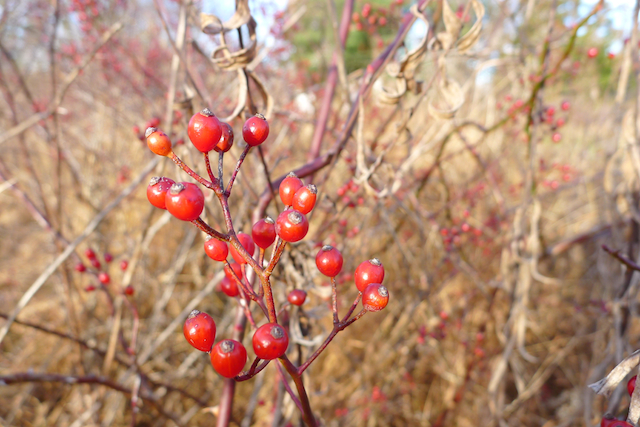 Invasive and unfriendly, multiflora rose at least provides food for wildlife through the dark and cold time of year.
News
Notes From The Field
Into December We Go
By Derek McGeehan
December arrives this week with a continued forecast of above average and mild temperatures. We're definitely not complaining because it is wonderful to continue harvesting fresh crops from the fields. Some crops that we've been seeing for a while come to an end this week: cauliflower, radicchio, probably sweet potatoes. A few crops make a triumphant return, too: greens mix, collards, beets. The kale you'll be receiving this week is the curly leaf variety that is harvested with one cut on the stem. Most of the cold hardy crops that have survived this far into the season that remain unprotected (curly and russian kale, collards, napa cabbage, regular cabbage, rutabaga, turnips, radishes) appear to be set to make it into January. The greens mix this week comes from the high tunnel. This crop, when mature, doesn't tolerate low temperatures as well as the arugula and kale that it shares the space with so we're harvesting it now while it looks perfect. Next week we'll start on the arugula in there, too, after we finish the patch that remains in the field. We hope all of you had a nice Thanksgiving!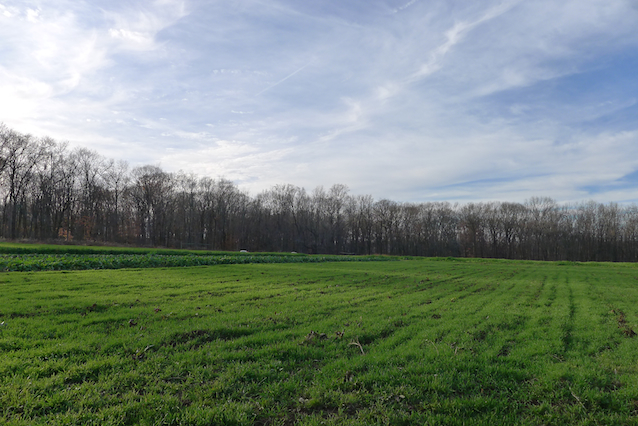 A big sky and a protective winter rye and hairy vetch cover crop, a scene from late fall.
Expected Harvest
A Return of Beets, Mix, Collards
By Derek McGeehan
Winter Harvest #3 (Week A) should include potatoes, winter squash, beets, arugula, kale, butterhead lettuce, radicchio, garlic, cauliflower, sweet potatoes, cabbage, fennel, greens mix, and collards. Some items will be a choice. U-pick should include herbs.
A Thankful Thanksgiving
By Linda Dansbury
I hope everyone had a wonderful Thanksgiving - I did. Of the many things I am thankful for is the wonderful produce we continue to enjoy this late in the year - fresh young kale, lettuces, squash and potatoes, and so much more, and a variety each week!
Thanksgiving had me making two new dishes with our bountiful harvest: a wonderful roasted squash and a cauliflower. Each was able to have most of the prep work completed ahead of time and then just finished right before eating. I hope you enjoy them.
Recipes
Skillet Roasted Cauliflower with Panko
From Bon Appetit. Serves 4. I prepared the panko and pine nuts ahead and chopped the mint. Also had the cauliflower all cut up and ready to go. I did not use the peppers and it was still enjoyed by all.
2 Tablespoons pine nuts
2 Tablespoons vegetable oil, divided
¼ cup panko (Japanese breadcrumbs)
1 large head of cauliflower, cut into florets with some stalk attached
Kosher salt, freshly ground pepper
1 garlic clove, finely grated
2 Tablespoons unsalted butter
2 Tablespoons thinly sliced pickled red peppers (such as Peppadew)
¼ ounces Parmesan, finely grated
3 Tablespoons finely chopped fresh mint

Toast pine nuts in a large skillet over medium-high heat, tossing often, until golden brown, about 2 minutes. Transfer to a small bowl.
 Heat 1 Tbsp. oil in same skillet and cook panko, tossing often, until golden brown, about 3 minutes. Add to bowl with pine nuts; wipe out skillet.

Heat remaining 1 Tbsp. oil in same skillet and cook cauliflower, tossing occasionally, until browned but not cooked through, 10–12 minutes. Season with salt and pepper and add ¾ cup water. Cook until cauliflower is crisp-tender and water has evaporated, 10–12 minutes. 

Add garlic, butter, and pickled peppers to cauliflower and cook, tossing, until butter is melted and garlic and pickled peppers are fragrant, about 2 minutes. Remove from heat and mix in pine nuts and panko, Parmesan, and mint; season with salt and pepper.

V Roasted Winter Squash with Crispy Bulghur Crumbs
From Food and Wine. Serves 8 as a side dish. Ready in about 45 minutes but most of the time is inactive.
One 2-pound kabocha squash—scrubbed, halved, seeded and cut into 1-inch wedges
5 Tablespoons extra-virgin olive oil
Kosher salt
Pepper
1/2 cup medium-grade bulgur (1 1/4 cups cooked)
1 Tablespoon coriander seeds, crushed
2 scallions, thinly sliced
Preheat the oven to 450°. On a baking sheet, toss the squash with 3 tablespoons of the olive oil and season with salt and pepper. Roast for about 20 minutes, until tender. Transfer to a platter.
Meanwhile, in a medium saucepan of boiling water, cook the bulgur until tender, about 10 minutes. Drain and pat dry.
In a skillet, heat the remaining 2 tablespoons of oil. Add the bulgur and cook over moderate heat, stirring, until golden and crispy, about 12 minutes. Stir in the coriander seeds. Sprinkle the bulgur over the squash and garnish with the scallions.