End of the Year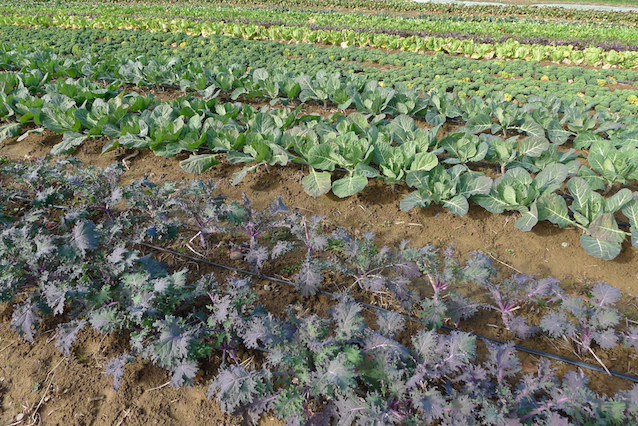 Fall and winter greens red russian kale, collards, ripbor kale, napa cabbage, greens mix, bok choy, tatsoi, and more contentedly await future harvest and the first hard freeze.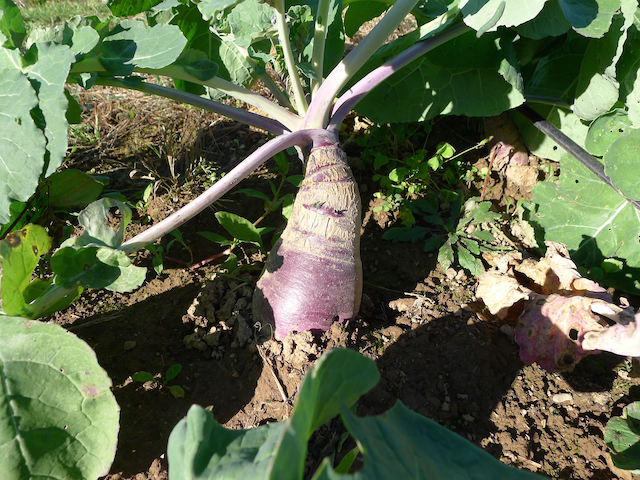 This beautiful specimen is the extremely cold hardy rutabaga which we hope to give out for many weeks in January and February.
News
Notes From The Field
At The Winter Solstice
By Derek McGeehan
As we approach the winter solstice it almost feels like winter is actually arriving this weekend, but next week temperatures are supposed to climb right back up into the 60s. I'm basically used to the balmy weather now and easily forget what time of year it is. For example, last night a low of 28 degrees was forecast and I was thinking about shutting the drop down sides of the high tunnel. I quickly forgot to do so, hopefully because I haven't had to shut it in about a month. I woke up suddenly this morning around 5am realizing I forgot, raced out to the tunnel with a headlamp expecting to see cold and frozen greens, but was welcomed by perky and happy kale and arugula. I shut it anyway just to be safe, but then noticed one of our young barn chickens was missing so the warm and fuzzy feeling evaporated with another concern. Now that it is actually light out hopefully she'll come out of hiding.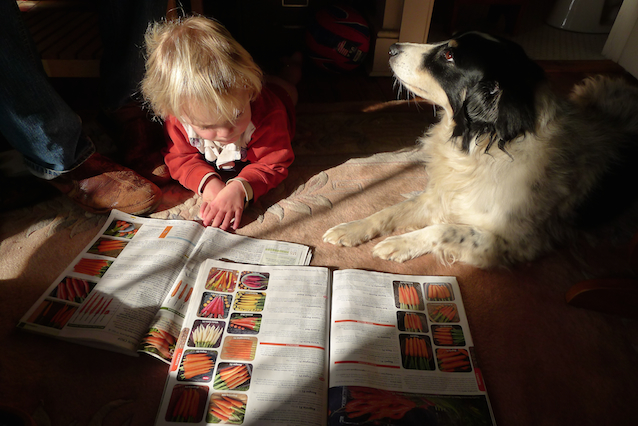 Gabe and Borci ponder the many carrot varieties to choose from. Required qualities for us to grow: tolerate heavy soil; strong tops to ease harvest; sweet, great flavor; organic, non-GMO; and around 6" long.
Coinciding with the solstice this week is our 32nd and final harvest pick up of 2015. Thirty-two weeks sounds like a long time and takes us all the way back to May. It has been a fun, challenging, rewarding, edible ride and now we can look forward to 2016. Our work is starting to reflect the change of seasons and years; we're beginning our seed order and starting to think about our crop plans for next year as well as interviewing and hiring our farm crew. Working on the seed order is a mostly pleasant job. It involves dreaming about a perfect season with perfect growing conditions and nice, bountiful harvests. We have to temper unrealistic expectations (like carrots in the share every week) but really realistically brainstorm ways to improve (like having carrots in the share for perhaps 8, 10, or 12 weeks). We need to decide what no one but us and maybe a few other members enjoy eating (like dandelion greens) and ask ourselves "is it worth growing?". How do we improve the share and fully satisfy our CSA members? Does everyone like this or should it be a choice? Should we try spinach again? What do members really want each week? How can we please everyone? Are the shares too big? It is the time of year to dream, because, in theory, this is when we make most of our decisions for the following season. Ah, those airbrushed and enhanced veggies in the catalogues look so appealing, but do they taste good? Thanks everyone for another great year!
Expected Harvest
32nd Week of Harvesting
By Derek McGeehan
Winter Share #6 (Week B) should include potatoes, butternut, kohlrabi, garlic, turnips, kale, arugula, spinach, collards, napa cabbage, radishes, and celeriac. Some items will be a choice.
Another Season Extension
By Derek McGeehan
Due to the mild fall and winter we still have an abundance of crops to harvest fresh on the farm including several varieties of kale, arugula, greens mix, collards, napa and regular cabbage, tatsoi, bok choy, rutabaga, radishes, and turnips as well as storage crops like potatoes, garlic, celeriac, beets, turnips, radishes, rutabaga, and kohlrabi. We're also excited about cut-and-come-again greens like spinach, mix, raab, arugula, and kale. Nothing improves the sweet flavor of vegetables like the cold of fall and winter!
We are planning to offer CSA shares on a weekly basis throughout the rest of the winter until we run out of produce or temperatures drop low enough to actually end the growing season. Shares will cost $30 per week and need to be paid for when you pick up your produce (cash or check payable to Anchor Run CSA only). On the weekend prior to each pick up we will e-mail you what is in the expected harvest and you will have to respond by 12am midnight Monday if you want a share that week.
This will give us great experience with growing and distributing produce throughout the winter months (and into spring?) and move us closer to fulfilling our dream of a year round CSA. The pick up day will be Wednesdays 1-8pm and the first share will be January 6th. Shares will include fresh greens and roots and storage roots and tubers and should include around 10 items or 10 pounds of produce. Your comments or suggestions are welcome.
Member ideas and suggestions
By Linda Dansbury
I was so excited to see Nancy Wasch's email to me this week saying that she is enjoying her winter share! She sent me a variation of a recipe that is on this site and what she did with it sounds great - we will probably make it for Christmas Eve or Christmas Day - it will be simple enough to put together quickly, different than what folks are used to having and, most importantly, delicious!
Nancy has done what I have always hoped the abundance of recipes on this site would do for people - provide a guide or template for how to use your veggies. Recipes are great, but so often we don't have every ingredient that a recipe calls for, so using the method and adjusting to what you have on hand, often yields something more interesting and tasty than the original recipe! Here is Nancy's note:
I also did a spin on your potato-celeriac gratin (on the web site already) that was a huge hit with my garden club. I used a combination of all the root vegetables and tubers I had at the time, which included celeriac, kohlrabi, potato, sweet potato and butternut squash. I did not use flour, since we have some in the group who do not tolerate gluten. I used freshly grated grana padana instead of gruyere. The layered variety of vegetables was fantastic. It took quite a while to cook, and it was even better after sitting in the fridge overnight (the veggies absorbed more of the sauce).

Recipes
Potato-and-Celeriac Gratin (Cooking Light)
Cooking spray
2 garlic cloves, halved
1 small celeriac (celery root), peeled (about 1 1/2 pounds)
2 pounds Yukon gold or red potatoes, peeled and cut into 1/4-inch-thick slices
4 thyme sprigs, divided
3 tablespoons all-purpose flour
1/2 teaspoon salt
1/4 teaspoon black pepper
2 cups 1% low-fat milk
1 cup (4 ounces) grated Gruyère cheese, divided
Preheat oven to 350°.
Rub the sides and the bottom of an 11 x 7-inch baking dish coated with cooking spray with garlic halves. Crush garlic halves; set aside.
Cut celeriac into 1/4-inch-thick slices; cut slices into quarters to measure 2 cups, reserving remaining celeriac for another use. Place 2 cups celeriac, potatoes, and 3 thyme sprigs in a large saucepan, and cover with water; bring to a boil.
Reduce heat, and simmer 10 minutes or until potatoes are tender; drain and discard thyme.
While the potatoes are cooking, combine flour, salt, and pepper in a small saucepan; gradually add milk, stirring with a whisk. Stir in crushed garlic and 1 thyme sprig. Place the pan over medium heat, and cook until thick (about 10 minutes), stirring constantly with a whisk. Remove from heat; stir in 3/4 cup cheese.
Arrange potatoes and celeriac in baking dish; pour sauce over vegetables. Sprinkle with 1/4 cup cheese. Bake at 350° for 30 minutes or until lightly browned. Discard thyme.
Serves 7.