Weekly Shares Continue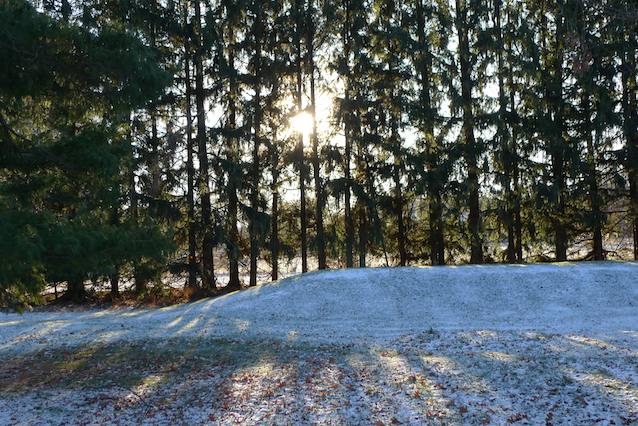 Our second light dusting of snow in a week reminds us that it is in fact winter. Will more arrive next weekend?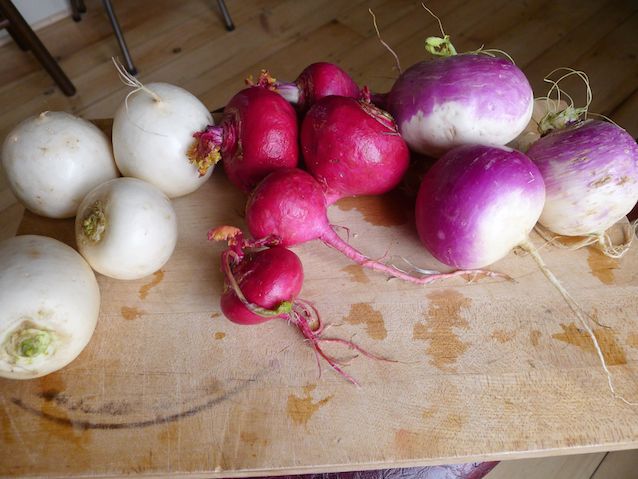 A variety of turnips are perfect for soups and roasts in the winter. Shown here are hakurei, scarlet queen, and purple top.
News
Expected Harvest
After The Blizzard
By Derek McGeehan
January Extension Pick Up #4 should include potatoes, garlic, celeriac, kohlrabi, radishes, turnips, kale, and napa cabbage. Once again we're aiming for around 14 pounds of produce.
Notes From The Field
Authentically Winter
By Derek McGeehan
About now it feels the way a Bucks County winter should and in the forecast could be our first real snow of the season. Weekly it seems that temperatures dive into the teens one or two nights with a couple of days staying below the freezing mark as well. As part of the jet stream roller coaster we also are able to thaw out over a couple of days in the mid and upper 40s. The sustained cold of the last two winters was a bit drab, but I am thankful that at least the month of January has provided a break between growing seasons with some real cold. This week we're hoping to make a serious dent in the high tunnel kale when it warms up enough during the day to thaw it out and make it harvestable. It basically freezes and wilts and lays almost flat at night but after the warmth of the sun's rays heat up the high tunnel it perks up and is ready for harvesting.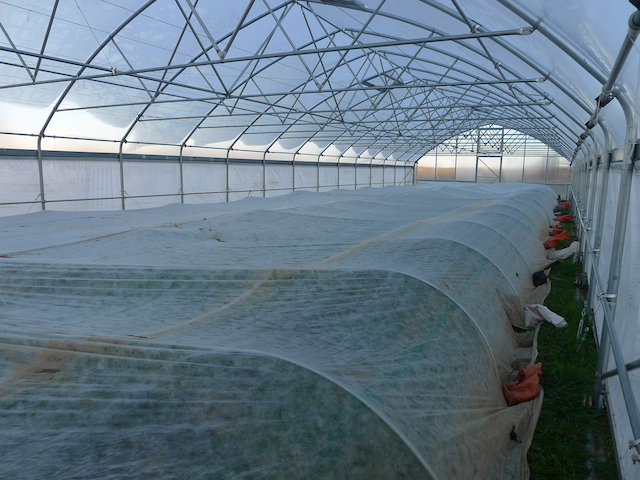 Two layers of protection almost guarantees the survival of greens in the high tunnel, without any supplemental heat.
Respond By E-mail To Reserve This Week's Share
By Derek McGeehan
Please respond via e-mail by 9pm, this Wednesday, February 3rd to reserve your share for this week. Pick up this week is 1-8pm on Thursday, February 4th. The share is $30 once again and needs to be paid for when you pick up your produce (check payable to Anchor Run CSA or cash labeled with your last name). There will be a box in the pick up room for you to deposit your payment. Also, please remember your bags or a box to carry your produce home!
Farmer Recipe
By Derek McGeehan
Heat olive oil, coconut oil, lard, or chicken fat on medium heat in a large cast iron skillet
Toss in chopped onion and garlic and cook for a few minutes
Add chopped napa cabbage, kale, or collards and cook until desired tenderness
Periodically add salt to your liking. Optionally add a dash of balsamic or rice vinegar near the end or tamari, for a different flavor.
Very easy, very tasty, and very nutritious. The whole process may take 20 minutes or so.
Signing Up for 2016 Main Season?
By Derek McGeehan
If so, we need you to do so soon so that we know how many members to grow for. Sign ups have been a bit slower this winter and we're currently contemplating having a smaller summer CSA. Please sign up soon if you're interested as well as paying the $200 deposit to secure your spot. This will help us plan accordingly.