Bright Snow Sun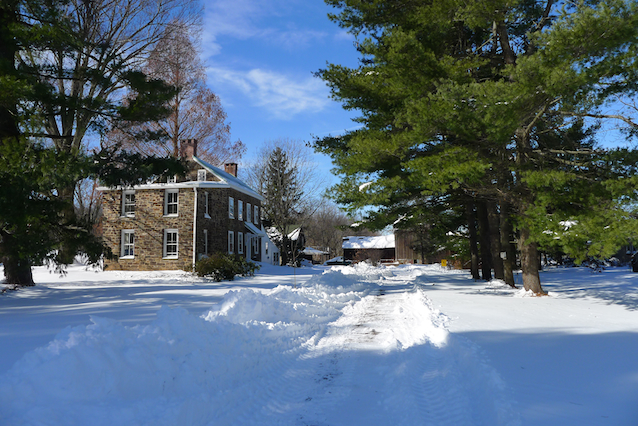 The color of the blue sky and green pine needles looks amplified by the sun and reflective snow. The driveway looks much better than shown in this photo after several more passes with the back blade and loader bucket.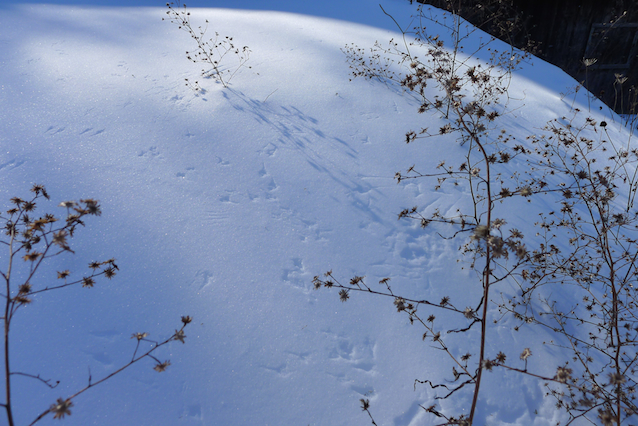 These tiny footprints are evidence of foraging birds hopping on the snow in search of seed pods on desiccated volunteer plants (aka weeds).
News
Expected Harvest
After The Blizzard
By Derek McGeehan
January Extension Pick Up #4 should include potatoes, garlic, celeriac, kohlrabi, radishes, turnips, kale, and napa cabbage. Once again we're aiming for around 14 pounds of produce.
Respond By E-mail To Reserve This Week's Share
By Derek McGeehan
Please respond via e-mail by 9pm, this Wednesday, February 3rd to reserve your share for this week. Pick up this week is 1-8pm on Thursday, February 4th. The share is $30 once again and needs to be paid for when you pick up your produce (check payable to Anchor Run CSA or cash labeled with your last name). There will be a box in the pick up room for you to deposit your payment. Also, please remember your bags or a box to carry your produce home!
Farm Policy Update and Apology
By Derek McGeehan
With the benefit of a relatively calm winter mind and the perspective of hindsight, we've realized we made a mistake regarding our split share policy and the blanket approach we took to cover the entire CSA community with updated split share policy language that was a bit overly harsh and/or negative. We regret offending some of our members who are courteous, respectful, and follow farm rules. What initiated our need to address the issue was mainly confined to a few specific problems we were having and we should have only addressed them at that specific time while we brainstormed a better approach and policy over a few months instead of having a knee-jerk reaction during a very busy time of year. We feel that we made a mistake with how we dealt with the problem and are sorry if we disrupted your CSA experience. We feel that we unfairly blamed some of the problems we were experiencing on share splitters without considering the entire issue.
At this point in time we have come to understand that some of these problems are definitely not confined to share splitting and can be more simply addressed by focusing on the positive attributes and tenets of a true and traditional CSA farm, namely: the honor system; mutual respect between members, farmers, and the land; courtesy and patience; and community involvement. Ideally the CSA farm experience will be positive for everyone involved and that should include all members who follow the above tenets. Thank you for understanding that we're trying to grapple with farm issues and improve your experience here! You are our community and we are your produce farmers and hopefully with a little intelligent dialogue and discourse we can reach a positive conclusion that works for all members equally well.
Notes From The Field
Snow Day
By Derek McGeehan
Hoping all of you endured the blizzard with warmth and inside comfort. Since it is in fact winter it's nice to see snow on the ground albeit a large amount given by an extreme event, which sort of fits the weather cycle. The shining sun and bright moon are welcome following the storm. I think we received about two feet here at the farm. Anticipating another pick up this week, we began clearing snow off the driveway and basically digging ourselves out. Luckily we didn't lose power and hopefully you didn't either. As of now high temperatures this week are forecast to be in the mid and upper 30s so by the time pick up arrives the driveway should be fully passable.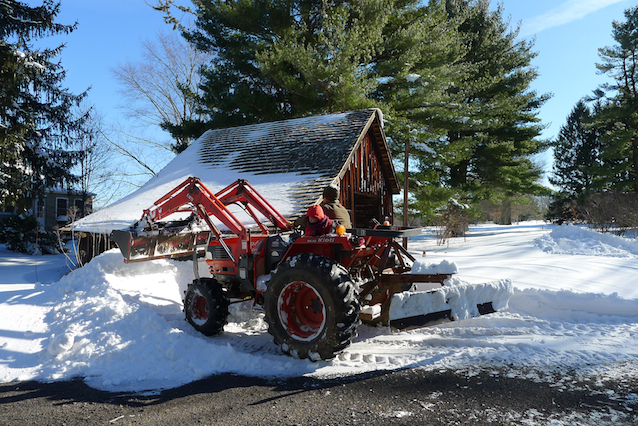 With the help of the loader bucket, back blade, and Gabe's companionship, clearing the driveway of snow seemed a decent way to pass the day.
Sign Up For The 2016 Main Season
By Derek McGeehan
Please sign up soon to secure your spot for the upcoming growing season! We're anticipating another bountiful season and are currently enjoying making plans for improvements around the farm. This year we're planning to focus a bit more on crowd pleasing favorites by increasing quantities of and hopefully lengthening the season for carrots, tomatoes, strawberries, melons, as well as others. We're planning to add additional tables and scales in the pick up room to make the pick up room experience better. We're also hoping to grow and offer rosemary once again and protect it in a permanently covered hoop house or high tunnel.
If you have any friends, neighbors, family, or coworkers that may be interested in community supported agriculture and all of its benefits to its members, please consider passing along our farm information!