Farm Upgrades and Updates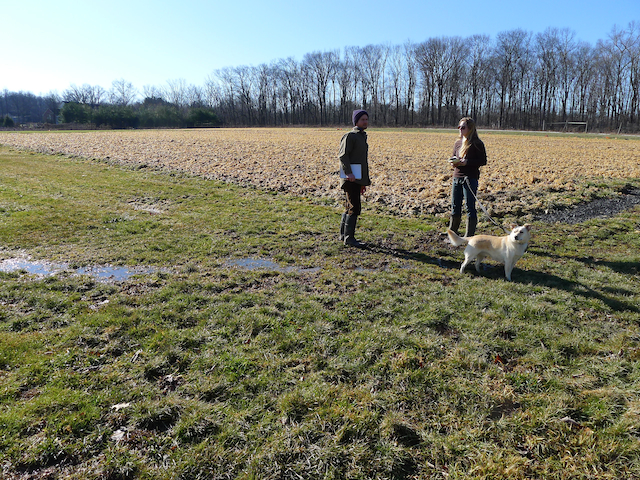 Embarking on our first official farm field walk of the 2016 growing season, a clear blue sky and warm sunshine has us eagerly anticipating a bountiful year.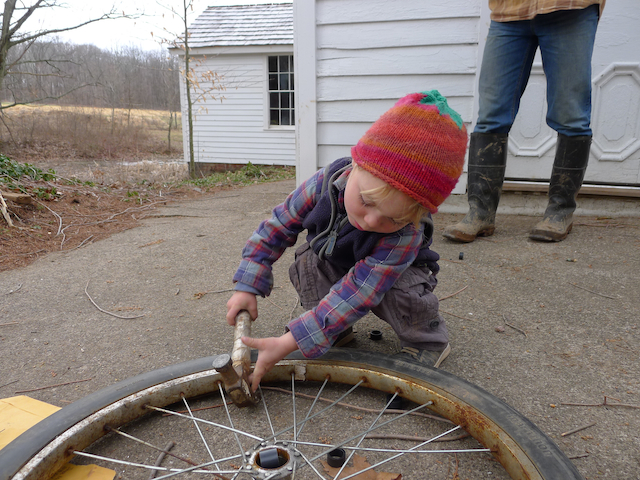 A farmer-in-training, Gabe hones his problem solving and repair making skills by experimenting with a hammer on a mythical flat-free, quality constructed wheel for our heavily used garden carts.
News
Notes From The Field
Farm Upgrades and Updates
By Derek McGeehan
This winter is quickly coming to a close and the 2016 growing season is about to be officially underway. Over this past month we welcomed our first 2016 crew member and farm manager, Hannah, to the farm. She will be living onsite with her husband in the White Pine Ranch and has been very busy helping out already. A Bucks County native, she arrives with three years of CSA farming experience in Maryland and hopes to run her own small farming business in the future. We're hoping we can help her along that path while also learning from her while she is here. Already it has been very helpful to us having someone onsite with a lot of prior CSA farming experience. Over the next couple of months we'll post more detailed bios of our 2016 farm staff, who we're very excited and enthusiastic about, and will be welcoming to the workload in March, April, and May.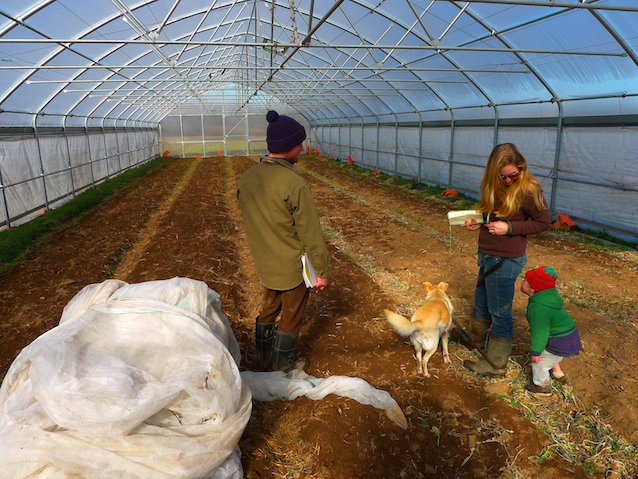 A view of the inside of the high tunnel where carrots will soon make their home. Gabe plays peekaboo.
Over the past month the greenhouse has been cleaned up, organized, and weeded so we can begin seeding our spring crops next week. Five to six weeks later they'll be planted outside in the fields after hard freezes are over, typically in early April. The five beds in the high tunnel are almost ready to house a carrot seeding. The debris left over from our winter greens was removed and raised beds were re-prepared. After hoping to trick some weed seeds into germination over the next week, we're planning to cultivate the beds one final time and then seed carrots for late spring or very early summer harvest. Typically we seed carrots outside in early April, so this will give us a 6-week head start. Hopefully this experiment works!
Saturday Pick Ups Added And An Improved Pick Up Room
In an effort to reduce Main Season farm traffic and pick up room congestion we're adding a 3rd pick up day option on Saturdays, in addition to the Monday and Thursday options.
Saturday pick up will be open 10am-2pm and will be available to a set number of members on a first come, first serve basis. You will need to preselect this pick up day in advance, just like the other days. As with Monday and Thursday pick ups, if you need to change your pick up day during a given week you will have the opportunity to do so by notifying us by 5pm on the Sunday before that week begins on Monday. Please note that most of the produce given out on Saturday will be harvested on Thursday and Friday (and stored in our walk-in cooler until distributed). Until the website has been updated to accept this change or if you have already picked a day but would like to switch, please e-mail us directly to request Saturday pick ups (anchorruncsa@gmail.com).
Besides a 3rd pick up day option, we're also going to add more tables and scales in the pick up room to help with the flow of members. To assist members with produce storage and use at home, there will be a "tip card" next to each produce label. This information will also be available on the website.
Main Season 75% Full - Sign Up Soon
Our 26-week Main Season CSA is about 75% full. If you're planning to rejoin but haven't applied or sent in your $200 deposit yet please consider doing so soon. Once we reach our membership goal we will have to add interested folks to our Waiting List. To sign up, go
here
.
Final Week for Winter Extension Shares
Winter Extension Pick Up #8 should include potatoes, garlic, napa cabbage, radishes, turnips, beets, and kohlrabi. This is the final week. You will be able to take home nearly twice the amount of produce that has been given out for $30 so we can clear and clean out our storage facilities. Only storage crops of quality will be distributed and they will continue to hold their quality at home if properly stored. Pick up is 1-8pm Thursday; e-mail us by 9pm Wednesday evening to secure your spot (anchorruncsa@gmail.com).
Please note that the winter extension pick ups were most likely a one-time trial for planning purposes for a year-round CSA model with Winter and Summer seasons which we hope to implement in 2017. Thank you to those who participated for helping us in this successful test run!
Anchor Run CSA is now part of the Facebook community! Please find us, like us, and share us.