April CSA Newsletter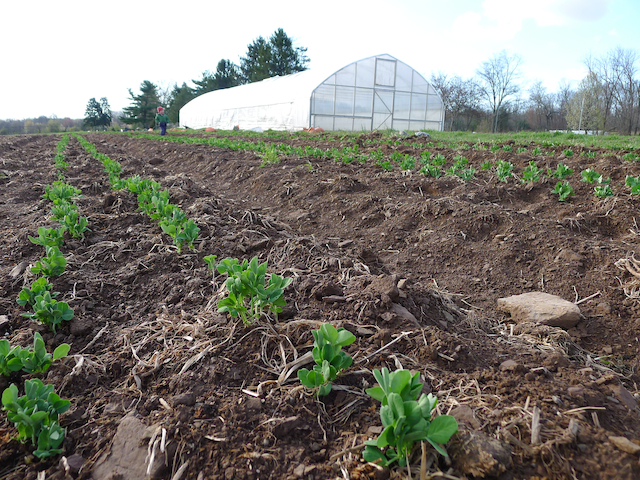 Freshly transplanted peas appreciated the quarter inch of rain and now await row cover protection to get them through the return of winter on Saturday.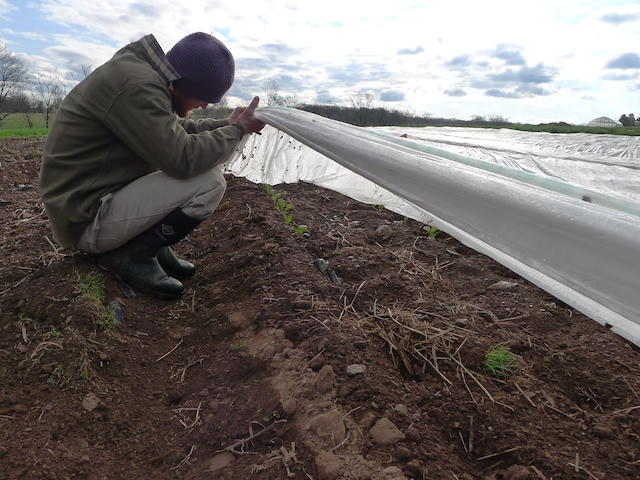 Thirty feet wide sheets of row cover anchored with sandbags will hopefully provide enough protection for all of the new transplants. Here we inspect collards after the quarter inch of rain.

News
Notes From The Field
Into April We Go
By Derek McGeehan
March was very kind to us. April? Well, let's just say every season presents a new set of challenges to deal with. Our crop seeding and planting schedule is based on the local climate and temperature averages as well as good old experience (with mistakes), and for our first seven seasons here during the first week of April we've been able to transplant the first round of crops outside and move other crops from the heated greenhouse to the unheated hoop house to harden off under one layer of plastic for protection. Surprise, surprise. This year we had a low of 22 degrees on Wednesday morning. Ground that had been opened up with the chisel plow to dry out was frozen solid enough that our disk harrow wasn't able to penetrate. However, after the sun had sufficiently warmed the air and the soil of the raised beds they'll call home over the next two months, Adam, Hannah, Mary Liz, and I were able to officially commence the 2016 growing season with the first round of transplants (peas) going into the ground. After peas we transplanted spinach, beets, kohlrabi, cabbage, kale, collards, and chard. Then, at about 6pm we spent the next hour or so covering with row cover anchored by sandbags the 23,000 square feet we just planted. With another forecasted low in the mid-20s on Saturday, as well as snow, we're hoping, desperately, that the spun polyester fabric cover will protect the plants enough to keep them above the cold-death temperature threshold. As of now the jet stream roller coaster is forecast to continue through the end of next week. Alas, there is hardly a dull moment on the farm this time of year but we have been able to mostly stay on the planting schedule. The aster family crops (lettuces, chicories) were the only ones we postponed this week but should have ample time to transplant them this coming Monday before the next round of precipitation.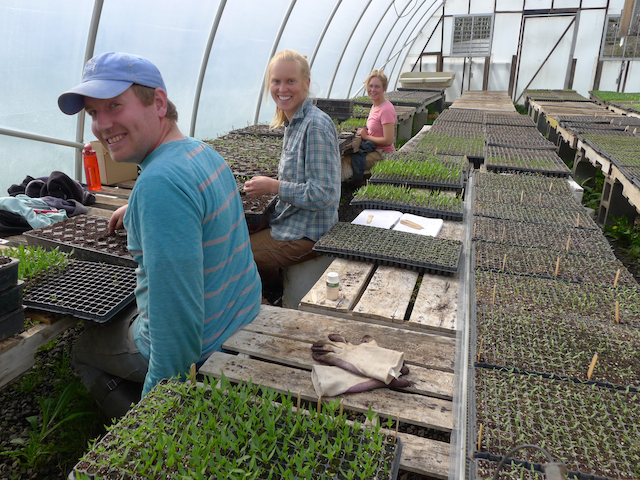 After a physically exhausting 10 hour day of transplanting, a brief respite of greenhouse work does the body good. Here, Adam, Mary Liz, and Hannah pot up heirloom tomatoes, sweet and hot peppers, asparagus, and celery.
Workshifts are a valued component of CSA membership and are fun and educational! Members with full shares are committed to working 8 hours over the course of the season and half share members are committed to working 4 hours over the course of the season. We'll be posting workshift opportunities regularly at the beginning of each week in a newsletter or an e-mail.
Shifts are two hours long and are worked alongside a member of the farm staff. Workshift tasks can range from weeding, harvesting, cultivating, and mulching to potting up in the greenhouse to thinning carrots and more carrots (!). We try to include a brief description of the planned task in the announcement, but prioritized farm tasks can change day to day and we aren't always able to identify the exact work detail a week in advance. To keep workshifts fun and productive we suggest refraining from bringing your young children to workshifts unless the shift description specifies "kid friendly". If your child is old enough to work constructively with you they are welcome to come and their hours will count towards your commitment.
To attend, sign up online by following these instructions:
Users must first
log in
to sign up for work shifts.
View our calendar to sign up in one of two convenient formats:
Click / tap the
icon next to the shift you are interested in working. A list of those associated with your share appears.
Click / tap the
icon next to the name of each person working the shift.
A box appears around the name of the each person who is signed up. Next to the name, a
icon appears to remove the name if necessary, and a
icon appears to allow the person who has signed up to add a guest.
When the shift leader logs the hours you have worked in our system, the hours will appear in the left column of this page under "Work Requirements and History."
New Member Orientation Day
New Member Orientation Day is schedule for May 1st from 11am-3pm with field tours on the hour and barn tours on the half hour (so you really only need to be here for about an hour). See below for details!
When -- Sunday May 1st, 11:00 AM - 3:00 PM
Where -- Anchor Run Farm, 2578 2nd Street Pike, Wrightstown, PA 18940
Who Should Attend -- New members who would like to check out the farm and learn more about how the CSA works before the harvest season starts.
Why -- We'll be hosting field tours and pick-up room tours complete with ample time for Q&A sessions with the farmers and the core group members. See what your food looks like before it reaches your kitchen, where your 'u-pick' crops will be this year as well as how the pick-up room and workshifts function. There will be light refreshments under the pavilion. Come on out and meet your farmers, mingle with the farm community, and enjoy some long awaited spring excitement!
Schedule of events -- field tours on the hour at 11:00am, 12:00pm, 1:00pm, and 2:00pm. Pick-up room tours on the half hour at 11:30am, 12:30pm, 1:30pm, and 2:30pm. The Q&A and light refreshments will be ongoing.
When Will The Harvest Season Start?
Good question! The start date fluctuates between the middle and end of May, varying according to the dominant spring weather pattern. This year winter was short, March was warm and dry, April is starting cold and possibly wet, what's next? We'll notify you as soon as we have a better idea. Typically we'll know for sure about two weeks prior.
Half shares, since you pick up every other week, you'll receive your A/B pick up week designation in early May (2015 half share members will be assigned the same week again). All share owners should confirm that you've selected the pick up day you want, Monday, Thursday, or Saturday (new this year). The first harvest will contain a lot of greens and may include a few of the following: butterhead, romaine, and mini head lettuces, kale, endive, escarole, Italian dandelion, Swiss chard, broccoli raab, arugula, greens mix, bok choy, radishes, turnips, and a few perennial herbs like oregano, rhubarb, and chives.
New For 2016 - Saturday Pick Up Option
In an effort to reduce Main Season farm traffic and pick up room congestion we're adding a 3rd pick up day option on Saturdays, in addition to the Monday and Thursday options.
Saturday pick up will be open 10am-2pm and will be available to a set number of members on a first come, first serve basis. You will need to preselect this pick up day in advance, just like the other days. As with Monday and Thursday pick ups, if you need to change your pick up day during a given week you will have the opportunity to do so by notifying us by 5pm on the Sunday before that week begins on Monday.
Please pay for your share in full by the end of April at the latest. Harvest season will begin in mid or late May and we need to finalize our harvest numbers well in advance. Thank you for understanding!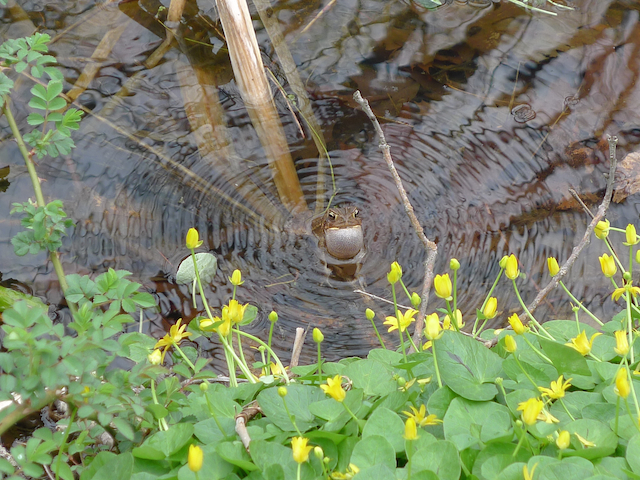 The eastern American Toad was exuberant and hopeful last weekend as temperatures briefly soared into the 70s. This male is singing loudly, vibrating the water.
2016-2017 Winter CSA Survey - Your Input Needed
Do you enjoy or wish you could enjoy eating local organic produce throughout the winter months and into early spring? We're taking necessary steps to implement an official 24-week Winter CSA which will run from November to May - but we need your feedback! Please complete our short 6-question survey to help us satisfy your winter produce needs: