2016 Harvest Season Begins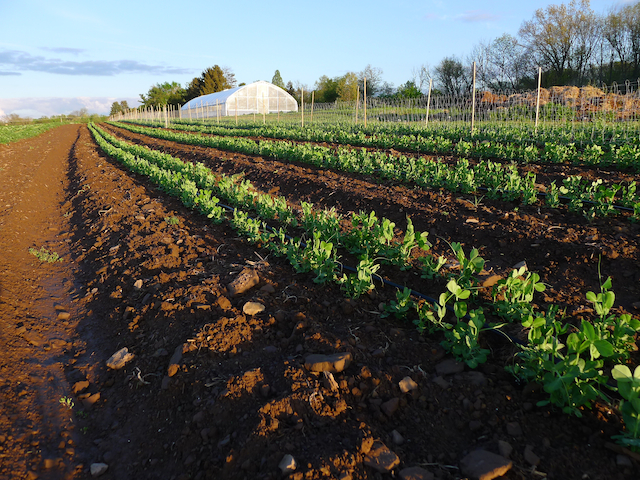 Soon to be a u-pick crop, snow and snap peas enjoy this cool spring weather.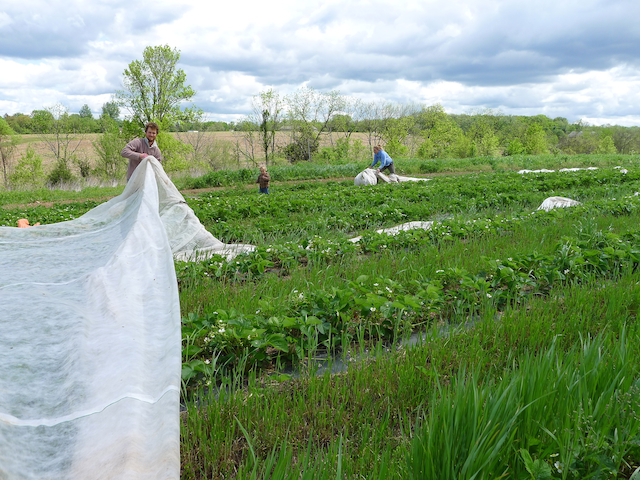 Much of our Sunday was spent covering frost sensitive crops including the strawberry patch shown above. The plants are hardy but the blossoms can succumb to the cold. Derek and Hannah work the row cover while Gabe supervises.
News
Notes From The Field
First Harvest, Last Frost
By Derek McGeehan
Good feelings and a bit of anxious energy permeate the start of the new harvest season as we grow accustomed to the new routine of harvesting several days each week. It is a pleasure to begin retrieving the fruits of our labor from the past several months and especially to begin eating all of the tasty produce. This year we're also dealing with a potential late final frost that of course falls on the first harvest day of the season. And of course we spent many hours last week transplanting many of our summer frost-sensitive crops like tomatoes, peppers, beans, basil, and corn. So, besides getting ready to begin the harvest season amid the myriad of work that that entails, today we also get to scramble around trying to cover as many susceptible crops as we can. At least the sun is shining and it looks like it will be a beautiful spring day.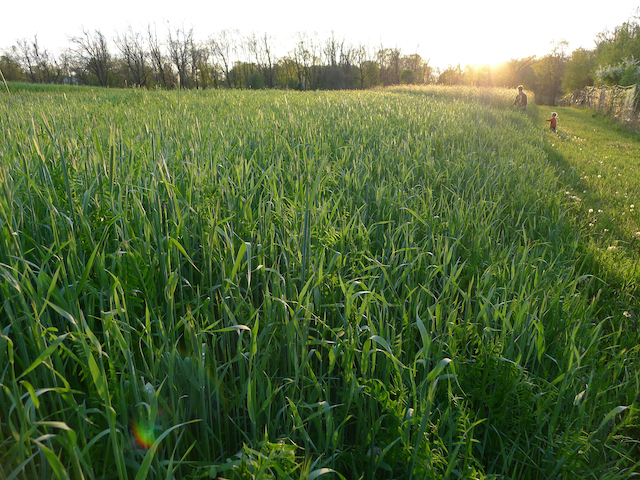 A cover crop of winter rye and hairy vetch protects the soil, adds organic matter, fixes nitrogen, and is fun to walk through at sunset.
Expected Harvest
And It Begins
By Derek McGeehan
Harvest #1 (Week A) should include kale, chard, spinach, arugula, pea shoots, collard greens, bok choy, radishes, turnips, mizuna, mustard greens, and a selection of herbs. Some items will be a choice. U-pick will probably include perennial herbs.
Important Information To Successfully Retrieve Your Farm Share
By Derek McGeehan
Pick up days are Monday (1-8pm), Thursday (1-8pm), and Saturday (10am-12pm). You should have received an e-mail over the weekend with your day and week information that asked you to confirm if it was correct.

The u-pick portion may be done any day of your pick up week Monday-Sunday (8am-8pm). U-pick crops and quantities will be written out on designated u-pick board in the pick up room. A map is also there to help you navigate, as well as labels and signs in the field. Only pick designated u-pick crops and specified amounts.
Driveway speed limit is 10mph.
Parking is available in the large stone lot at the end of the driveway. Handicap and special needs parking is available next to the barn.
Bring your own bags and scissors.
Check off your name when you arrive in the barn. Sign in sheets will be hanging on the wall to your left when you enter the barn hallway and will be organized by pick up day, week, and share size.
Produce will be labeled and laid out in bins on tables for you to collect. Veggie names and quantities will be written out on the boards directly behind the tables. Please take the allotted amounts.
During the first few weeks of pick up, staff and volunteers will be present to help you get situated.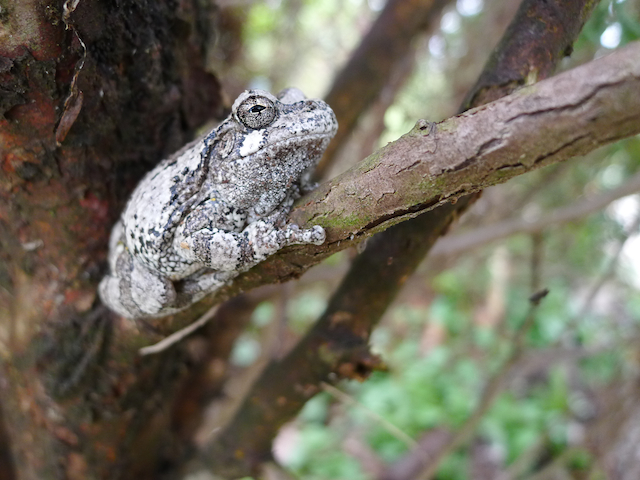 An eastern gray tree frog perches on a branch next to our house.
Tuesday May 17th 9-11am; 1-3pm
Wednesday May 18th 10am-12noon; 2-4pm; 6-8pm
Friday May 20th 10am-12noon; 2-4pm
Welcome and Welcome Back
By Linda Dansbury
Welcome to the first harvest week of the 2016 season. In addition to activities going on around the farm and the weekly harvest, the newsletter supplies information on how to store your harvest and prepare your veggies. It is also a way to share information with your fellow farm members - I welcome you to email me at lindadansbury@comcast.net with your questions or suggestions and with your favorite recipes and methods of using your harvest.
This website has many, many recipes that were chosen or developed especially for the farm harvests - they feature veggies that are harvested together in our area. The site can be searched by doing the following: open the website and select "members page" on the top right hand side the homepage. Once on the "members page", click the "search" link located at the very top of the page towards the middle of the various link options. Select "recipes" on the pull down bar and then type in whichever veggies you want to see recipes for.
Be sure to read the newsletter each week - even if it is not your pick up week. I write about each vegetable only once, so you may miss out on information that could help you figure out how to use or store the item if you aren't reading the newsletter each week.
Enjoy the harvest!
A new season and new crop
By Linda Dansbury
It is of course the first harvest of everything this week, but even after all these years of being an Anchor Run member, I still am still often surprised by what our farmers provide for us. This year it is pea shoots! You may be wondering what you can do with pea shoots, or why even bother with them?
Pea shoots are very nutritious, containing high amounts of vitamin C and antioxidants. Store them in a plastic bag in the crisper drawer of your fridge and they are best used within a few days since they are fairly fragile. They can be eaten raw as a garnish for vegetables or a final topping on stir fries. They are also delicious as a component in mixed green salads. They can also be quickly cooked in a stir fry - they should be added last because they are delicate. Here is a very simple method for stir frying the pea shoots - I prefer not to use additional seasonings such as soy sauce or oyster sauce because I like the taste of the pea shoots.
Smash 2 garlic cloves and peel and cut into julienne about 1/2 inch of ginger. 1/4 teaspoon or so of red pepper flakes are optional. Tear the peas shoots into pieces about 2" long. In a non-stick fry pan or wok, heat about a tablespoon of canola or peanut oil. Add the garlic, ginger and red pepper flakes if using and keep it moving and frying for 1-2 minutes. Add the pea shoots and stir fry until leaves are barely wilted - only 1 minute. That's it! A tasty and beautiful side dish on the table in about 5 minutes. Enjoy.
For the other items that everyone is receiving this week, please use the website for recipes. Here are a few that I particularly like:
Spinach Salad with warm Bacon Dressing
- you can use both the spinach and the chard for this recipe. The arugula can be added to many cooked dishes, such as soups and stews. It can be made into
Arugula Pesto.
I love it as its own salad - it is delicious with sliced mushrooms and a simple squeeze of fresh lemon and drizzle of good olive oil and salt and pepper to taste. One mention on the turnips and radishes - when you get them home, separate the leaves from the roots and store in separate plastic bag - don't throw them away! They are delicious sauteed along with the turnips or on their own. In this day and age, you probably have your own favorite recipes for kale and other items, so please email at lindadansbury@comcast.net. It really helps us be a community of sharing ideas on enjoying the harvest!
Recipes
Spinach Salad with Hot Bacon Dressing
Saveur Magazine. Serves 4-6; 15-20 minutes to table
1 pound spinach, washed and trimmed
3-4 eggs, hard boiled(optional)
6 slices roughly chopped strips of bacon
2 shallots, finely chopped or 1/2 cup mild onion
1/3 cup red-wine vinegar
1 Tablespoon Dijon mustard
2 teaspoons sugar
salt and freshly ground pepper to taste
chopped chives to taste
2 Tablespoons fresh chopped savory or parsley
Hard boil eggs and let cool. Peel and roughly chop. Place washed and trimmed spinach in a large mixing bowl. Cook bacon until very crisp. Remove from pan and place on paper towels to drain. Add shallot to bacon drippings and cook until just soft, about 2 minutes. Whisk in vinegar, dijon mustard, sugar, salt and pepper and whisk until heated through. Pour immediately over spinach and toss. Sprinkle with bacon, eggs if using, chives and savory or parsley.
V Arugula "Pesto" (Recipes from America's Small Farms)
2 cups loosely packed arugula
1/4 cup walnuts
1 – 2 Swiss Chard leaves
Green Garlic to taste (garlic scapes or cloves to taste if no Green garlic)
2 Tablespoons Parmesan or Romano cheese (optional)
salt and freshly ground pepper to taste
1/4 cup olive oil
Combine the arugula, walnuts, chard, garlic, cheese and salt and pepper to taste in a food processor and process until finely chopped.
Gradually add oil through the feed tube of the processor with the motor running, processing until the mixture is a smooth sauce.
Spread it on crusty bread, mix it with noodles, or add it to sandwiches. This is an excellent way to eat your raw greens!