Here We Grow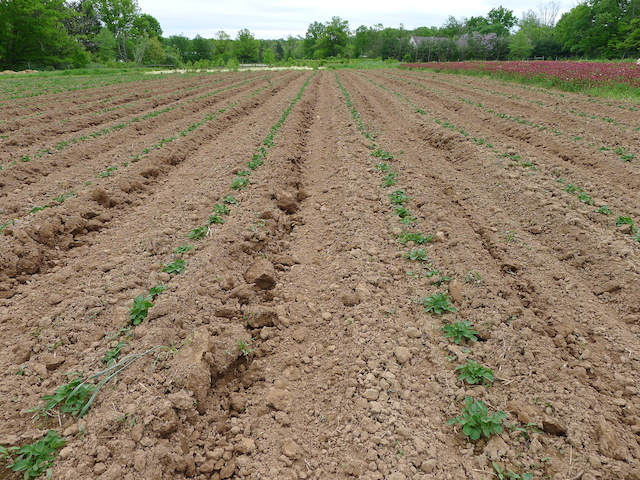 Freshly cultivated potato beds will be re-cultivated as well as hilled a couple of times until their harvest in July and August. Potatoes mostly grow above the initial seed tuber so hilling provides more available space for new spuds to grow.
One of our tastiest crops of the season, watermelon, gets tenderly planted into thoroughly protected ground. The plastic and landscape fabric suppress weeds and warm up the soil. Floating row cover was also added as a bug barrier and heat trapper.
News
Expected Harvest
Greens For Health
By Derek McGeehan
Harvest #2 (Week B) should include russian kale, baby kale, broccoli raab, swiss chard, hakurei turnips, radishes, bok choy, arugula, pea shoots, spinach, mini lettuces, and herbs. Some items may be a choice. U-pick should include perennial herbs.
Notes From The Field
A Farm Scene
By Derek McGeehan
A wonderful perk of living and working on an organic produce farm is our daily interaction with wildlife/nature/creatures/critters/other inhabitants of earth. The contrast between winter and summer is so apparent with the return of spring and summer that the quietness and solitude of winter feels and seems so drastically drab and dreary (but of course carries other types of perks). As farmers, we constantly and consistently interact with the world in a way that coaxes food from the soil for us to eat. Whenever we plow, bed shape, cultivate, or pull weeds we're mingling with that 'natural' world that occurs whether or not we participate. The cycle of life begins and ends every day around us and we try to understand and appreciate it, respect it, while simultaneously understanding the need to run a sustainable small farm business. Farm-scapes, farm-scenes are an interplay of humans' sculpting their environment and that persistent other component, nature. It's a pleasure, and humbling, to be in the middle.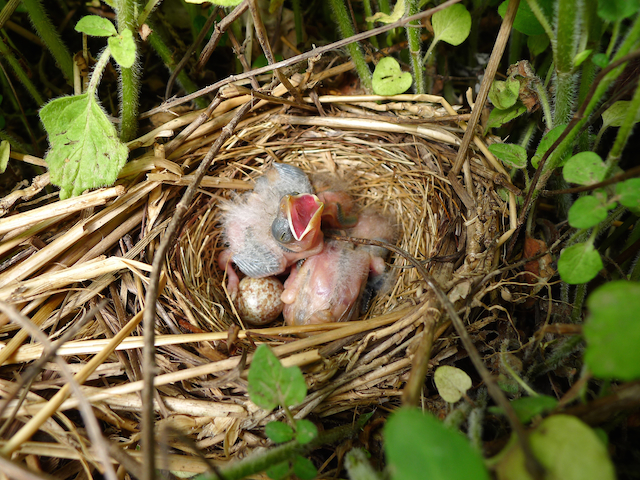 Nestled inside the oregano patch in the herb garden, freshly hatched song sparrows await mama's return with some grub(s).
Introducing Hannah, Farm Manager
Hannah Stocker is delighted to be a member of the Anchor Run team this season. Her childhood dream of living and working on a farm is made a reality as she takes on her new role as farm manager. Inspired by her grandfather's and mother's home gardens in Newtown borough, Hannah has always been captivated by the natural world and the dynamic organisms that grow in it. Her interest in gardening eventually led her to complete a B.S. in Horticulture. She went on to experience growing from a variety of perspectives including at a commercial nursery, a flower shop, and, most recently, an organic vegetable farm. For the past three years Hannah has been discovering more about plants, soils, food, and community at Clagett Farm in Maryland. Now she is happy to return to her roots, just down the road from the very gardens that started it all, to share her experiences and continue to learn about sustainable agriculture.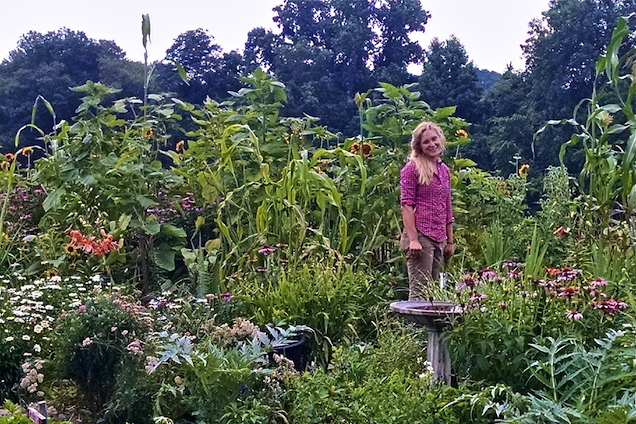 As a reminder, we request all share owners complete half of their work hours by the end of July. We're entering peak weed growth season and could really, really use your help from now through the end of July. On our list for this week is handweeding the onion patch then thinning carrots. So far we're doing a good job of weed management and hope to stay that way!
Shifts this week:
Tuesday May 24th 9-11am & 1-3pm
Wednesday May 25th 10am-12noon, 2-4pm, & 6-8pm
Friday May 27th 10am-12noon & 2-4pm
Monday May 30th (Memorial Day) 9-11am
To sign up, please follow these instructions:
Important:
Users must first
log in
to sign up for work shifts.
View our calendar to sign up in one of two convenient formats:
Click / tap the
icon next to the shift you are interested in working. A list of those associated with your share appears.
Click / tap the
icon next to the name of each person working the shift.
A box appears around the name of the each person who is signed up. Next to the name, a
icon appears to remove the name if necessary, and a
icon appears to allow the person who has signed up to add a guest.
When the shift leader logs the hours you have worked in our system, the hours will appear in the left column of this page under "Work Requirements and History."
Farm Is Open On All Holidays
By Derek McGeehan
The farm is open and pick up continues normally on all holidays that occur during the 26-week summer season. This includes the Summer Solstice on June 20th, Dana's birthday on July 28th, and National Organic Vegetable Day which occurs everyday, as well as Memorial, Independence, and Labor Days. As a reminder, if you ever need to temporarily switch your pick up day you need to notify us via e-mail by 5pm on the Sunday prior to your pick up week.
Bring Us Your Organic Matter!
By Derek McGeehan
If you're unable to produce compost at home, bring your organic matter to the farm where organisms will transform it into compost for us to use to feed farm plants. Conveniently located at the corner of the parking lot nearest the pavilion, the compost pile is extremely accessible for you to make your deposits. Permitted items include all vegetable and fruit waste, coffee grounds and filters, grass clippings (unless your lawn is treated), leaves, etc. No animal waste or scraps please except for eggshells.
Green, greens, and more greens!
By Linda Dansbury
The first few harvests are always predominantly greens - they take much less time to mature and tolerate and actually prefer cooler temperatures than vegetables such as eggplant, peppers and tomatoes. If you didn't read last week's newsletter and this is your first pick up week, go back and read it for tips on how to store and enjoy the pea shoots. Use this site as a resource for ideas and recipes. When you pull up this website, click on Member's Page. Across the top there will be several tabs. Click on Search. A pull down bar will be there - click on it and select Recipes. Type in the veggie you want and hit return and a list of recipes will appear. We hope this helps.
Greens that come from the farm this time of year are delicate and delicious. Below is a summary of what can be done with some of the greens we are receiving so far. When making salads, mix the greens together for wonderful taste combinations.
Arugula - will keep for about of week in the fridge. Delicious in salads, either on its own simply dressed with good quality olive oil, a squeeze of lemon juice, salt and pepper. Arugula is also considered an herb in the culinary world. Its peppery taste is great to pep up things such as pasta salad - just chop up the arugula and add to the pasta salad. If you want to use it in a hot dish, it is best just wilted such as when making pasta. Right after draining the pasta, add chopped arugula and let it wilt into the hot pasta. Finally, it makes amazing pesto - recipe on this site!
Kale - will keep for up to 2 weeks stored in a plastic bag in the fridge. A lot of people juice and smoothie their kale (and other greens), but if that's all you do with it you are missing out. Kale makes wonderful salads, especially Caesar. Remove the tough stems, stack the leaves, roll them up and slice thin. When you have the kale all sliced, place in a bowl and message the leaves - they will turn soft and almost satin-like in texture. Then dress with your favorite dressing - I used to make Caesar dressing, but found a bottled one that is delicious and healthy - it is OPA Caesar and is found with other brands of refrigerated dressings. Kale can be cooked in countless recipes - search this site for them. Baby kale can be simply wilted in stir fries, soups, stews or even added to salads and eaten raw.
Chard - will store for up to 2 weeks in a plastic bag in fridge. When the stems are removed the leaves can be used in virtually any cooked recipe that calls for spinach. On this site there are recipes that include chard and other greens for pasta with greens, soups, salads and more. Check them out to try them or inspire you.
More on Greens - tops, stems and other trimmings
By Linda Dansbury
Turnips and radishes are delicious - you may not realize that the tops of both of these are not only edible, they are delicious, so don't throw them away. They can be added to soups, stews or sauteed like you do broccoli raab - heat a large saute pan, add garlic and red pepper flakes and cook for a minute - don't let the garlic burn. Add a large pile of chopped mixed greens and keep moving around in the pan. They can be eaten as is, or to bulk it up and make a meal out of it add a can of white beans (or other cooked protein) and serve with pasta or rice. Top with grated cheese if desired.
Stems from kale, chard, onion roots, stems from herbs, etc can be used as a veggie stock base. Place them in a freezer bag in the freezer and keep adding your trimmings until you have enough to make stock - check out the Vegetable Stock recipe on this site for a larger list of what to keep.
For greens that you just can't use in a short period of time, here is an easy way to save them, which I learned from a fellow member. Bring a large pot of water to a boil. While you are waiting for it to boil, prepare the greens you want to save by removing stems and rough chopping any large leaves. Place the greens in a large colander and place in the sink. When the water comes to a full boil, slowly pour over the greens. Let the greens cool enough to handle, then squeeze out as much water as you can, keeping the greens in a fist-sized ball. Place the ball(s) in a freezer storage bag in the freezer. Later, when making soups, stews or saute's, just remove the amount you want.
How I Enjoyed My Harvest
How I enjoyed my harvest this week
By Linda Dansbury
How I enjoyed my harvest is a column I started a few years ago and in doing our annual survey members rated it very positively. My pick up day is Thursday, so this week there isn't a lot to talk about. I am leaving for vacation tomorrow, so the column won't appear in next week's newsletter.
We want the farm to be an interactive community and I know there are many wonderful cooks, and even a few chefs among our members so I invite you to share with other members by emailing me at lindadansbury@comcast.net with how you enjoy your harvests. It can be recipes, methods, ideas or even questions.
Here is how I enjoyed my harvest:
Kale, garlic (last year's) - made a ground pork from Ledemete Grass Farm (their products are amazing) and kale stir fry which is very simple. Heat a bit of canola oil in a large pan or wok. Add sliced garlic, julienned ginger and the pork and keep it moving until the pork is almost browned. Add the kale and keep moving around until cooked to desired tenderness. Add about a tablespoon of Thai fish sauce and stir. Remove from heat and add a heaping cup of fresh chopped herbs - I have a lot of cilantro that comes up in my herb garden on its own, but you can use a combination of basil and cilantro or add parsley. Serve with brown rice and Siracha. There is a very similar recipe on this site
Pea shoots - made mushroom, pea and pea shoot risotto, which was delicious and added pea shoots to salads. A light dressing using a bit of fresh lemon juice is perfect.
Spinach - will make a large spinach salad tonight using the recipe for Spinach Salad with Warm Bacon Dressing that is on this site.
Recipes
V Vegetable Stock
From Vegetable Soups From Deborah Madison's Kitchen
Yields about 6 cups of stock
1 onion, cut into 1/2 inch chunks

2 large carrots, chopped
2 celery ribs, including a few leaves, chopped

1 bunch of scallions, including half of the greens

6 garlic cloves, smashed

8 parsley sprigs, with stems

6 thyme sprigs or 1/2 teaspoon dried

2 bay leaves

Additional soup vegetable trimmings, herbs, etc., if available

1 teaspoon sea salt
1. Heat oil in stockpot, add the next 4 ingredients, and cook, stirring frequently, over medium-high heat for 10 minutes, or until they take on some color and glaze the pan. Then add the rest of the ingredients plus 2 quarts of cold water.
2. Take a look for other ingredients that might amplify the soup--an herb, or vegetable trimmings such as squash seeds and peels. Also check the refrigerator for useful tidbits
—
leftover chopped shallots, a lone mushroom, some chard stems, etc.
—
and add them to the pot.
3. Bring to a boil, then reduce the heat and simmer slowly, partially covered. Simmer at least 30 minutes, then strain it and use it in your soup recipe.
Spinach Salad with Hot Bacon Dressing
Saveur Magazine. Serves 4-6; 15-20 minutes to table
1 pound spinach, washed and trimmed
3-4 eggs, hard boiled(optional)
6 slices roughly chopped strips of bacon
2 shallots, finely chopped or 1/2 cup mild onion
1/3 cup red-wine vinegar
1 Tablespoon Dijon mustard
2 teaspoons sugar
salt and freshly ground pepper to taste
chopped chives to taste
2 Tablespoons fresh chopped savory or parsley
Hard boil eggs and let cool. Peel and roughly chop. Place washed and trimmed spinach in a large mixing bowl. Cook bacon until very crisp. Remove from pan and place on paper towels to drain. Add shallot to bacon drippings and cook until just soft, about 2 minutes. Whisk in vinegar, dijon mustard, sugar, salt and pepper and whisk until heated through. Pour immediately over spinach and toss. Sprinkle with bacon, eggs if using, chives and savory or parsley.