After The Heat Wave
An impending Monday rain forecast means field work over the weekend. Here, potatoes are being hilled for the first time, which basically means piling soil up around the roots and tubers to give them additional room to grow.
The first fruit of the growing season, strawberries are also probably the tastiest. We're hoping their harvest season will last 2-4 weeks with the 6 different varieties that we grow. The heat wave reminded them to hustle along.
News
Expected Harvest
Lettuces, Kohlrabi, & Strawberries Arrive
By Derek McGeehan
Harvest #3 (Week A) should include butterhead, romaine, and mini lettuces, kale, kohlrabi, hakurei turnips, arugula, chard, baby kale, mustard greens mix, mizuna, bok choy, dill, cilantro, and strawberries. Some items will be a choice. U-pick should include perennial herbs and strawberries (later in the week).
Notes From The Field
Respite from the Heat
By Derek McGeehan
I haven't checked the rain gauge yet this morning, but I'm almost desperately hoping we received something close to the amount that was predicted (1-2"). I didn't hear any heavy rain overnight, so I'm preparing to be disappointed. I spent a lot of the weekend doing this week's worth of tractor work and field preparations anticipating wet soil all week. We have about 5000 feet of winter squash, melon, summer squash, and cucumber to plant this week, along with 800 feet of edamame and the weekly 175 feet of lettuces. To stay on schedule, which is of the utmost importance for farm sanity, all of the planting space had to be readied prior to the rain event. For all of the crops that means mowing cover crops, chisel plowing once or twice, raised bed shaping three times while adding soil nutrients, drop spreading minerals, laying plastic mulch for the vining crops, and then pre-making holes in that mulch for water penetration. Even if the rain turns into a dud and disappointment, at least some work is checked off the to-do list. And at least the heat wave is over. And strawberries are here. And peas will be here soon, too!
Abigail is the motivator for quick and thorough washing of these delectable spring radishes.
Introducing Mary Liz, Assistant Farmer
I was born and raised in South Carolina and graduated from Sewanee University in Tennessee with a B.S. in Forestry. Since then, I have led a somewhat peripatetic lifestyle starting with a two-plus year stint in northern Ghana as a Peace Corps Volunteer, where I lived and worked in a subsistence agriculture village helping farmers develop ways to generate income in the post-harvest dry season. That came mostly in the form of beekeeping and rabbit farming. It was there that I cultivated a love of farming and the sense of communal wellbeing inherent in agrarian life. From there, my journey took me to the farmer training program at U.C. Santa Cruz's Center for Agroecology and Sustainable Food Systems. I landed in Pennsylvania in late 2014, where I spent my first true winter (by my untrained southern bones) working with poultry and sheep at Quarry Hill Farm in Harleysville. Most recently, I spent 2015 as the seasonal farmer at Pennypack Farm & Education Center in Fort Washington. I'm really looking forward to joining the Anchor Run CSA crew this season! Any folks interested in a herbal medicine, fermentation, or bees - let's chat!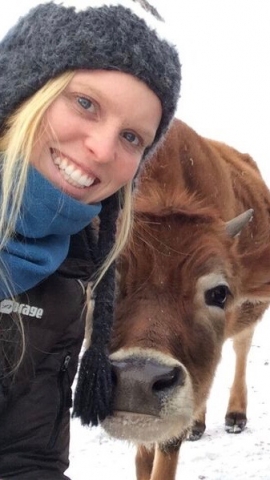 Farm Is Open On All Holidays
By Derek McGeehan
The farm is open and pick up continues normally on all holidays that occur during the 26-week summer season. This includes the Summer Solstice on June 20th, Dana's birthday on July 28th, and National Organic Vegetable Day which occurs everyday, as well as Memorial, Independence, and Labor Days. As a reminder, if you ever need to temporarily switch your pick up day you need to notify us via e-mail by 5pm on the Sunday prior to your pick up week.
2016 Workshop #1: Now What?! Please join us on Saturday, June 11th from 1 to 3 PM.
Written and to be hosted by longtime farm and core group member Gia.
Maybe you are a new member. Maybe you've been a member for a while. Either way – this workshop is for you!
In the barn, everything made sense while you were putting your share into your bags to bring home. At home, it suddenly became very overwhelming once you began unpacking! We have all been there; it is part of the CSA learning curve.
Let us help you make the most of your farm share!
Being a member of a CSA opens the door to so many topics! At this workshop we will talk about:
Resources: books, websites, Anchor Run CSA website (Recipes and Veggies 202 – it has pictures!!)
How to keep your veggies as fresh as possible once they are in your refrigerator.
The pros and cons of different preservation techniques (freezing, canning, dehydrating).
"Tools of the trade", which I find invaluable.
Before you compost: radish greens are edible!
Composting: Composting at the farm; what to and not to include in a compost pile; vermicomposting.
Solar Cooking
We will share recipes that our families love, recipes that include farm produce. And by share – I mean taste and provide copies of the recipes. Pestos - don't limit yourself to Basil! What to do with all that Bok Choy! Veggie Hash! The list goes on!
Kohlrabi and Lettuce
By Linda Dansbury
Due to vacation, I am writing this 2 weeks ahead of this week's harvest distribution. Derek and Dana did their weekly field walk and took a very educated guess on what would be available the week of May 30th. Early in the season this is difficult because early crops are very dependent on sun and warmth to reach maturity - elements which have not been reliable at all this spring.
Kohlrabi is one of the new veggies likely to be seen which kind of resembles a spaceship. It is in the same family as radishes and the delicious white turnips you have been seeing in the pick up room so the taste profile is similar. Kohlrabi keeps for a long time in the fridge, but the longer it stays, the stronger the flavor becomes. Kohlrabi is normally peeled prior to eating, but I have seen Derek noshing on kohlrabi, skin and all! I like it raw with or without a sprinkle of salt - I eat it often with lunch or as a snack while preparing dinner. It is great as part of a crudite platter and delicious as a component of slaw - julienne it along with some of the greens, such as kale and chard and make your favorite cole slaw dressing - one of mine happens to be Asian Style Cole Slaw. There are many recipes on this site for kohlrabi in cooked versions, but this time of year, for me, the mild taste is best when eaten raw.
Lettuces are now making their full appearance and I will feature them in the future but a couple of notes now - the lettuces grown on the farm have so much more flavor than store purchased lettuce - nuances that you don't want to cover up with thick, store purchased dressings. Making your own is really simple. Take a jar with a tight-fitting lid (or a small bowl and whisk). All you absolutely need is a ratio of 1/4 of you favorite vinegar to 3/4 part olive oil, salt and fresh ground pepper to taste - a bit of added Dijon mustard helps emulsify. Shake or whisk until emulsified and lightly dress the greens. Yum!
Give me Peas...and Strawberries!
By Linda Dansbury
Peas and strawberries give us the first opportunity to go out to the field for U-Pick. Here are some tips to make the time in the field enjoyable:
Wear comfortable clothes, shoes/boots and sunscreen - it can be very hot, cool, rainy on any given day
Most crops mature starting at the bottom of the plant so for things like peas, green beans, cherry tomatoes and edamame look for mature veggies lower to the ground, especially when we start picking
Be gentle when picking, holding onto the stem with one hand and the veggie/fruit with the other and gently pull the veggie/fruit off
The crops sometimes fall into the aisles - please walk around - don't trample the plants
Pick only what is listed on the U-pick board and only during your pick up week
Please teach your children the same guidelines, keeping them in the aisles between the rows and showing them how to gently pick the crop
By following these simple guidelines you and those coming to pick after you will have a fun, rewarding experience.
How I Enjoyed My Harvest
How I enjoyed my harvest this week
By Linda Dansbury
How I enjoyed my harvest is on vacation this week, but will return shortly. Please send how you enjoy your harvest to me at lindadansbury@comcast.net.
Recipes
V Asian Turnip/Cabbage Slaw
½ pound of Asian turnips, trimmed and grated coarsely (about 2 cups); save the greens for another recipe
3 cups shredded cabbage
1 cup coarsely grated carrots
½ cup thinly sliced red onion
2 tablespoons fresh lemon juice
2 tablespoons olive oil
½ teaspoon sugar
2 tablespoons of parsley (or try mint)

Mix all ingredients, add salt and pepper to taste, and serve immediately. Serves 4.
V Wilted Asian Green Salad
From Gourmet Magazine; this recipe called for pea shoots, but since they are not available at the same time as tat soi in this area, I replaced them with the dandelion greens. Any quick cooking green can be used, even your romaine lettuce.
¼ cup rice vinegar (not seasoned)
3 Tablespoons soy sauce
2½ teaspoons sugar
1½ teaspoons finely grated peeled fresh ginger
1½ teaspoons Asian sesame oil
6 cups dandelion greens (3 oz)
6 cups tat soi (3 oz)
6 cups mizuna (3 oz)
Heat vinegar, soy sauce, sugar, ginger, and sesame oil in a small saucepan over moderately low heat, stirring, until sugar is dissolved (do not let boil). Pour hot dressing over greens in a large bowl and toss well. Serve immediately.