Hot and Dry Solstice
A bright yellow squash blossom in a sea of green foliage, a sign of summer.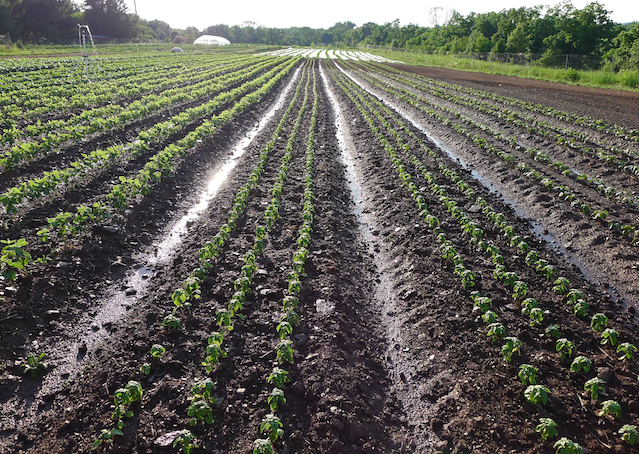 The sun begins to descend behind freshly irrigated beans, edamame, and herbs.
News
Notes From The Field
Let's Irrigate
By Derek McGeehan
Strong and dry winds, a missed rain event, and mid-90 degree heat forces us to extract water from our well for plants' water needs once again. We try to rely on irrigation as a last resort and this is one of those times. No serious rain is in the 10-day forecast which means we'll probably be irrigating for a while. Our 300-feet deep well and 1.5 horsepower pump provides about 75 gallons per minute of water. A few years ago we installed 3000 feet of 3 inch underground pipe with about 12 multi-head risers to more easily access water and keep necessary water pipes out of the way. The underground pvc pipes also reduce friction and pressure loss compared to the 2 inch flexible flat tubes that we previously had to use to move water long distances. Still, setting up and moving around drip tape, sprinklers, the water cannon, and tubing as well as all of the necessary connecting equipment means less time for other jobs and/or no time or days off (which is rare anyway this time of year). Spending time setting up all of the infrastructure feels like lateral movement and not necessarily progress towards the end of the season, but observing satisfactory results from the addition of water and subsequent higher crop yields makes it worthwhile.
Gabe watches as our rotating 100+ feet diameter water cannon irrigates the soon-to-be u-pick field that includes snap beans, edamame, and annual herbs.
Expected Harvest
Welcome Scallions, Basil
By Derek McGeehan
Harvest #6 (Week B) should include scallions, basil, carrots, beets, chard, kale, squash, cucumbers, garlic scapes, endive, escarole, cilantro, dill, butterhead, romaine, and mini lettuces. Some items will be a choice. U-pick should include perennial herbs, snow and snap peas, and strawberries.
From Asparagus to Zucchini Cookbooks Are Here!
For several years prior to her departure from our earthly plane, Jeannine Vannais worked hard to transform the Anchor Run herb garden into the lovely paradise that it is today. In her honor and memory we are planning to build a pergola and arbor within the herb garden for vining plants to provide shade atop a comfortable space with benches. To raise money for the materials and installation of the pergola we're having a cookbook sale. "From Asparagus to Zucchini: A Guide to Cooking Farm-Fresh Seasonal Produce" will be available to purchase for $20 from the pick up room. From each purchase, $7 will go to the cost of the pergola. For more information on the book, please follow this
link
. Books should be available within the next week or so; look for them in the pick up room.
Half of your committed work hours should be completed by the end of July! Over the course of the season full shares work 8 hours; half shares work 4 hours. If you're unable to contribute the physical portion of your share, you may contribute to the farm financially at the rate of $15/hour. This fills out the balance of your share cost.
This week we'll harvest carrots, pull weeds, and probably cultivate. Beat the heat by coming in the morning!
Tuesday 7/19 8-10am; 10am-12noon
Wednesday 7/20 8-10am; 10am-12noon; 6-8pm
Friday 7/22 8-10am; 10am-12noon
Saturday 7/23 8-10am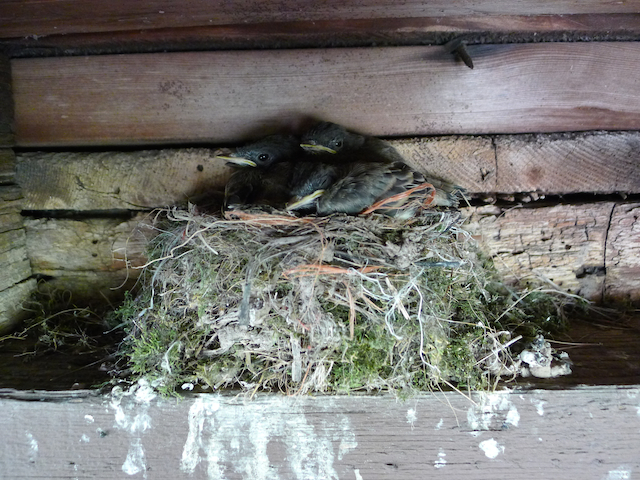 Baby flycatchers nestle on a beam in the Walnut Barn. A parent or two made a beautiful nest, including some orange straw bale twine.
Our first potluck of the 2016 season will be held under and by the pavilion on Saturday, June 25th, at 6pm, as we celebrate summer and the solstice and the successful start of the CSA harvest season. Mingle with your community and meet your farmers. Bring a dish to share (main course, side, and/or dessert) that can feed at least 6 adults, place settings (dishes, silverware, cups), as well as a beverage of your choice. If you play an instrument, feel free to bring that for an impromptu jam session or to serenade the gathering.
An Abundance of Peas!
By Linda Dansbury
I hope everyone got out to the field to do the U-Pick this week - the peas are at the perfect stage and there are so many that even this quantity goes quickly.
You may be wondering what to do with them all now that you have them. They are so sweet they can be eaten raw as a snack, either alone or dipped in your favorite dip or hummus or the Garlic Scape and White Bean Dip. Or, try the Orzo with Sugar Snaps and Dill - this one uses peas, scallions and dill, and I am always happy when a recipe incorporates multiple farm offerings. This site has several recipes for peas - both salads as well as hot dishes.
Both the sugar snaps and snow peas should be cooked for only 2 minutes so they keep their crunch. They can be steamed, boiled or stir fried - all methods work well, although I prefer steaming and stir frying over boiling.
Peas can be frozen with or without blanching them. Blanch for 1 minute and then plunge in an ice water bath to stop the cooking. Drain, and then lay them out on towels to dry. Place on cookie sheets and place in freezer. Once frozen, place them in freezer bags or plastic container - don't forget to label and date them. If you skip blanching, remove the stem and string prior to freezing.
How I Enjoyed My Harvest
How I enjoyed my harvest this week
By Linda Dansbury
This week I did have the chance to do some cooking and I hope you did as well. Please send me how you enjoyed your harvest at lindadansbury@comcast.net.
Romaine - we grilled last night so we did a grilled Caesar Salad - cut the Romaine into quarters, place on grill for only about 30 seconds, then turn and do another 30 seconds, do this until all sides are lightly charred. Chop up the lettuce into bite-size pieces and then top with your favorite Caesar Dressing recipe - I used to make it myself, but I found OPA dressing which is Greek yogurt based. We really like it so it saves on work and it is good for you!
Peas, garlic scapes, turnips, Swiss chard, cilantro - made a large stir fry which fed us for 2 nights
Lettuces, dill - prepared the dressing that Emily Mahoney had sent to me. It was delicious - it will be even better when the watermelon is local!
Swiss chard, kale, scapes - had one of my favorite weeknight meals. Chopped up an onion and sauteed in olive oil. Meanwhile, prepared the greens, removing tough stems and roughly chopping them. When onions were the way I like them, I tossed in the scapes and greens and when the greens were wilted I made "wells" in the pan, and then cracked an egg into each well. Cover with a lid and keep checking - cook only until the whites are barely set, so the yolk stays liquid. Carefully remove each egg and greens to plates, top with salt and pepper and herbs if you like and serve - the yolk makes a rich-tasting delicious sauce for the greens. Yum!
Recipes
V Garlic Scapes and White Bean Dip
15 minutes; yields 1 1/2 cups; courtesy New York Times
1/3 cup sliced garlic scapes (3 to 4)
1 tablespoon freshly squeezed lemon juice, more to taste
1/2 teaspoon coarse sea salt, more to taste
Ground black pepper to taste
1 can (15 ounces) cannellini beans, rinsed and drained
1/4 cup extra virgin olive oil, more for drizzling
fresh herbs to your liking - one or more of the following: chopped rosemary, parsley, thyme, basil
1. In a food processor, process garlic scapes with lemon juice, salt and pepper until finely chopped. Add cannellini beans and process to a rough purée.
2. With motor running, slowly drizzle olive oil through feed tube and process until fairly smooth. Pulse in 2 or 3 tablespoons water, or more, until mixture is the consistency of a dip. Add more salt, pepper and/or lemon juice, if desired.
3. Spread out dip on a plate, drizzle with olive oil, and sprinkle with more salt.
Check out both recipes:
1 cup chopped garlic scapes (about 8 scapes)
1 cup olive oil
1 cup grated parmesan cheese

Combine the scapes and olive oil in a food processor and pulse until smooth. Add the parmesan by hand. Season with salt and pepper to taste.
Serve over pasta or use as a dip or spread. Mix with mayonnaise for sandwiches.
To serve over pasta, try garnishing with toasted pine nuts, olives, and/or chopped fresh or sun-dried tomatoes.
GARLIC PESTO -- Recipe 2

1 cup garlic scapes (about 8 or 9 scapes), top flowery part removed, cut into ¼-inch slices
1/3 cup walnuts
¾ cup olive oil
¼-1/2 cup grated parmigiano
½ teaspoon salt
black pepper to taste
Place scapes and walnuts in the bowl of a food processor and whiz until well combined and somewhat smooth. Slowly drizzle in oil and process until integrated. With a rubber spatula, scoop pesto out of bowl and into a mixing bowl. Add parmigiano to taste; add salt and pepper. Makes about 6 ounces of pesto. Keeps for up to one week in an air-tight container in the refrigerator.
For ½ pound short pasta such as penne, add about 2 tablespoons of pesto to cooked pasta and stir until pasta is well coated.
Orzo and Sugar Snaps with Dill
Adapted from epicurious.com

10 cups water
2 cups low-sodium fat-free chicken broth
1 1/2 teaspoons salt
1/2 lb sugar snap peas, trimmed and cut diagonally into 1/2-inch pieces
3 scallions, chopped
2 tablespoons chopped fresh dill
1 1/3 cups orzo-style pasta (1/2 lb)
1/4 teaspoon black pepper

Bring water, broth, and 1 teaspoon salt to a boil and blanch sugar snaps 1 minute. Transfer sugar snaps with a slotted spoon to a bowl of cold water to stop cooking, reserving broth, then drain sugar snaps in a colander. Put sugar snaps, scallions, and dill in a bowl.
Return broth to a boil and cook orzo, stirring occasionally, until tender. Reserve 1/2 cup broth, then drain orzo in a sieve. Add hot orzo to sugar snap mixture along with pepper and remaining 1/2 teaspoon salt and toss, adding some of reserved broth if pasta seems dry.
Blended from several recipes. Takes about 10 minutes to prepare. Use this on grilled or roasted meat, fish and veggies; on top of hardboiled eggs; mixed into chicken or tuna salad or mixed into pasta.
1 bunch of carrot tops, thick stems removed and saved for vegetable stock or composted
1 lemon, juiced - or orange
Kosher salt, freshly ground pepper
1 garlic clove, or 3-4 garlic scapes
3 tablespoons pine nuts or almonds, toasted
1/2 cup (packed) fresh basil leaves, or parsley, tarragon or cilantro
1/4 cup finely grated Parmesan
1/2 cup extra-virgin olive oil
Pulse garlic and nuts in a food processor until a coarse paste forms. Add basil, Parmesan, and reserved carrot tops; process until a coarse purée forms. Add olive oil and pulse until combined; season with salt and pepper.
Note: will keep in fridge for up to 3 days, lay plastic wrap right on top of pesto to inhibit discoloration from oxygen. Or, freeze for longer storage.