No Rain, Some Gain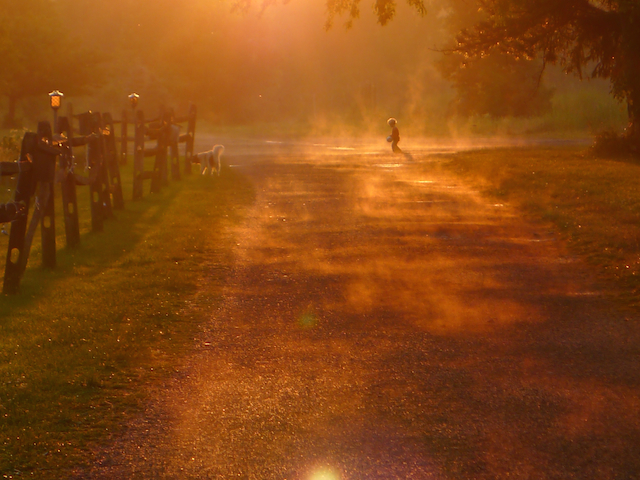 A brief downpour reminded us that water does fall from the sky sometimes. Gabe enjoys a puddle.
Quality weekend family time spent driving our beat up farm truck around while setting up various irrigation infrastructure.
News
Expected Harvest
It's Summer
By Derek McGeehan
Harvest #7 (Week A) should include beets, carrots, lettuces, chard, summer squash, cucumbers, scallions, basil, radicchio, escarole, Italian dandelion, fennel, dill, parsley, and cilantro. Some items will be a choice. U-pick should include snap beans, herbs, raspberries, and flowers.
Notes From The Field
Still Hot, Still Dry, But...
By Derek McGeehan
We did receive a tenth of an inch of rain at the farm on Tuesday evening, after a full day of transplanting lettuces, beans, summer squash, cucumbers, celeriac, chard, and leeks. It might have been enough moisture to quell some stress for us farmers and our plants for about twenty minutes and at least provide for a dramatic sunset amid steamy evaporation. Two weeks in a row now forecasters and their computer models have predicted rain on a Thursday and have been incorrect. Let's hope they don't make it three in a row this Tuesday because I want a day off from irrigating. Of course, what we truly need is an all day light rain soaker so the water can percolate down through the soil to the roots. What we'll actually probably receive is a downpour that departs as quickly as it dumps. Alas, most of the crops are happy and it has been a great season thus far, so ultimately there is nothing much to complain about. We're slowing moving away from some spring greens (very slowly) and will continue to see the arrival of traditional summer crops over the next few weeks. Rain dance anyone?
On the heels of strawberries come summer bearing red raspberries, albeit in much smaller quantities (1/2 pint).
Half of your committed work hours should be completed by the end of July! Over the course of the season full shares work 8 hours; half shares work 4 hours. If you're unable to contribute the physical portion of your share, you may contribute to the farm financially at the rate of $15/hour. This fills out the balance of your share cost.
This week we'll harvest carrots, pull weeds, and probably cultivate. Beat the heat by coming in the morning!
Tuesday 7/19 8-10am; 10am-12noon
Wednesday 7/20 8-10am; 10am-12noon; 6-8pm
Friday 7/22 8-10am; 10am-12noon
Saturday 7/23 8-10am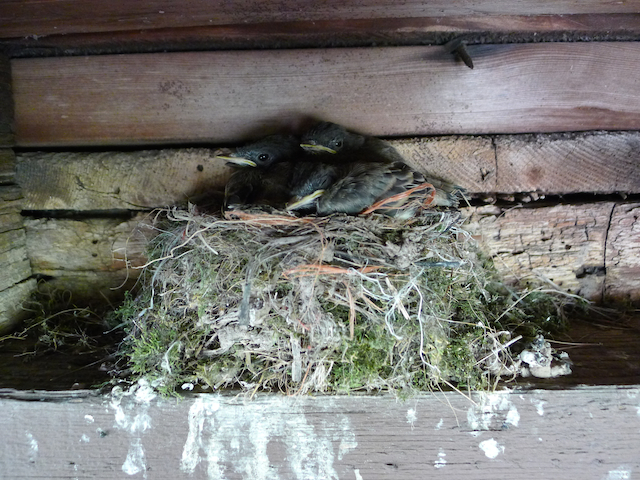 Baby flycatchers nestle on a beam in the Walnut Barn. A parent or two made a beautiful nest, including some orange straw bale twine.
Member Ideas and Suggestions
Member ideas and suggestions
By Linda Dansbury
I received 2 emails this past week from members - thank you to both Jackie Jacobs and Janine Lazur!
Janine sent me a storage tip for basil, the last part of which I had just read in a food magazine the day before she sent it to me. Many fresh herbs, in particular basil, do not like to be stored in the fridge. For years I have re-cut the stems and placed them in a glass or jar with water. Every few days the stems should be trimmed again and the water changed. The extra tip is to put a plastic bag over the basil to help keep it even longer. Janine picked her basil up from the farm on Monday and sent me pictures of how it looked on Saturday and it still looked beautiful.
Jackie sent me what she did to saute her veggies and make a delicious and simple dinner. Here is what she sent:
I chopped up the yellow and green squash (1 each), garlic scapes (2), a handful of snow peas, and about a 1/4 lb of cremini mushrooms and sautéed them in butter and olive oil with some salt and pepper. After a few minutes I added some chopped chard (4 leaves) and a small handful of basil. At the end I added a bit more olive oil and stirred it all into some linguini. I shredded Parmesan cheese on top. It was so good!
Jackie used this as a side dish, but can be a meal in itself - if you want to add protein, white beans or chick peas can be added to keep it a 1 pan meal. Also, switch the veggies in and out based on what we have - when you run out of peas, use the snap beans instead - but you may want to blanch them for a couple of minutes. Also, now that we have scallions, use them, adding them near or at the end of cooking.
Let me know how you enjoyed your harvest by emailing me at lindadansbury@comcast.net
New veggies info
By Linda Dansbury
The past couple of weeks have shown us some new veggies that you may not be very familiar with so here is a bit of info for scallions, dandelion greens and radicchio.
Scallions - everyone knows this delicious member of the allium family, which also includes onions and leeks. Store them in a plastic bag in the fridge, where they will keep for about a week. As I described a few weeks ago with the garlic scapes, scallions should not be cooked for long periods of time, because their delicate onion flavor will be lost. You may only know them to be used as a garnish or stir fried, but they are also delicious grilled - brush with olive oil prior to grilling and watch closely, turning every couple of minutes so they just get lightly charred. When making a saute like the one in this week's Member Ideas section, I would also add a scallion or 2 near the end of cooking to add the onion taste component to the dish.
Italian dandelion greens - this may be one of the most misunderstood greens we have at the farm. Dandelion is definitely bitter, but can be tamed and enjoyed by using it in some of the following ways: try the Garlic Braised Dandelion Greens with White Bean Puree that is on this site - beans have a great way of taming the bitterness of things like dandelion and broccoli raab. This recipe can be used with pretty much any cooking green we receive so even if you don't pick up the dandelion, you should try this dish - it is delicious. Another good recipe is the Dandelion Salad with Warm Hazelnut Vinaigrette. The nuts and oil also calm down the bitterness of these greens. Of course, dandelion greens can also be made into Dandelion and Pumpkin Seed Pesto - I found an interesting sounding one I will try - it uses green pumpkin seeds instead of nuts - the author says the toasty taste balances out the bitter greens and uses the pesto over pasta, as a sandwich spread or dip.

Radicchio - you probably see this in the grocery stores, and on some restaurant plates, but maybe you have never prepared it yourself? Again, it does have some bitterness. The simplest way to use it for me is to use a leaf or 2 in a mixed green salad - I then cut them into slivers and it adds a nice bite when combined with other more mild greens. I also love to grill it - cut the heads in half or quarters, depending on size, brush with olive oil and as I described with scallions, watch closely - you just want a light char. Remove from the grill, plate and drizzle with a bit more olive oil and balsamic vinegar, salt and pepper to taste - if you want, grate some parmesan cheese over and add a few toasted nuts of your choice. Or slice the grilled radicchio up and mix in with cooked pasta, adding the same things described as when served alone.
How I Enjoyed My Harvest
How I enjoyed my harvest this week
By Linda Dansbury
Another very busy week limited my cooking exciting dishes, but I did do some cooking, actually taking some things from my freezer from last year! Send me how you enjoyed your harvest at lindadansbury@comcast.net
Cilantro - had made batches of a tomatillo sauce last year and froze it so I made the chicken with tomatillo sauce and used my bunch of cilantro to add the fresh flavor at the end.
Scallions, squash
- grilled them and served alongside grilled meat- one of our favorite things to do.
Peas, basil - grilled sausage from Ledemete Grass. While that was going, we prepared pasta and added Arugula Pesto that was in the freezer. Cooked pasta and added peas to pasta for the last minute. Mixed everything together and topped with a bit of olive oil and fresh basil leaves.
Member Share Workshop July 23rd 1-3pm
Hosted by longtime CSA and Core Group member Gia
At the request of members, we are hosting the first follow-up to the Now What?! Workshop. All members are invited to share their successes and/or discuss what issues they are experiencing in handling their CSA Share. We might not have all the answers, but we will sure try!
From Asparagus to Zucchini Cookbooks Are Here!
For several years prior to her departure from our earthly plane, Jeannine Vannais worked hard to transform the Anchor Run herb garden into the lovely paradise that it is today. In her honor and memory we are planning to build a pergola and arbor within the herb garden for vining plants to provide shade atop a comfortable space with benches. To raise money for the materials and installation of the pergola we're having a cookbook sale. "From Asparagus to Zucchini: A Guide to Cooking Farm-Fresh Seasonal Produce" will be available to purchase for $20 from the pick up room. From each purchase, $7 will go to the cost of the pergola. For more information on the book, please follow this
link
. Books should be available within the next week or so; look for them in the pick up room.
Recipes
V Dandelion Salad with Warm Hazelnut Vinaigrette
Gourmet Magazine; 25 minutes to table; 3-4 servings
1 large bunch dandelion greens, about 1 lb
1/8 cup hazelnuts
1 large garlic clove
1 Tablespoon grapeseed oil (a real good olive oil may be substituted)
1/2 Tablespoon balsamic vinegar
1/2 Tablespoon hazelnut oil (walnut oil is easier to find)
1 teaspoon dried thyme
salt and pepper to taste
Discard tough stems from greens. Cut top 5 inches from greens and reserve. Cut remaining greens into 3/4 inch slices. Transfer all greens to a large serving bowl. Coarsely chop nuts and finely chop garlic. In a small heavy skillet, cook garlic and nuts in grapeseed oil over moderate heat, stirring, until garlic is golden. Stir in vineger, hazelnut oil, and thyme. Season with salt and pepper to taste. Pour hot vinaigrette over greens and toss.
V Garlic Braised Dandelion Greens with White Bean Puree
Courtesy Emeril Lagasse; serves 4-6 depending on serving it as an appetizer or main dish. I have marked this dish as vegan because the pancetta can easily be left out, just use a couple of tablespoons of olive oil to braise the greens and add salt to the greens and substitute vegetable broth for the chicken broth.
3 cups cooked white beans, such as navy or cannelini, drained
1 cup plus 2 tablespoons chicken broth
3/4 cup extra virgin olive oil
Salt and freshly ground black pepper
3 ounces sliced pancetta, diced
4 large garlic cloves thinly sliced
1/4 teaspoon crushed red pepper flakes
1 pound fresh young dandelion greens, tough ends trimmed, well washed
1/2 teaspoon sugar
Chopped parsley leaves, for serving
Chopped fresh thyme leaves, for serving
Kosher salt, for serving
1 lemon, cut into 6 wedges, for serving
In a food processor combine the beans, 1/4 cup of the chicken broth and 6 tablespoons of the olive oil and process until mostly smooth, stopping to scrape the sides of the bowl as necessary. Season with salt and black pepper to taste and set aside, covered at room temperature, until ready to serve. (If beans are still warm they may be served with warm dandelion greens.)
Heat a large skillet over medium-high heat and add the pancetta. Cook, stirring occasionally, until crispy and all of the fat has been rendered, 3 to 4 minutes. Using a slotted spoon, transfer the pancetta to a paper lined plate to drain and set aside. Reduce the heat to low and allow rendered fat to cool slightly. Add the garlic and crushed red pepper and cook, stirring, until garlic is lightly golden around the edges, 2 to 3 minutes. Add the greens and remaining chicken broth and cover the pan. Increase the heat to medium-high and cook 1 to 2 minutes, until greens are wilted. Uncover the pan and add the sugar and salt to taste. Stir to thoroughly combine. Cover the pan and continue to cook until the greens are tender, 5 to 10 minutes longer. The greens may be served warm or at room temperature.
When ready to serve, divide the bean puree evenly among 6 appetizer or entree plates. Divide the greens among the plates, arranging them around the bean puree. Drizzle each plate with 1 tablespoon of the remaining olive oil and a pinch of chopped parsley, a pinch of chopped thyme, and a pinch of kosher salt. Divide the reserved crispy pancetta evenly among the plates and serve each plate with a lemon wedge for guests to squeeze over the greens and bean puree, as desired.
Dandelion Pumpkin Seed Pesto
From thekitchn.com. Can be used over pasta, as a sandwich spread or dip. Makes about 1 cup
3/4 cup unsalted hulled (green) pumpkin seeds
3 garlic gloves, minced
1/4 cup freshly grated parmesan
1 bunch dandelion greens (about 2 cups, loosely packed)
1 tablespoon lemon juice
1/2 cup extra-virgin olive oil
1/2 teaspoon kosher salt
Black pepper, to tasted
Preheat the oven to 350°F. Pour the pumpkin seeds onto a shallow-rimmed baking sheet and roast until just fragrant, about 5 minutes. Remove from the oven and allow to cool.

Pulse the garlic and pumpkin seeds together in the bowl of a food processor until very finely chopped.

Add parmesan cheese, dandelion greens, and lemon juice and process continuously until combined. Stop the processor every now and again to scrape down the sides of the bowl. The pesto will be very thick and difficult to process after awhile — that's ok.

With the blade running, slowly pour in the olive oil and process until the pesto is smooth. Add salt and pepper to taste.