Rain, Rain, Go Away?
News
Notes From The Field
Hot and Steamy
By Derek McGeehan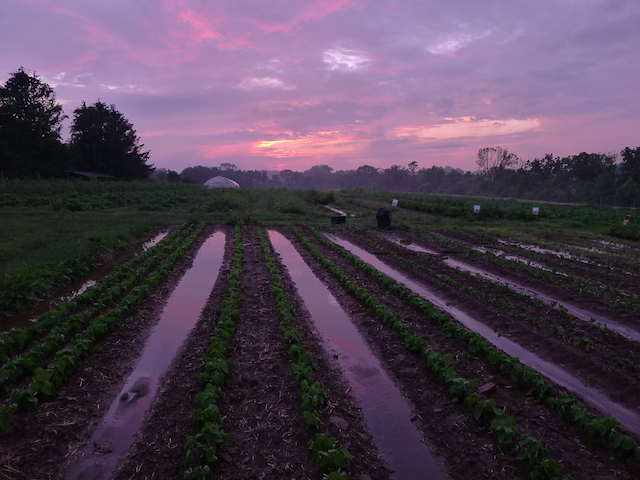 The farm received 5 inches of rain in 6 days last week, culminating with a 2-inch event that began while we were desperately trying to finish transplanting on Wednesday. Fortunately we were about 90% of the way through planting lettuces, beans, beets, cabbage, broccoli, and cauliflower and managed to plant the final few beds as the rain began to fall lightly. What we thought was going to be a short-lived light rain middle-of-the-day rainstorm turned into 5-hour almost-deluge. Or, maybe it felt that way since the soil was near its saturation point. We were very lucky the ground was workable to prepare the raised beds for planting into following the 3 inches that came down over the prior weekend. Because much of the rain fell hard and fast, a lot of it rain off, and unfortunately took soil with it. We've been meeting with folks from the USDA's Natural Resources Conservation Service to help us figure out a longterm solution to abate the erosion in some particularly problematic locations. For now, we have to grimace, but try to at least appreciate the moisture for the crops.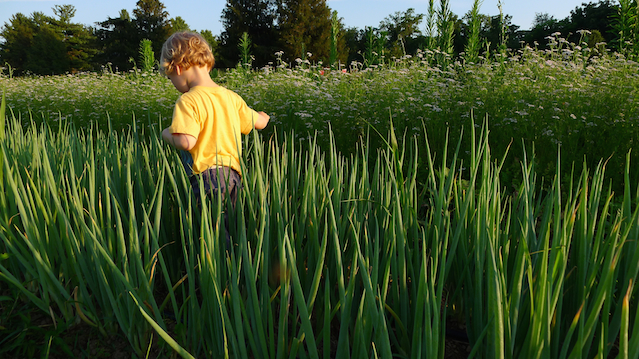 Gabe inspects the 2nd scallion planting with flowering cilantro in the background.
Expected Harvest
Heirloom Tomatoes Arriving
By Derek McGeehan
Harvest #10 (Week B) should include tomatoes, cabbage, squash, cucumbers, lettuces, scallions, fresh uncured garlic, eggplant, fennel, celery, and carrots. U-pick should include basil, cilantro, dill, parsley, yellow wax beans, cherry tomatoes, flowers, and perennial herbs.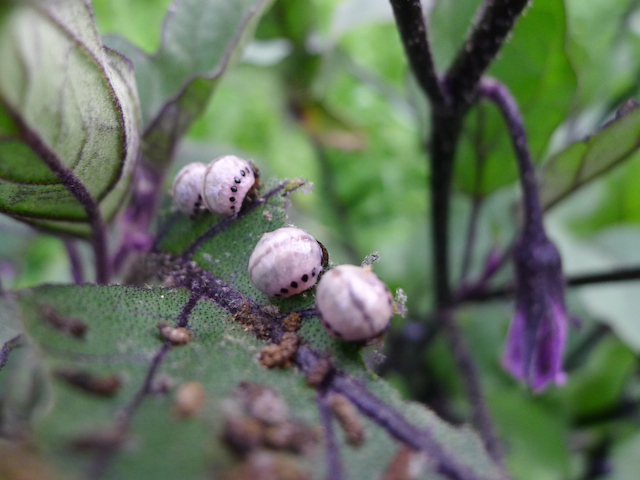 These hungry critters/nemeses are Colorado potato beetle larvae happily consuming eggplant foliage.

Half of your committed work hours should be completed by the end of July! Over the course of the season full shares work 8 hours; half shares work 4 hours. If you're unable to contribute the physical portion of your share, you may contribute to the farm financially at the rate of $15/hour. This fills out the balance of your share cost.
This week we'll harvest carrots, pull weeds, and probably cultivate. Beat the heat by coming in the morning!
Tuesday 7/19 8-10am; 10am-12noon
Wednesday 7/20 8-10am; 10am-12noon; 6-8pm
Friday 7/22 8-10am; 10am-12noon
Saturday 7/23 8-10am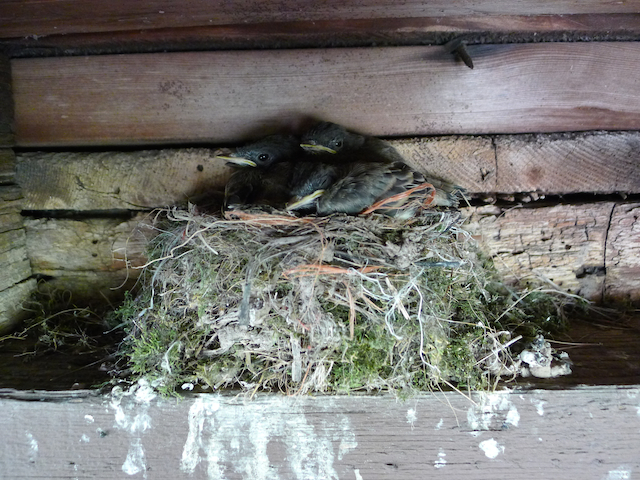 Baby flycatchers nestle on a beam in the Walnut Barn. A parent or two made a beautiful nest, including some orange straw bale twine.
Member Share Workshop July 23rd 1-3pm
Hosted by longtime CSA and Core Group member Gia
At the request of members, we are hosting the first follow-up to the Now What?! Workshop. All members are invited to share their successes and/or discuss what issues they are experiencing in handling their CSA Share. We might not have all the answers, but we will sure try!
Ledamete Grass Farm Market 7/28 1-5pm
Ledamete Grass Farm will be at Anchor Run Farm for a market day on Thursday, July 28th from 1-5pm*!
*If you can't make that day/time, no worries, pre-orders can be left in the freezer for you to pick up on your next share day.
Here are the ordering instructions from Ledamete Grass Farm:
Order
Your Pastured Meats Today- Deadline Midnight July 20th!
100% Grassfed Beef
Pasture & Forest Raised Pork
Pastured Chicken
Pre-Orders
preferred but day of sales will be welcomed.
Ledamete Raised Pork
We raise Tamworth cross heritage breed pigs, as they thrive in the forest and field and are known for their excellent flavor. In addition to forage, our pigs are fed local grain raised with organic methods, organic veggie compost, and grass-fed raw dairy products.
Ledamete Grass Farm Pastured Poultry
Our chickens and turkeys are raised on pasture with constant access to fresh bugs, herbs and grasses. In addition to the forage they find, we provide our birds with grain, grown and milled fresh by a local farmer who utilizes organic methods. The birds' access to fresh air, exercise, sunshine, green grass and bugs creates very delicious and nutritious meat!
Ledamete Grass Farm 100% Grassfed Beef
We raise Rotakawa Devon/Jersey Cross beef as they do very well on 100% grass. This meat is nutrient dense and delicious!
How I Enjoyed My Harvest
Time for Veggie Salads
By Linda Dansbury
It is too hot for long cooked foods, but I did prepare quite a few dishes this past week and hope to do a couple of things today in prep for the coming week.
Cucumbers, scallions, parsley - I make my cucumber salad like my grandmother used to. I slice cucumbers on a mandoline (I have a very simple one with a single blade that I purchased mainly for this purpose, a veggie peeler works, but the mandoline makes it go SO much faster!). I add sliced scallions and chopped parsley. The dressing is composed of a little salt, pepper, celery salt, red wine or apple cider vinegar and a neutral oil. This salad keeps for only about a day - the cucs wilt quickly, so I tend to only make enough for one meal.
Snap beans, scallions, garlic scapes, basil - I prepared a large salad. The dressing is red wine vinegar (sometimes I add a splash of balsamic), olive oil, salt and pepper, oregano and a bit of Dijon mustard. I also added chick peas. When I had it for lunch the next day, I added a few crumbles of feta cheese. Really tasty, healthy and it keeps for at least a week!
Summer squash, eggplant - grilled them - I brush with olive oil and sprinkle a bit of salt and pepper - is all it takes. Any leftovers can be incorporated into a pasta salad.
Cheroke, dandelion, endive, cherry tomatoes, scallions - oops! I found a head of endive that had been pushed to the back of the fridge. The outer leaves had gone bad, but the inner ones were fine. I made a hearty green salad with the mix of greens, tomatoes and scallions. I used a stronger flavored sherry vinegar in the dressing and topped with toasted pine nuts.
Summer squash, cilantro - we had a really simple dinner one night - I am sharing the recipe for Sauteed Summer Squash with Chorizo, Cilantro and Lime. Simply cook the chorizo, when browned and cook, remove from pan and add the cubed up summer squash, cook until browned and desired tenderness then add the chorizo back into pan to heat back up, at end add lime zest and the juice from a lime and a nice amount of roughly chopped cilantro. One pan and easy - I had feta cheese so I topped with a little of that.
Cabbage, Swiss chard, scallions, garlic scapes - Made cole slaw roughly to the Asian Style Slaw recipe on this site. It was even good the next day as a topping for a thinly sliced pork sandwich.
The heat is on!
By Linda Dansbury
Yes, it is very hot outside right now, but my reference to it has more to do with the amount of veggies we receive this time of the year - we are close to the peak right now both for those items that are picked up at the barn and u-pick. The veggie list at this time of year doesn't change much, but the quantity is huge! So, I start working on making recipes that we can eat some and freeze some, or salads from veggies that will keep for a few days. Right now I have most of the eggplants from 2 weeks of harvest so I am planning to make some baba ganoush and try an eggplant salad - if it is as yummy as it sounds, I will share it next week.
With all the snap beans, I will make a large green bean salad, which is actually best starting on the second day. It will keep for over a week and I can have it for lunches or as a dinner side dish. I make a simple red wine vinaigrette for the salad - my "add-ins" can be some or all of the following: scallions, basil/parsley, chopped peppers, sliced celery, chick peas, feta cheese.
Speaking of snap beans, we have a couple of simple methods to get them ready for freezing. Last year at our "Now What" Seminar, a member said she had read that you don't need to blanch green beans before freezing, which has been the standard practice for many years. To do this, clean and dry them, then place on a cookie sheet and place in freezer. When frozen, place in good quality plastic bags or containers, and freeze. I have never tried this method myself, so someone who has done it and then eaten the beans later in the year, please let me know how well it works at lindadansbury@comcast.net
I also make slaw with my cabbages - again, large amounts so I can have it for a few days. To boost flavor and nutrition, in addition to using cabbage in my slaws, I slice Swiss chard or other greens thinly and add it to the mix.
Member Ideas and Suggestions
Cucumber Ideas
By Linda Dansbury
Thank you to 2 members, both of whom sent ideas for using the bountiful amount of cucumbers we are receiving right now. If you have ideas for any of the items we are receiving, please send to me to share with the rest of the members at lindadansbury@comcast.net - please put Anchor Run in the subject line so I can find it.
Nancy Wasch sent the following note and recipe for savory breakfast cucumbers:
Cucumbers are a special treat for me, since I only eat them when they are very fresh - a supermarket cucumber is never appealing. With the abundance of cucumbers, I have been trying to come up with ways to use them all. This breakfast cucumber salad is addictive! Similar to your basic sour cream recipe, but substitute yogurt.
Savory Breakfast Cucumbers
1 cucumber
a few heaping scoops of yogurt - make sure it has some fat to get your protein-carb-fat balance
splash of cider vinegar
S&P to taste
chopped dill if available
optional - slivers of green onion
Thinly slice the cucumber (peel first if necessary). Toss with remaining ingredients. Refrigerate a half hour to integrate the flavors. If you just can't wait, go ahead and eat it without the wait - still delish.
Veen Huffnagle sent in a recipe for Cucumber Sushi Rolls that sounds really interesting. I am adding it to the website. Veen says "I made ours vegan and used the carrots, cucumbers and scallions from last weekend's pickup. I also used brown rice, rice wine vinegar, sautéed mushrooms and bell peppers."
Recipes
V Cucumber Sushi Rolls
From liveeatlearn.com. Takes about 30 minutes to prepare.
2 cucumbers
1 cup cooked rice (white or brown)
¼ to ½ firm avocado, cut into thin slices
¼ red bell pepper, julienne (matchstick) cut
¼ orange bell pepper, julienne (matchstick) cut
Optional: you can also try adding in julienne cut carrots, red cabbage, sprouts, or scallions.

Spicy Mayo
1 Tbsp light mayo
½ tsp sriracha sauce (or more to liking)
Cook rice by instructions on package. When finished, do not stir rice and allow it to cool. This should make for a stickier rice to hold everything together.
Cut each cucumber in half and remove seeds with either a small spoon or knife to create a long, hollow tube. Spoon in a small amount of rice, then compress towards one side of the tube. Gently insert a slice of avocado and a few slices of pepper, then add more rice to fill gaps, compressing and adding more rice until packed full. Be gentle, especially if your avocado is ripe and soft! With a sharp knife, slice cucumber into 1 inch thick pieces (thinner if you're a daredevil). If you start to notice the filling is loose as you cut, stuff in some rice and peppers where needed.
Serve with either low sodium soy sauce or spicy mayo. To make spicy mayo, mix 1 Tbsp mayo and ½ tsp sriracha.
Sauteed Summer Squash with Chorizo, cilantro and lime
From thekitchn.com. Ready in under 30 minutes. Serves 4.
1 teaspoon olive oil
4 ounces Spanish chorizo, cut into 1/3-inch cubes
4 medium summer squash, cut into 3/4-inch cubes
1 lime, zested and juiced
1/2 cup loosely packed cilantro, roughly chopped
Salt and pepper to taste
Heat the olive oil over a medium-low heat in a large skillet and add the chorizo. Cook for 5 minutes, until the fat has rendered out and the chorizo is slightly crisp. Transfer the cooked chorizo to a plate, but leave behind the oil.
Add the cubed zucchini to the hot skillet and increase the heat to medium. Sauté the squash, tossing occasionally, until browned and soft, about 10 minutes. Stir in the lime juice, lime zest, cilantro and cooked chorizo. Season to taste with salt and serve.
Recipe Notes
Vegan Version: Leave out the chorizo, increase the olive oil to 1 tablespoon and include 1/2 teaspoon of smoked paprika when adding the lime and cilantro.
V Asian style cole slaw
Adapted from different recipes I have found over the years. Different greens are listed - use whatever you have on hand/what you like. Takes about 30 minutes, most of it time to shred - if you use a processor it will go faster. Recipe as is serves about 4

3 cups very thinly sliced green cabbage
1 1/2 cups shredded peeled carrots or turnips(I have been using the red salad turnips for nice color)
1 cup fresh spinach leaves, trimmed, thinly sliced, I use whatever other greens we have - radicchio and chard work really well.
1/4 cup rice vinegar
1/8 cup oriental sesame oil
1/8 cup sugar
1 - 2 tablespoons minced peeled fresh ginger
1 teaspoon soy sauce
fresh lettuce leaves(optional)
1 1/2 tablespoons sesame seeds, toasted

Combine cabbage and other veggies/greens in large bowl.

Whisk vinegar, oil, sugar, ginger and soy sauce in medium bowl until sugar dissolves. Season with salt and pepper. (Cabbage mixture and dressing can be made 1 day ahead. Cover separately; chill.)

Toss cabbage mixture with dressing. Season coleslaw with salt and pepper. Line platter with lettuce leaves. Mound coleslaw on platter. Sprinkle sesame seeds over and serve.