Welcoming Heat Resilience
News
Notes From The Field
Potent Heat Wave
By Derek McGeehan
Five inches of rain followed by this incredibly long heat wave means that, mostly, weeds are growing like mad. It also means crops are maturing fast, early summer crops are waning, and irrigation needs to be considered again. We're all doing our best to stay cool (not), tolerate the constant furnace, and stay hydrated. It's a minor and hopefully temporary challenge. With the heat comes watermelon, sweet corn, and sweet peppers, as well as an increase in tomatoes, both large and small. Carrots were safely harvested and stowed with a workshift this morning while celery and fennel are coming to an end. Onions will arrive soon as well as the wonderful husk cherry, a new farm favorite. With mid-summer upon us soon the arrival of diseases will commence, first with cucumber and squash family afflictions and eventually tomato family blights. So far, though, the tomatoes look happier at this time of year than they have in a few seasons and I'm sure some of us will be happy for a break from squash and cucumbers (or just the harvesting of). Thank you and see you soon.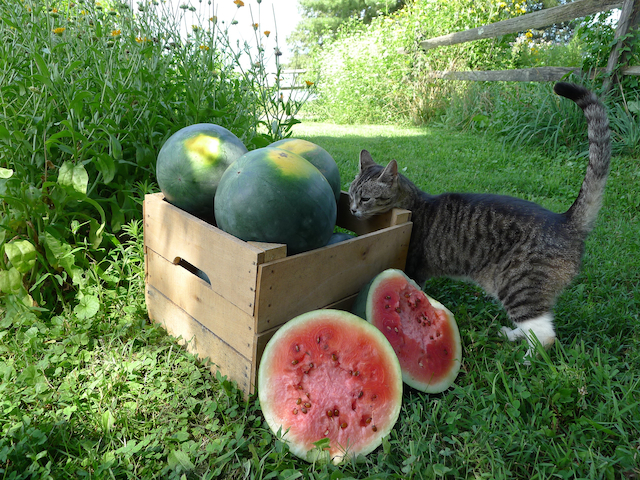 Grrrl Cat surveys part of the watermelon haul and approves rubbingly.
Expected Harvest
Heat Loving Veggies
By Derek McGeehan
Harvest #11 (Week A) should include sweet corn, watermelon, sweet peppers, lettuce, tomatoes, eggplant, scallions, fresh garlic, summer squash, cucumbers, carrots, celery, fennel, and cabbage. Some items will be a choice. U-pick should include cherry tomatoes, tomatillos, green beans, dill, cilantro, parsley, basil, perennial herbs, and flowers.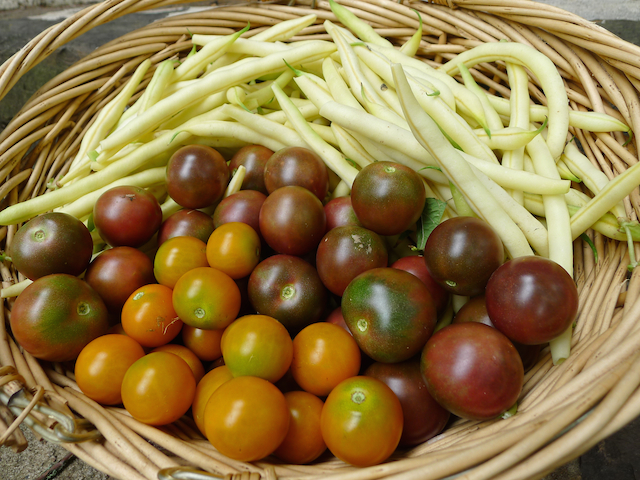 You should pick some dynamically flavored black cherry tomatoes from the u-pick patch. Above, they're nestled between sun gold cherry tomatoes, which are also stellar, and yellow wax beans.
Workshifts This Week of 7/24
Half of your committed work hours should be completed by the end of July! Over the course of the season full shares work 8 hours; half shares work 4 hours. If you're unable to contribute the physical portion of your share, you may contribute to the farm financially at the rate of $15/hour. This fills out the balance of your share cost.
This week we'll transplant kale, lettuce, and beets; pull weeds; cultivate; and possible harvest onions and/or watermelon. Beat the heat by coming in the morning!
Tuesday 7/26 8-10am; 10am-12noon
Wednesday 7/27 8-10am; 10am-12noon; 6-8pm
Friday 7/29 8-10am; 10am-12noon
Saturday 7/30 8-10am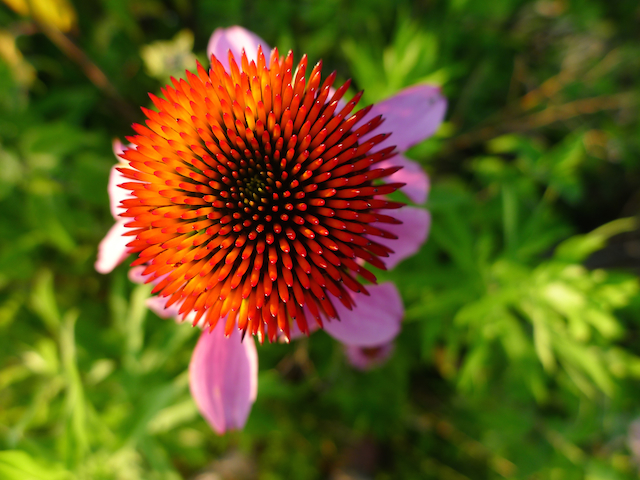 A close up of an echinacea bloom, also known as purple coneflower, in the 2-acre pollinator habitat.
Sweet Corn and Tomatillos!
By Linda Dansbury
For the first time ever we will be receiving sweet corn as part of our share! Everyone knows how they like to cook their corn - for us, we most often boil a pot of water, add the corn, and then turn the water off. We eat our main course and then eat the corn. We eat it completely plain - no butter, not even salt! Farmers D&D eat theirs raw, uncooked, and plain. They think the flavor needs no embellishing.
A very important thing to remember is that corn loses it's sweetness quickly, especially at warm temperatures - some of the newer varieties stay sweet longer, but you need to put your share in plastic and get into your refrigerator ASAP - or better yet, eat it for dinner the evening of your pick up.
Tomatillos are an unusual veggie that may not be very well known to new members. They look like an un-ripe tomato that has a papery skin around it. To harvest them, as with many other veggies, look low on the plant. The veggie is ready when the papery husk is split and is getting loose around the veggie. In the stores, tomatillos are typically green because they are not at optimum ripeness. Look for fruit that is turning yellow - I have often found the best ones to be laying on the ground, especially as it gets later in the season.
Storing tomatillos is simple - plastic bags in the fridge - they keep for a couple of weeks so I often save 2 weeks worth and then "process" them. They also can be frozen whole after removing the papery skin.
To eat tomatillos, they can be diced up and added to salads - they have a mild flavor, reminiscent of citrus. I don't particularly love them this way so I cook and then use them. I sometimes grill them, or I halve them and roast them in the oven and then proceed with recipes for Salsa Verde, or a sauce to use with chicken and/or fish. I find myself making batches and freezing for use later in the year. My go-to recipe is the tomatillo sauce from the Chicken Stew with Tomatillo Sauce. The tomatillo sauce is great as used in the recipe but it also makes a great salsa for chips. I just searched this site and there are truly nice recipes that I had forgotten about so now I am very excited to pick tomatillos!!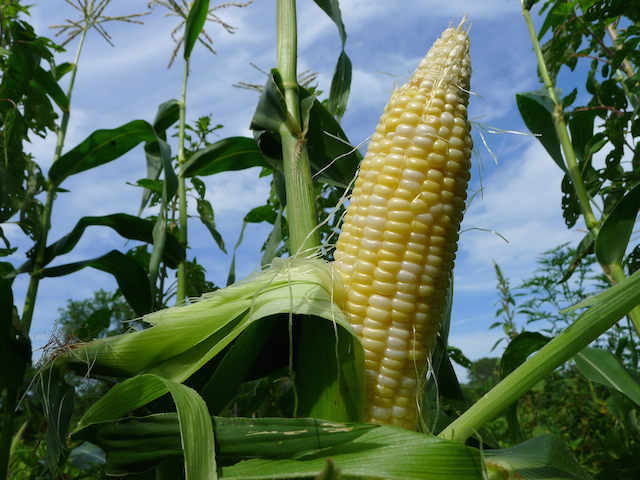 Certified organic and non-gmo seed and not-quite-yet-certified-but-organic-otherwise growing practices produced a beautiful ear of sweet corn. Who would have thought it was possible?
How I Enjoyed My Harvest
Still a lot of Squash and Cucumbers!
By Linda Dansbury
The member ideas are truly reflective of what we are receiving a lot of - and it is so great sharing ideas and recipes! Here is some of what we enjoyed this week.
Summer squash, scallions, garlic scapes - summer squash fritters - the recipes I have checked out are all similar. They have eggs, baking powder, flour, some type of allium(onion), and a cheese component - some add garlic to the mix. Some have a dipping sauce, or just a drizzle of lemon. Mix and match to find what your family likes the best.
Summer squash, garlic scapes, tomatoes, lettuce - made the Warm Sausage Salad with Sumer Squash also using sausage that I got with my pork share from Ledemete Grass. I really like this recipe in part because it uses only 1 pan, so on these hot summer nights it minimizes the amount of heat added to the house. It also tastes great!
Eggplant, parsley - made Twice-Cooked Eggplant Salad from the Zahav cookbook. It was very good with pita chips and would also be good as a side dish with grilled meats, but it was fairly time consuming and required constant watching - I try to keep things pretty simple for things posted on this site, so I am not going to post this one.
Green beans - sometimes things are yummy simply steamed with a little salt and pepper!
Member Ideas and Suggestions
Question and Ideas
By Linda Dansbury
I am happy when I receive ideas from fellow members, so this week I am ecstatic because 4 of you took the time to email me with both ideas and questions. Thank you so much! If you have ideas, please email me at lindadansbury@comcast.net. Please put Anchor Run in subject line so I can find your email.
Alice Maxfield sent a message saying that she has already made 3 batches of the Narrow Bridge Farm Refrigerator Pickles. This recipe is for folks who want to make/eat pickles but don't have the time or inclination to can. I have made them many times and they are delicious, so try the recipe if you haven't already.
Phyllis (I am sorry, I don't know your last name) asked me a question about some of the eggplants being soft and getting spots within a few days of picking them up and she asked me if they are still okay or if they are bitter. I believe she must be referring to the lighter purple/lavender colored eggplants. I have found over the years that this variety does not keep for as long, so I use these up first. They are used the same as any other eggplant, but they do have a slightly higher water content, so keep that in mind because they don't crisp up as much as the others when frying or grilling, but they are great in any recipe, including baba ganoush - I am also sure they will be good in the soup recipe that another member shared with me this week. Farmer Derek says: "Eggplant is noticeably more sensitive to cold storage, so try to store your eggplant in a less-cold location within your fridge."
Tina Nightlinger sent me a recipe for squash fritters which is funny because I also had planned to make this week. I checked this site and found a recipe for Vegetable Cakes (from fellow member Nancy Popkin) and one for Greek Squash Cakes which are also very interesting - the Greek one is very similar to the one I made so I am going to modify that recipe to accommodate the variation. Here is Tina's note and recipes, which will be formally added to the site. Tina's note on squeezing out the liquid is very important - if we hadn't done that we would have had a pile of mush and the fritters would not have crisped up at all.
"I had a bit of a buildup of summer squash this week, so I decided to make zucchini fritters. Here's my recipe:
1 cup (6.5 oz.) mixture (3 to 1 ratio) of shredded zucchini (summer squash) and small diced onion (see note)
1.5 cup (8 oz.) all purpose flour
2 tsp baking powder
.75 tsp salt
.5 tsp pepper
.75 tsp paprika
Pinch cayenne
1 egg
1 cup milk
Combine all dry ingredients. Combine egg and milk. Combine dry with wet and add zucchini mixture. Deep fry in 375 degree oil for about 3-4 min per side. Serve hot or cold. I usually freeze some.
Note: summer squash has a lot of liquid which effects the moisture of the batter, so after you shred the squash (on a box grater or with a grater attachment on a food processor), wrap it up in a clean towel, and squeeze out the excess liquid. You can also substitute other vegetables for zucchini. Corn works well for example. You can also substitute beer for the milk if you need this dairy free or you just don't have any milk.
I usually serve these fritters with romesco, but I didn't have red peppers of any kind. So I made a tomato version the other day. I think I like it better. Here's that recipe:
2-3 medium (or a pint of small cherry) heirloom tomatoes, hulled and large dice
2 large cloves garlic, sliced
1 small shallot, sliced
1 small hot pepper, any kind that fits your heat preference, seeded & sliced (or substitute red pepper flakes, or hot sauce at the end... It's all about preference here)
Olive oil
Salt
Pepper
2-3 basil leaves, torn
1 sprig oregano, picked
Approx 1 cup red wine or sherry vinegar
Approx 1 cup toasted almonds
Combine tomatoes, garlic, shallot, and hot pepper in a bowl with salt, pepper, and olive oil. You need just enough oil to coat the vegetables. Salt and pepper is to taste, but you can add more later. Spread it out on a sheet tray and roast in a 400 degree oven for about 20 min. The tomatoes will shrivel a little and have a slight brownness.
Place the roasted vegetables, basil, oregano, and vinegar in a blender or food processor. Process until smooth. Then add the almonds a few at a time. What you're looking for is a somewhat thick sauce. When you get there, taste it. Add salt, pepper, vinegar, or whatever you want to get it to your liking.
Thanks for letting me share. I don't really cook with recipes, but I'm trying to write more stuff down so I can reproduce it. I hope it is clear, and that people enjoy it."
Tina, we will all enjoy what you have sent!
Judy Wright sent me a recipe for Roasted Eggplant Soup. Judy said it is equally delicious cold, since it is not exactly soup weather! She froze some, which is a great way to preserve the eggplants we are receiving right now. The recipe itself says that even though it calls for adding cream it is delicious without. I have posted the recipe on the sight and I plan to make it soon, hopefully tomorrow!
Thank you again to all who took the time to email me!
Recipes
V Narrow Bridge Farm Refrigerator Pickles
If you are nervous about canning pickles, make these instead -- they are great!
2 quart jars
1 Tbsp chopped dill
1 Tbsp salt
5 medium or 10 pickling cucumbers
1 tsp mustard seed
4 garlic cloves, crushed (or 1-2 garlic scapes, chopped)
6 peppercorns
1 cup vinegar
2 1/2 cups water
Cut cucumbers into long spears. Put in a large bowl, sprinkle with salt and dill. Mix until coated. Let sit 1/2 hour. Divide salted cucumbers into jars. Divide pepper, mustard and garlic and add to each jar. Combine vinegar and water. Add vinegar mixture to jars. Screw on lids and shake to mix. Put in fridge, eat next day! These last up to a week but you'll eat them up in a few days.
Warm Summer Squash and Sausage Salad
Courtesy of Rodales' Garden-Fresh Gardening; serves 4; ready in about 30 min
1 1/4 lb Italian sweet sausage, casing removed (chicken or turkey sausage is good too)
3 Tablespoons olive oil, divided
1 teaspoon dried oregano -- if you want to use fresh, use 1 Tablespoon, chopped fine and add at the end
About a full head of lettuce, or mixed salad greens, torn into bite-sized pieces
2 ounces feta cheese, crumbled
2 cloves garlic, minced
3 medium-sized zucchini and/or yellow squash, sliced into 1/2 inch pieces
2 Tablespoons white wine vinegar
12 or more cherry tomatoes
freshly ground pepper to taste
In a non-stick skillet, cook sausage until well browned, turning frequently. Drain on paper towels.
In a small bowl, combine 1 tablespoon of the oil and oregano. Let stand.
Toss greens and feta together in a serving bowl.
Wipe out skillet. Heat remaining oil over medium-low heat. Add zucchini and in 1-2 minutes add oregano and oil mixture. Cook until zucchini is tender, about 4 minutes -- add garlic the last minute of cooking. Add vinegar and bring just to a boil. Immediately pour over greens and feta in a bowl and toss well. Add sausage and tomatoes and toss again. Season with pepper and serve immediately. Feel free to add chopped fresh herbs such as basil and/or parsley.
Chicken Stew with Tomatillo Sauce
Ingredients
Tomatillo Sauce:
1 1/2 lbs tomatillos
1-2 jalapeño chile peppers, or 2-3 serrano chili peppers (include the seeds if you want the heat, remove them if you don't), stems discarded, chopped
1 clove garlic, chopped
1 teaspoon salt
2 Tbsp lime (or lemon) juice
Pinch of sugar
Stew:
2 lbs boneless, skinless chicken thighs or breasts, trimmed of excess fat, cut into 1-inch cubes
Salt and pepper
Olive oil
2 yellow onions, chopped
2 cloves garlic, minced
1 teaspoon ground cumin
1 teaspoon ground coriander
1 1/2 cup chicken stock
2 cups tomatillo sauce
1 teaspoon dry oregano or 1 tablespoon fresh, chopped
1/2 cup packed chopped cilantro (about one bunch, rinsed and chopped, stems and leaves)
Make the tomatillo sauce. Remove the papery husks from the tomatillos and rinse well. Cut the tomatillos in half and place them cut-side down on an aluminum foil-lined roasting pan. Broil for 5-7 minutes until blackened in spots. Let cool enough to handle. Place the tomatillos, any juice they have released, chile peppers, garlic, salt, lime juice and sugar in a blender, and pulse until well blended. If you make ahead, refrigerate until needed.
Heat a couple tablespoons of olive oil in a large, thick-bottomed pot on medium high heat until almost smoking. Pat dry the cubed chicken parts with paper towels. Sprinkle salt and pepper over them. Working in batches so as not to crowd the pan, and adding more olive oil when necessary, brown the chicken pieces on two sides. When you place the pieces in the pan, make sure there is room between them (otherwise they will steam and not brown), and don't move them until they are browned on one side. Then use tongs or a metal spatula to turn them over and don't move them again until they are browned on the other side. Do not cook through, but only brown. Remove the chicken pieces from the pan and lower the heat to medium. There should be a nice layer of browned bits at the bottom of the pan.
Add the onions to the pan, and a tablespoon or two more olive oil if needed (likely). Add ground cumin and coriander. Cook a few minutes, stirring occasionally until onions are softened and the browned bits from the chicken have been picked up by the onions and are no longer sticking to the pan. Add the garlic and cook for 30 seconds more, until fragrant.
Add the browned chicken, the tomatillo sauce, chicken stock, and oregano to the pan. Stir to combine. Bring to a boil and reduce to a simmer. Cook, partially covered, for 20 minutes until chicken is cooked through. Add the cilantro to the stew in the last minute or so of cooking.
Serve over rice, accompanied with sour cream if needed to offset the heat from the chiles. The stew will thicken as it cools.
Serves 4.