Drying Out, Harvesting, Cleaning Up
News
Notes From The Field
With Help From CSA Members
By Derek McGeehan
Once again I'm amazed by how much work can be accomplished when we have large groups helping out with farm tasks. Besides all of the necessary weeding, cultivating, and transplanting that needs to be done every week on the farm, this time of year the harvesting of crops like potatoes, onions, and winter squash as well as the cleaning up of watermelon, squash, cucumber, and pea patches truly benefit from strength in numbers. Last week, with the help of workshifts, we were able to harvest 40% of the onions, both varieties of spaghetti squash, about 20% of the potatoes, as well as remove all of the weed suppression fabric from the cucurbit crops. From the farm management and functionality perspective this is great, but I hope that it is also valuable to you, our members, to come out to the farm and work with your food community. To us, this is an extremely important tenet of the CSA model. You're involved in your own food production, learn some specifics about growing crops, get some exercise outside, and work alongside other folks who are also trying to eat healthy food. For those of you that cannot contribute physically but instead contribute financially, your support is meaningfully felt as well, and we're glad this is an option for you. Because we're a CSA-only farm, in the end we're all in this together.
Saturday's potato harvesting workshift moved so quickly that I had a hard time staying ahead with the mowing and digging of the potatoes - but that is a good thing!
Expected Harvest
A Mid-Summer Change
By Derek McGeehan
Harvest #13 (Week A) should include tomatoes, eggplant, peppers, carrots, spaghetti winter squash, lettuce, chard, scallions, fresh uncured onions, fresh garlic, okra, beets, cabbage, celery, watermelon, cantaloupe, and potatoes. Some items may be a choice and/or may not be available during all pick ups. U-pick should include edamame, tomatoes, husk cherries, tomatillos, flowers, dill, cilantro, parsley, basil, and perennial herbs.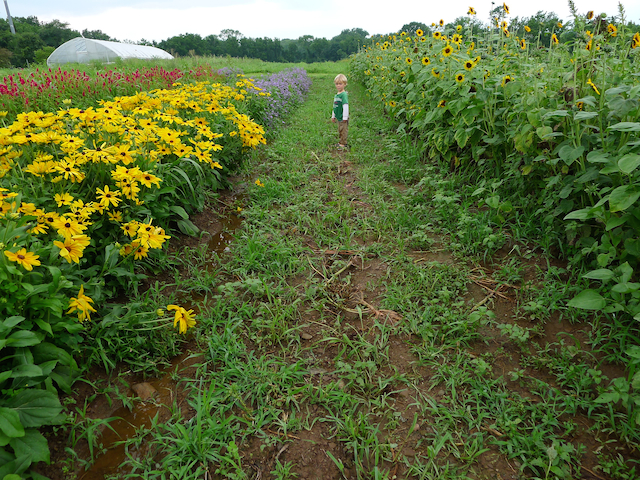 Mister Gabe turns 3 on Monday - Happy Birthday buddy!
Workshifts Week of 8/7
By Derek McGeehan
Half of your committed work hours should be completed soon! Over the course of the season full shares work 8 hours; half shares work 4 hours. If you're unable to contribute the physical portion of your share, you may contribute to the farm financially at the rate of $15/hour. This fills out the balance of your share cost.
Tuesday 8/9 8-10am; 10am-12noon
Wednesday 8/10 8-10am; 10am-12noon; 6-8pm
Friday 8/12 8-10am; 10am-12noon
Saturday 8/13 8-10am
Workshift sign-up instructions may be found
here
.
Thank you!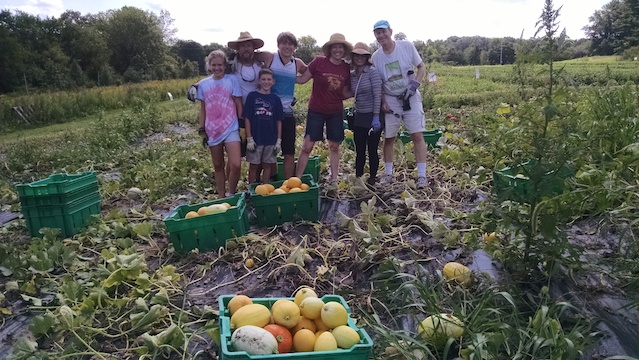 This smiling crew helped retrieve the first round of winter squash from the field. Spaghetti squash will be followed by kabocha, delicata, sweet dumpling, and several varieties of butternut.
New this week - Fresh onions. Spaghetti squash and Edamame!!
By Linda Dansbury
Wow, it is hard to believe we are already into August - the veggie assortment tells us how late it already is in the season. Three new items arrive this week - all things that I really enjoy!
Fresh Onions - not a lot I have to say about these - they are to be used as you would "cured" onions in any recipe. The only difference is these need to be stored in the refrigerator.
Spaghetti Squash
- is called this because of the way the flesh separates into spaghetti-like strands when cooked. Spaghetti squash is the first of the hard shelled or winter squashes we receive and although they do store well, these will not keep as long as some of the others that will come later in the season. Store them in a cool part of your house, but not too humid - I say this because some basements are great temperature wise, but might be too humid this time of year for good storage conditions. To cook them, I have tried several suggested methods over the years and have decided that the easiest, most reliable method is to preheat over to about 375 degrees. Cut the squash lengthwise in half and scoop out the seeds. Place the squash cut side down in a deep baking dish and put enough water in the dish to cover the bottom. Bake for 25-35 minutes, or until a knife goes easily through - time is dependent on size of the squash. Remove from oven and when cool enough to handle take a fork and scrape the strands out of the shells. We have several delicious recipes on this site so please use the search feature. This time of year I would say my favorite way is to prepare the
Uncooked Tomato Sauce
recipe and top the hot strands of the spaghetti squash with the sauce, adding whatever cheese component you like - simple and delicious!!
Edamame - is one of the treats most anticipated by long time members. Take the time to do your U Pick - I try to plan my weekends to do U-Pick when the weather is at the best it can be - sometimes heat, humidity and T-storms make it a bit of a challenge, but you definitely don't want to miss out. The most mature pods are typically at the bottom of the plants. Pick those that have well formed beans showing through the outer shell. Store in a plastic bag until ready to prepare - I have to say that my first picking each year gets eaten up immediately, and then later pickings I get to prepare and freeze for use all winter long. Bring a large pot of water to a boil and add A LOT of salt - about 2 Tablespoons per 3 quarts of water. Add beans and be careful they don't boil over - that is the reason for mentioning a large pot - start checking for tenderness at about 9 minutes - sometimes they are ready at that point but can take up to 15 minutes. Drain and salt again - suck the pods and the beans will come right out - Yum!! I will highlight recipes in future weeks but you can search the site for delicious ways to use your edamame.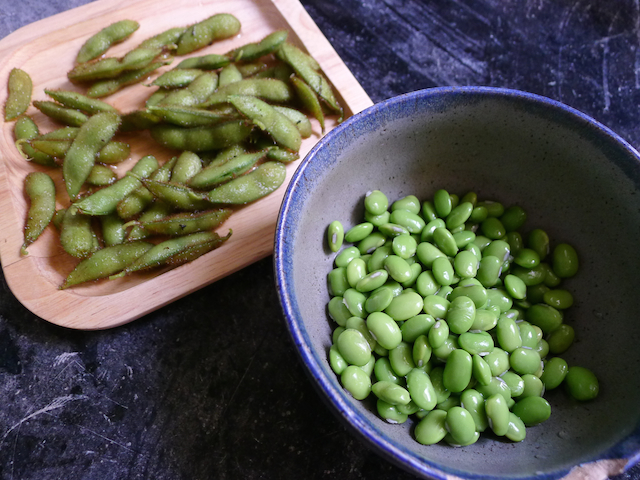 Boiled in water with a tablespoon or two of salt for 10-15 minutes renders edamame into quite a delectable snack. With a gentle squeeze the beans slide right out of their pods.
How I Enjoyed My Harvest
Endings and Beginnings
By Linda Dansbury
This time of year even though it is the heat of the summer, we begin to see changes in the harvest: the delicious and abundant summer squash and cucumbers have succumbed to diseases which spread like wild fire when humidity is high as we have seen in the past couple of weeks (our farmers have tried sequential planting later in the season so we can enjoy these crops through the month of August, but it is a "fruitless" endeavor because the plants succumb before even bearing a crop). But, we are receiving the first of the onion, winter squash and edamame so our meals will shift. For this past week, here is a bit of what we enjoyed:
Tomato, garlic, scallion, basil - we have been enjoying some version of tomato salad on most nights - sometimes with little pieces of fresh mozzarella, sometimes with goat feta or sometimes no cheese at all. On nights when I add a touch of balsamic vinegar in addition to the good quality olive oil, we will have a nice hunk of bread to soak up the juices at the end - I learned this as a kid and we would all fight for the juices at the bottom of the bowl - one of the most delicious things about local summer tomatoes!
Tomato, garlic - we spent a week in Barcelona in late spring and one of the iconic dishes there is called Tomato Bread. In eating that week we found every restaurant has their version of it, but one of the best and easiest ones is this: using a rustic loaf of bread, slice it into about 1/2-inch thick slices, and bake bread in a 450 degree oven until lightly toasted. When cool enough to handle, take a garlic clove and slice in half and rub one side of each slice of bread with the garlic. Then, take a nice meaty tomato, and do the same thing - you should have a light coating of tomato on each slice. Next, drizzle a good quality olive oil over each piece and top with a sprinkle of a nice flake sea salt. The bread is delicious eaten as is, or can be served alongside cured meats (Jamon in Spanish), cheeses and olives.
Eggplant, summer squash, tomatoes - grilled and made a big platter to have alongside grilled fish. For the tomatoes, we cut in half and just gently grilled and topped with a very light sprinkle of sea salt.
Eggplant - I have tried several baba ganoush recipes over the years and decided to try yet another one in which the eggplant is cut in half and grilled until the skin is blackened and the flesh is soft like pudding. Allow to cool and then proceed with your favorite recipe. You are left with blackened bits in the baba ganoush and that little bit of char is delicious. We had a guest tell me it was the best baba ganoush he had ever had- Yay! I do use a recipe from the Zahav cookbook, which has the cook take a prepared tahini and boost its flavor with garlic, lemon juice and cumin - if anyone wants the detailed recipe let me know - we find it is worth the extra time and I make from scratch hummus at the same time.
Tomatillos, scallions, garlic - I have told you about using the tomatillo sauce that I freeze over the year and then roast chicken with it. I had an idea last week of wanting to make some type of taco using the tomatillo sauce. The idea came from thinking about how to cook delicious recipes that come together quickly without heating up the house. I have a wonderful pressure cooker that was a Christmas present that I used all winter long, but had not used in months. This time, I seared chicken thighs in the pressure cooker then placed them all in and poured the tomatillo sauce over the top and mixed it all together. I set the pressure cooker for cooking chicken and let it go. I can't say how amazing this came out!! The chicken pulled apart, making it perfect for a taco-like preparation. We used soft corn tortillas that we had warmed up, spread some of the mixture on and topped with a few scallions and rolled them up. We then spooned more of the tomatillo sauce over the top, sprinkled with cilantro, chopped tomato and a little feta cheese - this meal was an 'aha!' moment!
Member Ideas and Suggestions
More tomatillo ideas
By Linda Dansbury
If you want to share your ideas and/or recipes with fellow members, please email me at lindadansbury@comcast.net and please put Anchor Run in the subject line so I can find your suggestion. By the way, someone had sent D&D an email with a slow cooker recipe and somehow it was lost in the emailing on to me, so whoever took the time to do so, I would love for you to send it to me.
Nancy Wasch came up with a happy accident using tomatillos. She cut them into quarters and 8ths. She roasted them and turned off the oven and then forgot about them. She later found that they had continued cooking into a "sun-dried tomato" consistency. She said they are packed with flavor and she assumes they will keep a long time the way tomatoes prepped this way do.
Thanks for sharing Nancy, it does sound very interesting!!