Welcoming Cooler Weather
News
Notes From The Field
Perhaps a Brief Respite
By Derek McGeehan
With daylight slowly diminishing, the sun perceptibly getting lower in the sky, shadows getting longer, summer crops and weeds showing their age, and the upcoming lows in the 50s, thoughts are beginning to meander towards fall. Today, we're still in August in the heat and humidity of summer, but with changing seasons on the distant horizon the scramble to collect as much sunlight and photosynthesize it into edible food is palpable. We're busy harvesting and securing long-season crops. Onions were just completed, potatoes are perhaps halfway finished, and all of the winter squash except for butternut has been stowed. We're busy putting fields to sleep for the winter by mowing and plowing spring and summer crops and sowing mixes of cover crops to protect and gather up nutrients from the soil before winter. Cover crops are an essential part of an organic produce farm to replenish soil health, increase organic matter, add nitrogen, and provide pollinator habitat. We've already sowed a buckwheat and daikon radish mix that is up and growing. We're hoping tonight's rain event triggers the growth of the buckwheat, daikon, crimson clover, and oat mix that we sowed over a large part of the farm on Friday. If the seeds germinate and the cover crop successfully grows, that part of the farm can be removed from most of our thoughts until the spring.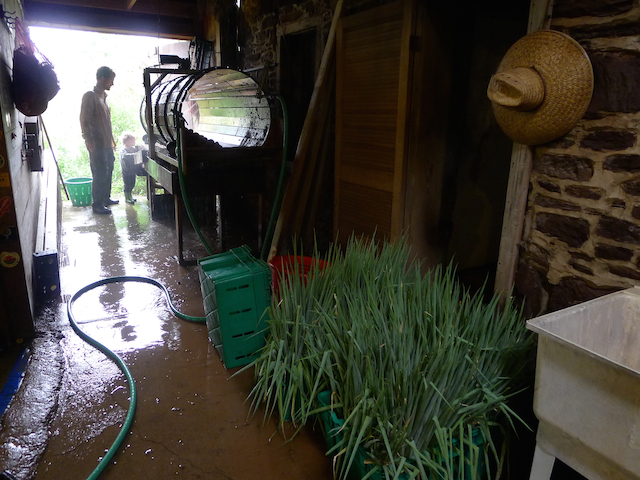 Future farmer Gabe monitors the potatoes as they roll out of our spinning root washer, making sure they correctly end up in the clean bin.
Expected Harvest
A Mix of Summer and Fall
By Derek McGeehan
Harvest #15 (Week A) should include eggplant, winter squash, carrots, sweet peppers, cured garlic, uncured onions, scallions, lettuce, potatoes, tomatoes, okra, and hot peppers. Some items may be a choice. U-pick should include cherry tomatoes, husk cherries, tomatillos, beans, edamame, flowers, and annual and perennial herbs.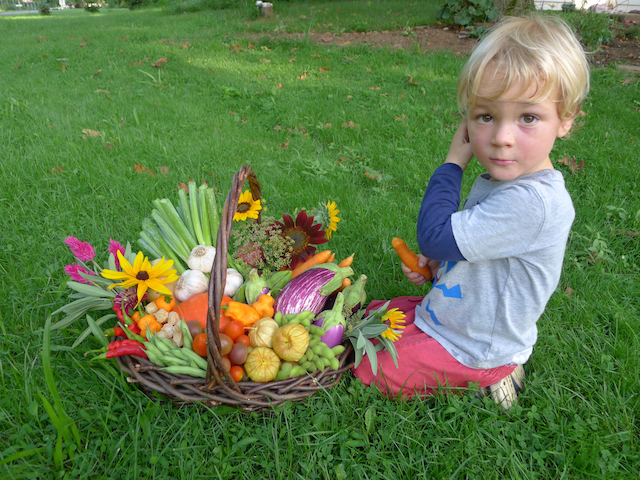 Gabe assesses and begins to snack on the components of Dana's Anchor Run CSA market basket, which won first place and best-in-show at the 68th annual Middletown Grange Fair.
Workshifts week of 8/21
By Derek McGeehan
Half of your committed work hours should be completed soon! Over the course of the season full shares work 8 hours; half shares work 4 hours. If you're unable to contribute the physical portion of your share, you must contribute to the farm financially at the rate of $15/hour. This fills out the balance of your share cost.
Tuesday 8/23 8-10am; 10am-12noon
Wednesday 8/24 8-10am; 10am-12noon; 6-8pm
Friday 8/26 8-10am; 10am-12noon
Saturday 8/27 8-10am
Workshift sign-up instructions may be found
here
.
Thank you!
If you attend an evening workshift there is a good chance you'll enjoy a beautiful sky and sunset. Photo credit farmer Mary Liz.
How I Enjoyed My Harvest
Some to eat, some to store
By Linda Dansbury
Derek's weekly post talks about the changing of the seasons and late summer is the time when I tend to work the most on "storing" food for the winter months ahead. I don't do a lot of canning - pickles, tomato sauce and sometimes relish, dilly beans and a hot pepper spread are my main canned goods. However I do prep and freeze things for enjoyment later. If you have ideas on how you enjoyed your harvest, please send to me at lindadansbury@comcast.net.
Tomatillos, hot pepper, garlic - made a large batch (from a couple of weeks of U-pick) of
Tomatillo Sauce
and froze it in the size batches needed to make complete recipes later.
Edamame - cooked as explained in prior emails. I took half of my U-pick and drained them well, placed on cookie sheet and froze, then when frozen I placed in plastic bag. The other half I shelled while watching Olympic event and used the same method for freezing - this helps expedite prep for dishes that use shelled edamame.
Eggplant, tomatoes, peppers, onion, garlic - made a large batch of
Caponata 1 and 2
. I really love this dish because it is so flexible: it can be eaten at room temperature as a topping for bruschetta, a pizza topping, as a side dish, added to pasta - if you add white beans or some type of meat, it is a complete meal. Caponata freezes very well, so I do so in containers that are enough for a meal.
Snap Beans, scallions, garlic, tomatoes, edamame - made a delicious stir fry using our ground pork from Ledemete Grass.
Tomatoes, garlic, basil - made bruschetta and
Caprese Salad
a few times as we do every year when the tomatoes are at their peak.
Summer crops
By Linda Dansbury
This week we will have cured garlic in the pick up room, which means the covering around each clove has "hardened off" enough that they protect the bulbs, ie., you no longer need to refrigerate what is picked up. They still need to be stored in a reasonably cool, dry place or they will rot/dry out/sprout sooner rather than later.
For newer members, what do you do with the edamame? Well, it makes a delicious
Hummus.
Also, they freeze really well. I typically freeze half to 2/3 of my harvest of edamame. I shell many of them prior to freezing to save time later in the year when I dig them out of the freezer, but if I don't have time, I freeze them shell and all. One thing you may not know is that edamame can be used in place of lima beans in recipes, which is how most of mine get used up - added to soups, stews, used in succotash - they are wonderful! and so good for you.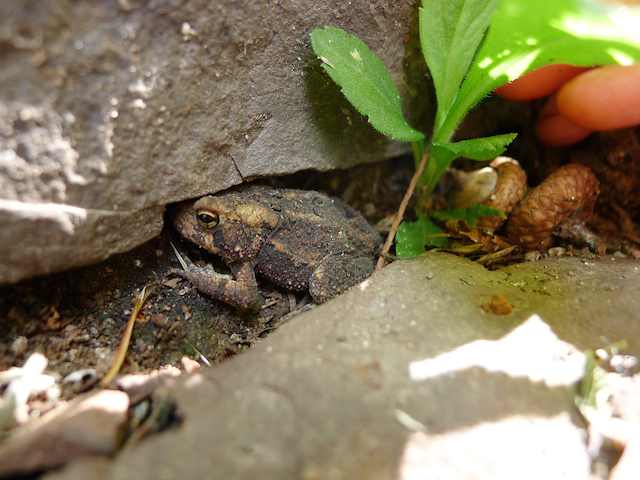 To us, one sign of a healthy nontoxic environment is the presence of amphibians so we get fairly excited whenever we discover one. Fortunately on the farm we do see toads, frogs, and salamanders frequently and we hope this means it is a healthy and safe place, and remains that way.
Ledamete Grass Farm's Monthly Market August 25th, preorder now!
Ledamete Grass Farm will be at Anchor Run Farm for a market day on Thursday, August 25 from 1-5pm*!
*If you can't make that day/time, pre-orders can be left in the freezer for you to pick up on your next share day.
Order
Your Pastured Meats Today-
Deadline Midnight August 22nd!
100% Grassfed Beef
Pasture & Forest Raised Pork
Pastured Chicken
PRE-ORDERS
preferred but day of sales will be welcomed.
To learn more about our farming practices, read below, visit our
website
, and check us out on
Facebook
. . To order visit our
e-commerce site here.
Ledamete Grass Farm Pasture & Forest-Raised Pork
We raise Tamworth cross heritage breed pigs, as they thrive in the forest and field and are known for their excellent flavor. In addition to forage, our pigs are fed local grain raised with organic methods, organic veggie compost, and grass-fed raw dairy products.
Ledamete Grass Farm Pastured Poultry
Our chickens and turkeys are raised on pasture with constant access to fresh bugs, herbs and grasses. In addition to the forage they find, we provide our birds with grain, grown and milled fresh by a local farmer who utilizes organic methods. The birds' access to fresh air, exercise, sunshine, green grass and bugs creates very delicious and nutritious meat!
Ledamete Grass Farm 100% Grassfed Beef
We raise Rotakawa Devon/Jersey Cross beef as they do very well on 100% grass. This meat is nutrient dense and delicious!