Out of August, Into September
News
Notes From The Field
10 More Weeks of Harvest
By Derek McGeehan
September is here and we're beginning harvest week #17 out of 26, so there are 10 more weeks to come to the farm for your Main Season CSA shares. What's after that? Soon we'll announce sign ups for our 6-week Late Fall CSA season which runs mid-November to the end of December as well as our inaugural 8-week Winter CSA season which will run from the beginning of January through the end of February. Details and additional information are forthcoming.
Besides thinking about and planning for late summer, fall, and winter, we're continually busy retrieving storage crops, helping the crops battle weed pressures, and putting fields to rest for the colder seasons. We've now retrieved about 90% of the potatoes and will gather the rest this week. 100% of the #1 grade winter squash are safely in storage. With the help of workshifts all of the fall cabbage, broccoli, cauliflower, leeks, and celeriac were successfully weeded and look healthy. Next up for weeding are beets, chard, kale, and asparagus. Fields of spring peas, summer beans, edamame, lettuce, and herbs, as well as potatoes, have been transitioned to a cover crop mix of oats, buckwheat, daikon, and clover to scavenge nutrients and protect the soil over the winter. Each time there is an anticipated rain event we make an effort to establish a cover crop wherever is available. The lack of rain this past month has been a challenge but amazingly it has been enough to initiate germination and enable the plants to grow.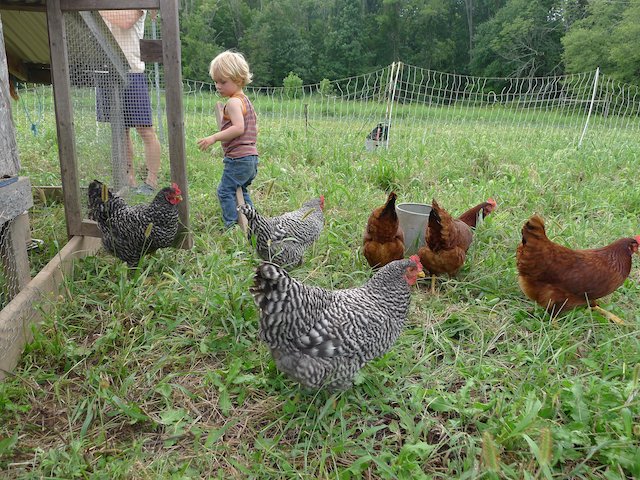 This past Saturday we moved our pastured laying hen flock to a new 4-week location. I'm installing crisscrossing wire over the area to deter hawks while the electrified netting theoretically fends off foxes, raccoons, skunks, dogs, and weasels.
Expected Harvest
Goodness
By Derek McGeehan
Harvest #17 (Week A) should include winter squash, tomatoes, sweet peppers, garlic, onions, scallions, potatoes, eggplant, okra, hot peppers, kale, swiss chard, chives, and carrots. Some items will be a choice. U-pick should include cherry tomatoes, husk cherries, tomatillos, dill, cilantro, basil, and flowers.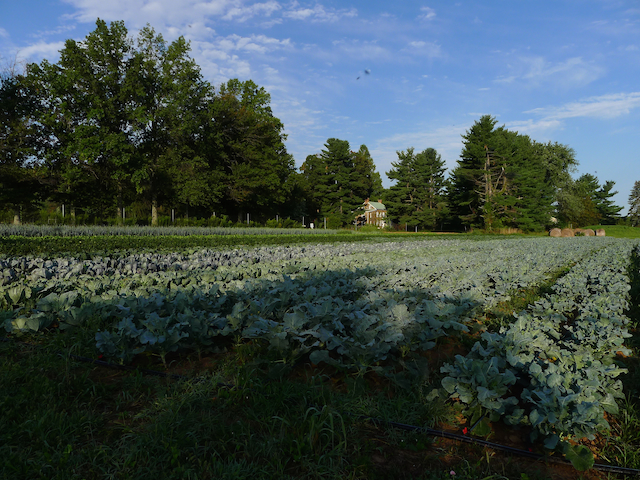 Another view of the freshly weeded and mowed Field 3 where our fall leeks, radishes, turnips, celeriac, cabbage, broccoli, and cauliflower are making their temporary homes.
Workshifts Week of 9/4
By Derek McGeehan
Half of your committed work hours should be completed soon! Over the course of the season full shares work 8 hours; half shares work 4 hours. If you're unable to contribute the physical portion of your share, you must contribute to the farm financially at the rate of $15/hour. This fills out the balance of your share cost.
Monday Labor Day 9/5 10am-12noon

Tuesday 9/6 8-10am; 10am-12noon
Wednesday 9/7 8-10am; 10am-12noon
Friday 9/9 8-10am; 10am-12noon
Workshift sign-up instructions may be found
here
.
Thank you!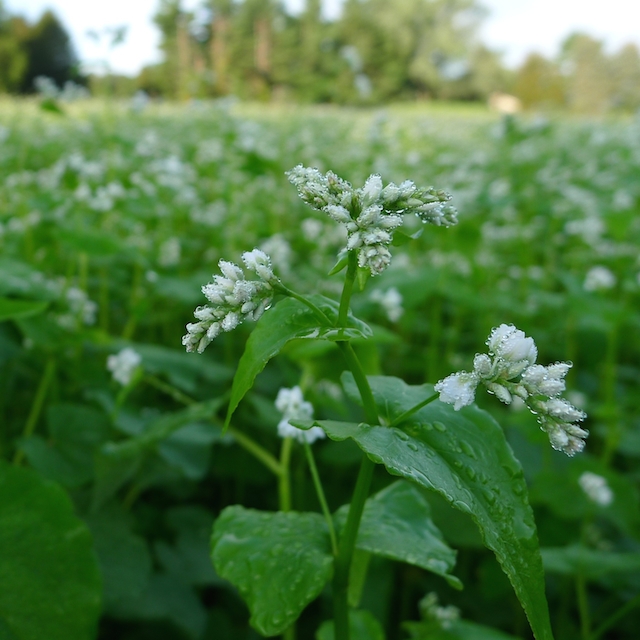 Morning dew on buckwheat that is ready to flower and attract pollinators.
Maple Syrup and Honey For Sale!
Susan Klikus
Augusta Acres Farm, Susan and Todd Klikus, will be returning to Anchor Run Farm on Thursday September 15th to offer for sale their Pure Maple Syrup and their Pure, Local, Raw Honey.
Augusta Acre's maple syrup is produced from sap collected strictly on their farm and boiled down in small batches on their wood fired arch. It is Pure, Dark, Robust syrup.
Their Honey is all extracted from their farm's apiaries. It is an "All Season" honey which features a dark, very sweet flavor. It is Pure, Local and Raw.
Both maple syrup and honey will be available in pint and quart glass jars. Prices this year will be the same for both "Sweets":
Maple syrup: Pint $18 Quart $24
Honey: Pint (20 oz.) $18 Quart (40 oz.) $24

Recap reusable jar lids will also be available for $6.00.
They will be at Anchor Run from 1:00 - 6:00 PM on Thursday September 15th for tasting and pick up. Susan and Todd accept cash and personal checks made out to Augusta Acres.
Any questions and to pre-order please email Susan at susanklikus@gmail.com
Augusta Acres is a small sustainable farm located near the Delaware River in upstate PA. They practice organic methods, are members of Pennsylvania Association for Sustainable Agriculture, Pennsylvania Maple Producers Assoc., and The NE PA Beekeepers.
Fermentation Workshop 9/25 1-3pm
Gia Yaccarino
Fermentation Member Share Workshop Sunday, September 25, 2016 1 – 3 PM
Please join us on Sunday, September 25, 2016 for our Fermenting Workshop. Information regarding fermenting resources, websites and books will be discussed. We invite all members from the fermenting pros to the novices to join us for discussion and education on fermenting basics. This year's fermenting workshop is meant to be focused on the members - sharing their experiences – triumphs and failures, discussing their concerns about the fermenting process and answering questions. Please join us for what promises to be a very engaging workshop!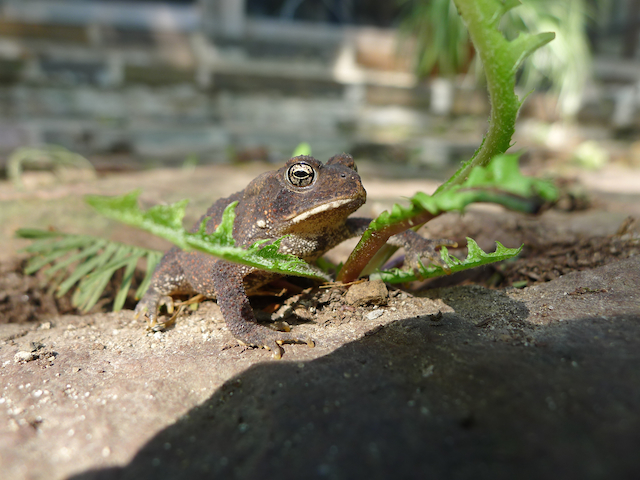 Another toad in the newsletter!
Veggie Salads
By Linda Dansbury
Due to extreme heat and dry weather, there is a break in lettuce that can be harvested, so if you are a family that loves salads, you may be wondering what to do. Through the year, we eat salads almost every night, but in the summer, I find that the lettuce often gets pushed to the back of the fridge in favor of making vegetable salads. Cucumbers are of course the first, but as I mentioned last week, kale makes delicious salads - such as
Kale Caesar Salad.
So do carrots and tomatoes - tomatoes are one of, if not my favorite, because the "juice" (read dressing mixed with the tomato juices) at the bottom of the bowl is about the most delicious thing when sopped up with a good loaf of bread. In my family, we peeled the tomatoes, but admittedly when I am in a hurry I just cut them up into slightly larger than bite sized pieces. Add chopped sweet pepper and sliced scallions or onion. Then make a dressing with red wine vinegar, olive oil, a bit of dried oregano, salt, pepper and chopped basil or parsley. Mix up and enjoy. By the way, you can use a drop of balsamic vinegar if you want, but I prefer the lighter red wine vinegar to let the flavors of these delicious tomatoes come through.
How I Enjoyed My Harvest
Veggie Salad Days
By Linda Dansbury
As I described in the other article I wrote for this week, I did have a few veggie salads this week. Because they are so flavorful, simply prepared meats go best with them.
Tomato, scallion, basil, sweet peppers - made the tomato salad I described in the other article - made it twice
Sweet peppers and onions - used them as the veggies in making kabobs - yum
Swiss chard, onion, cilantro, edamame and hot pepper - made a stir fry using ground pork from
Ledamete Grass
- what an easy and delicious weeknight meal.
Sweet pepper, onion, edamame - we liked the edamame and corn succutash we had last week so much that I made it again.
If you have something to share with the rest of the membership, please email me at lindadansbury@comcast.net and please put Anchor Run in the subject line so that I can find it.