Certified Organic as we Transition to Autumn
News
Notes From The Field
Certified Organic
By Derek McGeehan
We took the plunge and it's now official: we're Certified Organic. After a lengthy application, solid record keeping, a thorough onsite inspection, as well as using organic practices since the inception of the CSA 13 years ago, Anchor Run is certifiably organically growing produce. We're happy to have the outside approval, though our true certifiers all these years have been our CSA members who pick up at and work on the farm with us, and continue to trust our growing practices. Thank you for your support!
Some big outside jobs in the field from last week were prepping for and sowing cover crops in anticipation of tonight's potential rain event as well as the removal of all of the plastic and landscape fabric from the winter squash patch. We transplanted another round of spinach, the first round of winter scallions, and some bok choy. Winter carrots and another round of arugula, kale, and mustard greens were direct seeded. This coming week we'll begin preparing the hoop house and greenhouse for winter growing, as well as go dancing in the rain.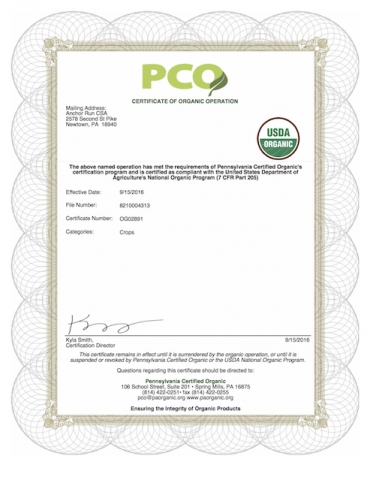 After farming "organically" at Anchor Run for the past 8 seasons, we took the next step to become officially recognized as Certified Organic and were approved last week. The CSA was managed "organically" for the 5 seasons prior to our arrival as well, so after 13 total seasons it's now official.
Expected Harvest
Approaching Autumn
By Derek McGeehan
Harvest #19 (Week A) should include broccoli, cabbage, potatoes, tomatoes, butternut, kale, lettuce, garlic, onions, leeks, chard, turnips, radishes, beets, okra, hot peppers, sweet peppers, eggplant, and chives. Some items may be a choice and may not be available during all pick up times. U-pick should include cherry tomatoes and herbs.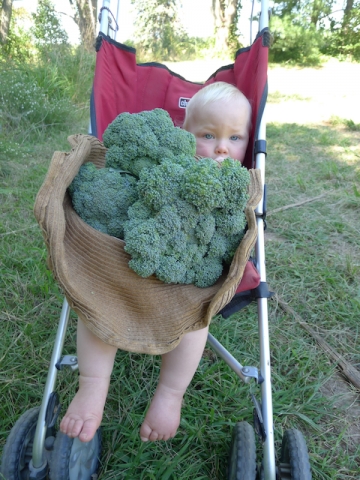 This year's broccoli haul will probably be less epic than the past couple of seasons due to a rough stretch of weather in July, but we're still hopeful for a few good weeks of broccoli harvest. Also, the crop is under attack from a multitude of insect pests including the harlequin bug, cabbage looper, imported cabbageworm, cross-striped cabbageworm, and flea beetles. Soaking your broccoli in salty water will help remove the creatures prior to cooking.
Workshifts Week of 9/18
By Derek McGeehan
Now that we're into the middle of September there is about one month left of workshift opportunities for you to satisfy the work component of your CSA share. If you're not planning to work this season, please remit the balance of your share cost soon. Half shares work 4 hours, full shares work 8 hours, over the course of the entire season. To "buy-out" of your work hours at $15/hour, please send a check payable to "Anchor Run CSA" at 2578 2nd Street Pike, Wrightstown, PA 18940. Please don't feel guilty about this option!
Shifts this week:
Tuesday 8-10am, 10am-12noon
Wednesday 8-10am, 10am-12noon, 6-8pm (garlic processing in barn)
Friday 8-10am, 10am-12noon
Saturday 10am-12noon
Workshift sign-up instructions may be found
here
.
Thank you!
Sign Up For 2016 Late Fall and 2017 Winter CSAs
By Derek McGeehan
Sign up now on the
members' page
to secure your spot in our 2016 Late Fall CSA and 2017 Winter CSA! For additional information please see the bulletin that was e-mailed to you this past week, log into the website and click the green "Join" buttons on the members' page, or look below.
2016 Late Fall CSA:
6 weeks of fresh and storage crops from weeks 11/13/16 through 12/18/16
weekly full shares ($180) and biweekly half shares ($100) available
share distribution on Wednesdays 1-8pm (except for Tuesday 11/22/16)
2017 Winter CSA:

8 weeks of fresh and storage crops from weeks 1/1/17 through 2/19/17
weekly full shares ($240) and biweekly half shares ($130) available
share distribution on Wednesdays 1-8pm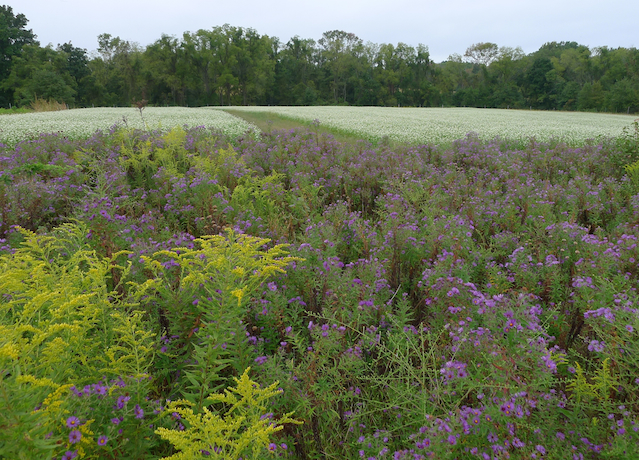 In the foreground are blooming aster and goldenrod, part of our 2-acre pollinator habitat. In the background are a couple acres of flowering buckwheat, hopefully providing good nectar for good insects.
Fermentation Workshop 9/25 1-3pm
Gia Yaccarino
Fermentation Member Share Workshop Sunday, September 25, 2016 1 – 3 PM
Please join us on Sunday, September 25, 2016 for our Fermenting Workshop. Information regarding fermenting resources, websites and books will be discussed. We invite all members from the fermenting pros to the novices to join us for discussion and education on fermenting basics. This year's fermenting workshop is meant to be focused on the members - sharing their experiences – triumphs and failures, discussing their concerns about the fermenting process and answering questions. Please join us for what promises to be a very engaging workshop!
Additionally, Gia will share some fun fermenting information she just learned while attending the 2016 Farm Aid festival!
Fall crops begin
By Linda Dansbury
Crops are beginning to change - you have seen this by the kale and Swiss chard in the pick up room the past couple of weeks. Salad radishes, salad turnips, and beets will be a part of our shares off and on over the next month. Lettuce also returned.
The obvious thing is to either just eat the radishes and turnips out of hand or slice and put them into salads. They are also delicious when eaten with a very simple dip. I tried this in the spring and look forward to having it again. I have posted it to the site -
Radishes with Goat Cheese Dip
. It is delicious with all sorts of other veggies too - and healthier than most store purchased dips. Check out this site for delicious cooked salad turnip recipes.
Summer veggies allow us to make robust and delicious salads. Slice sweet peppers, scallions, radishes and carrots, chop tomatoes and mix a simple vinaigrette. The salad is crunchy, nutritious and delicious and it has enough flavor that to make it a meal, you can add canned tuna or other flaky fish, leftover cooked chicken and even thinly slice steak and top the salad with it for a lean and tasty dinner.
How I Enjoyed My Harvest
Summer, Fall, Which Season is it?
By Linda Dansbury
Once again, the weather this past week has been confusing in terms of going back and forth from hot to downright chilly!

Here is a bit of what we ate this past week:
Tomatoes, garlic, onion - Using a combination of Anchor Run and my own tomatoes, I made a pretty nice sized batch of tomato sauce.
Eggplant, peppers, onions - grilled and had alongside hamburgers
Butternut squash, kale, garlic - I wanted to do something other than freezing my "seconds" butternut squash so I found a very simple stir fry recipe that used both the squash and kale - it was very good. It was seasoned with salt, pepper and a little chile powder.
Potatoes - I have a very easy way of roasting potatoes that is also delicious. Simply cut them in half and place the potatoes on a cookie sheet, cut side down - place a little bit of butter under each potato and bake in a 375 degree oven until the potatoes are tender and browned on the cut side - that's it!
How did you enjoy your harvest? Please email me at lindadansbury@comcast.net and put Anchor Run in the subject line so I can find your note.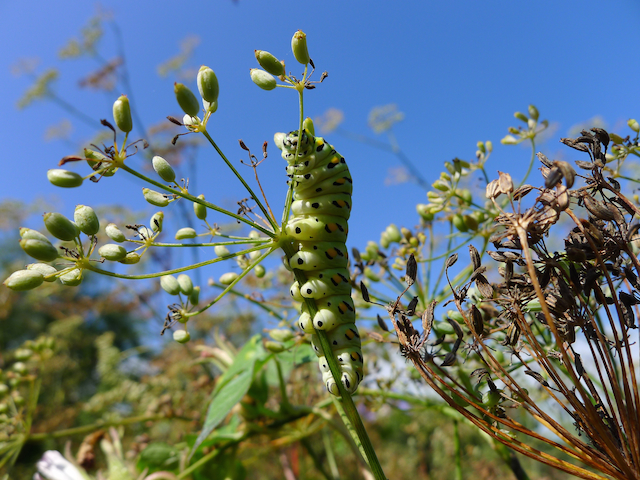 Even though it enjoys eating some of our crops, we tolerate swallowtail caterpillars because they're pretty low in number and don't do too much damage. Plus, they're beautiful in this life stage as well as the flying one. This particular caterpillar munches on some flowering bronze fennel in the herb garden.
Member Ideas and Suggestions
Fall Stew
By Linda Dansbury
Tina Nightlinger sent a recipe for
Fall Stew
. It is a great way to use a lot of the veggies we are receiving now - it is very healthy too. I am hoping to make a batch of it today. Don't worry if you don't have all of the ingredients - recipes like this are very flexible - add/subtract with whatever you have. Just make sure you add things in the right order based on how long they need to cook.
Thank you to Tina, and please let me know how you are using your harvest at lindadansbury@comcast.net and please put Anchor Run in the subject line so I can easily find your email.