At Harvest Week Number Twenty
News
Notes From The Field
Truly Autumn
By Derek McGeehan
Lows last night bottomed out in the upper 40s and highs this weekend will stay in the mid-70s. In fact I don't see temperatures reaching the 80s in the 10-day forecast. This surely sounds like autumn to me. Fall crops such as greens in the brassica and amaranth families are really beginning to beg for harvest and will be seen in the pick up room this week. After mostly being absent for the past few weeks due to erratic germination and a lack of love for heat, lettuce finally appears to have made a continued return into the foreseeable future. Broccoli, cabbage, and kale are thriving, even with the bug pressure. So many crops on the farm appear to be in perfect states of pick-ability that it will be difficult to choose which ones go in the share and which ones we should hold. Most likely storage crops already out of the field and protected in the barn will be the ones we hold on to until the fresh greens slow down or we catch up. I don't know about you, but I am very much looking forward to a return of these delicate delectable greens.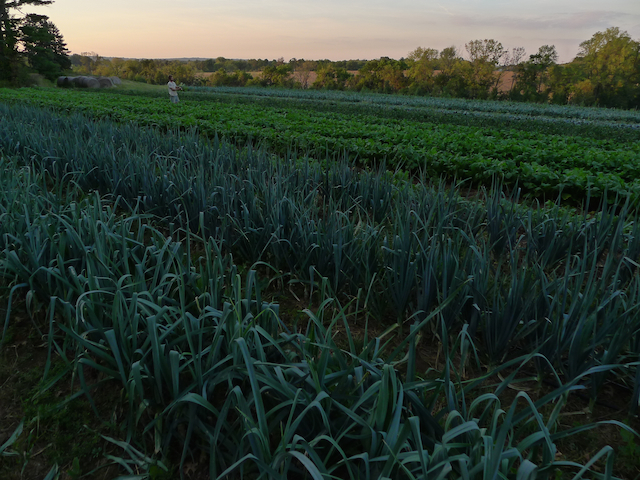 A scene of autumn colors and crops - leeks, radishes, turnips, celeriac, cabbage, broccoli, and cauliflower - with a golden field of desiccated soybeans and a purply-pink skyline.
Expected Harvest
A Green Time
By Derek McGeehan
Harvest #20 (Week B) should include lettuce, kale, cabbage, broccoli, garlic, butternut, spinach, chard, arugula, mizuna, beets, kohlrabi, eggplant, sweet peppers, hot peppers, tomatoes, green tomatoes, leeks, and potatoes. Some items will be a choice and may not be available during all pick up times. U-pick should include cherry tomatoes, dill, cilantro, parsley, herbal basil, and perennial herbs.
Seeded less than a month ago, these greens grew extremely quickly thanks to a very warm September, irrigation, and one or two rainstorms. The preceding 3-year fallow period may also have given the crops a special dose of soil biology. On the right side is a cover crop of buckwheat, peas, and red clover.
Workshifts For Week of 10/16
By Derek McGeehan
Now that we're into October there is about one month left of workshift opportunities for you to satisfy the work component of your CSA share. If you're not planning to work this season, please remit the balance of your share cost soon. Half shares work 4 hours, full shares work 8 hours, over the course of the entire season. To "buy-out" of your work hours at $15/hour, please send a check payable to "Anchor Run CSA" at 2578 2nd Street Pike, Wrightstown, PA 18940. Please don't feel guilty about this option!
Shifts this week:
Tuesday 10/18 9-11am
Wednesday 10/19 10am-12noon
Friday 10/21 10am-12noon
Saturday 10/22 10am-12noon
Sunday 10/23 12noon-2pm (garlic processing in barn)
Workshift sign-up instructions may be found
here
.
Thank you!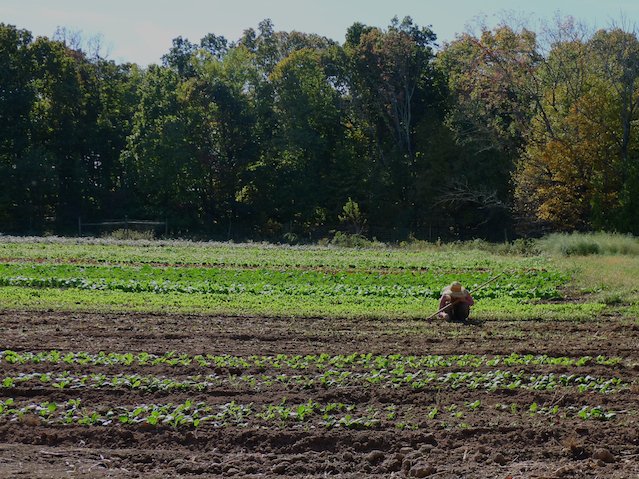 Notoriously slow to germinate and grow, baby carrots are difficult to cultivate because weeds easily outpace them. Here, Hannah is confirming their presence in their respective rows and will cultivate between rows.
Sign Up For 2016 Late Fall and 2017 Winter CSAs
By Derek McGeehan
Sign up now on the
members' page
to secure your spot in our 2016 Late Fall CSA and 2017 Winter CSA! For additional information please see the bulletin that was e-mailed to you this past week, log into the website and click the green "Join" buttons on the members' page, or look below.
2016 Late Fall CSA:
6 weeks of fresh and storage crops from weeks 11/13/16 through 12/18/16
vegetables should include greens like arugula, spinach, mizuna, kale, collards, cabbage, napa cabbage, endive, escarole, lettuce, chard, and beet greens; roots like turnips, beets, radishes, potatoes, sweet potatoes, and kohlrabi; as well as storage crops like onions, garlic, and butternut; and freshly harvested alliums like chives, leeks, and scallions
cold hardy vegetables grown outside with use of low hoops and row cover
weekly full shares ($180) and biweekly half shares ($100) available
share distribution on Wednesdays 1-8pm (except for Tuesday 11/22/16)
2017 Winter CSA:
8 weeks of fresh and storage crops from weeks 1/1/17 through 2/19/17
vegetables should include greens like arugula, spinach, mizuna, kale, collards, cabbage, napa cabbage, lettuce mix, chard, and beet greens; roots like turnips, beets, radishes, potatoes, sweet potatoes, and kohlrabi; as well as storage crops like onions, garlic, and butternut; and freshly harvested alliums like chives, leeks, and scallions
cold hardy vegetables grown inside of hoop house, high tunnel, and greenhouse
weekly full shares ($240) and biweekly half shares ($130) available
share distribution on Wednesdays 1-8pm
New England asters are blooming prolifically around the farm this time of year, satisfying many insects' late season nectar needs, such as monarch butterflies before their journey south, as well as this honeybee.
Potluck Meal and Celebration - Sat. 10/8 5pm
Join us in celebration of the delightful arrival of autumn with a final potluck of the 2016 season on Saturday October 8th at 5pm. Bring a dish to share to feed around 6 adults plus your own place settings and beverages. We'll eat under the pavilion, enjoy the night sky and a small fire.
A brief look into what's on the farmers' table
By Derek McGeehan
As farmers and eaters, we love to incorporate whole and simple food and meals into our diet because we're busy, like you, and have access to good quality ingredients, like you. We hear from members occasionally about their difficulty in using up a full share of produce on a weekly basis. Here, we would like to expose you to simple and easy ways of using your CSA share as we farmers do. To make a quality healthy meal is very easy; you really only need a few items like produce; meat, fish, poultry, eggs, cheese or some other kind of non-animal protein; sea salt; and a fat like coconut oil, olive oil, butter, or lard. As you become more familiar with cooking and using whole, simple ingredients you'll seldom need to follow recipes anymore. It's an enlightening and enriching endeavor. Eventually you may think most meals can be almost as good as Thanksgiving's main celebratory meal (as I like to think).
A quick and easy, extremely tasty, and incredibly healthy dinner meal:
3 chopped savoy cabbages, 3 chopped bunches of chives, a tablespoon or so of sea salt, and a few tablespoons of coconut oil - roasted in a large pan at 400 degrees for an hour
A couple pounds of potatoes sliced into thin wedges, mixed with sea salt and some Ledamete lard, roasted on a cookie sheet at 400 degrees for an hour, with above dish
3 Ledamete sausages cooked at 400 degrees for 40 minutes, with above dishes
Breakfast, about every day of the week:
Blend some kind of green like kale, some fruit, and mix with homemade kefir (which is made from Birchwood Dairy raw milk). A typical smoothie divided between Dana, Gabe, and me can include about 2 bunches of kale. Besides being an extremely efficient way to use up your greens, a smoothie like this is a meal and medicine in one and creates an overall sense of wellbeing.
Greens and Green Tomatoes
By Linda Dansbury
The warm temperatures have the greens in the field growing rapidly and begging to be harvested, so there will be a volume of greens that we haven't seen since the spring harvest. Greens are easy to incorporate into a lot of recipes - add to casseroles, stir fries, lasagna, pasta mixtures, sautes, and of course soups, stews and smoothies. Even many of the "stronger" greens can be made into or bits can be added to salads. Please search this website for a lot of ideas - just put the word "greens" into the search bar. The recipes have been adapted to fit the farm's harvests - that is, many of the recipes will list several greens that can be used whereas if you search the internet most of the recipes specify a green or 2.
As for green tomatoes, you can do a couple of things with them. You can let them ripen - when I was a kid, we used to pick the green tomatoes from the plants right before frost, wrapped each one in newspaper, and then left them alone. Once per week we would unwrap all of them and check to see how they were progressing.
If you have some ideas on how to use your harvest, please email me at lindadansbury@comcast.net
How I Enjoyed My Harvest
Cooling temps
By Linda Dansbury
We are finally seeing true fall weather - yay! Time to pull out the stew and soup pots and roasting trays. Dana and Derek posted some of what they do for simple dinners this week - proving again that it takes very little effort to get a meal of delicious, nutritious food on the table.
This past week, I had intended to make the Fall Stew, but I ran out of time, so hope to do it today. I did make use of some of our veggies in yummy ways. If you have ideas to share, please email me at lindadansbury@comcast.net and please put Anchor Run in the subject line so I can find your email.
Peppers, onion, garlic, Swiss chard, basil - made stuffed peppers - I stuffed them with a veggie/grain mixture of quinoa cooked in vegetable stock with cumin added. When cooked, added chopped Swiss chard, sauteed onion and garlic, raisins, feta. Baked them for about 45 minutes (the recipe called for an hour, but I had used a lot of smaller peppers so cooked them less so they didn't fall apart). Made a sauce of yogurt, basil, garlic and lemon to top the baked peppers - delicious. The "sauce" was especially delicious and would make a great salad dressing or dip.
Onion, kale, garlic, tomatoes - made a sort of lasagna meets casserole with sausage from
Ledamete
. Sauteed the sausage and when browned, removed it to drain and added onion and garlic and let that go for a few minutes. Added enough finely chopped tomatoes to equal what a 28 ounce can would be and let cook till thickened. Separately put together the cheese mix - ricotta, mozz, and parmesan. Added an entire bunch of chopped kale and probably could have added more greens than that. Cooked the pasta and then mixed all together in the pot in which the pasta was cooked. Spread into a lasagna pan and baked at 375 for about 45 min. It was tasty.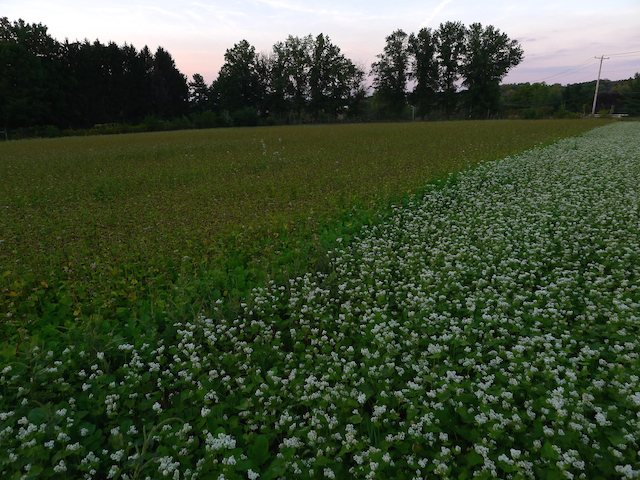 Two established patches of buckwheat and daikon radish cover crops sown about a month apart. The buckwheat on the left is beginning to decline allowing the daikon radish to fully grow and take over whereas the buckwheat on the right is in full flowering stage and will eventually decline as well.