Abundantly Autumn
News
Notes From The Field
Harvesting and Getting Ready for Winter
By Derek McGeehan
Including this coming week there are five more weeks of pick up for the Main Season 26-week share. Directly after the conclusion of this season the 6-week Late Fall CSA begins. Planting and production has already commenced for fall and winter harvests; crops need to be in the ground and growing well before cold and dark descend upon our latitude. Days to maturity of crops will eventually double and perhaps triple when we're nestled in winter. Soon we'll employ hoops and row cover to keep outside crops blemish free from the adverse effects of a heavy frost. Eventually - think January and February - we'll only harvest fresh crops from the protection of the high tunnel, hoop house, and greenhouse. That's well down the road, but we have to plan for and prepare soil now, as well as sow and transplant. Our managed farm footprint slowly dwindles each week as we wrap up harvesting of certain crops and sow the hibernating soil with cover crops. Our mental map of the farm becomes easier to comprehend when we're only actively maintaining a small portion of what was managed at the growing peak of June, July, and August. Much of the farm fields still radiate a brilliant green with the cool weather suited cover crop mixes and will do so until we receive hard frosts and freezes with regularity. These cover crops are soaking up leftover nutrients from the soil as they gather sunlight and transform it into additional soil food for next year's cash crops. As they protect the soil over the winter they'll slowly degrade into next spring and release stored energy and the cycle will continue.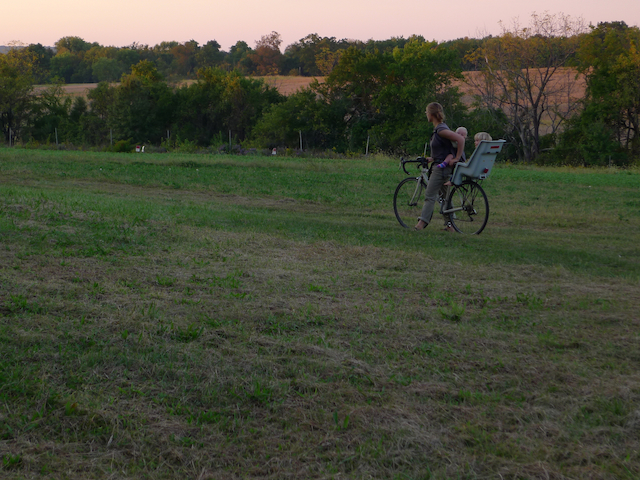 A fun favored method for meandering around the farm...sunset glows in the background.
Expected Harvest
Turning Green
By Derek McGeehan
Harvest #22-Week B (out of 26 pick up weeks total) should include kale, lettuce, potatoes, chives, savoy cabbage, napa cabbage, chard, collards, mizuna, greens mix, leeks, spinach, arugula, broccoli, beets, turnips, and kohlrabi. Some items will be a choice and/or may not be available during all pick up times. U-pick should include dill, cilantro, parsley, and perennial herbs.
Amid a forest of kohlrabi and other greens, Hannah harvests loose arugula for our CSA-only distribution. Photo credit goes to Mary Liz.
Workshifts For Week of 10/16
By Derek McGeehan
Now that we're into October there is about one month left of workshift opportunities for you to satisfy the work component of your CSA share. If you're not planning to work this season, please remit the balance of your share cost soon. Half shares work 4 hours, full shares work 8 hours, over the course of the entire season. To "buy-out" of your work hours at $15/hour, please send a check payable to "Anchor Run CSA" at 2578 2nd Street Pike, Wrightstown, PA 18940. Please don't feel guilty about this option!
Shifts this week:
Tuesday 10/18 9-11am
Wednesday 10/19 10am-12noon
Friday 10/21 10am-12noon
Saturday 10/22 10am-12noon
Sunday 10/23 12noon-2pm (garlic processing in barn)
Workshift sign-up instructions may be found
here
.
Thank you!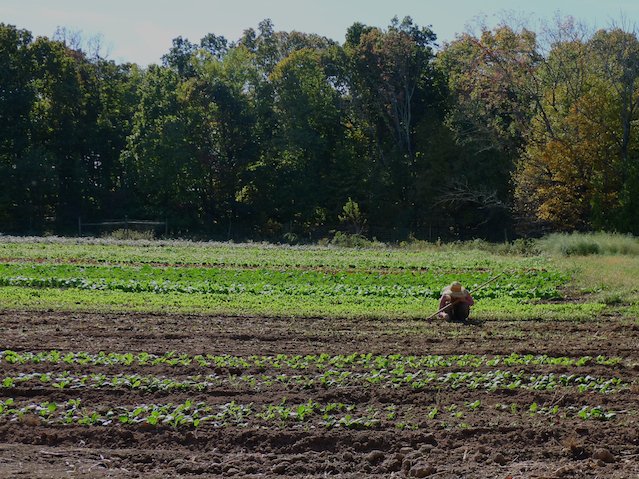 Notoriously slow to germinate and grow, baby carrots are difficult to cultivate because weeds easily outpace them. Here, Hannah is confirming their presence in their respective rows and will cultivate between rows.
Sign Up For 2016 Late Fall and 2017 Winter CSAs
By Derek McGeehan
Sign up now on the
members' page
to secure your spot in our
2016 Late Fall CSA
and
2017 Winter CSA
! For additional information please see the bulletin that was e-mailed to you this past week, log into the website and click the green "Join" buttons on the members' page, or look below.
2016 Late Fall CSA:
6 weeks of fresh and storage crops from weeks 11/13/16 through 12/18/16
vegetables should include greens like arugula, spinach, mizuna, kale, collards, cabbage, napa cabbage, endive, escarole, lettuce, chard, and beet greens; roots like carrots, turnips, beets, radishes, potatoes, sweet potatoes, and kohlrabi; storage crops like onions and garlic; and freshly harvested alliums like chives, leeks, and scallions
cold hardy vegetables grown outside with use of low hoops and row cover
weekly full shares ($180) and biweekly half shares ($100) available
share distribution on Wednesdays 1-8pm (except for Tuesday 11/22/16)
2017 Winter CSA:
8 weeks of fresh and storage crops from weeks 1/1/17 through 2/19/17
vegetables should include greens like arugula, spinach, mizuna, kale, collards, cabbage, napa cabbage, lettuce mix, chard, and beet greens; roots like carrots, turnips, beets, radishes, potatoes, sweet potatoes, and kohlrabi; storage crops like onions and garlic; and freshly harvested alliums like chives, leeks, and scallions
cold hardy vegetables grown inside of hoop house, high tunnel, and greenhouse
weekly full shares ($240) and biweekly half shares ($130) available
share distribution on Wednesdays 1-8pm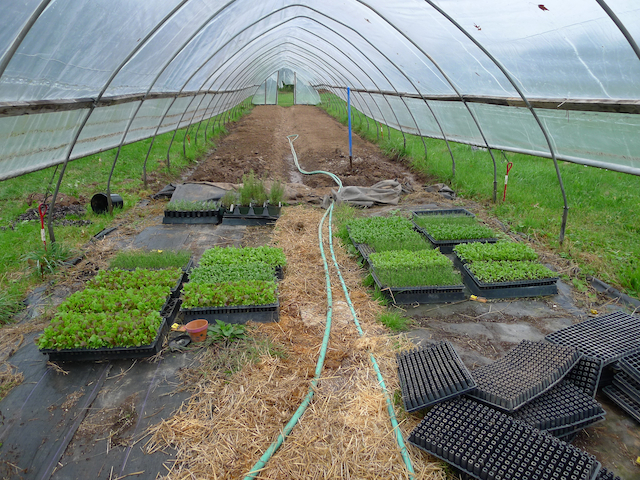 A site for Late Fall and Winter growing, the lettuce mix, spinach, scallions, and chard will probably end up calling the raised beds uphill home.
Ledamete Grass Farm's Monthly Market October 20, preorder now!
Ledamete Grass Farm
Ledamete Grass Farm will be at Anchor Run Farm for a market day on Thursday, October 20 from 1-5pm*!
*If you can't make that day/time, pre-orders can be left in the freezer for you to pick up on your next share day (you have 2 weeks to pick it up).
Order
Your Pastured Meats Today-
Deadline Midnight October 19!
100% Grassfed Beef
Pasture & Forest Raised Pork
Pastured Chicken
PRE-ORDERS
preferred but day of sales will be welcomed.
Ledamete Grass Farm Pasture & Forest-Raised Pork
We raise Tamworth cross heritage breed pigs, as they thrive in the forest and field and are known for their excellent flavor. In addition to forage, our pigs are fed local grain raised with organic methods, organic veggie compost, and grass-fed raw dairy products.
Ledamete Grass Farm Pastured Poultry
Our chickens and turkeys are raised on pasture with constant access to fresh bugs, herbs and grasses. In addition to the forage they find, we provide our birds with grain, grown and milled fresh by a local farmer who utilizes organic methods. The birds' access to fresh air, exercise, sunshine, green grass and bugs creates very delicious and nutritious meat!
Ledamete Grass Farm 100% Grassfed Beef
We raise Rotakawa Devon/Jersey Cross beef as they do very well on 100% grass. This meat is nutrient dense and delicious!
Member Ideas and Suggestions
Cabbage Soup
By Linda Dansbury
Member Susan Gran sent me an email and a recipe for
Cabbage Soup
. Susan's note said that she didn't think she even liked cabbage until she ate this soup. It is a variation on Minestrone soup - and if you wanted to make it even heartier, you could surely add beans and/or pasta to this soup recipe.
Thanks to Susan for taking the time to send me the recipe. If you would like to share something with fellow members, please email me at lindadansbury@comcast.net and put Anchor Run in the subject line so that I can find it.
How I Enjoyed My Harvest
Fall cooking
By Linda Dansbury
I found myself in the kitchen more this past week than I have in a long time. Is it a nesting instinct since the days are getting very short now and the nights and mornings have a distinctive chill? I don't know, but I had a lot of fun and the result is a lot of delicious food. Here is some of what I made this week. Please let me know what you made by emailing me at lindadansbury@comcast.net and please put Anchor Run in the subject line so I can find your message.
Leeks, onions, potatoes, thyme, chives - made the
Potato Leek Soup
recipe on this site. I like this one because it does not have cream so the flavor of the fresh ingredients really comes through.
Tomatoes, onions, basil, garlic - tomatoes this time of year don't keep very well and they aren't as tasty as they were even a month ago, but roasting them at a high temperature brings out their sweetness. Try the
Roasted Tomato Soup with Croutons.
It is delicious - and you don't even need the croutons.
Eggplant, garlic, parsley - used the last of my eggplants to make
Baba Ganoush
Peppers - prepared a batch of
Pepper Puree
that a member sent me the recipe for last year. It is delicious and the uses for it are as limitless as your imagination. I plan to make another batch as soon as time allows.
Beet greens, kale, garlic - made an Asian style fish dinner in which I used the Wild For Salmon Pacific Black Cod with a Hoisin/Chili Paste"rub" on the fish to cook it and a sauce of Asian ingredients around it. Sauteed up the greens with ginger and garlic - they were all great with the Asian sauce.
Beets, onions - roasted a big batch of beets last Sunday and took half of them and made
Pickled Beets.
Beets, salad greens - used the rest of the roasted beets in a beet and greens salad using a sherry vinegar/Dijon vinaigrette. Yum!
Fall abundance
By Linda Dansbury
Two things really hit me as I sat to write this morning. Each week, Derek emails me with the expected harvest for the week. He titles the email with what pick up week it is. I was startled by the fact that it is already week 22 - it seems like such a short time ago that it was week 1! The other thing that jumped out at me is the incredible variety of veggies that are available to us at this time of year. We are fortunate to live in a climate that supports the many diverse crops it does and even luckier that we have amazing farmers that care as much a D&D and their farm staff about growing such nourishing food for us!
For ideas on how to use this variety, search this site - I still do and even if I don't select a specific recipe, I get ideas for using the veggies.
A couple notes about cabbage. First, it keeps very well when stored in a plastic bag or container in the fridge meaning that you don't need to use it within the first couple of days of picking up your share.
Cabbage is of course delicious in slaws - my family and friends love my
Asian Slaw
recipe. Cabbage is also delicious when cooked - check out the site, but I used cabbage in a way that doesn't require a recipe: Chop/slice it as you would for cole slaw. Melt a little butter and olive oil together and when heated, add the cabbage and saute it over med heat until it is tender and slightly browned - keep a fairly close watch, as it can burn easily. Simply salt and pepper to taste and sprinkle with fresh herb(s) such as chives, parsley and/or thyme. When cooked like this it takes on an almost sweet, nutty taste. It goes really well with pork and chicken.
We are back to receiving a lot of greens - embrace it and add them to many of the dishes that you cook - don't worry if the recipe doesn't call for them: soups, stews, chili. Saute a single green or combo with garlic, onion, a hot pepper. Add other things to suit your family's taste. Keep the tops to turnips, beets, radishes to add to all these dishes - I was amazed last night to see that I have really kept up with using my greens, even though for the most part I am only cooking for the 2 of us.
Enjoy the Abundance!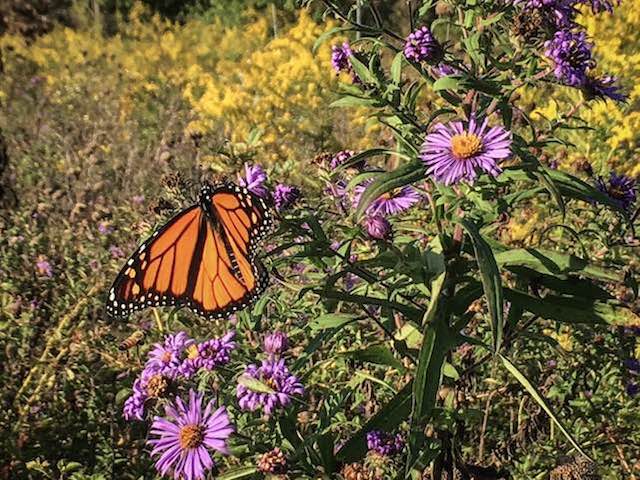 Well now who can resist a colorful photograph featuring a monarch butterfly snacking on New England aster nectar? Thanks to Mary Liz for the photo.