Three More Weeks To Go
News
Notes From The Field
Three More Weeks of Main Season CSA
By Derek McGeehan
The brief return to summer-like weather is over, thankfully, and some much needed rain fell as the cold front made its way through the area. We irrigated some thirsty crops earlier in the week and would have had to add water to other crops had the rain missed us. We transplanted lettuce mix, spinach, scallions, and chard into the hoop house for December harvest and direct seeded arugula, kale, mizuna, and mustard mix into the high tunnel for January and February harvest. We sowed winter rye and hairy vetch cover crop into the heirloom tomato, cherry tomato, sweet potato, and field tomato areas; this was probably the final cover crop sowing of the season. We have one more outside crop to plant - garlic - sometime over the next few weeks and will direct seed another round of greens in the high tunnel within a week or two. We're preparing the greenhouse for mid-winter growing where we can control the temperature with supplemental heat, if needed. Last week we also finished harvesting celeriac and kohlrabi for distribution over the next few months. Thanks to the wonderful
CoolBot
, our cold storage area is almost double what it was last winter. And this coming week we'll have the pleasure of dealing with the first potentially heavy frost of the fall as lows are forecast to drop into the low 30s, wich probably means upper 20s here.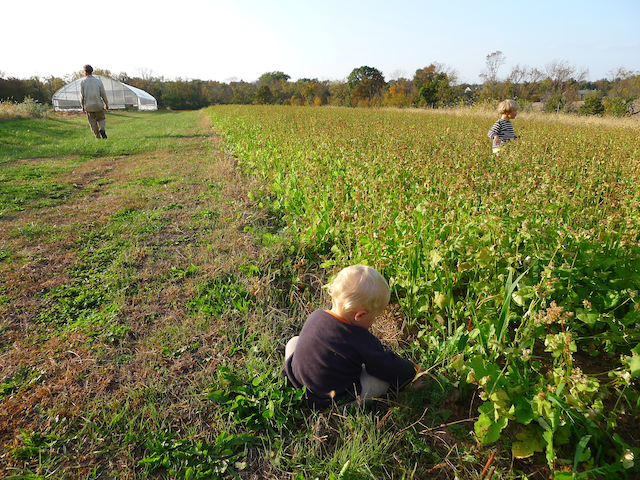 A warm summer day in fall beckons the kids to trundle through the daikon, buckwheat, and oat cover crop.
Expected Harvest
Greens and Roots
By Derek McGeehan
Harvest #24 (Week B) should include sweet potatoes, leeks, chinese/napa cabbage, lettuce, kale, endive, chard, escarole, dill, cilantro, chives, kohlrabi, turnips, celeriac, beets, cauliflower, broccoli, greens mix, spinach, mizuna, and arugula. Some items will be a choice and/or may not be available during all pick up times. U-pick should include cilantro, dill, parsley, and perennial herbs.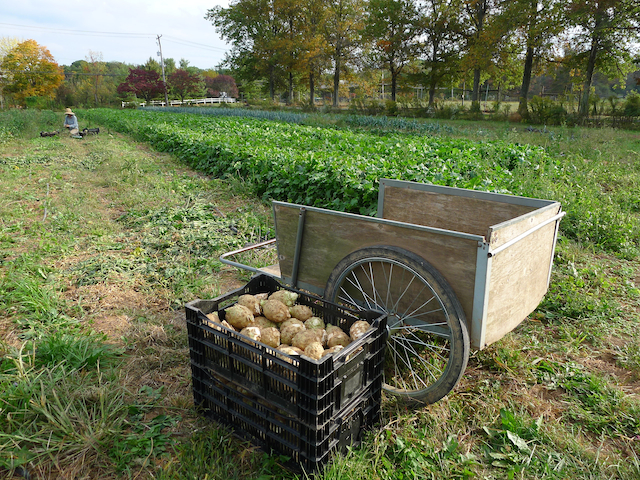 A fine gnarled fall and winter root, celeriac aka celery root, provides nourishment and awesome celery flavor throughout the cold months via roasts and soups.
Sign Up For 2016 Late Fall and 2017 Winter CSAs
By Derek McGeehan
It's time to sign up for our 5th annual
Late Fall CSA
as well as our inaugural
Winter CSA
to receive your supply of local and organic produce through the dark winter months!
Enrollment in these seasons is limited and will be filled on a first-come first-serve basis. Current Main Season CSA shareholders will be given priority until November 1, 2016, when the general public will be able to enroll. We want to fill these CSA seasons with our current members but need to reach a critical mass for these seasons to run successfully.
Also, we're currently re-evaluating the best pick up day/time for Fall and Winter seasons, so please let us know if our proposed schedule does not work for you. See below for details!
To participate in these seasons, please
Log in
to the website and click the green 'Join' buttons on the left hand side of your member page.
We're currently filling up our protective hoop house, high tunnel, and greenhouse with lettuce mix, arugula, kale, spinach, scallions, chard, mizuna, and mustard mix to ensure a steady supply of fresh greens through the winter! Beat the cold and flu season by eating the nutritionally beneficial crops that we grow!
2016 Late Fall CSA:
6 weeks of fresh and storage crops from weeks 11/13/16 through 12/18/16
weekly full shares ($180) and biweekly half shares ($100) available
share distribution on Wednesdays 1-8pm (except for Tuesday 11/22/16)
should include a variety of crops like beets, potatoes, radishes, turnips, sweet potatoes, leeks, garlic, scallions, lettuce, radicchio, cabbage, napa cabbage, arugula, mizuna, mustard greens, kale, collards, chard, spinach, herbs, etc.
2017 Winter CSA:
8 weeks of fresh and storage crops from weeks 1/1/17 through 2/19/17
weekly full shares ($240) and biweekly half shares ($130) available
share distribution on Wednesdays 1-8pm
should include a variety of crops like beets, potatoes, radishes, turnips, sweet potatoes, leeks, garlic, scallions, lettuce, cabbage, napa cabbage, arugula, mizuna, mustard greens, kale, collards, chard, spinach, herbs, etc.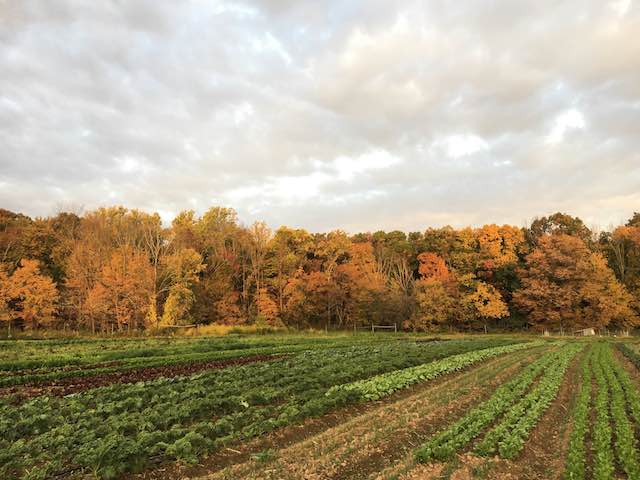 A Bucks County farm scene - courtesy of Mary Liz - with late-fall kale, collards, scallions, arugula, radishes, lettuces, and mustard mix accentuating the mid-fall golden deciduous leaves.
Workshifts For Week of 10/30
By Derek McGeehan
Wow, so now that we're almost in November there are only a few more farm tasks that we'll need some help with. If you're not planning to work this season, please remit the balance of your share cost soon (shares are discounted when you help us on the farm). Half shares work 4 hours, full shares work 8 hours, over the course of the entire season. To "buy-out" of your work hours at $15/hour, please send a check payable to "Anchor Run CSA" at 2578 2nd Street Pike, Wrightstown, PA 18940. Please don't feel guilty about this option!
As of now no workshifts are scheduled for this week.
Workshift sign-up instructions may be found
here
.
Thank you!
The sweets, and other things are here!
By Linda Dansbury
Sweet potatoes are here! Proper storage is important for keeping sweets for any period of time. Sweet potatoes should never be stored in the fridge - the low temps cause cellular changes which effects both cooking and taste of the potatoes. They prefer to be stored at a temp range of 55-60 degrees, which is difficult to maintain. If you have a basement or garage, they are probably the best bet, although when temps really start to drop they will need to be moved inside from the garage. They also like it dark, so if you want to try and store them for any real length of time, wrap them individually in newspaper and then place in a bag or box. I have read that placing an apple in the box/bag keeps the potatoes from sprouting, but I have never tried this myself. Do not try to store the potatoes with bad bruises or open cuts - cook those immediately.
Sweets are delicious roasted - I love to do a mixed roast of the various items we receive this time of year: potatoes, leeks, sweets, celeriac, turnips, winter squash, kohlrabi. They also are delicious boiled and mashed, either alone or in combination with potatoes and celeriac.
Celeriac is a little known and under appreciated veggie, maybe because it looks a little intimidating. It is delicious both raw and cooked. They are able to store for long periods of time in plastic in the fridge. The main thing is to be careful when peeling them (however Derek and Dana don't peel them). Cut a bit off each end and then sit it on the cutting board and with a sharp knife slice/peel down the sides, trying not to take much of the flesh. Then slice or chopped as desired. There are several recipes on this site, including
Celeriac Remoulade
and
Celeriac and Potato/Leek Puree.
Napa cabbage - We have been receiving different cabbages over the past several weeks - have you wondered what the differences are and if they are interchangeable? The "regular" green/red, round cabbage with the smooth leaves is the strongest tasting and takes the longest to cook to get to be tender, if you are going that route vs using in a slaw. The next one is savoy, which is also round, but with pretty, crinkled leaves. It is less strong and cooks a bit faster than green/red cabbage. Napa is the mildest and fastest cooking of the 3 and is the choice for stir fries and other Asian dishes. They all store very well when in plastic in the fridge.
How I Enjoyed My Harvest
Amazing Fall Crops
By Linda Dansbury
I was out of town, so haven't written this column in awhile and am having trouble remembering all that I have cooked over the past couple of weeks. Obviously, when you go away, if you maintain your pick ups, you have A LOT to eat when you come back home. Fortunately, much of the harvest at this time of year can either be stored for awhile or is very flexible in its uses. Here are a few things that I have made:
Spinach, parsley, onions, bacon(from
Ledamete
) - the spinach has been awesome this year - sweet, tender and so delicious! So, I hate to cook it, especially when there has also been chard that is a great spinach substitute in cooked dishes. So, we have been enjoying
Spinach Salad.
Butternut squash, leeks, onion, carrot, garlic - made the
Indian Roasted Pumpkin Soup
with squash that had a couple of bruises. As often happens, I had forgotten about this recipe so doing a search every couple weeks helps me come up with wonderful ways to use the harvest.
Kale, potatoes, onions - there is a really simple 1 dish meal I make for a yummy week night meal. Remove thick stems from kale and roughly chop. Cut up potatoes into bite sized pieces and thinly slice onions. Combine them in the baking dish you will use and drizle olive oil and add salt and pepper to taste - I like to add some thyme or other herb as well. Mix well and even out in baking dish. On top of bed of veggies, place chicken legs and thighs, sprinkly with salt and pepper and paprika. Cover with foil and bake at 375 for about 20 minutes. Remove foil and continue baking until chicken is cooked through and the skin is nice and browned.
Greens, onion, leeks, garlic, hot pepper, ginger, herbs, canned beans - week nights are hectic for many of us. Sauteing or stir frying greens with a couple of the "add-ons" makes getting a deliicous healthy side dish to the table really simple. Start with the onion, leeks and/or garlic/hot pepper in a bit of olive oil. When cooked to desired tenderness(don't burn the garlic), add the greens - they will cook down dramatically, so use way more than you think you will need. When greens are starting to wilt, add other flavorings such as soy and/or fish sauce, fresh herbs, canned or fresh tomatoes, white beans or chick peas - the only limit is your imagination! Serve with some type of grain and/or meat.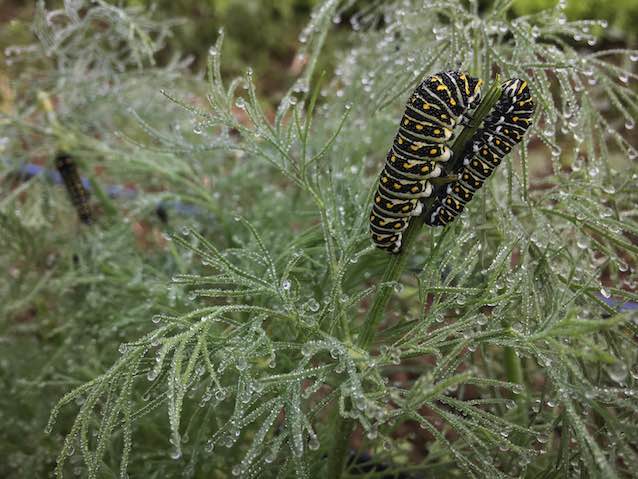 Thanks again to Mary Liz for a great photo. Does it need a caption? These are swallowtail butterfly larvae dining on dew covered dill. It's difficult for us to define these as pests since they're so attractive.