Penultimate Main Season Harvest Week
News
Notes From The Field
Frosty Mornings and Another Round of Summer
By Derek McGeehan
We sustained our first widespread heavy frost this week and all of the crops made it through unscathed and hopefully sweeter. The fact that we're almost into November and haven't experienced a damaging low in the 20s is soothing, but it will come soon enough. Putting out mini-hoops and floating row cover is a task that is easily put off until absolutely necessary. Forecasted temporary dips in temperature always seem to be preceded by a very windy day which renders floating row covers into large unmanageable kites. This is one main reason we're fully embracing growing in all of our larger plastic covered structures this fall and winter. The hoop house, high tunnel, and greenhouse will protect much of our fresh crops during the Late Fall CSA and Winter CSA seasons. The size of these structures makes harvesting easier and the thick plastic gives plants an additional 5-10 degree buffer. We can also add another layer of hoops and row cover on the inside that adds further insulation. Crops are also protected from wind, rain, and snow. Because the greenhouse has an inflatable layer of plastic and the option of supplemental heat, we can grow certain crops in there that aren't quite as cold tolerant as others. Crops like beet greens, chard, and lettuce aren't quite as cold hardy as kale, arugula, and spinach. To enjoy the winter delicacies you should join our
Late Fall CSA and Winter CSA
!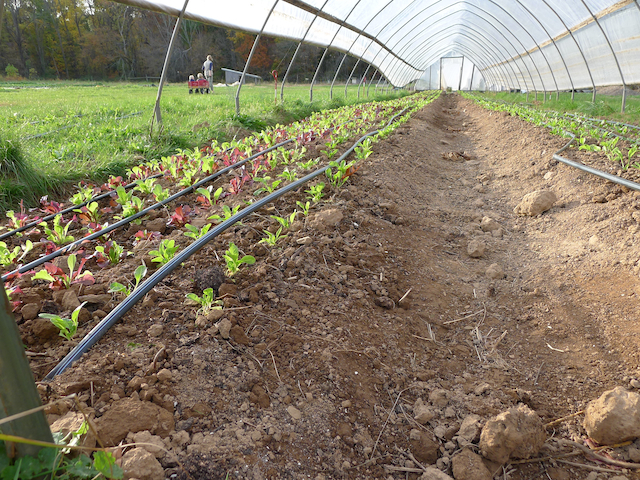 Lettuce mix, chard, spinach, and scallions under protection inside the hoop house.
Expected Harvest
Frost Tolerant Vegetables
By Derek McGeehan
Main Season CSA Harvest #25 (Week A) should include sweet potatoes, kale, leeks, lettuce, arugula, greens mix, spinach, bok choy, endive, escarole, chard, potatoes, napa cabbage, cilantro, dill, and miscellaneous roots. Some items will be a choice and may not be available during all pick up times. U-pick should include cilantro, dill, and parsley. The perennial herb gardens needs to rest for the winter.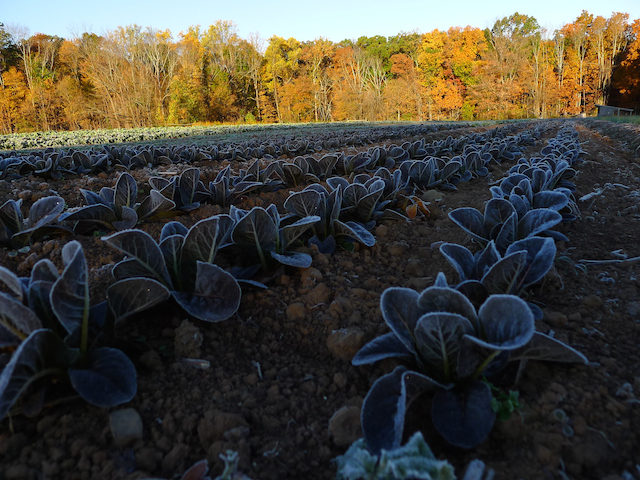 Like most of what is grown outside on the farm this time of year, these "breen" mini-lettuces tolerate the first few rounds of heavy frost. Lows on Wednesday and Saturday mornings bottomed out at 29-30 degrees; when they drop farther into the 20s is when we need to begin covering some crops with floating row cover, or accept damage.
Workshifts For Week of 10/30
By Derek McGeehan
Wow, so now that we're almost in November there are only a few more farm tasks that we'll need some help with. If you're not planning to work this season, please remit the balance of your share cost soon (shares are discounted when you help us on the farm). Half shares work 4 hours, full shares work 8 hours, over the course of the entire season. To "buy-out" of your work hours at $15/hour, please send a check payable to "Anchor Run CSA" at 2578 2nd Street Pike, Wrightstown, PA 18940. Please don't feel guilty about this option!
As of now no workshifts are scheduled for this week.
Workshift sign-up instructions may be found
here
.
Thank you!
Sign Up for Extended Seasons - Saturday Pick Up Added
By Derek McGeehan
It's time to sign up for our 5th annual
Late Fall CSA
as well as our inaugural
Winter CSA
to receive your supply of fresh, local, and organic produce through the dark winter months!
Enrollment in these seasons is limited and will be filled on a first-come first-serve basis. Current Main Season CSA shareholders will be given priority until November 1, 2016, when the general public will be able to enroll. We want to fill these CSA seasons with our current members but need to reach a critical mass for these seasons to run successfully.
To participate in these seasons, please
Log in
to the website and click the green 'Join' buttons on the left hand side of your member page.
2016 Late Fall CSA:
6 weeks of fresh and storage crops from weeks 11/13/16 through 12/18/16
weekly full shares ($180) and biweekly half shares ($100) available
share distribution on Wednesdays 1-8pm (except for Tuesday 11/22/16) and Saturdays 11am-12noon
should include a variety of crops like beets, potatoes, radishes, turnips, sweet potatoes, leeks, garlic, scallions, lettuce, radicchio, cabbage, napa cabbage, arugula, mizuna, mustard greens, kale, collards, chard, spinach, herbs, etc.
2017 Winter CSA:
8 weeks of fresh and storage crops from weeks 1/1/17 through 2/19/17
weekly full shares ($240) and biweekly half shares ($130) available
share distribution on Wednesdays 1-8pm and Saturdays 11am-12noon
should include a variety of crops like beets, potatoes, radishes, turnips, sweet potatoes, leeks, garlic, scallions, lettuce, cabbage, napa cabbage, arugula, mizuna, mustard greens, kale, collards, chard, spinach, herbs, etc.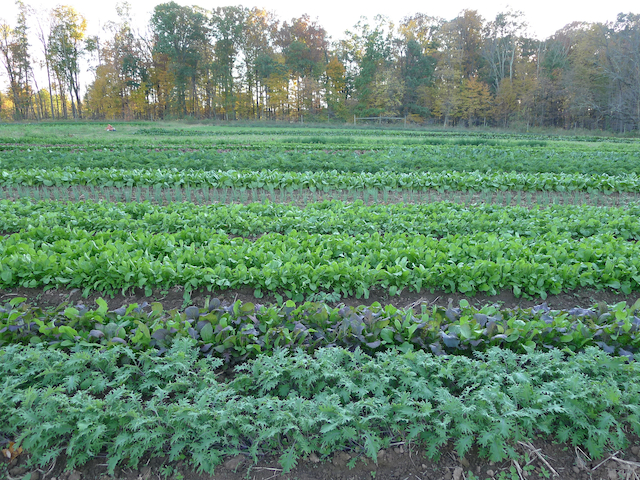 An uplifting mix of vegetable crops will nourish us through the cold months!
Member Ideas and Suggestions
More soups!
By Linda Dansbury
Fellow member and one of the founders of Anchor Run, Robin Hoy, sent me a recipe that she made this week that sounds delicious -
Potato Leek Kale Soup
.
Thanks Robin!
How I Enjoyed My Harvest
Catching up on harvests
By Linda Dansbury
Last week I mentioned being away and falling behind on using/enjoying my share so I got busy making soups to freeze for easy meals later in the year. I have found that I am much better at eating my greens if I put them into something rather than just freezing the greens and adding them to a dish later. The good thing about soups is you can add A LOT of greens to them - it is almost impossible to over do it, so I felt really good being able to use everything in healthy, delicious ways. This week I began using my pressure cooker in earnest too. I received it last Christmas and made some things in it but now I am starting to make my own recipes, just using the cookbook as a guide for setting the pressure and cooking times. If you have one, dig it out of your closet! Amazing food is ready in an hour or less! And clean up is easy too.
Leeks, greens(mizuna, cabbage, Swiss chard, spinach), potatoes, carrots, parsley, garlic- made a beef veggie with lots of greens soup. Ate it for a night and froze the rest in meal sized portions.
Onions, cabbage, kale, carrots, potato, garlic - made a traditional Italian soup called
Ribollita.
It does take some time to make, but it is worth it. I had seen the recipe in the Food section of the Phila Inquirer, but found a version on line that is essentially the same. The version I used topped the dish of soup with a poached egg, making it even more hearty but certainly not necessary.
Onion, cilantro, mint - made Vietnamese Chicken Pho in the pressure cooker thursday night - I was so happy to receive the beautiful cilantro in my pick up!
Onion, garlic - prepared country spare ribs in pressure cooker - meat only needed to cook for 30 minutes and came out fall apart tender. And...there are plenty of leftovers for later in the week.
Greens, Greens and yes, More Greens
By Linda Dansbury
After the many years I have been a member of Anchor Run, I am still learning so much about eating locally and how to best enjoy the harvests.
This week I focused on catching up on my harvests and using greens - which took some time but it was fun making the large pots of soup and filling my freezer with easy meals for dark, cold winter nights.
As I have said many times, greens are interchangeable, so if a recipe calls for kale, but you have chard, that's fine. Add mizuna, endive, escarole to any soup or stew to boost the nutrition, and add color to the pot.
I really love receiving the chicories: endive, escarole, radicchio because they are equally happy in a salad or cooked.
I usually do a mix of greens for salads - in the fall and winter, a mix of endive, escarole, mizuna, leaf lettuce with your favorite vinaigrette is delicious - these heartier, slightly bitter greens are delicious with "add-ins" - they welcome the sweetness of thinly sliced local apples or pears, dried cranberries, pomegranate arils, and nuts such as almonds and pecans. A crumble of feta or blue cheese on these salads is also delicious - with a salad that is this large and loaded with flavor, I often just have this with a simply prepared piece of meat.
Enjoy your greens!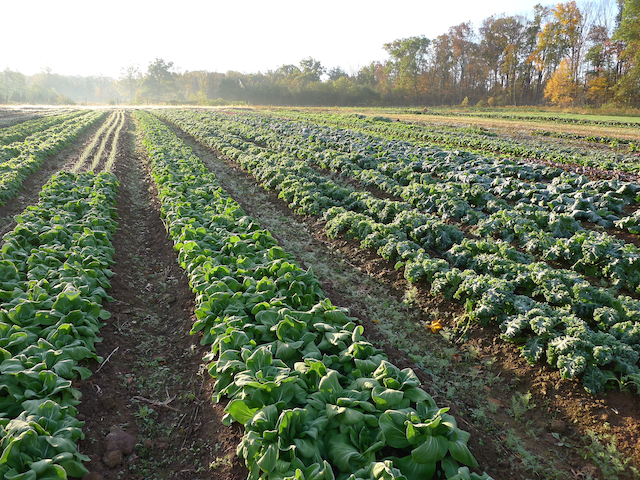 Frosted greens slowly warming up in the morning sunshine.
Ledamete's Turkey and Stocking Up Sale!
Ledamete Grass Farm
We'll have a "Stock Up" Market in conjunction with our turkey pick up on Nov. 22nd 4-7pm so you can be sure to enjoy our pastured chicken, forest & pasture-raised pork, and 100% grassfed beef all winter long!
Click here
for a full inventory listing and to order. Available for purchase now:
Pasture & Forest-Raised Pork
Pastured Poultry
100% Grassfed Beef
STOCKING UP ORDER DEADLINE- MIDNIGHT ON NOVEMBER 2ND!
Turkey & Stocking Up Market Date: Tuesday, Nov. 22nd from 4-7pm * Pre-orders ONLY!
Want to see what we are up to day to day on the farm? Follow us on
Facebook
!
Your Farmers,
The Fix Family
5471 Sell Rd.
Schnecksville, PA 18078
ledametegrassfarm.com
farmers@ledametegrassfarm.com
610-767-4984