End of the Season Appreciation
News
Notes From The Field
With Heartfelt Thanks
By Derek McGeehan
So, we're at the end of the 2016 Main Season CSA already. It surely flew by. It feels like a successful season and we're thankful for all of our members/friends/neighbors that participated, supported, and helped along the way. We're also very thankful (and lucky and fortunate) to have had a great, hardworking, enthusiastic, intelligent, diligent, knowledgable farm crew this year. Hannah and Mary Liz were here for the full length of the season, Mark was here for the summer months. They were an indispensable component of the farm's success this year. Hannah is returning for another season on the farm; Mary Liz is moving to the Boston area and will pursue work on another organic CSA farm.
We hope as an Anchor Run CSA member you feel satisfied with your experience this year and will return for future seasons. Stay connected - to the farm, to your farmers, to the soil and the food that is grown here. As of now you can sign up for the 2016 Late Fall CSA, the 2017 Winter CSA, and the 2017 Main Season CSA
here
. Thank you, and have a good great offseason!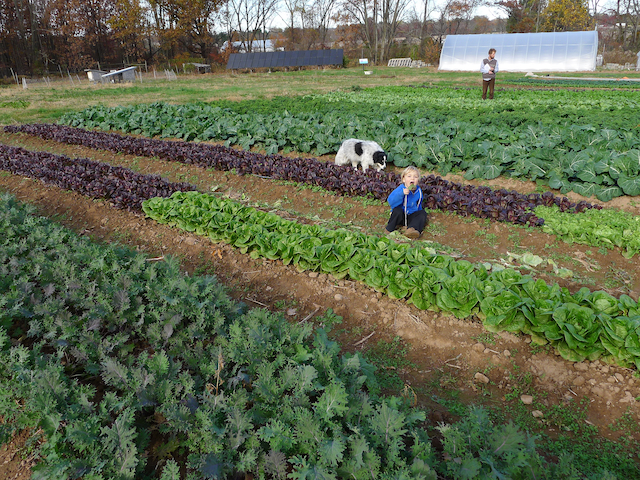 Checking out the Late Fall and Winter crops, planning harvests, sampling along the way, reconnecting after being away for a couple of days.
Expected Harvest
Final Main Season Share
By Derek McGeehan
Main Season Harvest #26 (Week B) should include lettuce, kale, potatoes, fennel, cauliflower, chives, parsley, onions, bok choy, arugula, spinach, greens mix, escarole, endive, radicchio, and miscellaneous roots. Some items will be a choice and may not be available during all pick up times.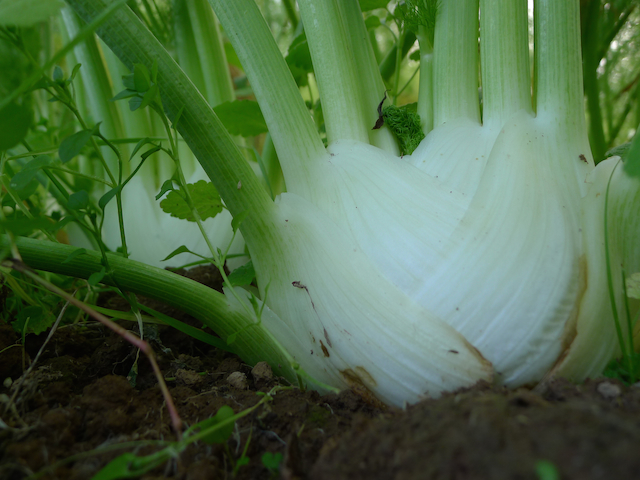 The fennel bulb at home under its own canopy
Workshifts For Week of 11/6 - GARLIC!
By Derek McGeehan
It's garlic planting and mulching time! This is the final crop we'll be planting outside this year, and we won't harvest it until July 2017. Three hundred pounds of cloves will be planted 6 inches apart in 3 rows over eleven 180-foot beds. How many cloves is that? 11,880. After we plant the garlic we'll mulch it with straw to protect and insulate the soil over the winter months and smother weeds come spring and summer.
Workshift sign-up instructions may be found
here
.
Shifts:
Tuesday 11/8 9:15-11:15am & 1-3pm
Wednesday 11/9 10am-12noon & 1-3pm
Sign Up Now For Extended CSA Seasons!
By Derek McGeehan
It's time to sign up for our 5th annual
Late Fall CSA
as well as our inaugural
Winter CSA
to receive your supply of fresh, local, and organic produce through the dark winter months!
Enrollment in these seasons is limited and will be filled on a first-come first-serve basis.
To participate in these seasons, please
Log in
to the website and click the green 'Join' buttons on the left hand side of your member page.
2016 Late Fall CSA:
6 weeks of fresh and storage crops from weeks 11/13/16 through 12/18/16
weekly full shares ($180) and biweekly half shares ($100) available
share distribution on Wednesdays 1-8pm (except for Tuesday 11/22/16) and Saturdays 11am-12noon
should include a variety of crops like beets, potatoes, radishes, turnips, sweet potatoes, leeks, garlic, scallions, lettuce, radicchio, cabbage, napa cabbage, arugula, mizuna, mustard greens, kale, collards, chard, spinach, herbs, etc.
2017 Winter CSA:

8 weeks of fresh and storage crops from weeks 1/1/17 through 2/19/17
weekly full shares ($240) and biweekly half shares ($130) available
share distribution on Wednesdays 1-8pm and Saturdays 11am-12noon
should include a variety of crops like beets, potatoes, radishes, turnips, sweet potatoes, leeks, garlic, scallions, lettuce, cabbage, napa cabbage, arugula, mizuna, mustard greens, kale, collards, chard, spinach, herbs, etc.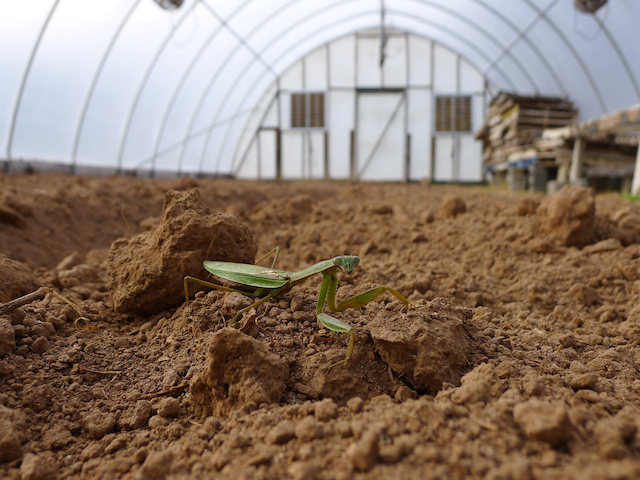 Found inside our optionally heated greenhouse, this praying mantis is welcoming you to participate in the extended CSA seasons.
Endive, Escarole, Radicchio - AKA Chicory
By Linda Dansbury
While in the pick up room this past week, we had a discussion about endive, which was beautifully sitting in its bin, waiting to be picked up. A member asked how to use it because she finds it just too bitter to eat. Derek and I both starting waxing poetic about how much we love this green - he puts 2 heads into his and Dana's smoothies each day - the smoothie mixture overcomes the bitterness and it is delicious - he also said it is a great liver detoxifier - sounds like a great reason to gobble it up just for that!
Both endive and escarole are bitter when eaten raw, on their own. But both are equally happy when mixed with other things and/or when cooked, which makes them much milder tasting.
My German grandmother used to make endive salads - she would soak the endive in warm water to remove some of the bitterness. She would make a dressing of lemon juice, a mild oil, celery salt and pepper - and she would sprinkle some fresh chopped parsley over the top. It was especially delicious with rich foods, such as beef stew - or turkey!
Escarole, endive's close cousin, is what was traditionally used in Italian Wedding Soup - growing up, my Italian grandmother called it Escarole Soup.
Both endive and escarole can be cooked in a pan with olive oil, garlic and a sliced hot pepper (from your freezer, remember?) or red pepper flakes, like many of you have done with many of the other greens. Or, add them to your soups and stews for added nutrients and color.
Embrace these 2 versatile, nutritious greens!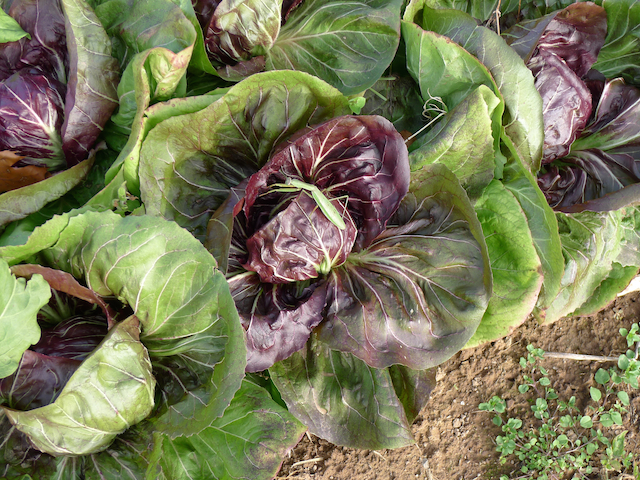 Not too bitter for this praying mantis, radicchio is a truly appealing vegetable.
How I Enjoyed My Harvest
Salads and Stews
By Linda Dansbury
This week I used the pressure cooker again to make dishes that we could get at least a couple of meals out of. It makes meals for the week nights easier, faster, and delicious!
Local pork, onions, garlic, tomatoes I had frozen, a hot pepper from freezer, greens - pressure-cooked this concoction - it came out tender and delicious - once the pressure was down, and I opened the cooker, I added chopped greens and just let them wilt. All we had to do was make pasta to go with it. Topped with a lot of the delicious cilantro we have been receiving.
Local lamb shanks - basically did the same thing, only this one had dried porcini mushrooms and no hot peppers so the taste was very different even though the process was virtually the same- topped with parsley.
Beets - come to think of it, I could have put these into the pressure cooker too, but I roasted all that I had, peeled and sliced them and tossed them in a nice vinaigrette because they will keep for quite awhile this way. I made a few salads incorporating a few different greens, the beets and various toppings that are seasonal - apples, pears, goat and feta cheese and nuts. Salads such as this with beets, which are a bit sweet, work really well with some endive or escarole.
Squash, herbs, garlic - made a stuff winter squash recipe that was literally a "stuffing" - day old bread, garlic, onion component, several herbs, cheese and milk to hold it together. Then it was baked for a long time - it was delicious!