Looking forward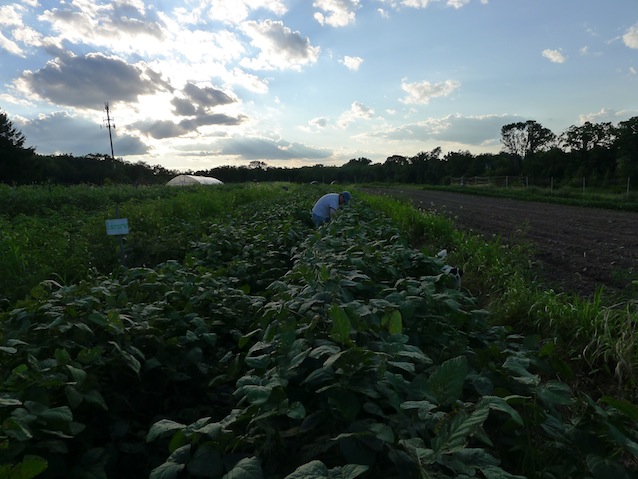 Summer sunset over u-pick edamame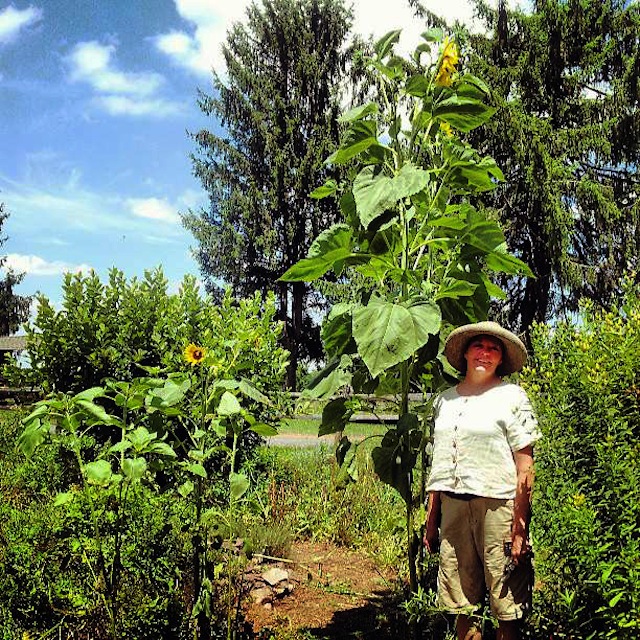 Herbalist and member Jeannine standing next to sentinel sunflower in CSA herb garden.
Photo Credit: Xina Graham-Vannais
News
Notes From The Field
The Vagaries of Farming
By Derek McGeehan
We're now at the point in the growing season where we're planting less and harvesting more which means less cultivating and weeding (hopefully) and less prep work with the tractor. We have two more weeks of seeding transplants in the greenhouse and five or six more weeks of transplanting. Rutabaga was direct seeded a few weeks ago and this past week watermelon (red meat) radish went in. Over the next month and a half we'll direct seed arugula, more radishes, turnips, and many other greens like the ones you received in the spring. The wet and cool weather that has predominated the growing season this year is starting to get our attention in the form of some crops suffering like onions and celeriac. Overall, we do feel lucky that it has been a pretty good season and that the wet weather has at least been separated by a few days of sun. The heat wave of mid-July seems like a distant memory. Now, I'm thinking autumn and love the low humidity.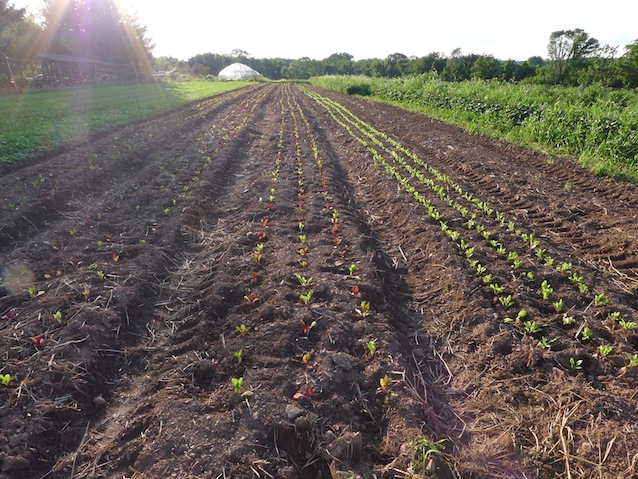 Recently planted swiss chard next to cover cropped and retired 2013 strawberry patch
We have a large patch of watermelon and a charentais-type cantaloupe melon that we're keeping a close eye on during this wet and cool stretch of weather. Our first year here, 2009, was characterized by wet and cool and this season most closely resembles that year, though not as bad in hindsight. That year, we had a great patch of cantaloupe with nice fruit almost at maturity and following three nights of cool weather (50s) the vines suddenly died. We did some research after that and found the term "sudden vine death" to describe situations where nighttime temperatures dip into the 50s for 3 nights in a row and cause plants to die. We're hoping that doesn't happen this week. Also, this is the first year since 2009 we're growing cantaloupe for the CSA after trialling a variety last year on a very small scale which proved a success.
On a positive note, the winter squash fruit look great and should be a staple in our harvests through the end of the season. Why winter squash in the middle of the summer? Well, over the years we've learned that diseases interfering with this plant family migrate up from the south where they overwinter. By this time of the season they're typically present in our area and if we don't have mature fruit by the time the diseases arrive we probably will have a small harvest, if any at all. This is one of our organic techniques to beat the pests and diseases. This year we employed the same philosophy with cucumbers and it seemed to pay off in a nice stretch of harvests.
Enjoy this fall weather!
Expected Harvest
Peak Summer Produce
By Derek McGeehan
Harvest #12 should include: winter squash, tomatoes, heirloom tomatoes, celery, lettuce, fresh garlic, scallions, sweet peppers, hot peppers/okra, Italian dandelion/French chard, eggplant/summer squash. U-pick produce should include: cherry tomatoes, edamame, yellow wax beans, basils, parsley, dill, cilantro, perennial herbs, and a flower bouquet. Half Shares, this is Week B.
Calling quart and pint containers home to the farm!
By Linda Dansbury
I went to the farm to pick today and since I always bring my containers back to the barn after picking, I went into the barn to get some containers to use, but there were no quart containers at all, and not many pint containers, so please make sure to bring them back to the farm for others to use each week.
CSA Potluck August 10th - 5 PM
Come to the farm and enjoy a nice summer evening with fellow CSA members and your farmers. Folks should start arriving around 5 PM and we'll hopefully begin eating by 5:15 or so. Bring a dish to share (enough for your party plus a couple more) as well as dishes and drinks for yourselves. Depending on the weather, we may have a little campfire.
Member ideas
By Linda Dansbury
Member Nancy Popkin sent me an email about preserving the winter squash. She correctly pointed out to me that some members might not know what the best storage place in their home is, and I will add that some may not have a good location. Or, as the case was with Nancy, the squash had a small hole in it and so it won't keep for long. To all members, check the squash carefully when you get them home for small holes or bruises, which are clear indicators that long term storage as a whole squash is not an option for that veggie. Pre heat oven to 350, cut squash in half and remove seeds - they can be discarded or cleaned up and roasted separately. Place the squash cut side down in a sided cookie sheet or roasting pan(you can add a little water to prevent the squash from browning) and bake for 45 minutes to 1:15 minutes, depending on squash size and thickness. Once easily pierced with a fork, remove from oven and let cool.

Once cool, scoop out flesh with a spoon (a grapefruit spoon works well) or use a sharp knife to cut away skin. Puree flesh in food processor until smooth and even. Freeze in one or two cup batches for use in sauce, soup and baking. Nancy said she was thinking of making homemade pumpkin gnocchi, using pumpkin instead of potato. Yum!
How did I enjoy my harvest this week?
By Linda Dansbury
It is that time of the week again to reflect on how I enjoyed my harvest. As always, this time of year is so much fun, and easy to cook because it is pretty difficult to mess up these wonderful ingredients. Here is how I prepared some of them:
Tomatillos - took 2 weeks of my pickings and made a double batch of the sauce that is for the Chicken Stew With Tomatillo Sauce that is on this site. I really like to put up as much of this sauce as I can because although it is perfect in the recipe that it is meant for, it is equally delicious with fish and is also tasty used as a salsa for chips.
Tomatoes - these are such cherished treasures of the season. I snacked daily on the cherry tomatoes and we had an uncooked tomato sauce with pasta one night - just cherry tomatoes cut in half, fresh basil, a very little bit of garlic and some fresh grated parmesan cheese and a good drizzle of nice olive oil. Simple and delicious. As for the regular tomatoes, made bruschetta twice this week - similar recipe for the sauce above! Yum - one of my favorite dishes of the season.
Fennel, garlic, tomatoes, peppers, onions, parsley, basil - I wanted to use up my fennel and do something other than grill it - so I thought of fish soup. Fish soup is normally thought of as a winter type meal, but I search for a recipe and found a really interesting summery version that made a soup base using onions, peppers garlic and fennel as a base for stock - actually it called for fennel seeds, but I used 2 fennel bulbs instead. Near the end, I added a lot of cut up cherry tomatoes and then just before serving a copious amount of chopped basil and parsley. It was delicious and was equally great the next day as leftovers. Post script: saw Derek at the farm today and told him about the soup. He said it sounded great and that I should post the recipe - so look for it next week.
Zucchini - I found a new gratin recipe for zucchini that does not use eggs, so it is light. Shred the zucchini, you can use a box grater or food processor - I have a mandolin with the grater blade and it worked great. Salt and set over a colander to drain for at least 30 minutes. Squeeze out excess moisture. Mix the zucchini with panko bread crumbs, parmesan cheese, julienned basil by hand and then place into casserole dish that has been sprayed with no stick spray and bake in 400 degree oven until the tops are nice and brown. I made a smaller batch so put mixture into small ramekins so we each had an individual serving. It was a really nicely flavored and light version of a gratin.
Green beans, hot pepper, scallions and garlic -- stir fried. The recipe was just for beans stir fried, but that sounded boring, so I cut up a couple of scallions, a garlic clove and a hot pepper. Heated up the wok and threw the veggies all in together and started to brown them just a bit. Then added soy sauce, oyster sauce and a little water. Covered the wok and let them go for about 2 minutes. It was a delicious side dish for grilled steak that had been marinated with red wine, garlic, fresh onion, rosemary and thyme.
Scallions -- added to my tuna salad for lunch, along with basil and celery. I used some wasabi mayo as a binder. On my sandwich I used a couple of nice lettuce leaves and thinly sliced cucumbers for crunch.
Celery - ate it all as a snack with lunches
A couple summer ideas/recipes
By Linda Dansbury
I have been thinking about novel ways to use our summer bounty - hence the zucchini gratin that I made during the week. I love salads and tomato salad is one of my absolute favorites. So in looking at various blogs and recipe sites I saw pictures for a tomato salad that was absolutely gorgeous and simple to make. You have to use the heirloom tomatoes to make this look as great as it tastes: Slice the heirloom tomatoes up and place on large platter so that the slices are overlapping as little as possible. Sprinkle a can of rinsed chickpeas all over the top. Drizzle with really good quality olive oil, a bit of balsamic vinegar, sea salt and freshly ground pepper to taste and a nice amount of basil that has been cut into a chiffonade.
Eggplant is another veggie that I look for different ways to use, so I found a recipe that is fairly versatile. It can be used as a topping for toasted breads, it can be eaten warm as a side dish, or it can be mixed up with a pasta or grain of some sort. It is called Eggplant Salad but can be eaten warm. Enjoy
Recipes
From Smitten Kitchen; serves 6 - 8 depending on how you use it. Takes about an hour to prepare, but much of it is inactive cooking time.
1 medium eggplant, about 3/4 pound, cut into 1/2-inch cubes
2 tablespoons olive oil plus additional for oiling baking sheet
1/4 teaspoon salt
Black pepper
1 teaspoon red wine vinegar
1/4 cup crumbled feta
1 scallion, thinly sliced
8 1/2-inch slices of baguette, brushed with olive oil
1 small clove garlic, peeled and halved
Preheat oven to 425 degrees. Lightly oil a baking sheet or roasting pan. Toss eggplant, 2 tablespoons olive oil, salt and a generous amount of black pepper together in a medium bowl until evenly coated. Spread on prepared baking sheet and roast for about 25 minutes, moving pieces around occasional so they evenly brown. For a cold salad, let the eggplant cool a bit before mixing it with red wine vinegar, feta and scallion. For a warm salad where the feta glues itself to the eggplant a bit, toss the vinegar, feta and scallion together when the eggplant just comes out of the oven. You'll want to eat the warm salad quickly.
Broil or toast baguette slices then rub them with a garlic clove before heaping on eggplant salad.