Late Fall CSA - Pick Up Tuesday This Week
News
Notes From The Field
Blowing in the Wind
By Derek McGeehan
I love this time of year (most of the time, when the weather is good, and crops are healthy). The amount and pace of work is manageable, and with one main pick up day per week with approximately 30% of the Main Season membership, harvesting is much easier. Besides continuing the growing season and protecting crops, we reflect on the successes and failures that occurred over the past 9 months and begin to think about possible improvements. Our thoughts begin to meander towards the 2017 growing season, what new crops to try, what perennial plantings to invest in, what crops to quit growing, how to improve members' CSA experience. I love the time and space relationship between planning and planting for future harvests. Investing in an additional 40 fruit trees, 300 raspberry bushes, and 3000 strawberry plants requires a vision of the future. Where will the crops go? What's the soil like? When will harvests begin? What will pest pressure be like? If it's a u-pick crop, can it be grown near the central area? Is it worth the investment? It's quite easy to dream and be hopeful this time of year, especially after a satisfying and successful growing season. We feel safe.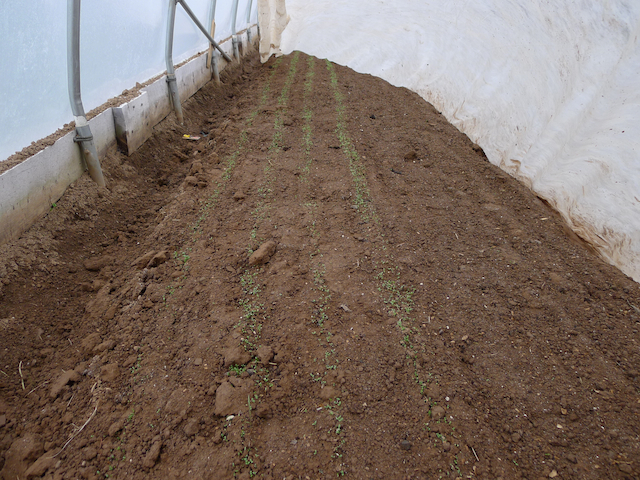 Very, very young lettuce mix under triple protection in the optionally heated greenhouse for January and February harvests.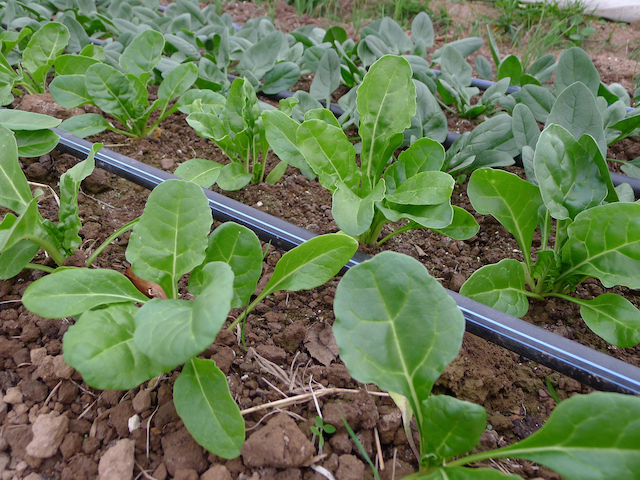 Under protection in the unheated hoop house, chard and spinach look healthy and happy.
Expected Harvest
Vegetables Riding the Temperature Roller Coaster
By Derek McGeehan
Late Fall Harvest #2 (Week B) should/could include spinach, lettuces, radicchio, cauliflower, fennel, onions, potatoes, herbs, kale, collards, yukina/tatsoi, and miscellaneous roots. Some items will be a choice.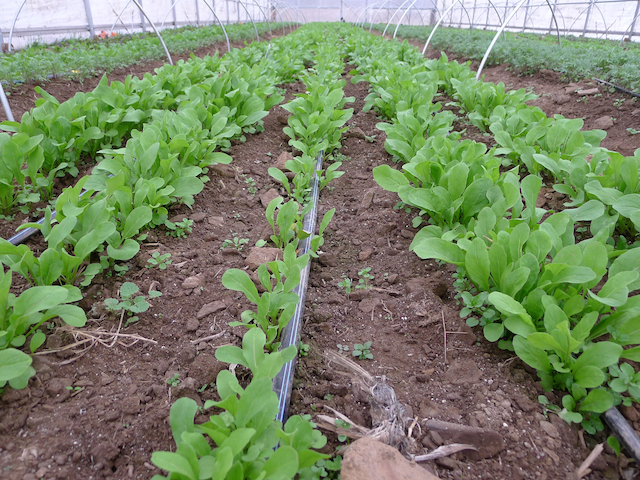 Cold-hardy arugula, growing fast in the almost 70-degree heat. Hoops are already in place for an eventual added cover.
How I Enjoyed My Harvest
Extreme temperatures
By Linda Dansbury
The crazy temperatures make it somewhat of a challenge in planning meals: for a few days windows are wide open and it is ideal for grilling. Now, a dramatic and sudden change to windy, cool weather will drive us back to the oven. I did make a few delicious dishes this week:
Leek, onion, garlic, a lot of greens - made a soup called Sausage and Greens soup. There are a lot of versions on the internet but the one I made is in the
Simply in Season
cookbook. I sauteed up some sausage(
Ledemete Grass
), then added chopped leeks and onions and then the garlic and let them all get soft. Added chicken stock(you can use veggie stock too) and then a lot of slivered up greens. Then added some evaporated milk - I haven't done this before, but a friend told me about this recipe.
Beets, onion, carrot, potato, cabbage, kale, dill, parsley - again, using the
Simply in Season
cookbook, I made the Winter Borscht recipe that was in there. If I made it again, and I probably will, I will use a stock rather than the water it calls for - other than that, it was a great way to incorporate a lot of our wonderful harvests!
Cauliflower, sweet potato, onion, garlic, rosemary - roasted in the oven until all were soft and browned - YUM!
A Note on Cauliflower
By Linda Dansbury
If you find you have a lot of cauliflower, and are not sure what to do with it, consider how many options you have: raw as a snack, steamed or boiled till desired tenderness, made into a soup, boiled until soft and then mash it as you would potatoes, and roasted. Here is an easy way to roast your caulifower for a delicious side dish:
Heat oven to 400 degrees. Slice or cut cauliflower into pieces larger than bite sized - the more surface area you have on the sheet pan, the better. Slice a garlic clove or 2 and toss it along with the cauliflower in some olive oil - salt and pepper and thyme if desired. Roast, turning occassionly until not quite tender. Take out of the oven and sprinkle with some grated parmesan cheese. Return to the oven until cauliflower is tender and cheese is melted. Enjoy!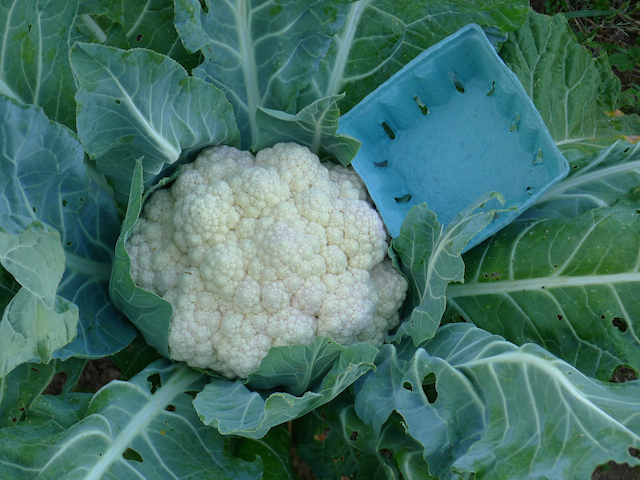 Hey, that's a nice head of cauliflower (next to a quart container for perspective).