Late Fall CSA Week 4
News
Notes From The Field
Go With The Flow
By Derek McGeehan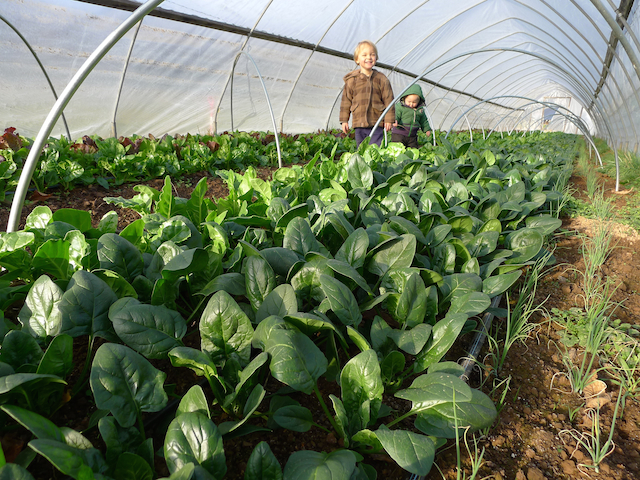 Gabriel and Abigail pose in the hoop house behind beautiful spinach and chard.

Water returned to the farm last week in the form of abundant rainfall; almost 3 inches fell over a couple of days. Most of it appears to have soaked in, but the ponds are full again so some of it ran off and was caught there. Overall November was definitely a dry month; until that storm we had only received about half an inch of rain. This time of year our crops hardly need any water to maintain their health, so a dry fall is better than a wet one. During a typical Bucks County fall and winter the soil in the covered structures absorbs enough moisture from outside rainfall to keep those crops happy. This fall, however, we've had to add water every couple of weeks. Soon enough (probably) adding water from the well won't be an option, assuming frozen pipes could become a reality. We began harvesting lettuce mix from the hoop house last week and will begin harvesting chard and spinach there as well this week. We will also begin harvesting arugula, mizuna, and greens mix from the high tunnel. Cutting it now should allow it enough time to regrow for another harvest or two in January and February. Field crops are still growing slowly and have been cold tolerant. We'll probably have to do a bit of scrambling whenever forecasts begin to call for lows in the low 20s or teens but by then most of the field crops will be cleared. Hope you are enjoying all of the fresh greens!
Expected Harvest
Sustainable Growth
By Derek McGeehan
Late Fall Harvest #4 (Week B) should contain lettuce mix, mini head lettuce, kale, sweet potatoes, kohlrabi, garlic, spinach, chard, arugula, mizuna, greens mix, celeriac, radishes, and turnips. Some items will be a choice.
Succulent orbs that grow above a taproot, kohlrabi is actually a round and swollen "stem". Not sure how to prepare and enjoy it? Try an internet search; a lot of options appear.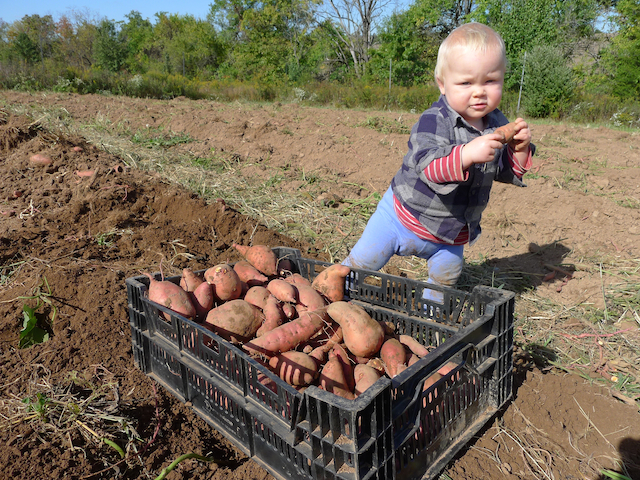 Abigail worked very hard to fill that bin with sweet potatoes...perhaps she had some help.
Sign Up for 2017 Winter CSA and 2017 Main Season CSA
By Derek McGeehan
Including this one, there are three more weeks of pick up for the Late Fall CSA. The last day to pick up is Wednesday 12/21 and Saturday 12/24. The Winter CSA begins on Wednesday January 4th and runs for 8 weeks until the end of February. We're aiming for Winter CSA harvests to contain a nice mixture of fresh greens and storage crops, similar to what you've been receiving in the Late Fall shares.
The 2017 Main Season will begin in mid-May and will run for 26 weeks again. We're anticipating another great harvest season and are excited to implement more positive changes to further improve your farm and food experience.
Farm dog Borchie faces south toward the warmth of the morning sun and reminds you to sign up soon for the future CSA seasons!