Introducing a new little farmer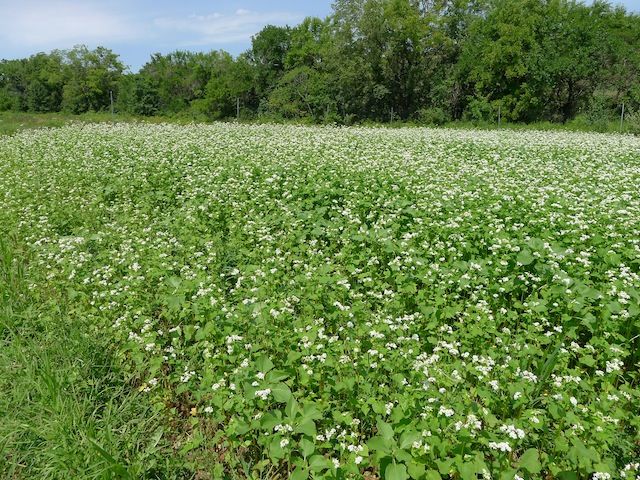 "Cover crop of flowering buckwheat and soon to bloom sunflowers."
"Honeybee enjoying buckwheat flower."
News
Notes From The Field
A new farmer!
posted by Dana Hunting
It sure has been an exciting week. Beginning with a harvest of watermelons and ending with the arrival of Anchor Run's newest farmer! Members, meet Gabriel Lloyd McGeehan.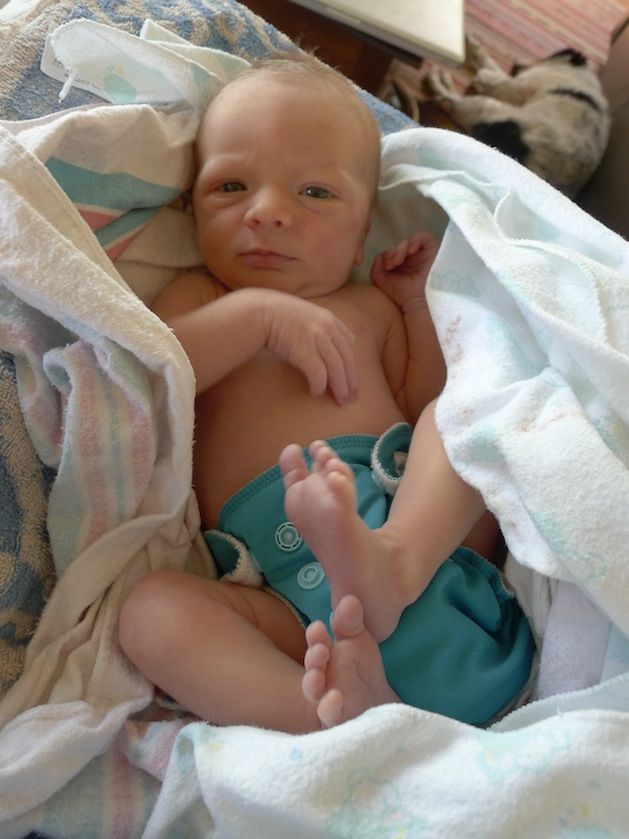 "Gabriel Lloyd McGeehan...we think he's pretty cute."
Some other stuff happened in between, including planting and mulching (thanks to the efforts of our indispensable members over the course of 3 workshifts) next year's strawberry patch. Twice as big as this year's, we transplanted roughly 6,000 new strawberry plants comprised of 5 different varieties with diversified maturity dates. Hopefully that leads to a longer harvest period next year. They are already growing and looking vigorous out there thanks to the .6 inches of rain that eased their transition into their new home.
As our new addition eases into his new home, harvests should continue to reflect the bounty synonymous with this time of year. Enjoy either your melon or watermelon you should receive in harvests this week and take advantage of the u-pick cherry tomatoes, basil and edamame. We can't say for sure exactly how long they will last and they are the wonderful telltale tastes of summer!
Expected Harvest
More edamame, melon/watermelon
Harvest # 13 should include: lettuce, tomatoes, scallions, new potatoes, sweet peppers, eggplant, summer squash, winter squash, celery, dandelion, french chard, okra, hot peppers and melon/watermelon. Some items will be a choice. U-pick should include: edamame, cherry tomatoes, husk cherries, tomatillos, yellow wax beans, italian basil, herbal basils, parsley, dill, cilantro, flower bouquet, and perennial herbs. Half shares, this is week A.
Late Fall CSA sign ups in September
By Dana Hunting
Like last year, we are offering a 6-week 'Late Fall' CSA share to existing members. Running from mid-November to the second to last week in December, the shares will include cold hardy greens, tender greens (thanks to the new high tunnel!), storage crops, root vegetables and other crops happy to grow in colder 'off-season' temperatures. Membership is limited and will be available only to existing members. Look for sign up information in September sometime.
How did I enjoy my harvest this week?
By Linda Dansbury
The last few days have been exciting ones around the farm. Congratulations to Dana and Derek, and to baby Gabriel for being lucky enough to be born to wonderful parents! So, how did I enjoy my harvest this week? Here is what I remember - I should keep a log in the kitchen for writing things down so I don't forget.
Winter Squash -- will probably use spaghetti squash this coming week - it is really great with the cherry tomatoes, herbs and parmesan cheese.
Tomatillos, onions, garlic, cilantro -- made the chicken stew with tomatillo sauce that is on the web site - I had made the sauce the week before, so it was an easy weeknight meal.
Eggplant, garlic, scallions -- made the eggplant salad that I posted last week.
Tomatoes - put together the salad with chickpeas that I talked about last week. The chickpeas are really a nice addition to what is otherwise a straight forward caprese salad. Also made bruschetta a couple of times.
Green beans, scallions - made a green bean salad with tarragon, balsamic vinegar and nasturtium flowers from my garden - tasty and beautiful! Made another one with a lot of fresh oregano, scallions, red wine vinegar, olive oil and chickpeas - yum!
Cherry tomatoes, edamame, peppers, scallions, other veggies - made the Vegetable ceviche that I posted a couple of weeks ago - it really is delicious.
Lettuces, scallions, cherry tomatoes -- made a salad with leftover dressing from the green bean salad - very tasty with the hint of tarragon.
Summer squash, eggplant and peppers - grilled along with pork chops for a complete dinner on the grill. I love easy clean up!
Green beans, hot peppers, scallions - made a stir fry using oyster sauce and tamari.
Celery, cherry tomatoes - snacks every day to have with my lunch.


Tip and question from member
By Linda Dansbury
Member Shelley Fisher emailed me this week with both a question and tip.
Shelley sets aside a 2-3 hour block of time each week to prep veggies - cut, chop, grate, whatever is needed so that meals are fast and easy to prepare. At that same time, anything she hasn't used for the week gets blanched and frozen, so she is able to keep up with everything. This is a great tip!
Her questions revolved around how long do some of the veggies keep. Here are the ones she asked about:
Tomatillos -- I find that they keep for at least 2 weeks stored in plastic bags in the fridge. I typically keep them for about a week - once I have 2 pickings worth, I then make them into salsa or sauce and use or freeze.
Edamame -- I keep them for up to a week in a plastic bag in the fridge - by then I make sure I boil them and have them as a snack, or boil and freeze them. If I am going to freeze them, once boiled, I drain them and lay them out on towels to dry. I freeze them on cookie sheets and once frozen, I put them in plastic bags; this way they separate easily allowing you to take out just the amount you need from the freezer. This same technique works well for green beans too.
Husk or Ground Cherries -- I don't really know how long these will keep. The literature on them states that early settlers kept them for months. I can say that I keep them on my kitchen table in containers and then grab a handful whenever I want a snack. I do lay them out on newspapers to dry well when I first get them home so they don't rot. But these are great - no need to take up refrigerator space!
Recipe for the week
By Linda Dansbury
I am adding a recipe for Fish Stew this week. I know what you may be thinking? Fish Stew in the middle of summer? I know stew/soup is generally thought of as a fall/winter meal. However, this recipe uses a lot of fresh veggies and herbs making it ideal for this time of year. I did use fresh tomatoes that you peel and seed prior to using, but if you don't have the time for this step, you can probably use good quality canned tomatoes. This stew is worthy as a meal for guests that you want to impress. Make sure you have good crusty bread to soak up the broth!
Recipes
Seafood Stew with loads of herbs
From the Herbfarm Restaurant Cookbook, chef Jerry Traunfeld. The recipe says this takes 30 minutes once veggies are all prepared; there is a lot of chopping and on my electric stove, it took longer than 30 minutes to cook, but it was well worth the effort and the leftovers were also delicious. I did not use all of the seafood or the total quantity called for. Makes 6 generous servings.
2 medium leeks - I used fresh onions from farm instead
1/4 cup extra-virgin olive oil
2 bell peppers, red, yellow and/or orange, seeded and cut into 3/8 inch strips
6 garlic cloves, finely chopped - 3-4 of Anchor Run garlic cloves
2 teaspoons coarsely chopped fresh fennel seeds or coarsely chopped English thyme - I used a whole fennel bulb and could have used 2
1/2 teaspoon dried red pepper flakes
2 pounds vine ripened tomatoes, peeled, seeded and chopped - should be about 3 cups
1 cup dry white wine
1 teaspoon salt
2 pounds small live clams, purged
1 pound live mussels, washed and beards removed
1 pound large shrimp, peeled and deveined
1 pound white-fleshed fish, such as halibut, red snapper or true cod
Optional: 1 cup cherry tomatoes in various colors, halved -- I used these and think that the soup would not have been as good without them, even though it is called optional
2 Tablespoons chopped fresh marjoram - I used 1 Tablespoon of fresh oregano
1 cup (gently packed) fresh coarsely chopped fresh parsley
2 cups (gently packed) torn fresh basil
freshly ground pepper
First make the vegetable base: cut off and discard the tops of the leeks at the point they turn from light to dark green. Split the bottom portion lengthwise in half, keeping the roots attached so that they layers will not fall apart. Rinse the leeks thoroughly. Cut the leeks into 3-inch lengths, discarding the roots, then slice each section into 1/8-inch thick matchsticks. Heat the oil in a large Dutch oven over medium heat. Add the leeks, bell peppers, garlic, fennel, and red pepper flakes; cook stirring often, until the vegetables are softened but not browned, 5 to 7 minutes. Stir in the chopped tomatoes, wine, and salt. Increase the heat to medium-high and gently boil the mixture for about 5-10 minutes.
Add the seafood: add the clams and mussels to the pot, cover tightly, and cook until the shellfish open. Discard any clams or mussels that do not open. Gently stir in the fish chunks and shrimp and cover again. Reduce the heat to medium-low and cook until the fish is not longer translucent and the shrimp is opaque and firm but not curled into a tight circle. Stir in the cherry tomatoes, the marjoram, parsley and basil. Taste and season with black pepper and additional salt if needed. Serve immediately in shallow bowls, accompanied with crusty French bread.