Three More Weeks of Winter CSA
News
Notes From The Field
Classic Winter Morning
Gabriel walks down the aisle between the second seeding of of mizuna, arugula, mix, and kale.
Crisp, clear, and cold on an early February morning, how it should be once in a while at least. Temperatures returned to the teens for the first time in a while but at least the sun has risen and is shining. Day length is noticeably longer now. Seems to me that just in the past week we've added about an hour though of course it steadily lengthens. Pretty soon there'll be an extra bounce in our steps as we meander the farm and prepare for the upcoming growing season. Fortunately there's another solid month of winter but once March arrives the 2017 Main Season officially commences with seeding in the greenhouse and direct seeding carrots in the high tunnel. Between now and then we'll continue harvesting fresh greens from both structures plus the hoop house and in between freezes during thaws we'll check outside hardy crops like spinach and kale for potential distribution.
Expected Harvest
Winter Vegetables
Winter CSA Harvest #6 (Week B) should include potatoes, cabbage, onions, turnips, kohlrabi, beets, radishes, celeriac, spinach, lettuce mix, mizuna, greens mix, kale, and arugula. Some items will be a choice. FYI: including this week there are three more weeks of pick up for a total of 8 weeks of Winter CSA.
Miraculous regrowth! This greens mix, mizuna, and arugula was harvested the 2nd half of December, about 6 weeks ago. Cut and come again greens are essential for winter growing.
Sign Up For 2017 Main Season And Help Us Plan For Membership Numbers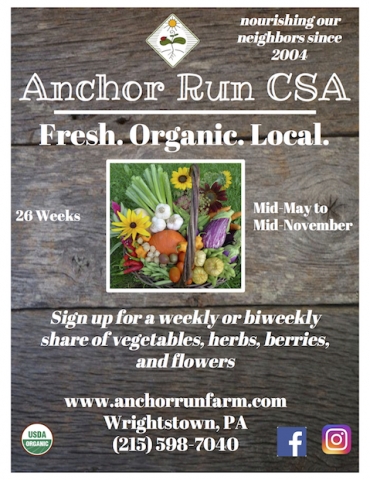 Log in
to the website to purchase your
Main Season
summer share and mail your $200 deposit to secure your spot. Thank you for your continued support! Spread the good word to other past, present, and future members!
Interested in helping promote our CSA by hanging the above flyer around your community? Let us know!
We can look forward to fresh snow and snap peas in spring 2017 (this scene is from 2016).
This was passed along by Winter CSA member Lori Bittner-Barnaby:
Celeriac Fries