CSA Newsletter for Week 3: We're open on Memorial Day
News
Notes From The Field
At the end of May
By Derek McGeehan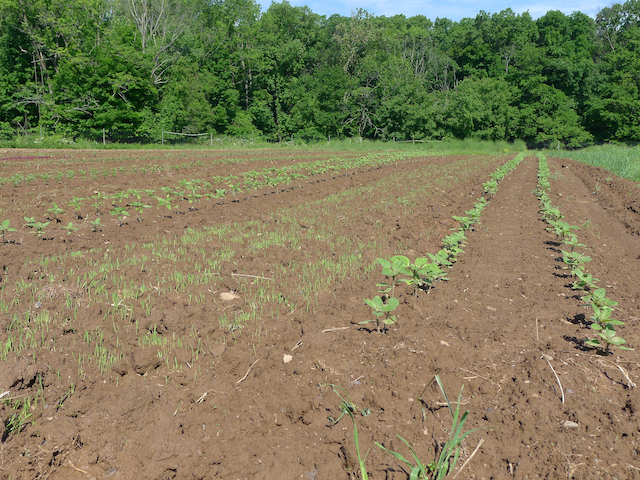 Seen above, the u-pick flower garden is up in Field 1 this year, the original CSA field first cultivated in 2004, and should begin flowering in late June or early July. Most u-pick crops will be in Field 1 this season including strawberries, peas, beans, edamame, tomatillos, husk cherries, cherry tomatoes, basil, dill, cilantro, and parsley. Raspberries and perennial herbs are closer to the parking lot. Last year we began rotating the flowers along with the other u-pick crops in order to keep everything closer together, as well as to be able to increase the amount of flowers grown and provide greater space between rows and raised beds. This year, we even went a step further and sowed oats on the off beds to feed and protect the soil and have more control over what is growing there. After mowing, it will hopefully provide more comfortable conditions in the field for you the members. We also took the same steps for the vining and sprawling tomatillos and husk cherries.
We're still firmly in spring but summer crops aren't far away. Summer squash is starting to flower and will probably arrive in shares in a week or two. Perpetual favorite hakurei turnips will begin arriving in shares later this week and beets will grace us either next week or the week after. Lettuces are also going to arrive in earnest this week, along with all of the other tasty spring greens. Baby kale will be here and probably the last of the spinach, which doesn't enjoy wet feet and all of last week's rain. Speaking of rain, we've had over 6 inches in May, which is a lot. That is the most in May here since 2009. Either way, the crops and farmers are thriving.
Expected Harvest
Incoming Produce
By Derek McGeehan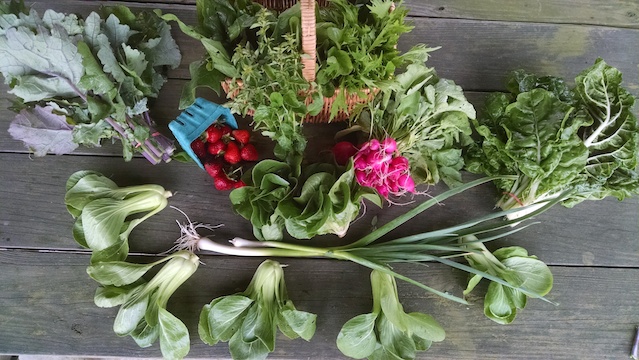 A nice perspective on CSA share #2 provided by Hannah.
Harvest #3 (Week A) should include strawberries, kale, radishes, kohlrabi, broccoli raab, mizuna, arugula, mustard greens mix, baby kale, lettuces, herbs, bok choy, spinach, Italian dandelion, and chard. Some items will be a choice. U-pick should include perennial herbs and may include strawberries.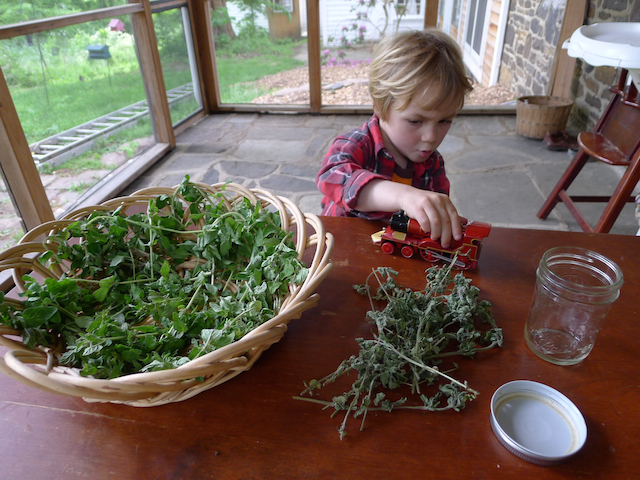 Not sure what to do with the herbs in your share? Eat them fresh or dry them by hanging or spreading out in a single layer. Once dried they're easy to remove from stems and can be stored in an air tight container through the winter months. On the left, fresh oregano and on the right dried oregano that is just about ready for the jar.
Bok Ch-huh? Mizun-a-what?

"Now What!?" Workshops Saturday, June 10th 1-3 PM, and Saturday, June 24th 1-3 PM
Is your experience with kale limited to "the thing you put in your smoothies" or "the chips you buy at the market"? Are you excited, but overwhelmed, by your share of greens?
Being a CSA member means you receive some produce you would, most likely, not purchase at the market (if it was even available!). What a stupendous adventure! But opening your refrigerator door and being greeted by a wall of greens can be intimidating! No worries. We have got you covered!
Please try to attend at least one of our two "Now What!?" workshops scheduled on Saturday, June 10th, and Saturday, June 24th, from 1 PM until 3 PM. We will talk about storage techniques, recipe resources and how to incorporate your share into your family's diet. Bring your questions and share your ideas! Because the topics discussed are driven from the questions and comments of those attending, different topics will be discussed at each workshop. How exciting - right!? This is for new and returning members. Returning members always bring wonderful insight and a different perspective.
Please join us and experience a small part of the community aspect of your CSA membership!
Workshifts Scheduled for Week of 5/28/17
Workshifts this week:
Wednesday 5/31 10am-12noon
Wednesday 5/31 6-8pm
Friday 6/2 10am-12noon
Sunday 6/4 10am-12noon
Workshift sign-up instructions may be found
here
.
Thank you!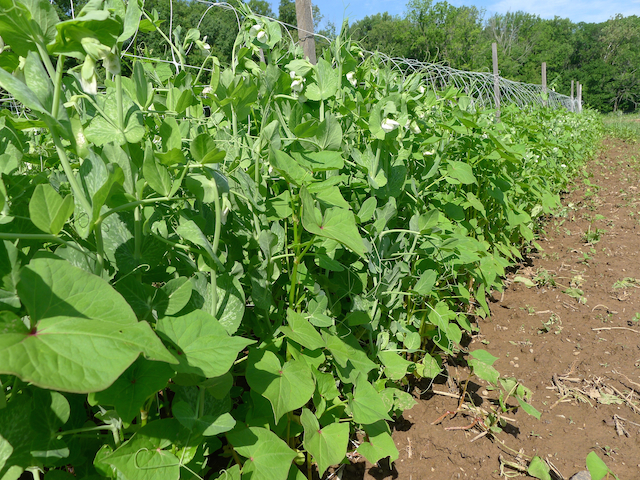 Flowering peas will soon grow into sweet and succulent pods and will eventually be available for u-pick, if not later this week then probably Harvest Week #4. Snow peas will be available first, then snap peas. Yum and hooray!
Potluck Celebration Saturday 6/3
Join us for the first potluck meal of the season on Saturday June 3rd 6-8pm (rain date TBD). Bring a dish to share that can feed approximately 4-6 adults, your own place settings, and a beverage. We will eat and have a happy time!
Notify the farmers via e-mail (anchorruncsa@gmail.com) by 5pm the Sunday prior to your pick up week to SWITCH YOUR PICK UP DAY
Pick up is 1-8pm Monday, 1-8pm Thursday, and 10am-12noon Saturday. You're assigned one of those days and Week A or Week B if you're a Half Share.
Let us know via e-mail if you miss your pick up and wish to be rescheduled.
U-pick is available 8am-8pm Monday through Sunday of your pick up week. Allotments are specified on the U-pick board in the pick up room.
Bring bags and scissors with you when you collect your produce from the farm.
Below is an ongoing list of items the farm could use more of and you may have laying around unused and are hoping to get rid of. E-mail us (anchorruncsa@gmail.com) if you have something you'd like to drop off. Thanks!
Functional bikes
Yard and garden tools
Plastic bags (grocery bags)
Sharpies