CSA Newsletter for Week 4: Ride the Green Wave
News
Notes From The Field
A Week's Worth
By Derek McGeehan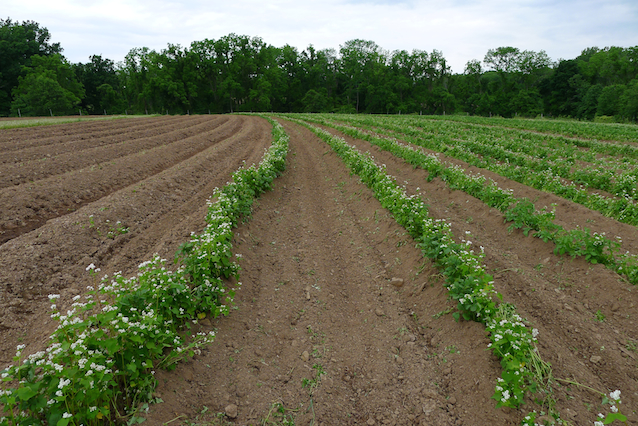 Above, those are freshly hilled potatoes mixed with a volunteer stand of flowering buckwheat, which sprouted and grew this spring following last year's cover crop that went to seed during the warm autumn. By the way, properly hilled potatoes support additional growth for the tubers, since they mainly grow around and above the seed potato. Around 2 miles of potatoes were hilled yesterday, and each bed was hit twice in opposing directions, so I basically drove the tractor for 4 miles in the field on a blindingly sunny day. I did miss my misplaced sunglasses. South or to the left of the greenery are fairly aggressively hilled beds that were just planted with 3000 sweet potato slips/seedlings. Those will appreciate the anticipated moisture arriving Sunday-Monday.
The sun returned last week and we were finally able to cultivate many, many crops and transplant a multitude of new ones including edamame, lettuces, summer squash, cucumbers, as well as the aforementioned sweet potatoes. Here's a list of what was cultivated: basil, dill, cilantro, two bean plantings, flowers, lettuces, beets, and chard.
Some big upcoming jobs include pruning and trellising tomatoes, continued cultivation, harvesting of course, a lot of ground preparation for current and mid-summer plantings, as well as transplanting winter squash, cantaloupe, watermelon #2, beans #3, tomatoes #2, lettuces #11, basil #2, dill #3, cilantro #3, parsley #3, and sunflowers #2.
Expected Harvest
Peas Please!
By Derek McGeehan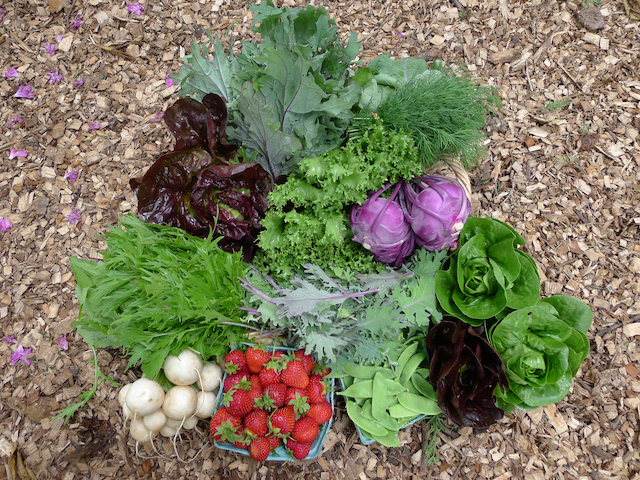 Harvest #4 (Week B) should include strawberries, kale, chard, mini lettuces, butterhead lettuce, endive, escarole, Italian dandelion, baby kale, mizuna, arugula, greens mix, kohlrabi, hakurei turnips, dill, cilantro, and chives. Some items will be a choice. U-pick should include snow peas (the flat kind), herbs, and may include strawberries.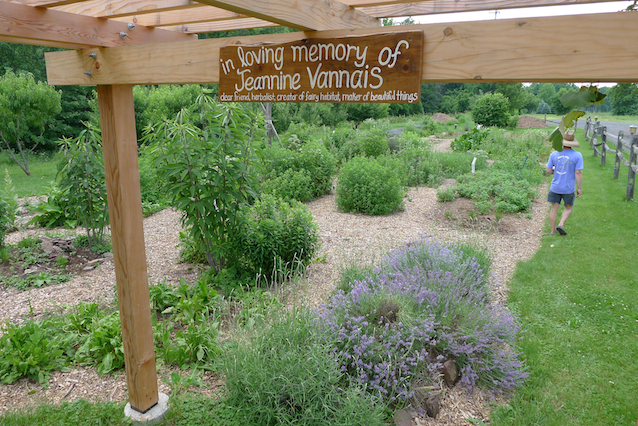 The pergola honoring Jeannine Vannais is now completely complete. Thanks go out to members who helped fund the project by purchasing From Asparagus to Zucchini cookbooks!
Did you miss it? Don't worry (Be Happy!)
The next Now What!? Workshop is scheduled for Saturday, June 24, 1–3pm!
The first of 2 Now What!? Workshops was attended by an actively engaged group of members! Kudos was given to Linda for her weekly column explaining how she uses her share. Thanks Linda! At the workshop, we discussed ways to store all of the produce we obtain as part of our share, as well as ways to add it to our diets and what to (and how to) save for the winter. I spoke about having the right tools to make the prep work easier and showed some examples. We also spent a good deal of time talking about using a dehydrator. And of course, we ate! I had 2 versions of Kale Stem pesto, a dip which used dehydrated tomatoes, Kohlrabi in a Teriyaki-Peanut Sauce and a quiche featuring produce from Weeks 3 & 4.
I anticipate the second Now What!? Workshop to be just as much fun! Please try to fit it in during this busy time of the year.
Workshifts Scheduled for Week of 6/18/17
Workshifts this week:
Wednesday 6/21 10am-12noon
Wednesday 6/21 6-8pm
Friday 6/23 10am-12noon
Sunday 6/25 8-10am
Workshift sign-up instructions may be found
here
.
Thank you!
Turnips and Kohlrabi
By Linda Dansbury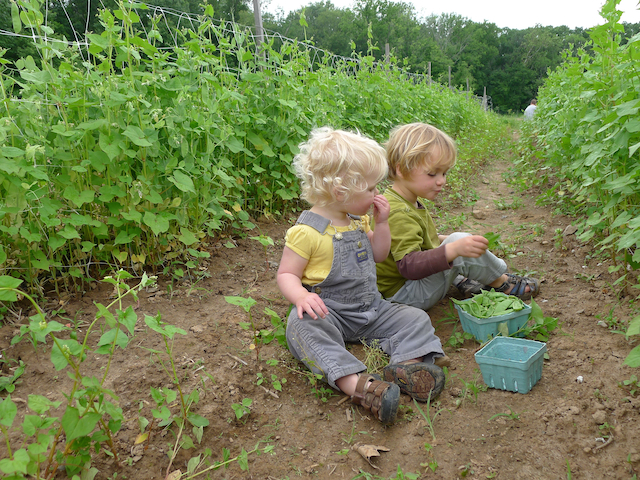 Did the kids pick that quart of peas or was it a prop for the photo, picked by Dana? Well, they do know how to eat and enjoy them at least.
Turnips and kohlrabi are both very flexible veggies - both are delicious raw as well as cooked. Both also keep well in the fridge so you don't have to rush to consume them. Their uses overlap each other and they can be prepared in the same ways. The turnips do not need to be peeled and can be used in place of radishes in salads or as a snack. The mild flavor of spring kohlrabi also makes it a delicious snack - carefully peel the skin off before eating.
Cut the turnip tops off as soon as you get them home and store separately. The tops can be used in saute's, stir fries and soups/stews.
Check out recipes for slaws on this site using the kohlrabi and turnips - instead of cabbage, try mizuna, the Anchor Run custom greens mix, Swiss chard and other greens - eat them up quickly because the dressing will wilt the greens when stored overnight.
Check out the
Turnip Green and White Saute
as a cooked recipe. I also like to steam the turnips and then make a simple dipping sauce and serve along with dumplings for a delicious appetizer or a light dinner.
Kohlrabi and turnips both can be turned into chips/fries when baked in the oven. Check out the
Kohlrabi Fries
recipe on this site.
How I Enjoyed My Harvest
Green, greens, and more greens!
By Linda Dansbury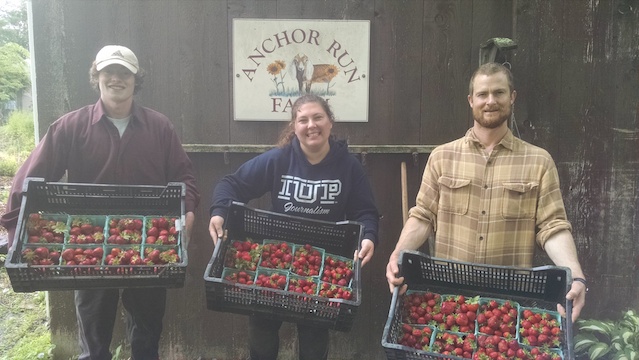 Look at all those ripe red strawberries!
Returning members are familiar with this article that I put together pretty much every week - it's kind of the weekly version of the "Now What" Workshops that many of you will hopefully attend. Not only do I share some of the ways I enjoy my harvest, but I also post things that you, the members, send to me about how you are enjoying your harvests.

A couple of you sent me a couple of things already - due to being quite sick last week, I haven't dug through my mail yet but will get to your emails. If you have a suggestion, recipe or just a question, please email me at lindadansbury@comcast.net and please put Anchor Run in the subject line so I can find your email.
Green garlic, greens - Chinese pepper steak - I know that this dish normally doesn't incorporate greens into it, but I added the bok choy in toward the end and it was really good this way!
Broccoli raab, mizuna, green garlic - did simple sauteed greens with red pepper flakes - they were admittedly lovingly bitter but we ate them alongside steak and mashed potatoes, so they were really perfect as a combination.
Various Greens - we have been enjoying a variety of salads with many of the greens including arugula, lettuce, mizuna, Swiss chard.
Kale
- made
Kale Chips
a couple of times and added some kale into a soup that I had in the freezer