Week 5 Newsletter: That Summer Feeling
News
Notes From The Field
2017 Farm Crew
By Derek McGeehan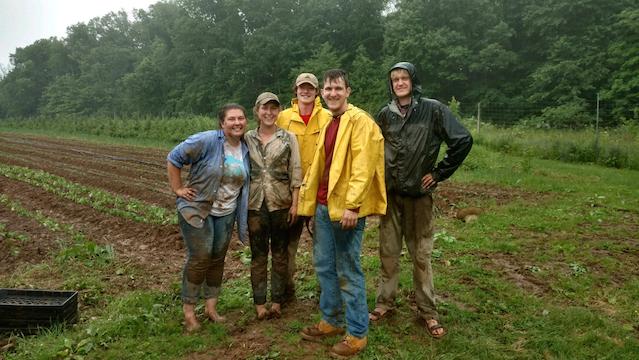 The 2017 Anchor Run CSA farm field crew smiling after transplanting beans in the warm rain: Lauren, Hannah, Pat, Joe, and John
Over the next few weeks we'll introduce individual members of the crew to the Anchor Run CSA community. For more information check out our
Farmer Bio
page.
Field manager and crew leader Hannah Stocker joined the team of growers at Anchor Run Farm in the winter of 2016. She and her husband, Jason, along with their dog, Honey, live on site in the White Pine Ranch. They are so happy to call Anchor Run their home, and they hope to be a part of the farm for years to come.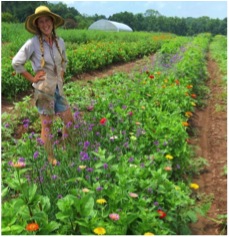 Hannah first cultivated her love of plants and fresh food in her grandfather's and mother's gardens at her childhood home in Newtown borough. Inspired by these memories, she explored her interest in the natural world by taking jobs doing landscaping and working at a perennial plant nursery and even a flower shop. Her passion for things that grow also lead her to pursue a degree in Horticulture. Like Derek and Dana, after acquiring her Bachelor of Science, she ventured to the Washington D.C. area. While there she became immersed in Organic CSA farming at Clagett Farm, operated by the Chesapeake Bay Foundation. After more than 3 years of honing her farming skills at Clagett, she decided to return to her roots and help feed the community she loves in Bucks County.
Hannah's role as field manager allows her to work closely with Dana and Derek and experience the scope of challenging and humbling tasks that are required to keep the farm running. As Derek once said, she is a wearer of many hats, requiring her to oversee everything from the seasonal staff to marketing to barn organization! Each day Hannah falls more in love with life here on the farm, and she is so thankful to the amazing community that allows Anchor Run to be so successful!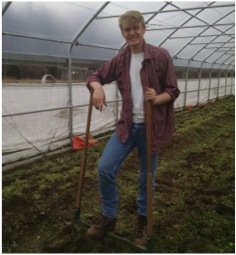 Assistant Farmer John Conner is a Bucks County native, heralding from down the road in Newtown. He first learned of Anchor Run CSA from his sister and field manager, Hannah. John graduated Council Rock High School North in 2012 and The Pennsylvania State University in 2016 with a Bachelors of Arts in English. Besides working at Anchor Run, he is currently undergoing discernment for a vocation to the priesthood in the Episcopal Diocese of Pennsylvania. He is an avid reader, runner, and Dungeon Master and is excited to be helping the members of his community by providing them with fresh food.
Expected Harvest
Big beautiful beets and...
By Derek McGeehan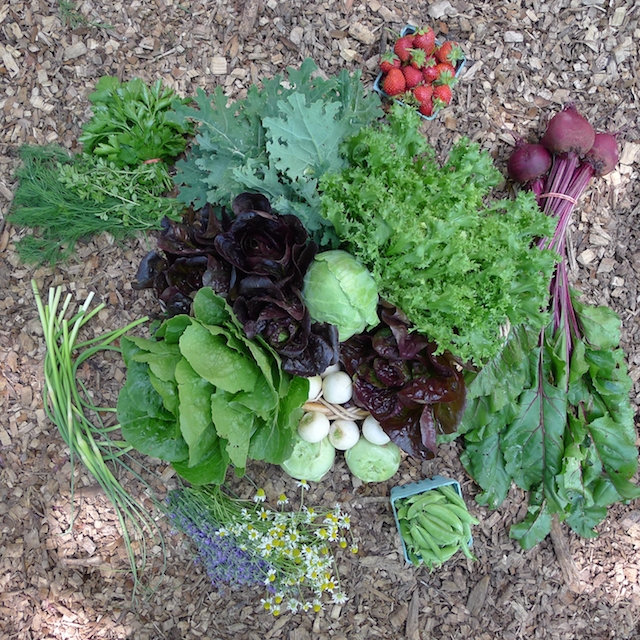 Harvest #5 (Week A) should include beets, cabbage, hakurei turnips, kohlrabi, butterhead lettuce, mini lettuces, romaine lettuce, endive, escarole, garlic scapes, chives, dill, cilantro, parsley, kale, chard, Italian dandelion, and mizuna. Some items will be a choice. U-pick should include snow and snap peas, strawberries, and herbs. A brief note on the peas: Unfortunately they're slightly less plentiful this year but will remain in shares for another week or two.

Workshifts Scheduled for Week of 6/18/17
Workshifts this week:
Wednesday 6/21 10am-12noon
Wednesday 6/21 6-8pm
Friday 6/23 10am-12noon
Sunday 6/25 8-10am
Workshift sign-up instructions may be found
here
.
Thank you!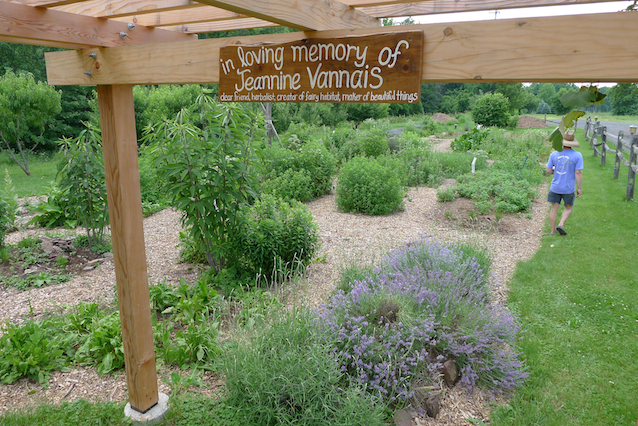 The pergola honoring Jeannine Vannais is now completely complete. Thanks go out to members who helped fund the project by purchasing From Asparagus to Zucchini cookbooks!
Did you miss it? Don't worry (Be Happy!)
The next Now What!? Workshop is scheduled for Saturday, June 24, 1–3pm!
The first of 2 Now What!? Workshops was attended by an actively engaged group of members! Kudos was given to Linda for her weekly column explaining how she uses her share. Thanks Linda! At the workshop, we discussed ways to store all of the produce we obtain as part of our share, as well as ways to add it to our diets and what to (and how to) save for the winter. I spoke about having the right tools to make the prep work easier and showed some examples. We also spent a good deal of time talking about using a dehydrator. And of course, we ate! I had 2 versions of Kale Stem pesto, a dip which used dehydrated tomatoes, Kohlrabi in a Teriyaki-Peanut Sauce and a quiche featuring produce from Weeks 3 & 4.
I anticipate the second Now What!? Workshop to be just as much fun! Please try to fit it in during this busy time of the year.
Beets and Scapes
By Linda Dansbury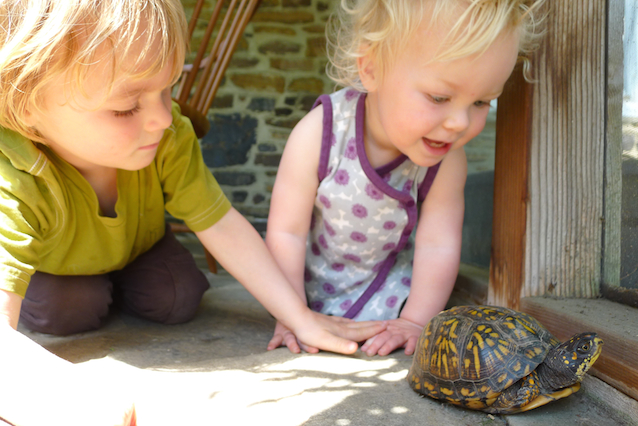 An eastern box turtle was found on the farm on Saturday!
Two yummy newcomers to the pick up room this week are beets and scapes. As with the turnips, when you get the beets home, cut the tops off and store separate from the beets. They keep better and the nutrient profile holds better too. Beets are so delicious right now because they haven't been stored so their sugars are at their highest. Beets are delicious raw - slice thin or grate and put into salads. We also have a lot of recipes on this site - if we are lucky we will receive a lot of beets throughout the year so try several of them - one of my favorites is the
Roasted Beet and Beet Green Risotto.
The color is beautiful and it tastes delicious! If you like to bake, try the
Chocolate Beet Cake
- it is so moist and delicious. Or, simply roast the beets and make a batch of your favorite dijon vinaigrette and place the beets into the dressing - they will keep like this for days - you can take out the amount you want and snack on them, add to salads or put a few slices on a sandwich - yum!
(Garlic) scapes are the other new item - my pick up day is Thursday, so I already got the pleasure of having some of them. The scapes are the flower stalk of the garlic plant - the farmers must remove these stalks or the strength of the plant will go into the flower rather than the bulbs. Like with the green garlic, the scapes must be kept in the fridge. They keep for quite awhile, but once you try them, you will use them! Chop them up and add to any recipe that calls for garlic - BUT - don't cook them for long because the flavor does not hold under long, high heat. If I use them in some type of stir fry or saute, I add them with the greens at the end of the process. You can make them into pesto or dips -
Garlic Scape and White Bean Dip
is one of my favorites and the
Garlic Scape Pesto
is delicious too!
Enjoy!!
How I Enjoyed My Harvest
So many good things to Eat!
By Linda Dansbury
This past week I did cook/prepare a few things that I want to share - I also received a recipe from a member - I love hearing from you and sharing your recipes with the other members. Email me at lindadansbury@comcast.net and please put Anchor Run in the subject line of the email so I can find it.
Thanks for all the great recipes and ideas in the newsletter! I've been meaning to send you this kale recipe for a while. It's my favorite and for me is an entire meal but my husband prefers it as a side dish. It's from Eat For Health (Joel Fuhrman, M.D.). Yummy!
I haven't tried it yet, but plan to - thanks Ann!
I make a greens saute/stir fry at least once per week - it's easy and I adjust flavorings to what else we are eating it with. Garlic, onion, red pepper flakes, chopped mushrooms might be one combo, or garlic, soy sauce, fish sauce, cilantro might be another combo. Sometimes I add a couple of eggs to the pan toward the end, cover the pan and let the egg cook till the whites are cooked but the yolk is still runny - an easy, healthy and delicious dinner!
Kale, green garlic, cilantro - Cook up a pot of your favorite rice (we like brown jasmine). In a large skillet or wok saute garlic, ginger and a pound of ground pork - from Ledemete Grass. Once the pork is cooked, start adding kale in which thick stems are removed and it is roughly chopped - use an entire bunch for this recipe. Once the kale is wilted, turn the heat off and stir in 2 cups of chopped fresh herbs - cilantro and basil work best I think - and a tablespoon or 2 of fish sauce. Serve over rice with your favorite hot sauce alongside (Sriracha).
Lettuce, arugula - I made a beautiful salad when we had company that I can't wait to make again when more of the ingredients are in season. The dressing was made ahead and consisted of buttermilk, basil lemon and a little garlic. Place greens on a large platter and then in pretty patterns place lots of different veggies, nuts and dried fruits. Top with dressing. I'll post the recipe when the basil and cherry tomatoes are available at the farm.
Enjoy the harvest!