CSA Harvest #7: Weekend Deluge
News
Expected Harvest
Trending Towards Summer Produce
By Derek McGeehan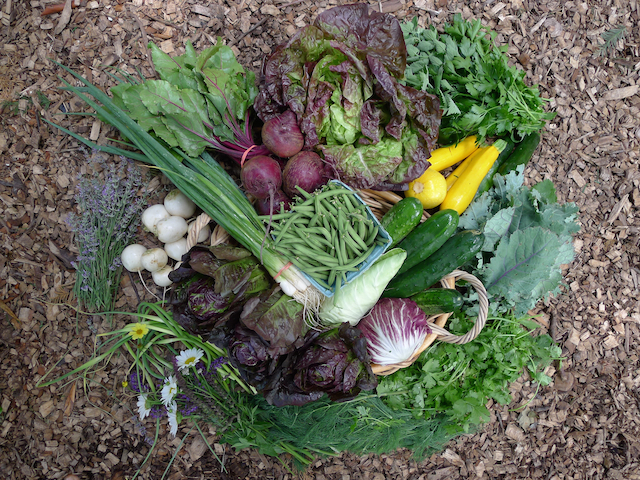 Harvest #7 (Week A) should include beets, cabbage, hakurei turnips, summer squash, cucumbers, scallions, garlic scapes, butterhead lettuce, romaine lettuce, mini lettuces, radicchio, Italian dandelion, Swiss chard, basil, cilantro, dill, and chives. Some items will be a choice. U-pick should include green snap beans, herbs, and raspberries.

Notes From The Field
Introducing Lauren and Becky
Lauren Rosse is excited to work as an intern at the farm and learn more about organic produce production. She was introduced to the farm by field manager Hannah and her family; Lauren's parents are now also members of the CSA. Lauren graduated from Council Rock North in 2014 and is currently an environmental studies major at the University of Pittsburgh. She has previously worked at Howell Living History Farm in Lambertville NJ, and Garfield Community Farm in Pittsburgh PA. Lauren hopes to continue working on organic farms and keep learning about sustainable farming practices.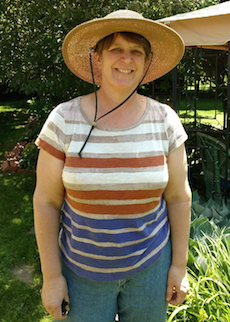 Becky Conner is a native of Newtown and has been a member of Anchor Run since the 2016 season. She discovered the farm when her daughter, Hannah, became the Field Manager and has now fully embraced CSA life! Becky is thrilled to be helping out in the pick up room and, as a long time gardener, looks forward to continuing to learn about growing food!
Next Potluck Saturday July 8th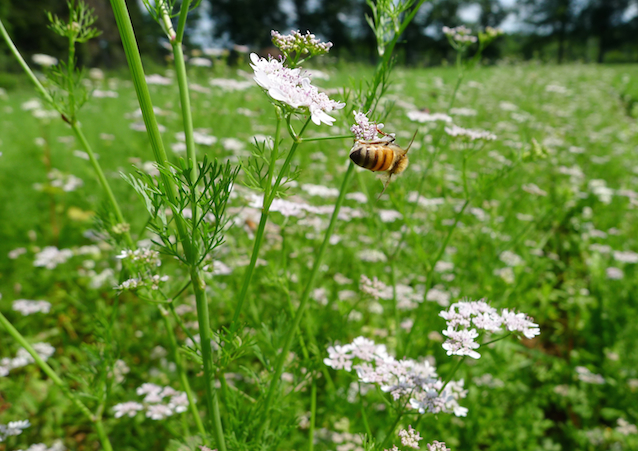 Our next farm potluck meal is Saturday July 8th 6-8pm. Join us under the pavilion for a nice meal shared with your community. Bring a dish to share that is large enough to feed 4-6 adults, your own place settings, and any beverage of your choosing. A brief note/label next to your dish will be helpful to folks with dietary restrictions.

Hope to see you there!
U-pick Tips
By Linda Dansbury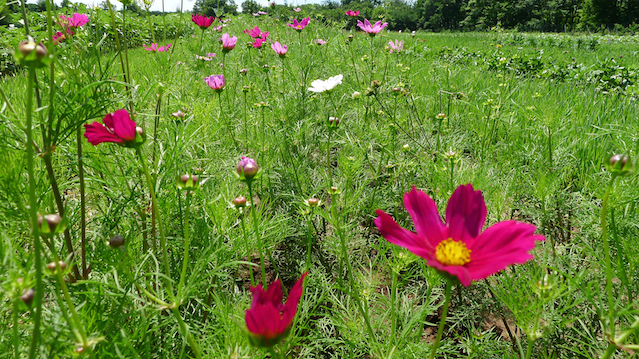 The u-pick flower garden is located in Field #1 this season, along with beans, edamame, cherry tomatoes, peas, strawberries, blackberries, and some annual herbs.
By now you have had at least a few trips to the u-pick field. Before we know it, the main u-pick season will be upon us in which u-pick can take an hour or more so I thought I would provide a few tips to help your enjoyment.
1. Wear appropriate shoes - sometimes where we are picking the ground is very uneven and has some weed pressure - flip flops, although nice and cool, may not be study enough when trying to pick certain crops.
2. Wear hats, sunscreen, sunglasses, etc to protect yourself and your children from the scorching sun. And bring/drink plenty of water!
3. Be aware of ticks and other bugs that are typically found in a natural setting. Check yourself for ticks when you get home or before bedtime.
4. Bring your scissors, and especially when cutting herbs like basil, be careful not to cut to the bottom of the plant - cut just above where another shoot can sprout so that the crop will last longer for all.
5. On hot days, if you are able, do your u-pick in the morning or evening. Not only will it be more comfortable for you, but the plants will not be as wilted so what you pick will be in its best condition.
6. Please bring the containers back to the barn. It is best to bring the size container you need to measure your u-pick and when you are finished, put your alottment into another container and return the "measuring container" back to the barn.
Have fun out there!
Now What!? Workshop 2 Recap
Gia Yaccarino
As predicted, the second Now What!? workshop was just as fun and interactive as the first. A diverse group of members attended – all who shared their own unique perspectives!
We spent some time talking about different storage techniques, what works, what doesn't and what items (and how) to save for winter. We talked about what our favorite vegetable from our share is. One member even shared the worst part of being a member of Anchor Run CSA – she can never buy store bought strawberries again! I feel her pain! And of course, we ate! I had 2 versions of Kale Stem pesto – one with galic scapes and neither with olive oil, some dehydrated tomatoes and a quiche with greens from weeks 3 & 4 (kohlrabi, turnip and radish greens specifically!).
There was some talk about bug and tick avoidance/prevention and we were lucky enough to have Evelyn at the workshop, for her to share her expertise! We ended the workshop (a little late) in the herb garden. I mentioned that my favorite is Sorrel – or as they call it at my work when I share it – lemon lettuce! Papalo is another unique herb in the herb garden that adds a bit of a zip to a Mexican meal! Overall, this second workshop again reinforced what is so awesome about being a member of Anchor Run CSA – aside from the produce, of course! It's the members, the community!
Thank you to all who attended, you really made my day and got me really excited about the upcoming potluck on Saturday July 8th! I'm thinking about making Lemon-Basil-Blueberry Cornbread!

How I Enjoyed My Harvest
Transition into Summer
By Linda Dansbury
Once again, I didn't have much opportunity to cook this past week, but did kind of keep up with my share. Here are a couple things that we ate:
Peas, turnips, summer squash, garlic scapes, mixed greens, pesto (from my freezer) - made a delicious pasta dish with all these veggies. I added leftover sausage but it would be delicious as is, or with white beans added. I simply sauteed the veggies, starting with the veggies that take the longest to cook and adding the greens last - the pesto went in after everything was cooked to my liking, added a little of the pasta cooking liquid and then added the pasta and mixed well. I topped it with grated parmesan cheese and chopped fresh parsley. I made so much I had enough for a couple of nights.
Romaine - grilled the head of romaine as I decribed last week and made into a Caesar salad. Yum!
If you have an idea or recipe you would like to share, please send it to me at lindadansbury@comcast.net. Please put Anchor Run in the subject line so I can easily find your email.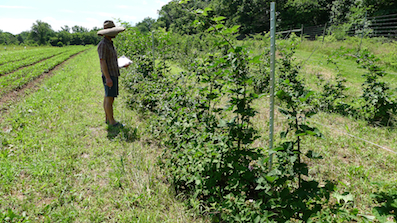 Blackberries! We're expanding fruit on the farm. Last spring we planted 300 blackberry plants; this spring we planted 500 additional raspberry plants. This week we're planting 7,000 strawberry plants for next season's crop. Over the past three seasons 60 fruit trees have gone in on the farm. Below is a blackberry fruit cluster which should be ripe in a month or so.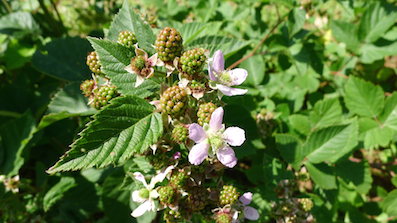 Summer Squash and Cucumbers
By Linda Dansbury
The transition to summer crops is now in full swing with the start of the cucurbit season. If Mother Nature and the nasty insects which cause diseases and prematurely kill the plants are kind to us, we will receive at least a few pounds of each for the next month or two.
Maybe that causes you to say "Uh oh! How will we manage to eat all of that!?" I actually find these 2 crops pretty easy to keep up with. Please send me the ways you enjoy these 2 veggies at lindadansbury@comcast.net and use Anchor Run in the subject line. Below are a few of my ideas on enjoying these delicious veggies.
Cucumbers
- I love to just cut them up and eat them along with lunches or as a snack while preparing dinner. I also slice them into mixed green salads, or make cucumber salads. I love the way my grandmother used to make them: sliced very thin, using a mandolin, add thinly sliced scallions and fresh chopped parsley. Make a simple vinaigrette of pepper and a little salt, celery salt, cider vinegar or red wine vinegar and a neutral oil, such as canola. Or make it Asian style, slicing thin again, adding sliced scallions and freshly chopped cilantro. The dressing consists of rice wine vinegar, a neutral oil, a bit of fish sauce, sugar, sesame oil and soy sauce and your favorite pepper. Both versions are delicious! Or...make pickles! If you are not into fermenting or true canning, then try the
Narrow Bridge Farm Refrigerator Pickle
recipe on this site. As the harvest continues, you will see different shapes and colors of cucs in the pick up room - try them all - there are subtle differences and all are enjoyable.
Summer Squash - the first thing about this crop is to embrace all the colors and shapes there are. Many if not most of the recipes found will say "zucchini" which really translates into the long green version of the crop. For this site, any recipe that has been added over the years has "Summer Squash" in its title. Recipes can be made using any of the squash you choose. I like the assorted colors in a finished platter or dish. One of the easiest and my favorite method of cooking is to grill them. If they are large, cut or slice them. Brush with a bit of olive oil. Place on grill - the small ones may need to go in a grill basket to prevent losing them between the grates. Keep a close eye on them and turn when the one side starts to brown. Depending on the grill it may only take 2-3 minutes. When they are lightly browned on all sides and just tender, remove from grill to a platter. From there, you can drizzle with a bit of olive oil and sprinkle with salt, pepper and a grated hard cheese, and top with chopped herb or herbs of your choice - all or none of the add-ons are fine, The truth is that the grilled squash is delicious plain. The squash can be it's own dish, or a part of a platter of an assortment of other grilled veggies, cheeses, cured meats, etc. Or mixed into a hot or cold pasta dish. The options are endless!
Workshifts Scheduled for Week of 6/25/17
Workshifts this week:
Wednesday 6/28 10am-12noon
Friday 6/30 10am-12noon
Sunday 7/2 8-10am
Workshift sign-up instructions may be found
here
.
Thank you!