CSA Harvest Number 9: Newsletter For You
News
Notes From The Field
Rainbow Tomato
By Derek McGeehan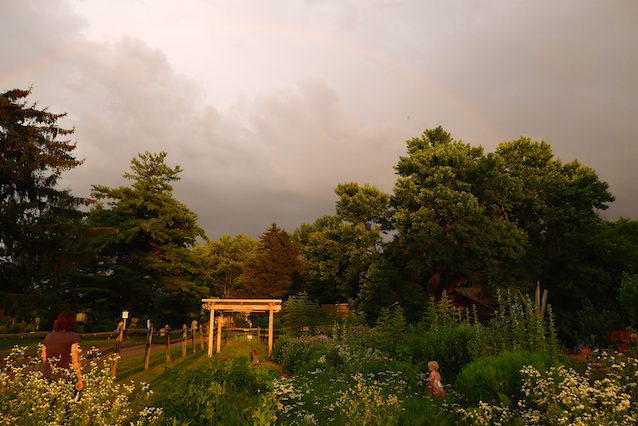 It was a busy, fun, and eventful week and weekend on the farm. It was a holiday week with some rain so we were able to slow down a bit and give the crew some time off. There's a brief period in early July when we're between the Big Planting and the Big Harvesting when there's an ever-so-slight lull where we can breathe easier and rest up a tad for the final push of the season. It was brief, however, and the Big Harvest began today with the garlic, always a good community endeavor. Last night we celebrated with the second potluck of the season, had a wonderful meal, learned about kefir making, and saw some rainbows. This week we'll begin planting cabbage, broccoli, and cauliflower for the fall; soon we'll harvest carrots and onions; and pretty soon potatoes will be ready. And, tomatoes are starting to ripen!
Expected Harvest
Thus Begins the Nightshade Shine
By Derek McGeehan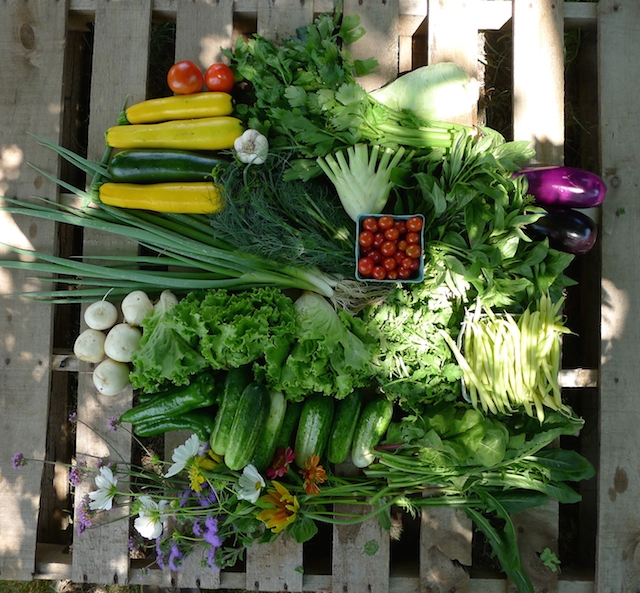 Harvest #9 (Week A) should include scallions, fresh garlic, cabbage, hakurei turnips, cucumbers, summer squash, lettuces, Swiss chard, Italian dandelion, basil, dill, cilantro, parsley, fennel, celery, eggplant, sweet peppers, and maybe a tomato. Some items will be a choice. U-pick should include cherry tomatoes, yellow wax beans, herbs, raspberries, and flowers.
Workshifts Scheduled for Week of 7/9/17
By Derek McGeehan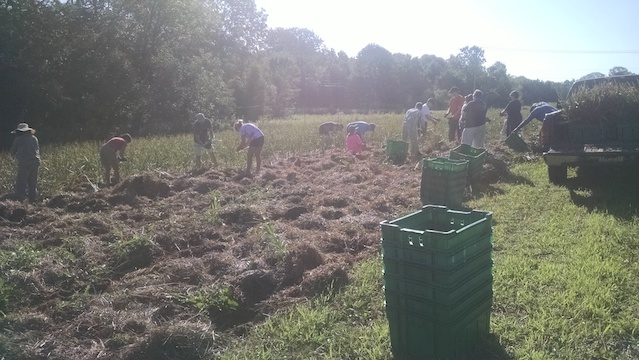 Sunday's two workshifts harvested and hung approximately 8,500 garlic bulbs, 75% of the patch, to dry and cure in the barn (above photo courtesy of Hannah).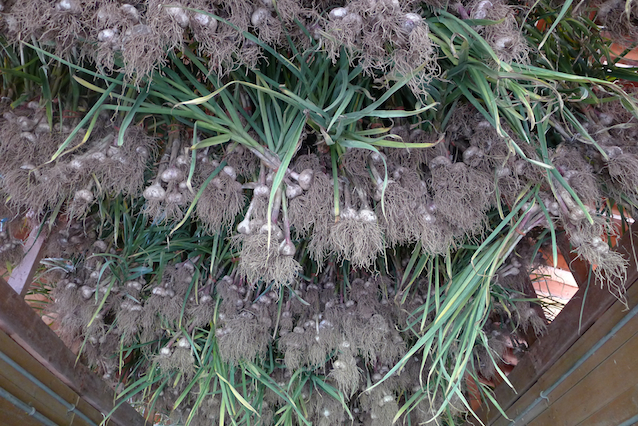 Workshifts this week:
Wednesday 7/12 10am-12noon
Wednesday 7/12 6-8pm
Friday 7/14 10am-12noon
Sunday 7/16 7-9am
Workshift sign-up instructions may be found
here
.
Thank you!
Fresh Garlic, Cucumber Idea and a Few Storage Tips
By Linda Dansbury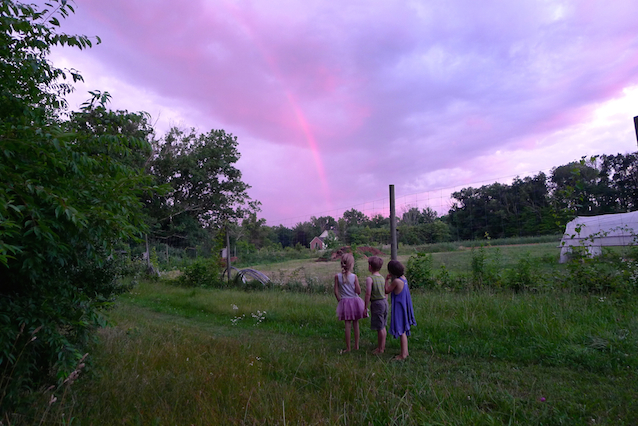 A potluck rainbow!
This week is the garlic harvest and that means we will receive fresh garlic - Yay! Fresh garlic is what is harvested from the field, prior to being hung and cured into the bulbs with the papery protective covers we are used to seeing. Since it hasn't gone through the curing process, it needs to be stored in the refrigerator. Other than that, use it just like any other garlic in recipes. Please note - Anchor Run garlic is very fresh, even when cured so it is much stronger than what is purchased in the grocery store.
While in the pick up room somebody asked what to do with all the cucumbers - aside from salads, cutting up to snack on, try making the
Narrow Bridge Farm Refrigerator Pickles.
Don't think canning - these are much simpler - and very tasty!
Much of what we receive can just be put in plastic and stored in the fridge/crisper drawer of the refrigerator.
One thing that recently happened to me so I am sure it has also happened to some of you is I came home with my harvest and placed everything needing refrigeration into the fridge. Some things I didn't touch for a few days. When I pulled what had been a beautiful head of butterhead lettuce out of the fridge, the leaves that were on the side the head was sitting on were starting to rot! I remembered then that some of the items we receive are still quite wet from the washing station when we pick it up. There are a couple of simple solutions:
1. Lightly wrap the lettuce in a light towel and then place in plastic bag and refrigerate.
2. Purchase the containers that have an insert to keep the veggie out of the water.
Celery needs high moisture to keep from wilting quickly, so if you wrap the cut bottom in a wet towel/paper towel and then put into a sealed plastic container or bag and store in the crisper of the fridge, it will keep better than without the added attention.
Basil is an exception from refrigerating being one thing that does not like being cold. To keep it fresh, snip the ends when you get home and place in a glass of water and leave the glass on your kitchen counter. To keep it even longer, place a plastic bag over it. Basil can also be stored for a few days in the door of the refrigerator - just don't forget it is there!
How I Enjoyed My Harvest
Beets and Squash Favorites
By Linda Dansbury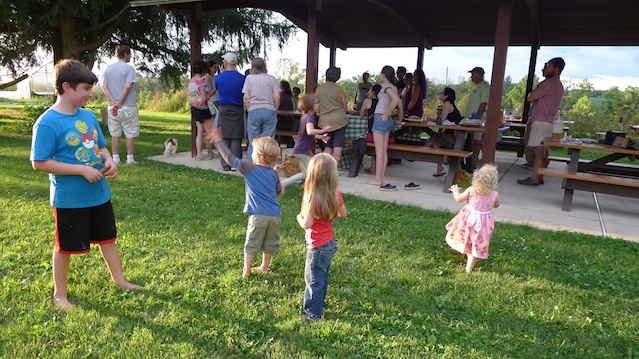 Saturday evening's potluck crowd enjoyed a wonderful meal, kefir making education, and kid entertainment.
We cooked so much for guests over the 4th of July holiday weekend that we spent much of the week finishing up our leftovers that included green bean salad, potato salad, cucumber salad to name a few.
A few things from this week are below, but other members would like to hear how you are enjoying your harvest, so please email me at lindadansbury@comcast.net with your ideas - please put Anchor Run in the Subject line of the email.
Beets, tarragon, scallions - I had 2 bunches of beets (the greens were used long ago) and wanted to use them so I roasted them all at the same time. I made a beet salad with half of them. My method is to slice scallions nice and thin, chop a mix of parsley and tarragon. Put into a small bowl. Add a bit of Dijon mustard, red wine vinegar, salt and pepper and mix well. Add olive oil in a thin stream and whisk into the red wine vinegar mix. I then pore some of the dressing into a separate bowl, chop the beets and add to the dressing and let them sit for a bit - they can actually stay in this dressing for at least a week. It can be eaten like this, but I like to put a layer of lettuce on plates and drizzle with some of the dressing, then top with the chopped beets and a nice grind of pepper and then add little bits of gresh goat cheese.
Summer squash, eggplant, radicchio, scallions - I purposely grilled extra amounts so I had leftovers which I used in sandwiches and in a pasta salad - so my lunches were absolutely delicious! The grilled veggies can also be chopped up and then put onto grilled bread with a drizzle of olive oil and/or cheese - think bruschetta.