Newsletter Week 10: A Day Late, A Veggie Great
News
Notes From The Field
Big Harvest Time
By Derek McGeehan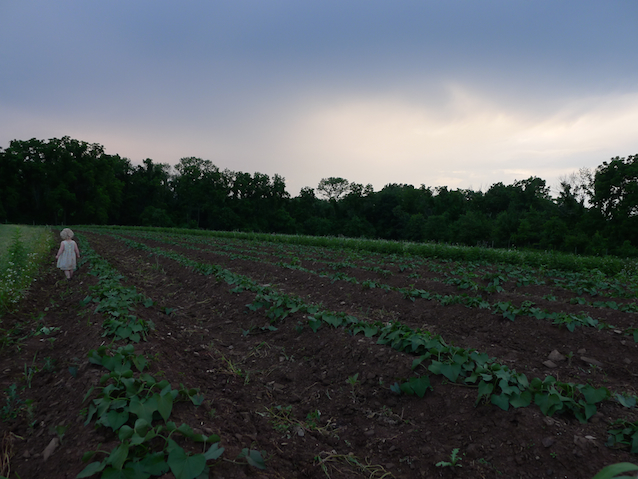 Sweet potatoes growing well on aggressively hilled beds. They've been weeded once with a workshift and cultivated twice with a tractor. Soon their vines should smother competitors, but not Abigail.
It's the time of year when we focus slightly more on the harvesting of crops that went into the ground months ago, were nurtured, cared for, protected, cultivated, weeded, and watered and now come out of the ground and fields to fill up the barn, the cooler, eventually your fridge and tummy. The garlic harvest symbolically commences the beginning of summer and fall bounty, but it really begins with the epic summer squash and cucumber yields that practically come all at once over a relatively short period of time, even though there are three plantings spaced a month apart. Soon these crops will deteriorate due to bug and disease pressure, so love them now!
Up next will be the great carrot harvest which will begin whenever the ground dries out enough after last week's rainfall, hopefully this week with the aid of heat. Following carrots will be watermelon, then onions, potatoes, winter squash, sweet potatoes, etc.
Sometime during the next couple of months tomatoes will hopefully peak in the upper single digits per member per week for some weeks and should be in the harvest for a few months. Look for gnarly and beautiful and richly flavored heirloom tomatoes from our high tunnel and red round traditional tomatoes grown in the field (which taste great too)!
Expected Harvest
Bountiful Summer
By Derek McGeehan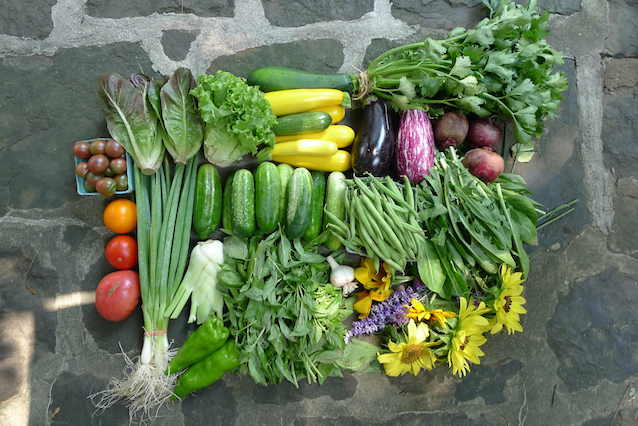 CSA Share Week #10
CSA Harvest #10 (Week B) should include scallions, beets, kohlrabi, fennel, celery, eggplant, summer squash, cucumbers, fresh garlic, lettuces, Swiss chard, Italian dandelion, green peppers, tomatoes, basil, parsley, and cilantro. Some items will be a choice. U-pick should include yellow wax and/or green snap beans, cherry tomatoes, flowers, and herbs.
Workshifts Scheduled for Week of 7/16/17
By Derek McGeehan
We'll probably begin the hopefully awesome carrot harvest this week so most of the shifts should be family friendly. Please do not sign kids up online. If they work while they're here sign them in with yourself and they'll receive credit. Please note that we need the ground to be dry to harvest the carrots. When the ground is dry enough and we think we're ready to attempt retrieval of the entire patch we'll probably send out an e-mail asking for help.

Workshifts this week:
Wednesday 7/19 9-11am
Wednesday 7/19 6-8pm
Friday 7/21 9-11am
Sunday 7/23 7-9am
Workshift sign-up instructions may be found
here
.
Thank you!
How I Enjoyed My Harvest
Member Idea
By Linda Dansbury
Nancy Wasch sent me a note reminding me of something she sent me last year during cucumber season. "I am addicted to cucumbers for breakfast. Similar to your tzatziki recipe, I simply mix cut cucumber, yogurt (a nice tangy variety with some fat in it), salt, pepper, and dill (or parsley and basil if no dill is available). I find I can eat all the cucumbers in no time this way, since they are the main course." Thank you Nancy for reminding me! Nancy's version or tzatziki can be used in other ways besides on its own. Top grilled meats and/or veggies with it, or if the cucumbers are chopped finely it can be used as a dip for raw veggies or crackers.
Here are a few things I did with my harvest this week:
Fennel, garlic, herbs - made a dish with pork chops - pork and fennel were made to be together! The pork chops were seasoned and browned then removed to a plate. To the same pan went onion, fennel and garlic and they were sauteed until slightly browned and just beginning to soften. Deglaze with vermouth or wine, add chicken stock and place chops back into pan and set them into the mixture. Cover and cook on low until veggies are soft and pork chops are cooked - about 12 minutes. Yum! Going to do this again.
Cucumbers, dill - made the
Narrow Bridge Refrigerator Pickles.
Even though I do can, I didn't have the time and the quanity wasn't quite enough to drag out the canner and heat up the kitchen.
Another U-Pick Tip
By Linda Dansbury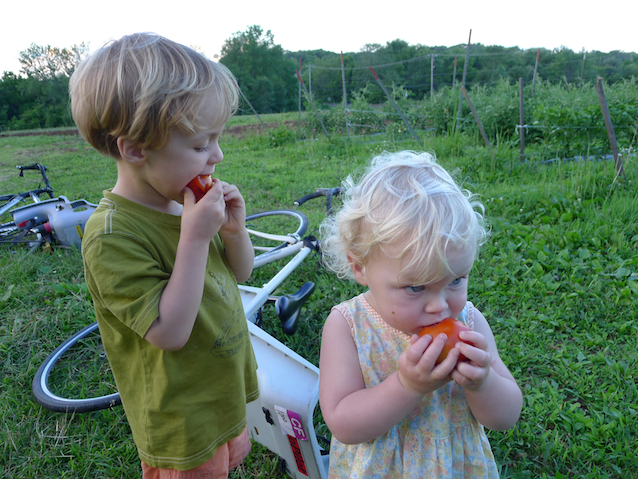 Gabe and Abigail sample a red round field tomato to see if they're ready for harvest.
I am having a wonderful time cutting the flowers at the farm - they are so beautiful. But...they wilt so fast that by the time you get home, they already look sad - they do perk back up, but I am sure the stress takes a couple days off of their vase life. I have large mason jars, so I put some water in the jar and right after I cut the flowers, they go into the jar. I nestle the jar in the front seat of my car and when I get home they are as fresh as when I cut them. Besides keeping the flowers fresh, it gives me extra time to re-cut and arrange the flowers so I don't need to do it as soon as I get home. The other option is a wet towel or paper towels, a plastic bag and a rubber band.
Member/Chef Recipe
By Linda Dansbury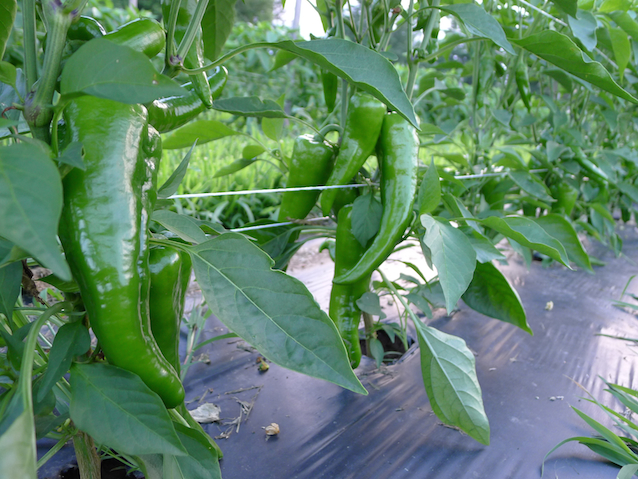 Green sweet Italian-type peppers looking good on strong healthy plants aided by string support this year.
Luke Smithson is a long time fellow Anchor Run member and an excellent chef. He is the Executive Chef at Jamie Hollander Catering and Events in New Hope. Luke personally cooked for Dana and Derek's wedding. He's also a gardener and expert forager and loves to share his passion for local foods and their historical use.
Last week he did a chef demo at Wrightstown Farmers Market and was kind enough to share his recipe so I can share it with you. It is called
Corn and Mushroom Succotash.
Instead of the traditional corn with shelling beans (example lima beans) found in succotash, Luke replaces the beans with locally grown mushrooms - and he adds a lot of other local seasonal ingredients, so check out the recipe by clicking on the link above and enjoy your harvest by making the delicious dish!
Thank you Luke!