CSA Week 11: Dog Days of Summer
News
Expected Harvest
Carrots, Onions, Husk Cherries Are Here!
By Derek McGeehan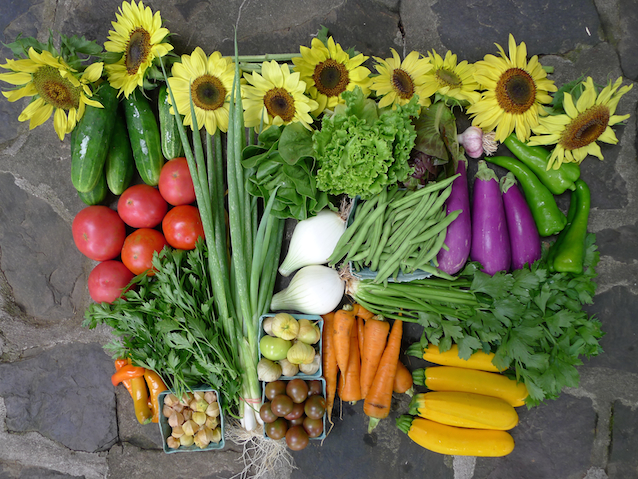 Harvest #11 (Week A) should include carrots, scallions, eggplant, sweet peppers, tomatoes, fresh garlic, celery, fresh onions, summer squash, cucumbers, cabbage, lettuces, basil, parsley, Italian dandelion, and hot peppers. Some items will be a choice. U-pick should include beans, cherry tomatoes, husk cherries, tomatillos, flowers, and herbs. If you're looking for a cilantro replacement while we await the harvest of the next round, look no further than the
papalo
in the herb garden.
Notes From The Field
End of Steamy Heat Wave
By Derek McGeehan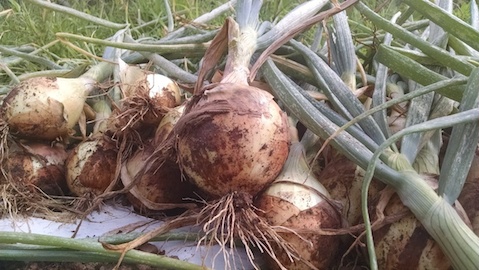 Amid this heat wave we had a satisfyingly productively sweaty week on the farm. Two thousand five hundred pounds of carrots were successfully harvested by the farm crew and CSA members after the tractor loosened the soil for ease of harvest. We'll all be enjoying this heirloom carrot variety known as Red Cored Chantenay for a couple of months. One thousand two hundred pounds of fresh sweet onions, also an heirloom variety, were pulled, trimmed, and stowed for distribution as well, about one-third of the total onion harvest.

Carrots and onions are two of the most challenging and sensitive crops that we grow so we're thrilled and extremely happy when we harvest a successful crop. They're also two of the most beloved and common foods. I should add that they also used to be some of the most labor intensive crops to grow. After some tweaking of growing methods, especially with the onions, we've begun to realize important improvements in yields while improving farm efficiency. In an attempt to have enough onions for the CSA we used to just try to grow too many. Instead of doing that this year we reduced the amount we grow by 20%, grew two instead of one per hole (therefore reducing the onion patch footprint by half), planted them into white plastic which deters some bugs, used two lines of drip tape irrigation instead of one, and following transplanting used hoops and row cover to shield the plants from a new invasive pest for their first month outside in the ground. Above is what the patch looked like in mid-April and below is current.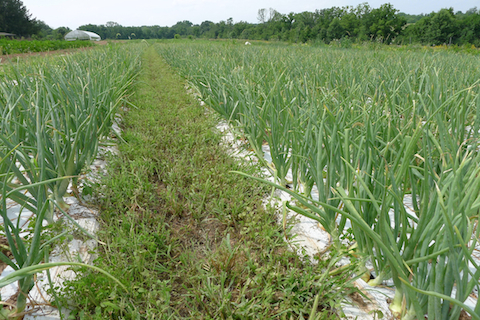 Regarding carrots, we've learned to use specific varieties that are somewhat shorter with tapered roots that perform well in heavy soils. We've also learned that if we seed them at appropriate spacing we may be able to avoid thinning, which takes A LOT of time. Carrots fortunately don't have much disease or pest pressure, so if we can stay on top of the weeds through cultivating and hand weeding we can generally rely on a crop (as long as we don't receive copious amounts of rain when they're practically mature and beckon for retrieval, which almost happened at the end of last week). Because they take up to 3 weeks to germinate and require the soil to remain moist we normally add a layer of row cover to slow down evaporation. Covering the soil, though, heats it up and can sometimes stimulate weed germination and growth that outpaces the carrots. So, some timely and very careful early cultivation is absolutely necessary to avoid losing the crop before it is barely established. The crop this year was cultivated three or four times and handweeded at least once.

Workshifts Scheduled for Week of 7/23/17
By Derek McGeehan
Workshifts this week:
Wednesday 7/26 9-11am
Wednesday 7/26 6-8pm
Friday 7/28 9-11am
Saturday 7/29 9-11am
Workshift sign-up instructions may be found
here
.
Thank you!
New Crops: fresh onions, carrots, husk cherries and tomatillos
By Linda Dansbury
The farm was a very busy place this past week: a lot of heavy harvesting and hauling it all in - once again demonstrating that even under the harshest conditions, farmers are some of the hardest working people on the planet!
We have a lot of new crops this week, a couple very familiar and a couple maybe not so for some of you.
Fresh onions - not much to say here - use them like any other onion, but like with the uncured garlic, these must be stored in the fridge in plastic. They will keep for at least a few weeks.
Carrots - store in plastic in the crisper drawer of your fridge - I know I don't need to say more - these sweet delights will not stay in your household for long.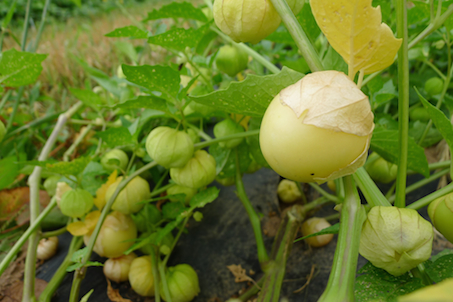 Tomatillos
- I think this is an underused veggie in at least this part of the country. They are in the nightshade family, along with tomatoes and eggplant. As such, they are very, very nutritious! As Derek shows in the picture, they are ripe when the husks start to split and you can find them toward the bottom of the plants. After the heavy rain, some may be laying on the ground - don't count them out, they may still be good. Ripe ones can be light green to almost a gold color and some even have a purple hue. They keep well stored in plastic in the fridge, lasting a few weeks at least. I say that because I often save up a couple of weeks worth of tomatillos and then make a large batch of sauce/salsa with them. They can be cut up and added raw into salads, grilled or roasted and made into sauce or salsa, used in soups (don't know that we want to go there right now)! As I enjoy mine, I will talk more, but for now, please check out the many recipes on this site - including
Slow Cooker Chicken or Pork Chile Verde
(slow cookers are a great way to go in the summer, since they don't heat up the kitchen),
Cooked Tomatillo Salsa Verde
and
Chicken Stew with Tomatillo Sauce
(one of my favorites).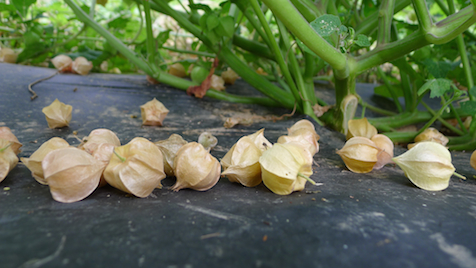 Husk Cherries - another name for these tasty treats is ground cherries, because when they are ripe they fall to the ground. Also in the nightshade family these fruits are nutritionally packed. Husk Cherries have a tropical taste, some descriptions say they are reminiscent of lychee, pineapple, with a little grape and tomato flavor - I know their taste is unique. They are also unique in their storage - they need no refrigeration if left in their husks. I leave mine in a bowl on the kitchen counter and whenever we walk by we can just grab a couple. They can also be added to salads, jams and pies, and can be used alone or with other fruits in sauces for meats. There are a few recipes on this site but if you have one, please let me know at lindadansbury@comcast.net.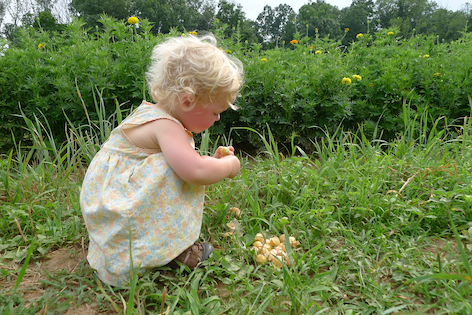 How I Enjoyed My Harvest
Cooling Foods?
By Linda Dansbury
Heat and humidity made us not want to turn the oven on any more than we had to this week. Even grilling was not as much fun as it usually is, so we grilled a lot at a time and then made the most of it for a couple of days.
I had mentioned making a large beet salad a couple of weeks ago - we had them this past week, and they were as delicious as ever. They will keep for at least a month when in a vinaigrette - I just open up the container and stir it every few days to make sure the beets stay covered in the dressing. What have you done with your harvest? Please share by emailing me at lindadansbury@comcast.net. Please put Anchor Run in the subject line so I can find your email.
Here are a few things we ate this week:
Lettuce, turnips, scallions, cherry tomatoes, herbs - we had grilled a large steak and ate half of it one night and the next night made a huge salad and had the steak with it.
Eggplant, garlic, parsley
- made a batch of
Baba Ganoush
- I make a lot of it when we have these beautiful large eggplants and freeze it for use throughout the year. Delicious!!
Peppers, scallions, summer squash, fennel - grilled along with the steak. When they were finished, grated parm cheese, chopped herbs, olive oil and a splash of balsamic vinegar. Leftovers were eaten the next day as a salad for lunch.
Celery, cucumbers - mostly ate as snacks with lunch and while making dinner - sometimes I am really hungry while starting to prep food and rather than noshing on something that will fill me up so I can't enjoy my dinner I will take out celery and cucs, and the crunch of these and high water content are satisfying.
Potluck Celebration Saturday 8/5 6-8pm
By Derek McGeehan
Our next farm potluck meal is Saturday August 5th 6-8pm. Join us under the pavilion for a nice meal shared with your community. Bring a dish to share that is large enough to feed 4-6 adults, your own place settings, and any beverage of your choosing. A brief note/label next to your dish will be helpful to folks with dietary restrictions. The 8th is Gabe's 4th birthday so we'll probably sing the song for him!
Sunday August 6th 6-8pm will be the rainout date.
Rise and Fall of Beloved Veggies
By Derek McGeehan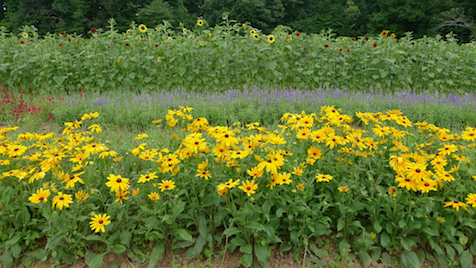 It's the time of year when disease and pest pressure overwhelms some crops and we start to say goodbye until next year. Bad news first then some good news.
Crops that are currently beginning to show symptoms and will soon be unavailable in the pick up room include summer squash (downy mildew, powdery mildew), cucumbers (downy mildew, bacterial wilt, mosaic virus), and basil (downy mildew, fusarium wilt). Squash and cucumbers should be around for another few weeks but basil may be here for only one more week. Besides tomatoes, these crops are probably the most sensitive to disease and pest pressure and are generally outliers. All of the crops that we grow can be successfully managed completely organically with proactive measures such as crop rotation, maintaining soil health and fertility, and pest barriers like floating row cover. We choose to not resort to organically approved/organically derived sprays when disease or pests arrive.
Crops that as of now appear healthy and should soon grace our tables include watermelon, potatoes, onions, tomatillos, husk cherries, blackberries, dill, cilantro, okra, hot peppers, and carrots, as well as an ongoing supply of sweet peppers, eggplant, tomatoes, beans, and lettuces, among other crops.
Some other crops that are nearing the end of their harvest and distribution are fennel, celery, beets, kohlrabi, chard, and cabbage but all except celery will return in late summer and fall. We'll have celeriac instead of celery.