CSA Week 12: Return of Sunshine
News
Expected Harvest
Fruits of our Labor
By Derek McGeehan
Harvest #12 (Week B) should include watermelon, carrots, tomatoes/heirloom tomatoes, sweet peppers, eggplant, scallions, fresh onions, summer squash, cucumbers, lettuces, fresh garlic, parsley, basil, shishito peppers, hot peppers, and Italian dandelion. Some items will be a choice. U-pick should include cherry tomatoes, husk cherries, tomatillos, beans, blackberries, herbs, and flowers.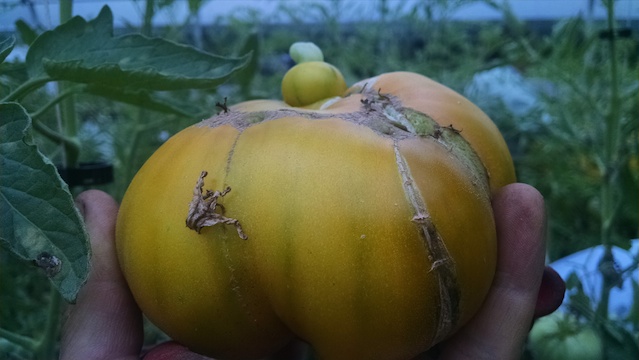 Notes From The Field
Into August We Go
By Derek McGeehan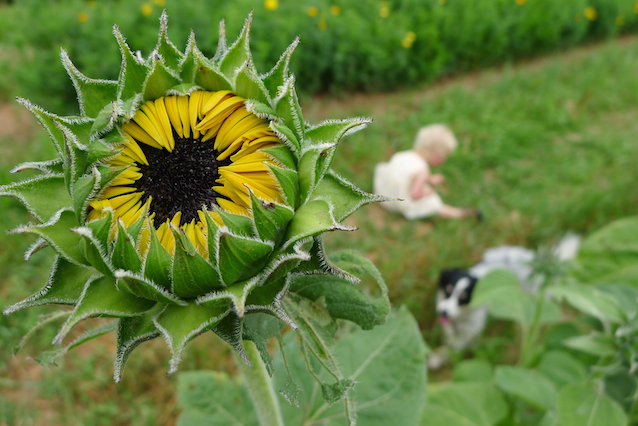 Today's weather feels like the best we've had in weeks. I'm very much looking forward to working with some dry soil early this week, getting the ground ready for more of our fall plantings. After being unable to do much with the soil last week due to the perpetual cloud cover, humidity, and cool weather which kept the ground moist, we did manage to transplant the 2nd round of broccoli, the first rounds of kale, beets, and chard, as well as the weekly lettuce planting on Friday afternoon.
We're also beginning to clean up spring and early summer crops and sow cover crops. Buckwheat was sown a couple of weeks ago where strawberries, kale, kohlrabi, cabbage, and lettuces once grew. Because of all the rain and heat and sun it's already 2 feet tall. Soon it will be covered in smelly flowers attracting all types of pollinating insects. Before it drops seed we'll incorporate it into the soil as a 'green manure' and then sow another cover crop, either an overwintering one like crimson clover or a winter killed one like daikon radish and oats. Very soon we'll embark on the potato harvest, which will be collected over a month or so.
Watermelons were retrieved last week and should be in the harvest for a few weeks. In about 2-3 weeks our 2nd planting of watermelon should be ready, as well as our cantaloupes, if all goes well. At the end of August the early varieties of winter squash should begin to grace our tables as well. Hooray for good food!
Workshifts Scheduled for Week of 7/30/17
By Derek McGeehan
We're past the halfway point of the season for work hour opportunities. Workshifts will be scheduled through October but frequency will diminish in September. If you still need to work your pledged hours please consider signing up for a workshift soon. If you'd rather contribute financially to cover the work hour cost of your share please do so soon so that we can plan accordingly. E-mail us at anchorruncsa@gmail.com if you have any questions.
Workshifts this week:
Tuesday 8/1 9-11am
Wednesday 8/2 9-11am
Wednesday 8/2 6-8pm
Friday 8/4 9-11am
Sunday 8/6 7-9am
Workshift sign-up instructions may be found
here
.
Thank you!
Potluck Celebration Saturday 8/5 6-8pm
By Derek McGeehan
Our next farm potluck meal is Saturday August 5th 6-8pm. Join us under the pavilion for a nice meal shared with your community. Bring a dish to share that is large enough to feed 4-6 adults, your own place settings, and any beverage of your choosing. A brief note/label next to your dish will be helpful to folks with dietary restrictions. The 8th is Gabe's 4th birthday so we'll probably sing the song for him!
Sunday August 6th 6-8pm will be the rainout date.
Enjoying U-Pick
By Linda Dansbury
I hope everyone is getting outside to do U-pick in this awesome weather. I did mine yesterday afternoon and it was so nice to be outside. I thought of a couple of things I wanted to share.
The cherry tomatoes are coming on strong now, and if Mother Nature/diseases are kind, we will be picking these delicious gems for about another month or so. The farm grows all delicious varieties that they have tested for years and found to be the best adapted to our area, with good harvests and of course, great taste. When picking, check to make sure you are picking ripe fruit - since they are different colors, just check near the bottom of the plants for the most ripe tomatoes - that will show you what color you need to pick for the most delicious taste. The first rows you come to is the prized Sun Gold variety - they are ripe when they turn orange, so even though they look really pretty when they are yellow, leave those to ripen for a few more days. Other tomatoes are red, but with varying shades, so just take your time and see which ones are most ripe. There is also the Black Cherry heirloom variety that is one of my favorites. It is dark, almost purple at the bottom but usually maintains green "shoulders", even when fully ripe. Yum!
The tomatillos are abundant right now. I picked my allotment in about 2 minutes and didn't move from a single spot - a few of the ones I picked were actually laying on the ground. Don't miss out on this delicious veggie - just search this site for ideas.
How I Enjoyed My Harvest
Ground/Husk Cherry Recommendation
By Linda Dansbury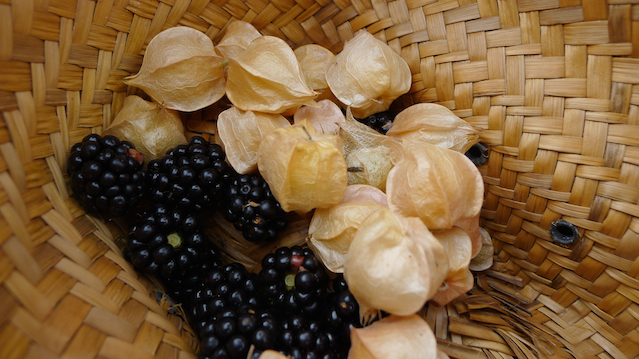 Fellow member Julianne immediately responded to the newsletter last week with a recipe for husk cherries that her family loves. It sounds delicious and incorporates so many of the veggies we are receiving right now - very important to me when choosing recipes to keep on this site. I can't wait to try it! It is simply called
Fresh Ground Cherry Salsa.
Thank you Julianne - if you have something you would like to share with membership, please send it to me at lindadansbury@comcast.net. Please put Anchor Run in the subject line so I can find your email.
Again this week, I kept up with my harvest by making a lot of salads with vinaigrettes so we could have them alongside grilled meats and leftovers for lunch.
Eggplant, squash, garlic, mint, scallions
- I made the
Thai-style Grilled Eggplant Salad
. I don't believe I have made this in a couple of years and it is delicious and keeps very well. Try it, as I say in the recipe description, even people who aren't crazy about eggplant like this dish.
Tomato, garlic scape, basil - yes, I found a bag with garlic scapes in the bottom of my crisper drawer and they were still good. I like using them in bruschetta as I did a couple of times this past week because they are more mild than garlic cloves so the flavor of the delicious tomatoes comes through.
Eggplant, basil
-
Eggplant Parmigiana
is a great way to use eggplant. For me, though, traditional recipes for the dish are very time consuming and make a mess of the kitchen. I found a recipe a few years ago by Mario Batali. You simply roast thick eggplant slices until nice and brown and somewhat soft. Allow to cool, then make eggplant "stacks", alternating eggplant, mozzarella cheese, sauce and basil. Then bake again. It is lighter than the usual versions too, which is nice in the summer - pair with a large salad for a complete meal.
Fennel, fresh onions, garlic, herbs - made the pork and fennel dish I described last week again - it was that delicious!
Tomato, garlic - I had the wonderful experience of being in Barcelona last year, and one of the most famous Tapas in the Catalan region is Tomato Bread. There are many, many versions, each bar and restaurant has its own recipe. I chose one that is very simple because I didn't want to hide the flavor of the tomato. I was making dinner for a friend that night and she loved it so much, she ate a half loaf herself! Start with a loaf of good quality bread, one that can absorb liquid. Brush with olive oil and sprinkle with a little salt and either grill or bake in oven until just nicely browned (you don't want to get it too brown or it will be too dried out to absorb the liquid). To prepare the tomatoes, cut them in half and with a box grater set over a bowl, grate the tomato halves - this method is great - flatten your hand out while you do it and you will be left with just the skin of the tomato. A puree is in the bowl, which would also be wonderful for a simple tomato sauce. Add a little salt to the tomato. When bread comes off the grill, take a garlic clove and rub the bread. Then spoon the tomato on the bread and allow it to soak in. That's it! This description makes it sound more complex than it is.