CSA Week 14: Lovely August Weather
News
Expected Harvest
Thankful for the Bounty
By Derek McGeehan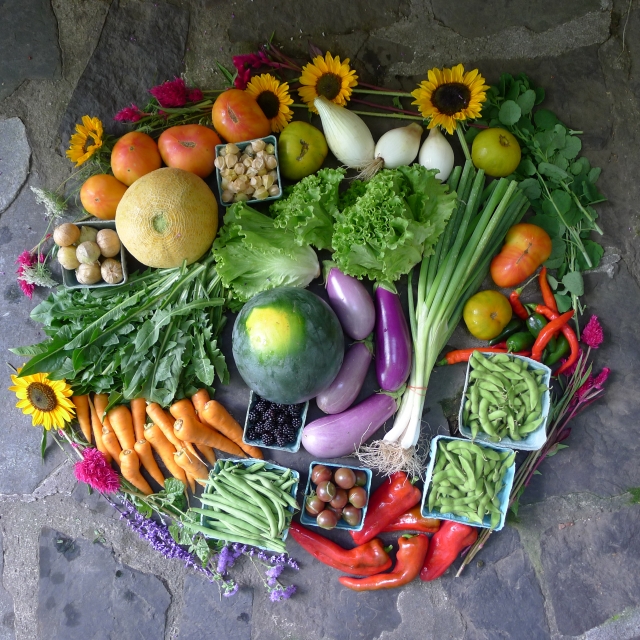 Harvest #14 (Week B) should include watermelon, tomatoes, sweet peppers, hot peppers, shishito peppers, carrots, onions, scallions, Italian dandelion, parsley, Swiss chard, cilantro, dill, lettuce, eggplant, cantaloupe, and okra. Some items will be a choice and may not be available during all pick up times. U-pick should include cherry tomatoes, green beans, edamame, tomatillos, husk cherries, blackberries, flowers, and herbs.
Notes From The Field
Planting and Harvesting
By Derek McGeehan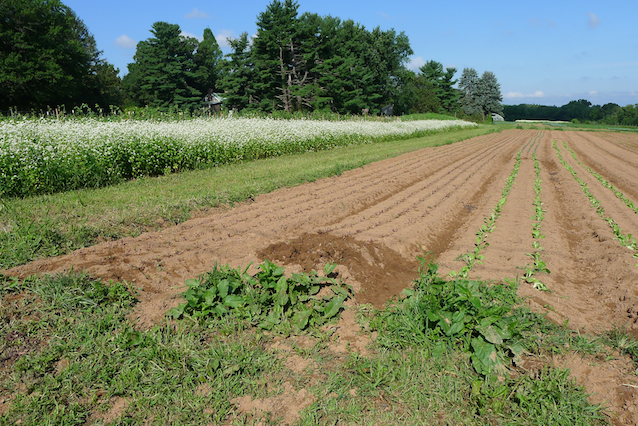 From our perspective as farmers it's been a good year of harvests so far, and hopefully you our members feel the same way. Chalk it up to the pretty decent overall weather we've had, plus soils that are really showing the responsiveness to years of tender loving care with additions of organic matter through cover cropping and compost, mineral amendments, appropriate diverse fertilizer applications, fallow periods, reduced and adjusted tillage techniques, timely cultivation and weed management, and just plain old accumulated experience and better decision making. Trust us, it takes time to really understand and work with the farm-as-ecosystem but we've put in our time here. However, much is weather derived of course, and this year (so far) we're reaping the benefit of a reasonably kind weather pattern, or we've just been plain lucky that some of the torrential rains have missed us. The farm also benefits from many hard workers, our staff, our work-traders, and our CSA members. Thank you for your continued support and trust!
Workshifts Scheduled for Week of 8/13/17
By Derek McGeehan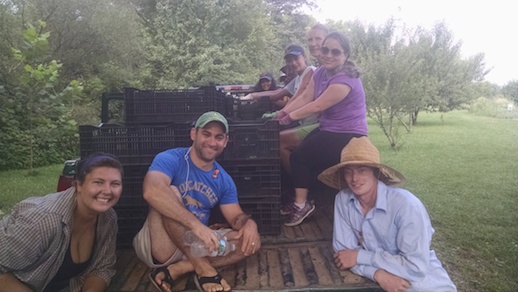 This crew helped us harvest the very first round of 2017 potatoes on Friday!
We're past the halfway point of the season for work hour opportunities. Workshifts will be scheduled through October but frequency will diminish in September. If you still need to work your pledged hours please consider signing up for a workshift soon. If you'd rather contribute financially to cover the work hour cost of your share please do so soon so that we can plan accordingly. E-mail us at anchorruncsa@gmail.com if you have any questions.
Workshifts this week:
Tuesday 8/15 9-11am
Wednesday 8/16 9-11am POTATOES?!
Wednesday 8/16 6-8pm POTATOES?!
Friday 8/18 9-11am
Sunday 8/20 7-9am
Workshift sign-up instructions may be found
here
.
Thank you!
Potential New Land Protein Partnership
By Derek McGeehan
We're sad to announce that our partnership with Ledamete Grass Farm is now over. But, we're excited to announce that we've connected with another local and Certified Organic pastured animal farm,
Hershberger Heritage Farm
, located in Sellersville, Bucks County, PA. Please peruse their website to find out what they offer and to learn more about them. They plan to come to Anchor Run Farm Monday 8/14, Thursday 8/17, Monday 8/21, and Thursday 8/24 to introduce themselves and sell their products. We'll share more details about this new partnership in upcoming e-mails.
Hooray for Edamame!
By Linda Dansbury
Edamame
is one of the highly anticipated crops at the farm. Edamame, another name for fresh soybeans are fun, delicious and nutritious. I have been watching the pods fill out and they are beautiful this year - Derek says it is due to the regular rains (irregular for July!) that are making the plants so robust. As with several other crops we pick, the beans at the bottom will be the most filled out and ready.
To enjoy, they should be cooked - bring a large pot of water to a boil and generously salt the water. Add edamame and cook at a gentle boil for about 8-10 minutes - start checking for doneness after 7 minutes. The size of the beans will make a difference in how long they take to cook, so it could be as much as 12 minutes this year. Be care that the water doesn't boil over - it tends to foam up quite a bit.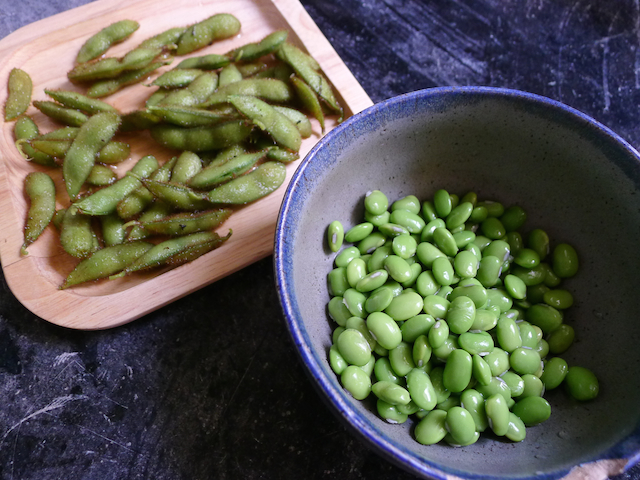 Once cooked, you can eat as a snack by "sucking" the beans out of the pod, or you can squeeze the beans out and use in recipes that call for edamame or lima beans. They also freeze well. Dry them the best that you can, lay them on a cookie sheet and freeze. When frozen, place in a plastic bag or container and store until use. There are many recipes on this site for edamame, including
Edamame Hummus
. I know that my first picking will be gobbled up as snacks.
Blackberries are a wonderful treat from the farm. Just a quick note on picking. For the best tasting berries, pick only those that are completely black - no red blush left - the sweetest ones are those that come off the plant easily when given a slight tug. Be gentle - they are very perishable!
Potatoes
will be distributed very soon. The "Dark Red Norland" variety we will start receiving either this week or next does not need to be refrigerated, but it is not a storage potato, so enjoy them within about 3 - 4 weeks for best taste.
How I Enjoyed My Harvest
Preserving the Harvest
By Linda Dansbury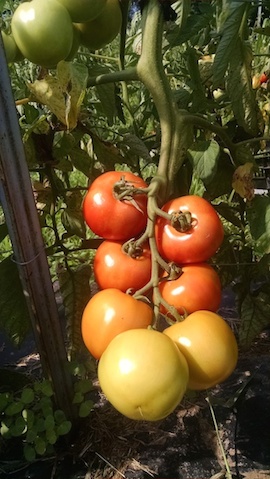 How have you been enjoying your harvests? Please email me at lindadansbury@comcast.net and please put Anchor Run in the subject line.

This time of year I always feel a little overwhelmed by the sheer quantity and variety of the produce in my fridge. I think it's because when the tomatoes arrive we fill our bellies with them in a variety of ways - brushetta, caprese salad (aka tomato and mozzarella salad), and tomato bread and are then too stuffed to eat anything else but a simple meat and salad. In addition, my 3 dogs, flower and veggie gardens consume my evenings, so things start getting pushed into the back of the fridge. Sound familiar?
Today, I am going to clean out my fridge - I am going to make Tomatillo Sauce from the
Stewed Chicken in Tomatillo Sauce.
I love this recipe because it freezes well and the sauce is also good as a salsa to eat as a snack with tortilla chips and/or veggies.
I am also going to use up 2 weeks worth of eggplant - probably will make
Baba Ganoush
. Again, it freezes well for use during the fall and winter months. While I have the grill going to cook the eggplant, I will add the rest of summer squash and a few peppers to the grill - they will be a side dish for tonight and some will make a pasta salad for lunches during the week. When I get all of this completed I will definitely feel a sense of accomplishment and happiness that all this yummy food is awaiting my consumption!