CSA Week 15: Farming and The Solar Eclipse
News
Expected Harvest
Produce for the Eclipse and Beyond
By Derek McGeehan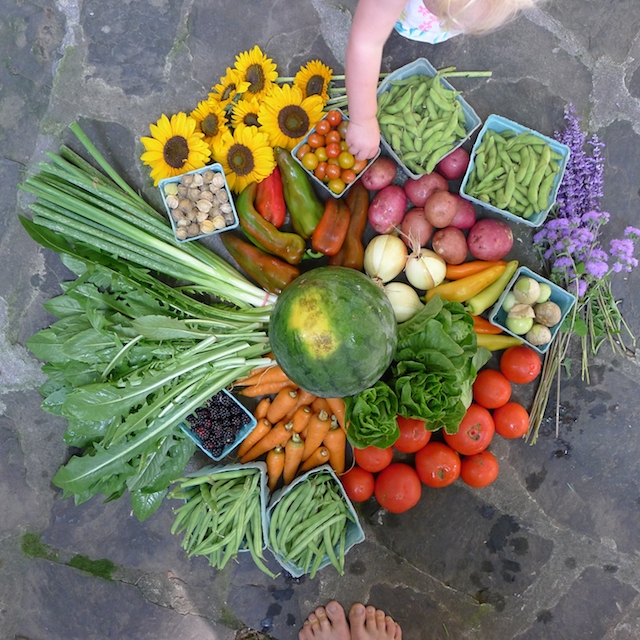 Harvest #15 (Week A) should include scallions, onions, carrots, sweet peppers, potatoes, watermelon, eggplant, tomatoes, lettuce, garlic, cilantro, parsley, Italian dandelion, Swiss chard, okra, hot peppers, and shishito peppers. Some items will be a choice and may not be available during all pick up times. U-pick should include cherry tomatoes, husk cherries, blackberries, edamame, green beans, flowers, and herbs. Tomatillos are being given a break to mature.
Notes From The Field
Through the Fields We Go
By Derek McGeehan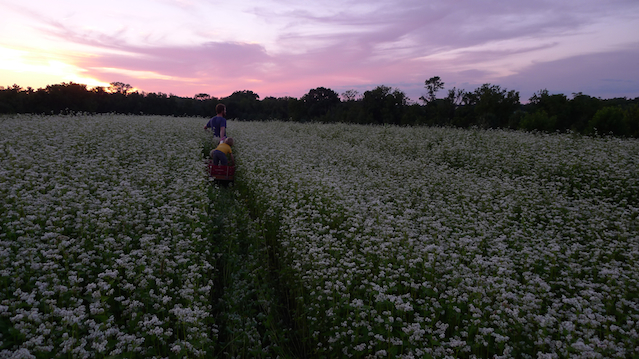 Meandering through a buckwheat field towing a wagon then playing hide-and-seek during sunset with the kids - what's better?
This could be my favorite time of year. The workload changes into more harvesting, clean up, and sowing of cover crops, which are all steps taken towards getting the farm ready for the 'off' season. Parts of the farm get put to sleep for six months or more. The end is in sight. The reward for many months of very hard work and long days under the sun and in the rain is the harvest and distribution of great produce. We slowly regain control (to our eyes and minds) by mowing 4-foot tall amaranth and lambs quarter that laugh at us because they dropped 10,000 seeds, offspring we'll battle with next year. Now, though, it's mowed, chiseled, and replaced by our intentional communities of buckwheat, daikon radish, oats, and clover. Instead of having to actively manage, say, 10 acres of actively growing produce, it's reduced to 5 acres. Our perspective, our focus, narrows. We can sit back, walk around the farm, admire more of its beauty that we participate in sculpting. We feel thankful for the enhanced biodiversity that our diversified farm allows for. This and that said, throw in a tropical storm and a hurricane, dump 24 inches of rain on us in my favorite two months like way back in 2011, and I might feel differently. For now, though, I feel lucky, thankful, fortunate. I hope you are able to enjoy the farm when you pick up and pick your produce.
Workshifts Scheduled for Week of 8/20/17
By Derek McGeehan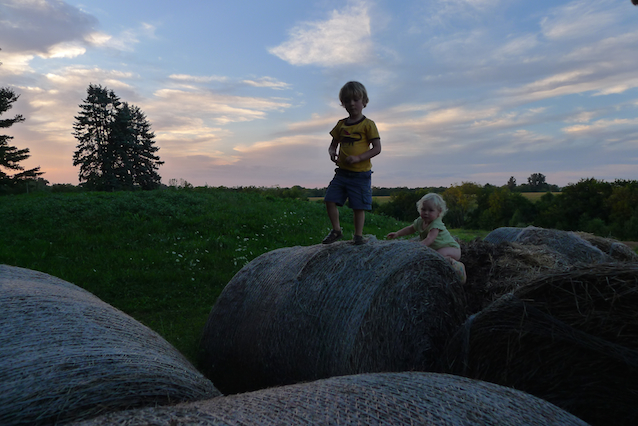 A favorite pastime of many a kid at the farm, strawbale hoppin' is best during a nice sunset.
We're past the halfway point of the season for work hour opportunities. Workshifts will be scheduled through October but frequency will diminish in September. If you still need to work your pledged hours please consider signing up for a workshift soon. If you'd rather contribute financially to cover the work hour cost of your share please do so soon so that we can plan accordingly. E-mail us at anchorruncsa@gmail.com if you have any questions.
Workshifts this week:
Tuesday 8/22 9-11am
Wednesday 8/23 9-11am
Wednesday 8/23 6-8pm
Friday 8/25 9-11am
Sunday 8/27 7-9am
Workshift sign-up instructions may be found
here
.
Thank you!
Next Potluck Saturday 9/9/17
By Derek McGeehan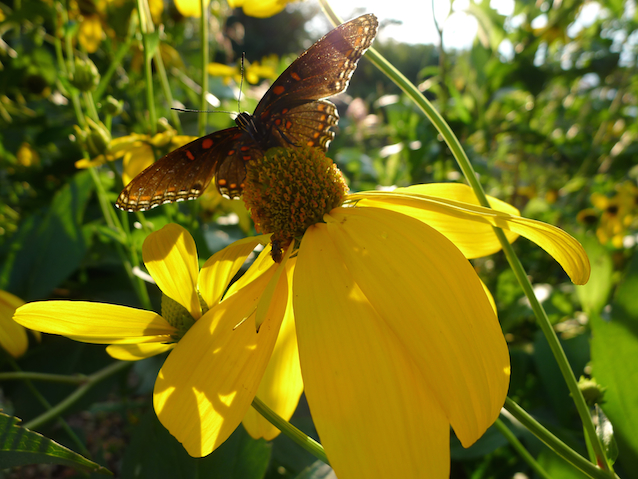 Thank you swallowtail butterfly!
Our next farm potluck meal is Saturday September 9th. We'll probably start this one at 5pm since it will be getting dark earlier. We may have a small fire if the weather allows. Join us under the pavilion for a nice meal shared with your community. Bring a dish to share that is large enough to feed 4-6 adults, your own place settings, and any beverage of your choosing. A brief note/label next to your dish will be helpful to folks with dietary restrictions.
How I Enjoyed My Harvest
So much great food to eat!
By Linda Dansbury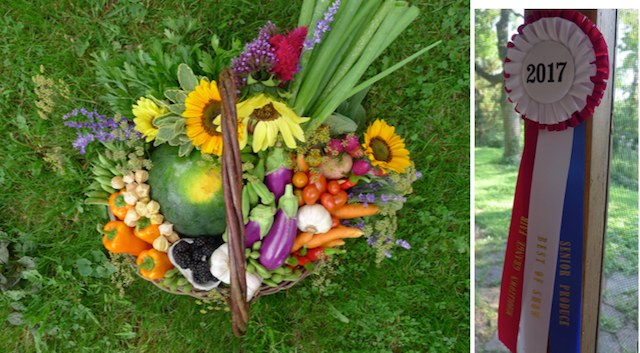 "Best of Show" and 1st Place at the 2017 Middletown Grange Fair!
Last Sunday I wrote what I planned to do with my veggies - you know how that sometimes goes, but in this case I did get a lot accomplished!
Eggplant, parsley, garlic - I made
Baba Ganoush.
There is a real good version on this site, but I now make the one that is in the Zahav cookbook. Light the grill and when hot cut the eggplant(s) in half long way. Drizzle with olive oil. Place egplant on grill cut side up and roast until the skin is black and crinkly and the flesh is very soft and pudding-like. When cool enough to handle, dig the flesh out and place in a bowl. Mash up the eggplant, add a couple minced cloves of garlic and olive oil and vigorously stir till smooth. Add tahini, salt, lemon juice and parsley and stir again, adding cold water to get to the desired thickness.
Peppers, garlic, summer squash - I roasted all the peppers and summer squash I had on the grill; some of the peppers I roasted till the skins were black, removed from grill, peeled the skins off, removed seeds and cut up. Placed in a small bowl with salt, pepper, a bit of garlic, drizzle of olive oil and a small splash of balsamic vinegar. These can now be add to sandwiches, eaten on bread or crackers, eaten alone - whatever your imagination comes up with. The squash I had as a side dish for a couple dinners.
Tomatillos, garlic - made the Tomatillo Sauce from the
Stewed Chicken with Tomatillo Sauce
recipe. I used 3 weeks worth of tomatillo's and I froze the large batch in increments the recipe calls for.
Tomato, garlic - we ate delicious tomatoes all week: bruschetta, caprese salad and also made tomato sauce for homemade pizza - it is so easy. Use a fairly firm tomato - the field ones are best so there isn't so much liquid. Slice the stem end of the tomato off - don't waste it! I eat around the stem. Using a box grater, put the palm of your hand on the tomato placing the cut side of the tomato on the grater. Flatten your hand and run the tomato over the grate - you will end up with just skin in your hand - really neat method I just learned this year. Add a bit of minced garlic, a tiny bit of salt and a slight drizzle of olive oil. This can now be used in any way you would use any tomato sauce.
This week I plan to made caponata and will add the Swiss chard and dandelion greens from these last couple weeks to it.
If you have an idea for how to enjoy the harvest, please send to me at lindadansbury@comcast.net and put Anchor Run in subject line.
Even more about U Pick
By Linda Dansbury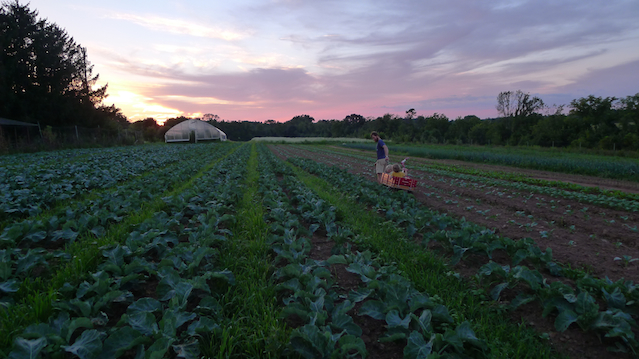 Fall brassicas loving the rain and cool nights, thriving, with intentionally grown mowed weeds in the aisles for erosion control. And that's a nice sunset with a wagon towed.
Typically around this time of year, many members stop doing their U Pick - free time is reduced due to back to school commitments or other things. Remember that U pick is a large part of your share and from now through September when U Pick will end except for some herbs is as pleasant a time as any to be out in the field. The heat and humidity drop, the cherry tomatoes make a comeback because of lower humidity and less rain (typically), and green beans and edamame are perfect for picking. And, I always feel my house is more welcoming for both family and guests when flower vases are filled.

Edamame this year are as nice as they have been in a few years. Ample rainfall allowed for an abundance of well-filled pods, many with 3 beans. Don't miss out! I picked my allotment from only about 4 plants so it didn't take long.
Are you wondering about the blackberries only being on the lower branches, instead of up higher where they would be easier to find and pick? Blackberries bear fruit on second year branches, or canes. So those beautiful branches that are trellised now are where the berries will be next year. In the meantime, take a little time and push the grass away to find some of the largest, juiciest berries!
Enjoy!
Do you need garden or yard help?
By Field Manager Hannah
Need help preparing your yard or garden for winter? Field Manager, Hannah, and Assistant Farmer, Pat, would like to bring their gardening skills to your home!

As fall approaches, work on the farm becomes less overwhelming, making us available to assist you with projects such as:
Plantings and Garden Implementation
Hardscaping
Fall clean up
Mulching
Mowing
Weeding
Leaf removal
Using our knowledge of sustainable plant care from Anchor Run, all of our work will have the health of your family and the environment in mind.
Tick Avoidance and Prevention
By Evelyn Throne
Ideas on avoiding ticks:
Here are a few user-friendly, safe, and effective tick-borne disease prevention tips:
1) Use Sawyer Insect Repellant with 20% Picaridin or Repel w/Lemon Eucalyptus on your skin. These are safe for children and actually smell good.
2) Ticks start low and crawl up, a great prevention tip is to spray your shoes ahead of time with Sawyer 0.5% Permethrin spray available at Dicks Sporting Goods.
3) Pre-treated clothing can be bought through Insect Shield or
www.BugBeWear.com
or at a local sporting goods store. I heartily recommend purchasing insect repellant socks.
4) Using a lint roller will do a good job removing ticks on your skin and putting your clothing in the dryer for 15 minutes will dry out and kill any ticks on them.