CSA Week 17: Labor Day of Love
News
Expected Harvest
Slow Transition to Veggies of Autumn
By Derek McGeehan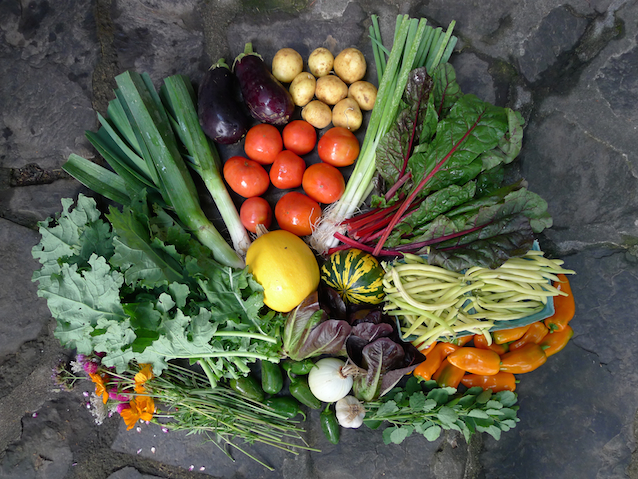 Harvest #17 (Week A) should include scallions, onions, leeks, kale, sweet peppers, winter squash (spaghetti, sweet dumpling, or acorn), hot peppers, shishito peppers, Swiss chard, Italian dandelion, lettuce, tomatoes, eggplant, potatoes, garlic, okra, carrots, and herbs. Some items will be a choice and may not be available during all pick up times. U-pick should include yellow wax beans, flowers, and herbs.
Notes From The Field
Out of Summer, Into September
By Derek McGeehan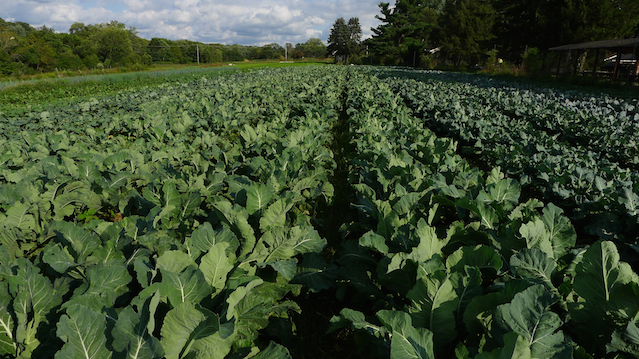 Fall crops doing well: cauliflower, broccoli, cabbage, kale, beets, leeks, chard, and celeriac.
Astronomically it remains summer, meteorologically we've moved to fall, and with a low of 44 degrees at the bottom of our field on Friday morning, one would assume that we're deep in October. Highs in the 60s for a few days, followed by forecast highs in the mid-80s to start this week, then a roller coaster plunge later in the week and the weather ride continues. Agronomically the summer crops are waning, the fall ones are thriving, and everything is growing a bit slower with the lower temperatures and reduced daylength. Internally, our thoughts drift more towards preparing for fall and winter harvests, knowing that our time to plant is coming to a close for another season. We're beginning to prepare the hoop house, greenhouse, and high tunnel areas for Late Fall and Winter CSA crops, even contemplating adding another tunnel to the farm. A cover crop mixture of oats, buckwheat, daikon radish, and crimson clover was sown over a significant portion of the farm last week, prior to the midweek rain event. That event plus yesterday's were the ideal way for rain to fall, slow and steady. Both deposited about a half-inch, a perfect amount for the farm and to get those cover crops up and growing. This season we've benefitted from practically an ideal amount of moisture without heat, approximately 4.5-6.5 inches per month from May through August. There was only one week in there that we had to wait until Friday to actively work with the soil. Thank you mother nature weather woman!
Next Potluck Saturday 9/9/17
By Derek McGeehan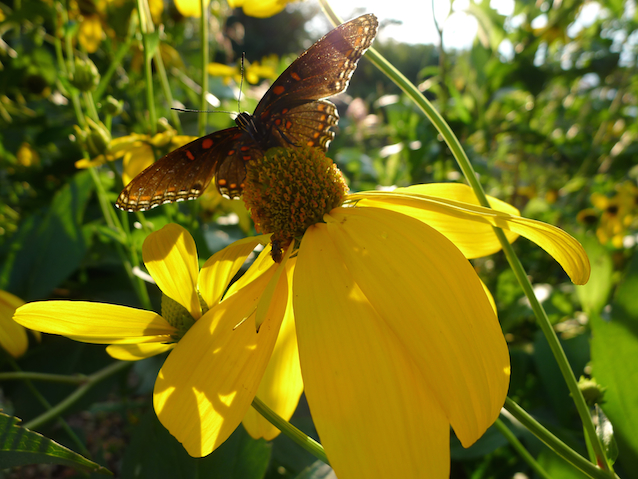 Thank you swallowtail butterfly!
Our next farm potluck meal is Saturday September 9th. We'll probably start this one at 5pm since it will be getting dark earlier. We may have a small fire if the weather allows. Join us under the pavilion for a nice meal shared with your community. Bring a dish to share that is large enough to feed 4-6 adults, your own place settings, and any beverage of your choosing. A brief note/label next to your dish will be helpful to folks with dietary restrictions.
Workshifts Scheduled for Week of 9/3/17
By Derek McGeehan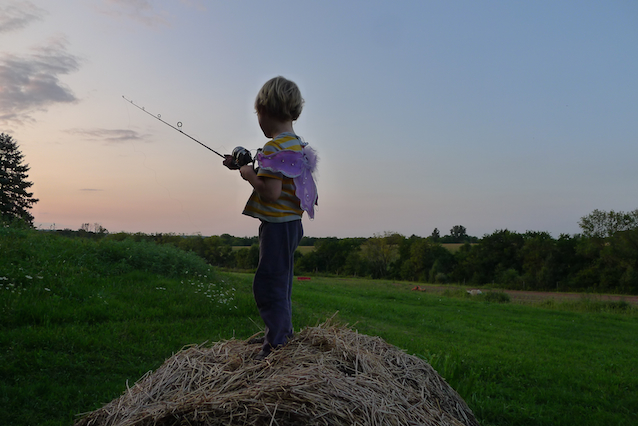 Casting for the magical and illusive Anchor Run Farm fish.
We're past the halfway point of the season for work hour opportunities. Workshifts will be scheduled through October but frequency will diminish in September. If you still need to work your pledged hours please consider signing up for a workshift soon. If you'd rather contribute financially to cover the work hour cost of your share please do so soon so that we can plan accordingly. E-mail us at anchorruncsa@gmail.com if you have any questions.
Workshifts this week:
- Tuesday 9/5 10am-12noon
- Wednesday 9/6 6-8pm (garlic processing in barn; rain or shine)
- Friday 9/8 10am-12noon
- Sunday 9/10 7-9am
Workshift sign-up instructions may be found
here
.
Thank you!
Now What!? Workshop Fall Edition
by Gia Yaccarino
Greetings fellow farm members! I am trying to get a feel for whether or not there is interest in a Fall Edition of the Now What!? Workshop. The workshop would probably be scheduled for a weekend (Saturday or Sunday) in late September or Early October. If you are interested, please contact me via email at thatgiagirl@comcast.net and please include ARF in the subject line. Let me know what you are interested in discussing and learning more about!
New members, longtime members, members who attended a previous Now What!? workshop, members who did not attend a previous Now What!? workshop (in other words - all members!) are welcome to attend!
Fall Crops Begin - Leeks and Winter Squash
By Linda Dansbury
Well, it definitely feels like fall as I write this, but it is supposed to warm up significantly in a couple of days. September is what I think of as the crossover season. We still enjoy our favorite summer crops of tomatoes, eggplant and peppers, and we begin to see fall crops like more greens, leeks and winter squash.
I think most people are familiar with leeks - delicious in soups and stews! If you purchase leeks in the store, you probably dread cleaning them because the sandy soil they are grown in is difficult to remove. Anchor Run leeks are so much easier - they just need a simple rinse - nothing in between all the layers! Leeks store really well in the refrigerator so if you are like me and still have onions left, use them up before using your leeks.
Winter Squash - the farmers grow many different kinds of squash - the first ones we will see are spaghetti, dumpling and acorn. All winter squash store well in cool, dry conditions. A basement is ideal. Right now the garage would be good, but with the warm up coming this week, it will not be the best location. Acorn will store the longest of the three, but they will all be good for at least 3 months - they won't last that long in my home! Farmer Derek note: We recommend eating these three winter squash varieties sooner rather than later due to field conditions they grew in and elements that they were exposed to: humidity, bugs, disease pressures, etc. A slight, even unnoticed blemish, will quickly deteriorate the squash in storage. At the farm we're still fine-tuning winter squash growing, harvesting, and storing; this season we're storing them at 50 degrees which should preserve them longer. For us, butternuts seem to keep longest.
Spaghetti Squash
when cooked is what it sounds like - it comes out of the shell in strings, or spaghetti. There are many ways to cook it - steam, microwave or bake. They can be cooked whole or cut in half and cooked. I have had the most reliable success of cooking to the right texture by cutting them in half and baking with the cut side down until a fork goes through fairly easily. Time has to be watched because these squash come in so many sizes - start checking at about 30 min for a small one baked at 375. Check out this site for many spaghetti squash recipes including
Italian Spaghetti Squash
which I really like for now because it incorporates pepper and tomatoes. Replace the basil with parsley. Also try the
Spaghetti Squash and Pork Stir Fry -
Yum! Or, cook the squash and top with your favorite sauce.
Dumpling and Acorn Squash
are a couple of my favorites. The flavor of them is so sweet. They are also small so a half makes a perfect sized side dish. Just cut in half, remove seeds, place a bit of butter on the cut part, sprinkle with salt and pepper and bake till tender. Or, add honey or maple syrup and a bit of cinnamon for a real taste of fall. One of the dishes I like for this time of year is the
Southwestern Stuffed Acorn Squash.
It again incorporates summer veggies and tastes more like summer - perfect for this "crossover" season.
How I Enjoyed My Harvest
Summer and fall meals
By Linda Dansbury
This past week's weather had us all scratching our heads about what we wanted to eat - warm and humid, to sunny and cool to downright damp and chilly!
I have found the best way for me to keep my thoughts organized is to make lists. Each week when I get home with my harvest I arrange and rearrange the veggies I have, putting the older and more perishable ones in the front of the fridge and make a list of what I have. Then, as I think of things I want to make or have for dinner, I write that list. This simple method helps me remember what is in the fridge and also aids in deciding what to have for dinner. Below are some of the thing I did this past week.
Tomato, onion, parsley - made tomato sauce. My method is pretty simple: Saute onions in olive oil under low heat until soft and translucent. Add tomatoes that have been roughly chopped and start to cook them down. Add a can of tomato paste, salt and pepper and any herbs you desire. When thickened, run it through a food mill and use or freeze.
Peppers, onions, garlic, herbs - we have received a lot of fresh onions and peppers recently and I was trying to figure out what to do with all of them. I made a big batch of sauteed peppers and onions. Just cut them all up and cooked on top of the stove until browned and tender. I then had them to use for a variety of dishes: I made a frittata for dinner one night using the peppers and onions as part of the add-ins. We will be having sausage sandwiches with them. I also did a side dish in which I cooked up the greens, mixed in some peppers and onions, and grated parmasan cheese over the top of it.
Eggplant, peppers, tomatoes, onions, garlic
- finally made
Caponata
- so glad I got to it before my eggplants went south! I froze it in small containers to be eaten through the winter. It can be used as bruschetta, or it can be a side dish for meats. I often eat it with a nice sausage over pasta.
Late Fall and Winter CSA Seasons to be Announced Soon
By Derek McGeehan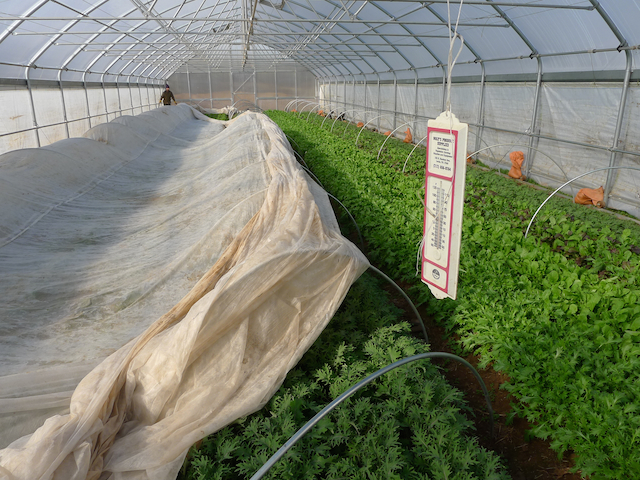 Mid-January in the high tunnel. Under a few layers of protection it's more like November. Winter hardy greens such as kale, arugula, mizuna, spinach, and chard thrive indoors in the winter.
Membership will soon be available for our 6-week Late Fall CSA and 10-week Winter CSA. We'll e-mail current Main Season members with details and sign up information this week (probably).