CSA Week 20: Fall Heat Wave
News
Expected Harvest
Green is Now the Color of Fall
By Derek McGeehan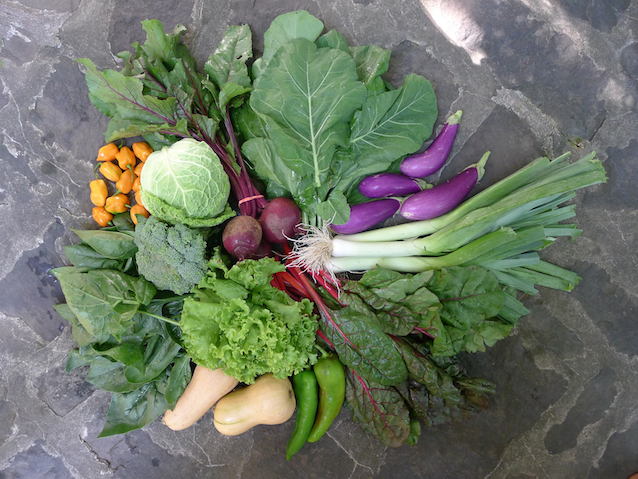 Harvest #20 (Week B) should include butternut winter squash, leeks, kale, collards, spinach, Swiss chard, lettuce, savoy cabbage, beets with greens, broccoli, dill, cilantro, parsley, hot peppers, sweet peppers, eggplant, and tomatoes. Some items will be a choice. U-pick should include herbs.
Notes From The Field
Summer in Fall
By Derek McGeehan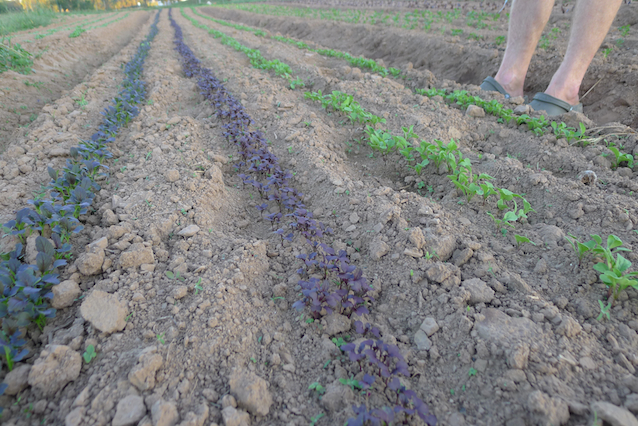 Two new beautiful varieties of mizuna/mild mustard greens in shades of red do look a bit thirsty.
This is the driest our soil has been all season long. We received just over an inch of rain almost 3 weeks ago and since then we've received .15 inches (which was almost 2 weeks ago). We added drip irrigation to the more sensitive water demanding crops of broccoli, cauliflower, and cabbage, mostly because they're all beginning to head up and reach maturity. Years ago I remember reading that the brassica family is less able to scavenge for moisture than, say, the lettuce family. Daily I think about adding water to all of the other crops but with this heat I'm a little worried that if I add water these late fall crops will grow too fast and reach maturity too soon. But, given the high temperatures and low humidity plus wind, crops and soil are drying out faster. For now, we wait and hope for some rainfall to take away this difficult decision.
Even though it is very dry, the sun is lower in the sky and is out for much less time than it would be in July. We also benefit from fields that face north, have high organic matter, and have good soil structure, properties that conserve moisture in the soil. As you can tell below, even after a hot and dry day the mature greens still look healthy and happy. That's a big field to have to irrigate!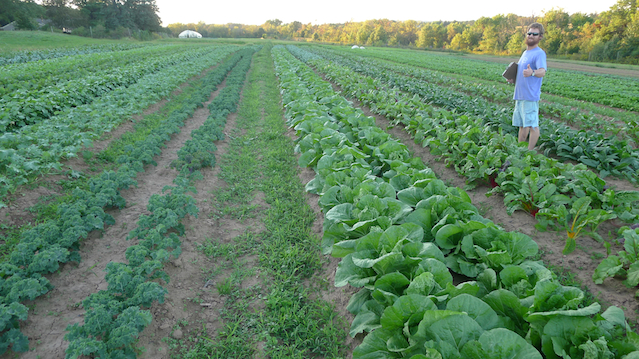 Workshifts Scheduled for Week of 9/24/17
By Derek McGeehan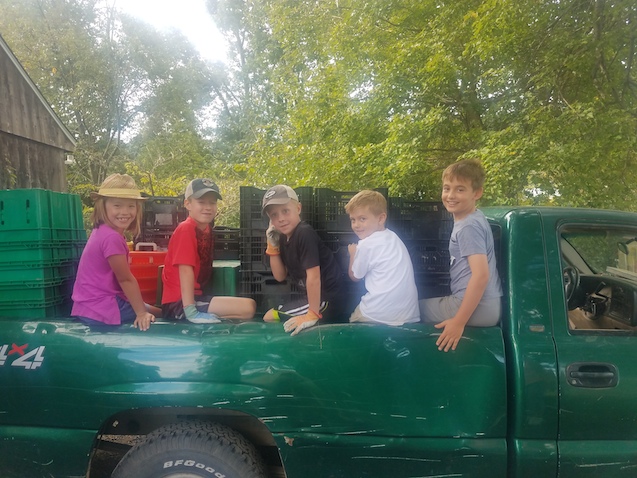 Prepared to help harvest sweet potatoes! (photo courtesy of Alescia Dingle)
If you still need to work your pledged hours please consider signing up for a workshift soon! In other words, when you joined the CSA you purchased a share "with work discount" instead of a share "without working". If you'd rather contribute financially to cover the work hour cost of your share please do so soon so that we can plan accordingly. And please don't feel guilty about it! The buyout option makes it fair for all members.
$60 covers the 4 hours for a Half Share; $90 covers the 6 hours for a Medium Share; and $120 covers the 8 hours for a Full Share. E-mail us at anchorruncsa@gmail.com if you have any questions.
Workshifts this week:
- Tuesday 9/26 10am-12noon
- Wednesday 9/27 10am-12noon
- Sunday 10/1 8-10am (in High Tunnel so rain or shine)
Workshift sign-up instructions may be found
here
.
Thank you!
Final Potluck of the 2017 Season (Band Included)!
by Dana Hunting
Come see these talented musicians at the farm Saturday October 7th from 4 pm 'til dark for our season's end celebration potluck! Bring a dish to share that is large enough to feed 4-6 adults, your own place settings, beverages of your choice, as well as lawn chair or blanket. Local bluegrass/folk band Goose Creek Pioneers will serenade us during the evening and there will be a campfire to warm your bones by. Bring your s'more material and tools of the roasting trade, hope to see you there!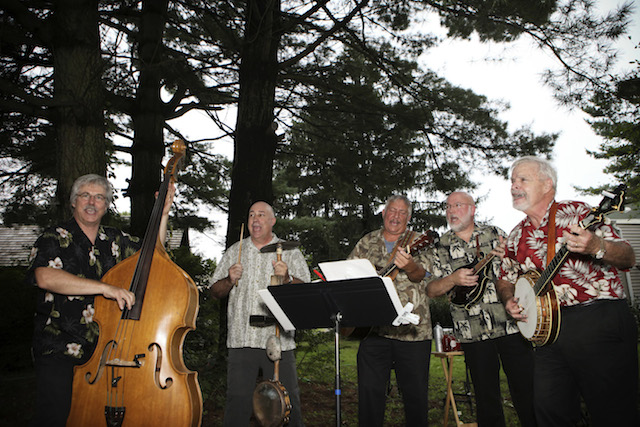 Late Fall CSA and Winter CSA Memberships Available
By Derek McGeehan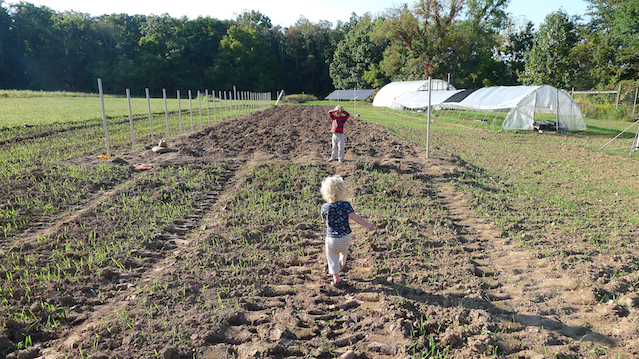 Membership is now available for the 2017 6-week Late Fall CSA (mid-Nov through mid-Dec) as well as the 2017-2018 10-week Winter CSA (end-Dec through end-Feb). Click
here
for more information and to sign up!
How I Enjoyed My Harvest
A Very Large Variety
By Linda Dansbury
The fall provides us with a large variety of veggies that combine well with greens - find a couple recipes that are your favorites and then vary the ingredients based on what you have on hand. It is fun to experiment and find new flavor combinations.
This week I did quite a bit of cooking. I love hanging out in the kitchen and do so when the opportunity presents itself. Here are a few of the things I prepared:
Swiss chard, onion, garlic - this might be my new "go to" method for cooking greens. Heat olive oil/butter combo in a large saute pan. Add thinly sliced onion, cover and saute over low until tender. Add finely chopped garlic - a good amount - and continue sauteing until tender - add a little salt and pepper. Meanwhile, remove stems from chard leaves and chop - add them to the onion/garlic mix and cook until tender. Chop chard leaves and add to the pan and keep moving them around until wilted and tender. Add salt and pepper to taste and a squeeze of lemon if desired.
Eggplant, rosemary - I cut the eggplants in half longway and sliced through the flesh to make a cross hatch pattern. Brushed with olive oil, a little salt and pepper and a sprig of rosemary on each half. Then roasted in a 450 degree oven until the flesh was nicely charred and very soft under the char. Drizzled with some tahini that I had: crushed a little garlic into lemon juice, added to tahini and then added water until it was thin enough to pour. Yum!
Onion, hot pepper, tomatillo sauce from freezer, cilantro
- made the
Chicken Stew with Tomatillo Sauce
from a batch in the freezer. I made mine in the pressure cooker and served rolled up in corn tortillas, with the sauce poured over and a crumble of local feta cheese and chopped cilantro.
Kale, garlic, cilantro
- made the
Kale Rice Bowl
(a newly added recipe) that is one of our "go to" weeknight dishes. I discovered it a couple of years ago when we had a lot of baby kale during the late fall share and we have been eating it ever since.
Share with me how you enjoy your harvest by emailing me at lindadansbury@comcast.net.
New Green - Collards
By Linda Dansbury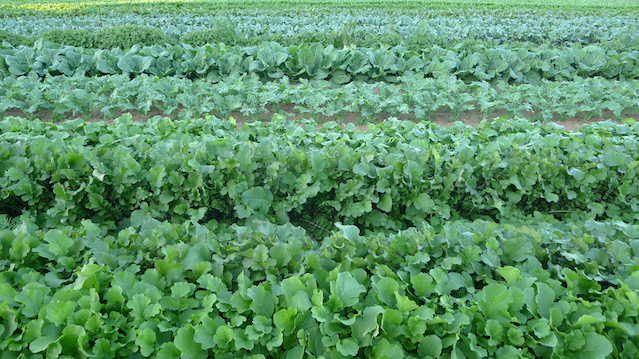 Can you find the collards in the sea of green (hint: about 25% of the way down from the top)?
Collards seem to be one of those greens that people either love or hate. Honestly, it hasn't been one of my favorites but when done right, the bitterness is lessened and they are almost creamy in texture - most people are aware of the Southern method of cooking them for hours with a ham hock or other smoked meat. But how do you do them so you don't have them going all day?
Collards store pretty well, keeping longer in the fridge than most other greens.
Member Ideas and Suggestions
How to enjoy all of these greens?
By Linda Dansbury
Fellow member Carolyn Diana sent me the following email. I love how this recipe sounds and I even purchased the coconut milk to make it, but haven't tried it yet. I hope to this coming week. Thank you Carolyn - it sounds delicious!
I wanted to share what I do when we get an enormous load of greens at the farm (my favorite type of pick up!! ;D)
Coconut Honey-Miso Greens
I first saute an onion with some garlic, salt, and pepper in coconut oil. Once the onion is tender, mix in about 3 tablespoons of a high quality yellow miso paste (I get ours from a local co-op, and the quality really does make a difference) and about half a tablespoon of raw honey. Mix thoroughly. Then add in whatever mess of greens you have available: kale, swiss chard, beet or dandelion greens, etc. Mix with a little tamari or soy sauce, and enough coconut milk to achieve the consistency you'd like. I add enough coconut milk to make it quite saucy and then serve over rice.
Wild for Salmon, Seafood Buying Club Order
by Dana Hunting
Place your order by October 22nd with Wild For Salmon for the best quality and sustainably harvested salmon, fish, and seafood from the wilds of Bristol Bay, Alaska, delivered conveniently to our farm.
For information and to order, please click this
link
. It will open a page with all of the necessary information you need to join our buying club, learn more about
Wild For Salmon
, and to place your order.
Please contact Wild For Salmon if you have any questions on ordering or on their products. They will deliver your order to the farm on Thursday, October 26th, for you to retrieve 1-8pm. Please let us know if you cannot make it during that pick up window and we should be able to hold your order here in our freezer.