CSA Week 21: Cool and Dry Begins October
News
Expected Harvest
October Dry
By Derek McGeehan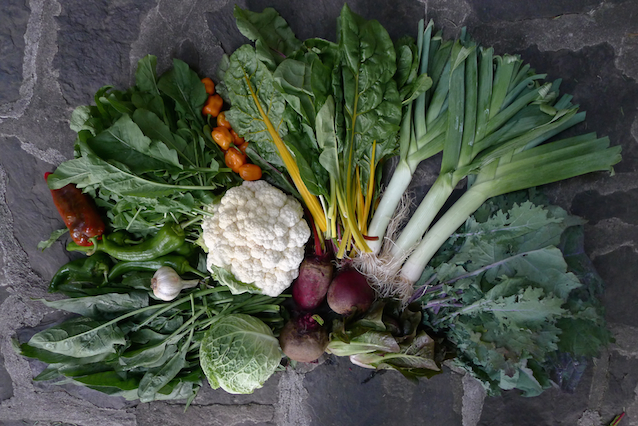 Harvest #21 (Week A) should include lettuce, spinach, kale, collards, Swiss chard, cauliflower, broccoli, potatoes, leeks, onions, sweet peppers, tomatoes, hot peppers, arugula, mizuna, mustard greens, dill, parsley, cilantro, cabbage, beets, kohlrabi, celeriac, and garlic. Some items will be a choice and may not be available during all pick up times. U-pick should include herbs.

Notes From The Field
Time to Add Water
By Derek McGeehan
Swales around the replacement hoop tunnel are being watered again. The oats are thriving, but the regular grass seed wasn't too happy about the dry weather and 90 degree heat. At least the ground stakes are going in, hopefully straight/true/square/perfect.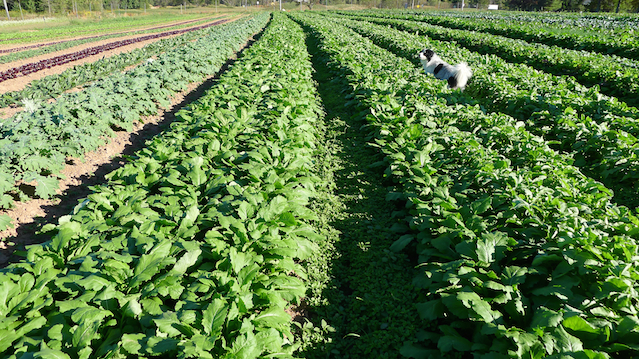 Farm dog Borchie contrasts the dark green salad turnip and radish greens. These crops are probably quite thirsty at this point. Plan is to overhead irrigate this field since most beds are smothered by canopies of greens, rendering application of drip tape impossible.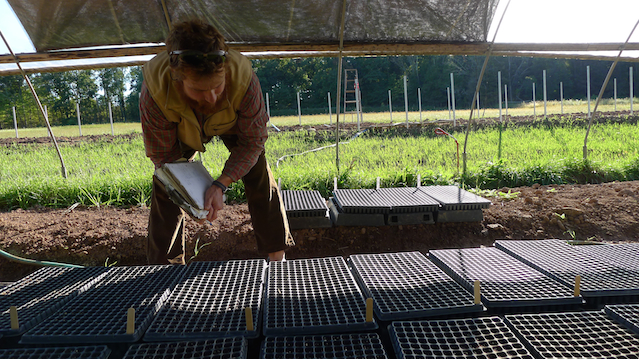 Checking on newly seeded crops for winter production: lettuce mix, claytonia, Swiss chard, spinach, mizuna, tatsoi, dill, and cilantro. These crops were seeded Friday 9/29, will be transplanted in early November, and harvested and eaten in December, January, and February. There are several successions of transplanted crops for the hoop house, hoop tunnel, and greenhouse, as well as a couple successions of direct seeded crops for the movable high tunnel (kale, arugula, mizuna, mustard greens).

Workshifts Scheduled for Week of 10/1/17
By Derek McGeehan
If you still need to work your pledged hours please consider signing up for a workshift soon! In other words, when you joined the CSA you purchased a share "with work discount" instead of a share "without working". If you'd rather contribute financially to cover the work hour cost of your share please do so soon so that we can plan accordingly. And please don't feel guilty about it! The buyout option makes it fair for all members.
$60 covers the 4 hours for a Half Share; $90 covers the 6 hours for a Medium Share; and $120 covers the 8 hours for a Full Share. E-mail us at anchorruncsa@gmail.com if you have any questions.
Workshifts this week:
- Tuesday 10/3 10am-12noon
- Wednesday 10/4 10am-12noon
- Friday 10/6 10am-12noon

- Sunday 10/8 8-10am

Workshift sign-up instructions may be found
here
.
Thank you!
Wild for Salmon, Seafood Buying Club Order
by Dana Hunting
Place your order by October 22nd with Wild For Salmon for the best quality and sustainably harvested salmon, fish, and seafood from the wilds of Bristol Bay, Alaska, delivered conveniently to our farm.
For information and to order, please click this
link
. It will open a page with all of the necessary information you need to join our buying club, learn more about
Wild For Salmon
, and to place your order.
Please contact Wild For Salmon if you have any questions on ordering or on their products. They will deliver your order to the farm on Thursday, October 26th, for you to retrieve 1-8pm. Please let us know if you cannot make it during that pick up window and we should be able to hold your order here in our freezer.
Final Potluck of the 2017 Season (Band Included)!
by Dana Hunting
Come see these talented musicians at the farm Saturday October 7th from 4 pm 'til dark for our season's end celebration potluck! Bring a dish to share that is large enough to feed 4-6 adults, your own place settings, beverages of your choice, as well as lawn chair or blanket. Local bluegrass/folk band Goose Creek Pioneers will serenade us during the evening and there will be a campfire to warm your bones by. Bring your s'more material and tools of the roasting trade, hope to see you there!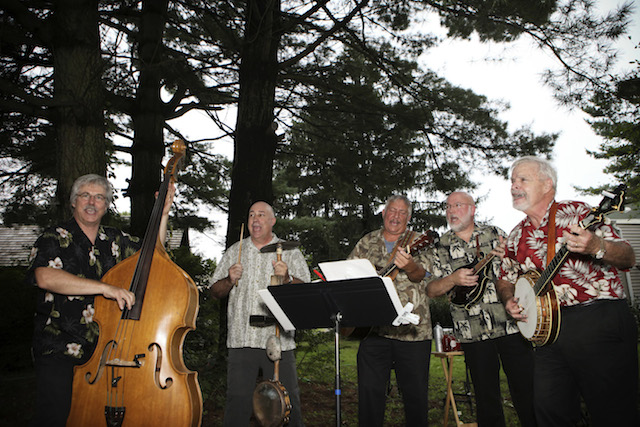 Late Fall CSA and Winter CSA Memberships Available
By Derek McGeehan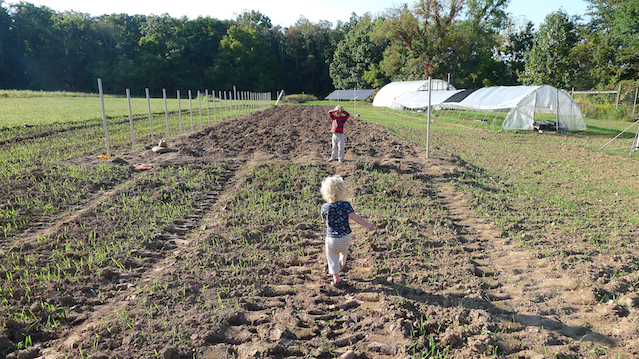 Membership is now available for the 2017 6-week Late Fall CSA (mid-Nov through mid-Dec) as well as the 2017-2018 10-week Winter CSA (end-Dec through end-Feb). Click
here
for more information and to sign up!