CSA Week 22: Waiting for the Rain
News
Expected Harvest
A Panoply of Greens, Choices
By Derek McGeehan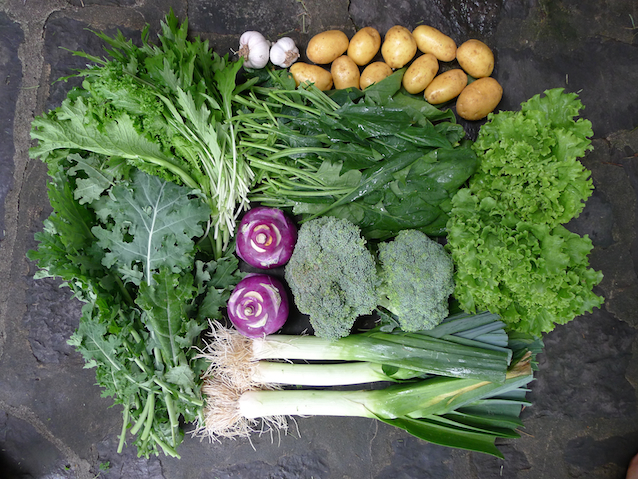 Harvest #22 (Week B) should include broccoli, cauliflower, savoy cabbage, beets, kohlrabi, potatoes, leeks, scallions, hot peppers, garlic, dill, parsley, cilantro, kale, collards, chard, spinach, arugula, mizuna, mustard greens mix, broccoli raab, green tomatoes, and mini lettuces. Some items will be a choice and may not be available during all pick up times. U-pick should include herbs.

Notes From The Field
Where's The Rain?
By Derek McGeehan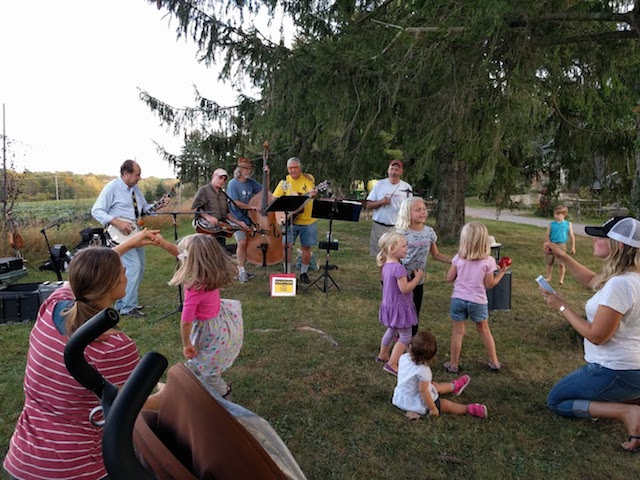 (Rain) Dancing to Goose Creek Pioneers!
Last week was a busy one. Tuesday marked 4 weeks since any meaningful rain fell on the farm so I spent a couple of days setting up the infrastructure for and irrigating thirsty crops. I believe that all annual crops received enough ground water to keep them content for another week or two, depending on sun, heat, and wind. As of now we're forecast to receive rain today/tonight/tomorrow but I'm feeling a bit apprehensive. I'm prepared to celebrate in earnest when the precipitation finally quenches this dry patch of earth. Over the past few days forecast amounts went from 2" to now less than .5". If it doesn't rain I'll just go through another round of irrigating. Now that it's mostly set up it will be easier to apply.
Additionally, we harvested turnips, radishes, and beets for storage; harvested a mountain of broccoli and cauliflower for last week's and this week's distribution; finalized ground stakes' depth and pitch and erected arches for the hoop tunnel; prepared for and sowed cover crops; and plenty of other miscellany.

Workshifts Scheduled for Week of 10/8/17
By Derek McGeehan
Some of your Farmers (Dana and Derek) enjoying the potluck on a warm summery October evening!

If you still need to work your pledged hours please consider signing up for a workshift soon! In other words, when you joined the CSA you purchased a share "with work discount" instead of a share "without working". If you'd rather contribute financially to cover the work hour cost of your share please do so soon so that we can plan accordingly. And please don't feel guilty about it! The buyout option makes it fair for all members.
$60 covers the 4 hours for a Half Share; $90 covers the 6 hours for a Medium Share; and $120 covers the 8 hours for a Full Share. E-mail us at anchorruncsa@gmail.com if you have any questions.
Workshifts this week:

- Wednesday 10/11 6-8pm: Garlic processing in barn, separating bulbs into cloves for planting the 2018 crop. This shift is physically easier on the body but does require finger and hand movement. BYOB festivity (bring a beverage of your choosing for yourself and/or to share)!

- Friday 10/13 10am-12noon

Workshift sign-up instructions may be found
here
.
Thank you!
Shares Available For Late Fall CSA and Winter CSA (2 seasons)!
by Dana Hunting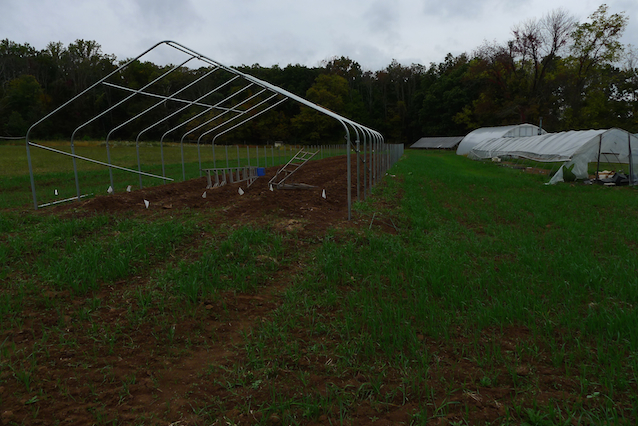 Slowly but surely the replacement hoop tunnel rises.

Membership is now available for the 2017 6-week Late Fall CSA (mid-Nov through mid-Dec) as well as the 2017-2018 10-week Winter CSA (end-Dec through end-Feb). Click
here
for more information and to sign up!
Member Ideas and Suggestions
Delicious Kale Salad Recipe
By Linda Dansbury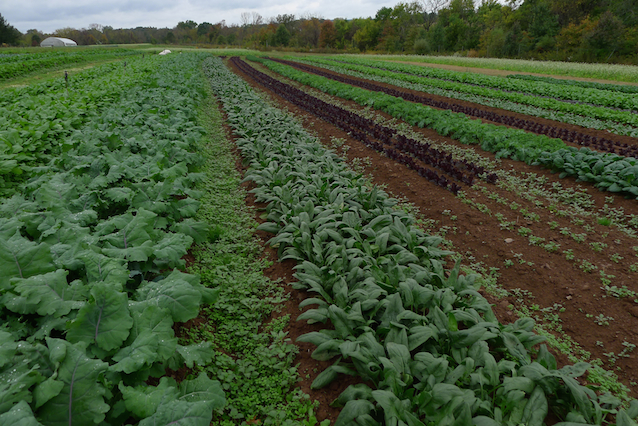 Greens Galore!

Alice Maxfield sent me 2 recipes, one of which I am adding this week, the other I will talk about next week. For this week,
Kale Salad with Quinoa, Dried Cranberries and Almonds
is a delicious fall salad! Alices's comment was she really enjoys this salad when we have not received much lettuce from the farm - I agree, and this one sound great - I can't wait to try it!
Thank you Alice!
How I Enjoyed My Harvest
Using Up Summer Bounty
By Linda Dansbury
I recently have looked for ways to use the end of the summer bounty, plus new ways to enjoy all these beautiful greens - lettuce has been spotty in the pick up room (it will pick up now), so wanted to make things that would make me not miss my greens salads.
Beets, scallions, greens - roasted and made beets into a salad. The nice thing about this is you can roast a lot of beets at one time. Once the beets are in a vinaigrette, they keep for over a week, so make once and enjoy 2-3 times.
Kale
- made the
Kale Caesar Salad
that is on this site. I find the act of massaging the kale to be relaxing and fun - so get your hands in there!
Peppers, tomatoes, garlic and parsley - prepared a large batch of Romesco Sauce. I haven't added this one to the website at this point - there are multiple variations of it and at this point, the peppers at the farm are finished. I am letting you know about it in case you still have peppers in your garden or fridge. It is best prepared with red peppers, so the color of my batch isn't as pretty because of the various colors of the peppers. I froze a nice amount in small containers to use later over fish and veggies.
Eggplant, Thai basil, mint, garlic, scallions
- again, in order to use up my eggplants, I made the
Thai-style Eggplant Salad
that is on this site.
If you have any recipes or methods of enjoying your harvest that you would like to share, please send to me at lindadansbury@comcast.net.
Wild for Salmon, Seafood Buying Club Order
by Dana Hunting
Place your order by October 22nd with Wild For Salmon for the best quality and sustainably harvested salmon, fish, and seafood from the wilds of Bristol Bay, Alaska, delivered conveniently to our farm.
For information and to order, please click this
link
. It will open a page with all of the necessary information you need to join our buying club, learn more about
Wild For Salmon
, and to place your order.
Please contact Wild For Salmon if you have any questions on ordering or on their products. They will deliver your order to the farm on Thursday, October 26th, for you to retrieve 1-8pm. Please let us know if you cannot make it during that pick up window and we should be able to hold your order here in our freezer.