CSA Week 23: Four More Weeks of Pick Up
News
Notes From The Field
Rain and Cauliflower Events
By Derek McGeehan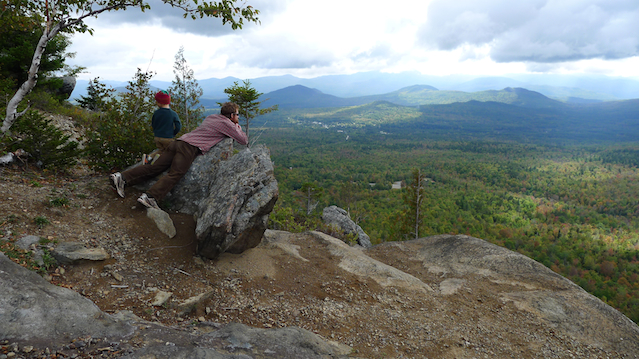 View from Field 5 facing south...or maybe the Adirondack Mountains.

We received the rain that we needed after 5 weeks of dry weather. Now, after days of cloudy misty weather we're again looking forward to some sun and drying out. These moist days interfere with the bleached white quality of the cauliflower which are huge and very prolific right now. Somehow we had overlooked the patch, thinking it wasn't quite ready for sustained picking, then were slightly overwhelmed by the 500 pounds that came out of the field on Tuesday, followed by another 250 pounds on Wednesday, and I expect to harvest another couple hundred pounds today. Harvesting this weight solo proves adequate daily exercise. Broccoli is waning but cauliflower should be around all week.
On the farm right now we're trying to deal with soooooo many crops that are ready for harvest, plus great roots that are already in storage. With the sustained heat of late September and early October, many of our crops raced to maturity instead of growing slowly as they typically do this time of year. Even with the dry weather all of our greens grew explosively (the price we pay I guess for improved soil conditions and fertility). Many of the greens are cut-and-come-again, but benefit the most when they're cut before they get too big. Since we currently have so many crops at our disposal to distribute, we're trying our best to craft shares that are hopefully most appealing to you, plus offer choices.
Any feedback on shares would be appreciated. Very soon we'll send you a survey to fill out.

Expected Harvest
Embrace the Sweet Potato
By Derek McGeehan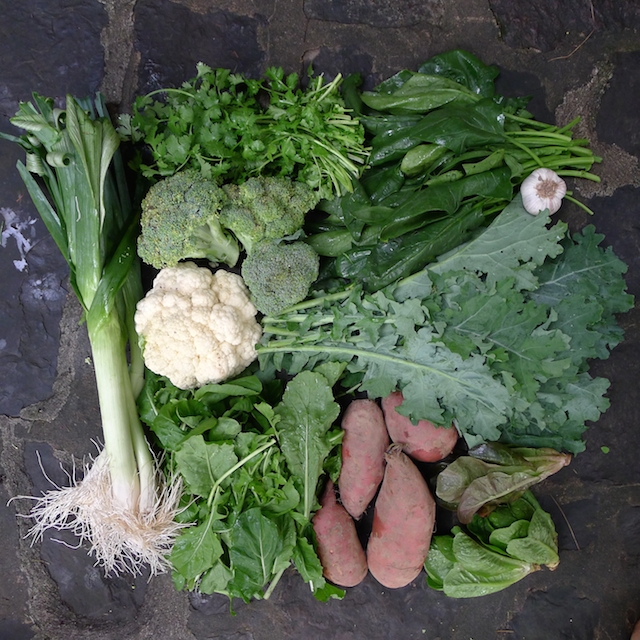 Harvest #23 (Week A) should include sweet potatoes, garlic, leeks, scallions, broccoli, cauliflower, savoy cabbage, spinach, kale, Swiss chard, arugula, broccoli raab, mizuna, mustard greens mix, lettuce, dill, cilantro, and parsley. Some items will be a choice and may not be available during all pick up times.
Broccoli and Cauliflower Tip
By Linda Dansbury
"I had to expand this section using my own words, to educate myself and membership." - Farmer Derek

Because our farm broccoli and cauliflower are raised organically they're more susceptible to a variety of pests and diseases in the field that conventional and sprayed organic farms might be able to treat for. Thus, after harvest and in storage they can deteriorate quickly so they should be eaten or cooked very soon after pick up.

We do all that we can to minimize pest and disease pressure on the farm in a proactive and preventative way: crop rotation, clean seed source, soil improvements like cover cropping and mineral amendments, healthy transplants, a clean and weed minimal field, floating row cover barriers. However, it is impossible to remove/eradicate all sources of scourge since there are many wild species of plants that act as hosts to our "enemies". Normally the pest pressure remains in the background, is tolerable, until conditions allow for extreme spreading.

Of the plethora of pest pressures we deal with on the farm that impact the growing of brassica family crops (cabbage, broccoli, cauliflower, kale, ect.), in the fall the two main issues we face are bacterial black rot (aka
Xanthomonas campestris pv. campestris
) and nibbling by insects such as the
harlequin bug
, imported cabbage worm, cabbage looper, and cross-striped cabbage worm (
more info
).
The current warm and moist weather pattern exacerbates the black rot problem which spreads very quickly during these conditions. Crops that are unfortunately most susceptible seem to be broccoli and cauliflower which I believe is also because the harlequin bugs seem to enjoy munching on them the most, assisting in its spread. Of course, every time we walk through the fields to harvest these crops we also trail around the spores helping it spread. But don't worry; it's not like the entire field is a mass of smelly rotting brassicas (not yet at least). The symptoms are just obvious to you as the eater in the form of a soft/dark spot or blemish on the head. The sunny dry weather forecast for this week should halt or slow its spread. We're also near the end of the broccoli and cauliflower harvest but will need to monitor closely the adjacent cabbage patch.

Okay, back to Linda...

In my case I found what the problem was: cabbage worms/loopers hiding in the florettes! Even under refrigeration, those damaging critters keep eating, causing the heads to rot.
I learned that if I know I am not going to eat the broc/caul within a couple days, I cut the heads and carefully look for those dastardly worms and commit wormicide on any I come across. The result is the veggies keep much longer once they are not being "eaten alive".
Shares Available For Late Fall CSA and Winter CSA (2 seasons)!
by Dana Hunting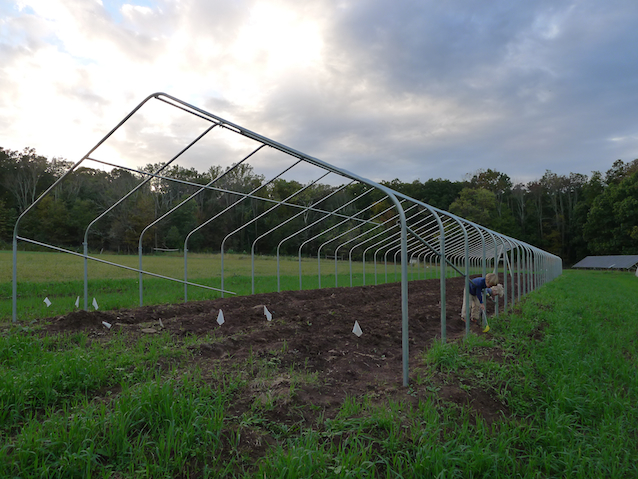 Construction continues on our replacement movable hoop tunnel for winter greens.

Membership is now available for the 2017 6-week Late Fall CSA (mid-Nov through mid-Dec) as well as the 2017-2018 10-week Winter CSA (end-Dec through end-Feb). Click
here
for more information and to sign up!
Workshifts Scheduled for Week of 10/15/17
By Derek McGeehan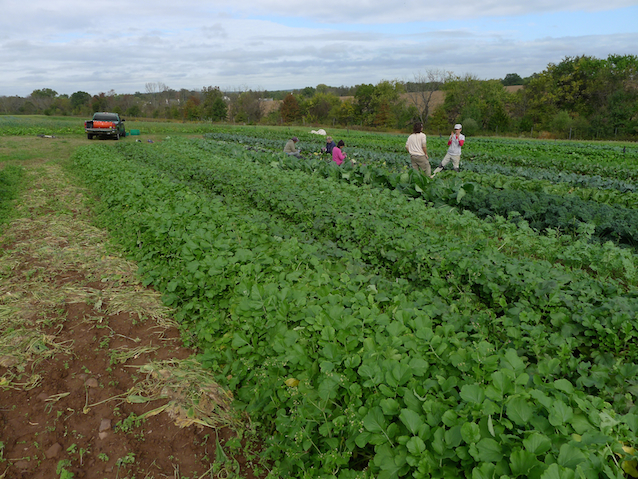 Friday's workshift harvesting kohlrabi.

If you still need to work your pledged hours please consider signing up for a workshift soon! In other words, when you joined the CSA you purchased a share "with work discount" instead of a share "without working". If you'd rather contribute financially to cover the work hour cost of your share please do so soon so that we can plan accordingly. And please don't feel guilty about it! The buyout option makes it fair for all members.
$60 covers the 4 hours for a Half Share; $90 covers the 6 hours for a Medium Share; and $120 covers the 8 hours for a Full Share. E-mail us at anchorruncsa@gmail.com if you have any questions.
Workshifts this week:
- Wednesday 10/18 10am-12noon
- Friday 10/20 10am-12noon

- Sunday 10/22 9-11am
Workshift sign-up instructions may be found
here
.
Thank you!
How I Enjoyed My Harvest
Oh Glorious Greens!
By Linda Dansbury
I love the abundance of greens in the fall (and also in the spring)! Do I feel overwhelmed by the volume and variety? No - see how I enjoyed them below. Let me know how you enjoy your harvest by e-mailing me at lindadansbury@comcast.net and please put Anchor Run in the subject line.
Kale
- I had almost forgotten about
Kale Chips
until I saw an expensive bag of them in the grocery store. I like sprinkling them with smoked paprika - it gives them a nice flavor.
Spinach, mizuna, lettuce, arugula, scallions - I really like a salad that combines several greens together - the variety of flavors and textures keeps it from getting boring and makes a great side dish for any entree. Experiment with different vinegars and oils and vary the herbs to make a new creation with every meal. A squeeze of lemon juice brightens greens that are raw or cooked and adding grated raw beets or cut up roasted beets is also delicious.
Broccoli, cauliflower, garlic, scallions, Swiss chard, parsley - made a large pasta dish. Started by roasting broccoli and cauliflower along with some garlic. Removed from oven when almost tender and nicely browned. Meanwhile, sauteed scallions, more garlic and the stems of Swiss chard. When tender, I added the chopped Swiss chard leaves and turned the heat off so the chard would barely wilt. Cooked the pasta and after drained, I immediately added all the veggies, parsley, pepper, good olive oil and grated cheese. Ate it with dinner and as a couple of lunches.
Butternut squash - a couple of my squash had spots that would have caused the entire squash to go bad, so when I already had the oven on to roast beets I roasted the butternut squash. Scooped the flesh out and then put into freezer bag so when I want to make something using cooked squash, more than half the prep time is already done.
Eggplant, onions, tomatoes
- made the
Eggplant Spread
that is on this site. It was given to me by a summer intern a few years ago, and was a delicious way to use the last of the farm eggplant.
Diaper Drive
by Alescia Dingle
I am a CSA member and also a new member of the board for the Greater Philadelphia Diaper Bank (GPDB). I am running a diaper drive during the month of October and I wanted to ask if you would be so kind to share information in your newsletter and if I could have a cardboard box on site at the farm for any members who want to contribute. GPDB has distributed more than 2.4 million diapers to families in need since 2011 across Greater Philadelphia and parts of New Jersey. This month alone they distributed more than 62,000 diapers to families in need including those affected by natural disasters across the country.
One in three families experiences diaper need. This means that they cannot afford clean diapers for babies, toddlers and even adults. SNAP & WIC dollars do not cover the cost of diapers for struggling families. During the month of October I will have drop off locations in Hamilton Township, NJ,New Hope, PA and online for friends at a distance. Please help a neighbor in need by dropping off a package of diapers or making a donation
online
. Your donation will help
The Greater Philadelphia Diaper Bank
distribute diapers to families in need. This month alone GPDB distributed more than 62,000 diapers to families in need in New Jersey, Pennsylvania as well as families affected by the natural disasters across the country. Clean diapers promote good health, prevent staph infections, and allow little ones to attend preschool and parents and caregivers to go to work. Clean diapers mean heath and independence for adults. Clean Diapers are not a Privilege. We believe that all of us: babies, children and adults deserve to be clean and dry.
Wild for Salmon, Seafood Buying Club Order
by Dana Hunting
Place your order by October 22nd with Wild For Salmon for the best quality and sustainably harvested salmon, fish, and seafood from the wilds of Bristol Bay, Alaska, delivered conveniently to our farm.
For information and to order, please click this
link
. It will open a page with all of the necessary information you need to join our buying club, learn more about
Wild For Salmon
, and to place your order.
Please contact Wild For Salmon if you have any questions on ordering or on their products. They will deliver your order to the farm on Thursday, October 26th, for you to retrieve 1-8pm. Please let us know if you cannot make it during that pick up window and we should be able to hold your order here in our freezer.
Rest In Peace, Jack Schieber, Long Time CSA Member
By Dana Hunting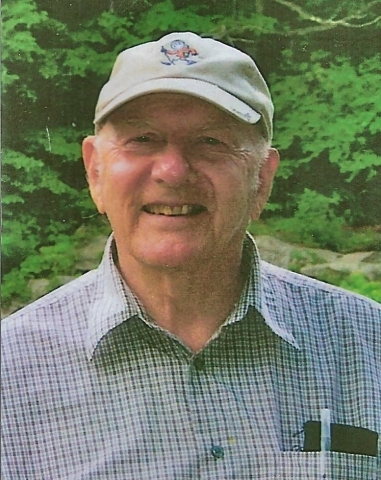 John R. "Jack" Schieber, Jr. of Holland passed away on Wednesday, September 20, 2017 in the presence of his loving family. He was 92.
He was the loving and devoted husband of Rose Marie Kraiser Schieber, his companion for more than 70 years.
Born in Philadelphia, Jack was the son of the late John R. Schieber, Sr. and Gertrude Anna Kellenbenz Schieber.
Jack graduated from the University of Pennsylvania with a degree in Chemical Engineering. He worked at Betz Laboratories in Trevose, PA for 35 years, solving industrial water treatment problems.
A veteran of World War II, he continued to work for peace, justice, civil and human rights throughout his life. Jack was an avid outdoorsman, nature lover, explorer, a leader, a music lover, and a student of religious thought and practices. He was a beloved and long time member of the Mohawk Canoe Club, BuxMont Unitarian Universalist Fellowship and the Delaware Valley Fern and Wildflower Society and was active in numerous community endeavors.
In addition to his wife, Jack is survived by his children, Robin Hoy (Michael), David Schieber (Kat), Kendra Schieber (Ron Ogden) and Gil Schieber (Becky Brindle); his grandchildren, Lisa, Karin, David, Lauren, Scotland and Anselm; and his great-grandchildren, Julia, Caitlyn, Megan and Michael. He is also survived by his brother, Bill Schieber (Aileen), sisters in law, brothers in law and many nieces and nephews.
Relatives and friends are invited to join his family at a Memorial Service on Monday, October 16th at 11 AM at the BuxMont Unitarian Universalist Fellowship, 2040 Street Road, Warrington, PA 18976.
Contributions may be made in his memory to Bowman's Hill Wildflower Preserve, 1635 River Rd, New Hope, PA 18938; Churchville Nature Center, 501 Churchville Lane, Churchville, PA 18966; or to the Bucks County Peace Center, 102 W Maple Ave, Langhorne, PA 19047