Happy Labor Day Weekend!
New u-pick crop, hot peppers, with farm cat Radar in foreground.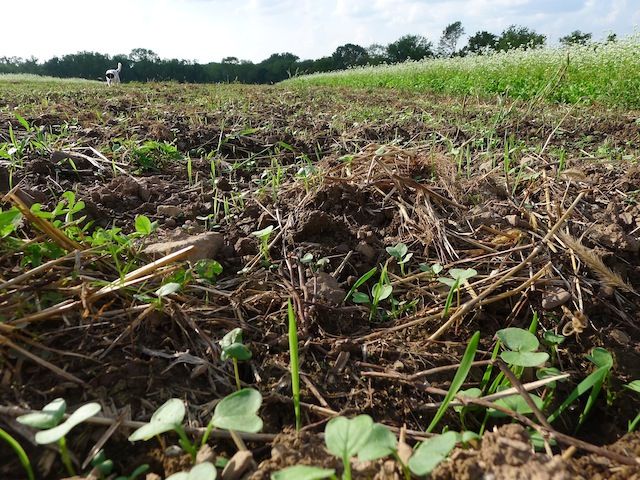 Newly sprouted cover crop mix of daikon radish, oats, clover, and vetch with mature buckwheat and farm dog Borchie in background.
News
Notes From The Field
Waiting for the Sunflowers
By Derek McGeehan
We're now beginning harvest week #16 and are planning for 26 weeks of CSA distribution. Soon, we'll send out a notice about our 6-week "Late Fall" CSA, available only to 2013 members, which will run from the conclusion of the regular CSA to the week of Christmas. We're still in the trial stages of farming and harvesting that late into the season, almost until the New Year. At some point over the next couple of years we'll make a decision to have a 32-week (or more) one-sign-up CSA season, or 2 CSA seasons with two separate sign-ups. In our annual survey we'll ask you for your opinion regarding the length of the season and the number of sign-ups, among other related issues. We're still unsure about season extension at the other end of the growing season, the spring. We'll keep you informed.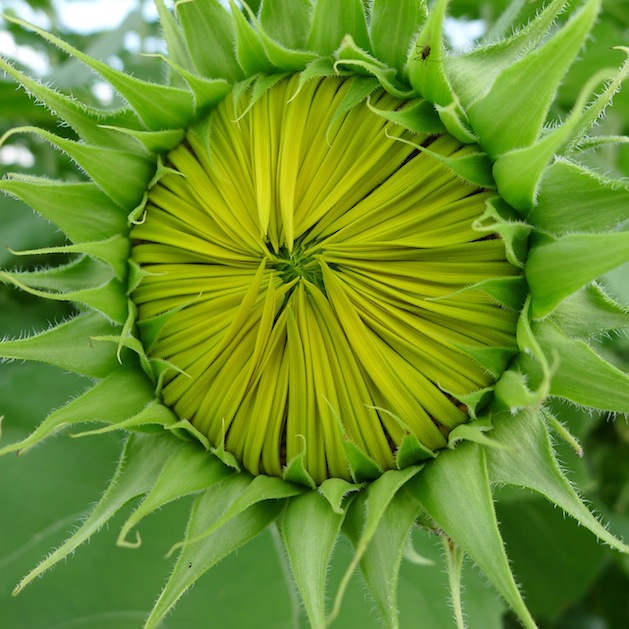 Soon to open sunflower. Part of a cover crop mix sown two months ago.
Since we're now into September our available window to plant and seed is rapidly closing, and we're content with that. We have a few more weeks to transplant crops started weeks ago in the greenhouse, but our final direct seeded plantings may have been accomplished this past Saturday. Weather permitting, we may direct seed arugula or greens mix one last time. Soon, we'll direct seed some tender cool season greens in beds that will be covered by our movable greenhouse, but our window to plant there remains open a bit longer. About greens, they'll continue to appear in the weekly harvest more frequently and in greater quantities from now through the end. Kale, swiss chard, collards, arugula, napa cabbage, greens mix, bok choy, and tatsoi should be regular offerings.
Last week we finished harvesting our potatoes; a great accomplishment. Soon, we'll begin harvesting sweet potatoes. With all of the fields starting to empty, we're diligently sowing cover crop mixes to protect and nourish the soils through the fall, winter, and in some areas, spring. Pretty soon, areas where we sowed sunflowers a couple of months ago should begin to bloom and provide an immense infusion of large, bright yellow flowers to our days and your trips to the farm. We strategically put them in areas visible to u-pickers, the road, and the driveway. Hope you enjoy the sight of them as much as we do.
Expected Harvest
Return of Greens and Beets
By Derek McGeehan
Harvest #16 (week B) should include winter squash, potatoes, kale, chard, sweet peppers, lettuce, garlic, onions, beets, tomatoes, eggplant, okra, and tomatillos. Some items may be a choice. U-pick should include cherry tomatoes, husk cherries, edamame, herbal basils, parsley, dill, cilantro, hot peppers, perennial herbs, and a flower bouquet.