Late Fall CSA Week 4: Into Year's Final Month
News
Notes From The Field
Here's December
By Derek McGeehan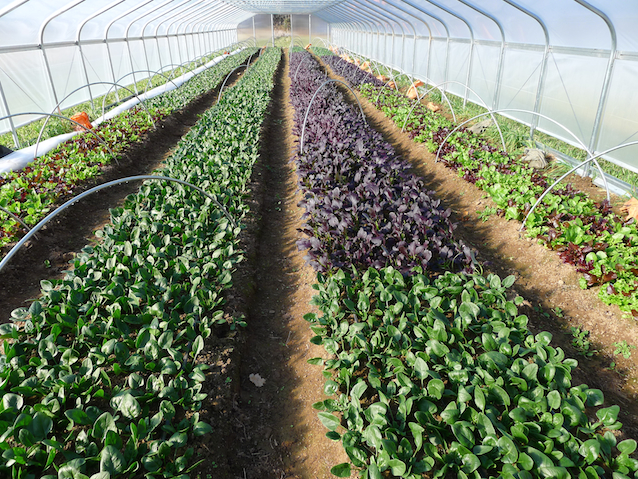 Early December in the new Hoop Tunnel, 144 feet of tender green goodness.
The fresh salad greens inside the structures are now mature enough to continuously cut, adding a delicate treat to shares for the foreseeable future. The lettuce mix salads our family enjoyed over the past week were truly delicious. Flavor seems to be enhanced this time of year, a combination of the cooler weather, our ability to control water content, and probably also from the absence of salads in our diet for a few weeks prior.
This coming week we also plan to begin harvesting two dark red varieties of mizuna that are simply pleasing to look at but also taste mild and sweet. Young and winter hardy tatsoi will also be added to the greens mix. Spinach, shown in the foreground above, will probably be harvested during weeks #5 and #6.
The balance we try to achieve with these greens is: harvest them when they're big enough and roots are well established but small enough that they'll regrow in a month or so and we won't remove too much of their available nutrients and ability to regrow. If they get too big they'll compete with each other for light, some leaves will deteriorate, and they'll be more susceptible to deep cold.
We also need to be mindful of spreading out the harvest, an attempt to have fresh salad greens every week for another 13 weeks (including the Winter CSA). Now that we're growing in 4 structures (high tunnel, hoop house, hoop tunnel, and green house; total of 8,300 square feet) we're more confident in our ability to provide fresh greens throughout the fall and winter months. Thank you for your support!
Expected Harvest
Incoming Salad Greens
By Derek McGeehan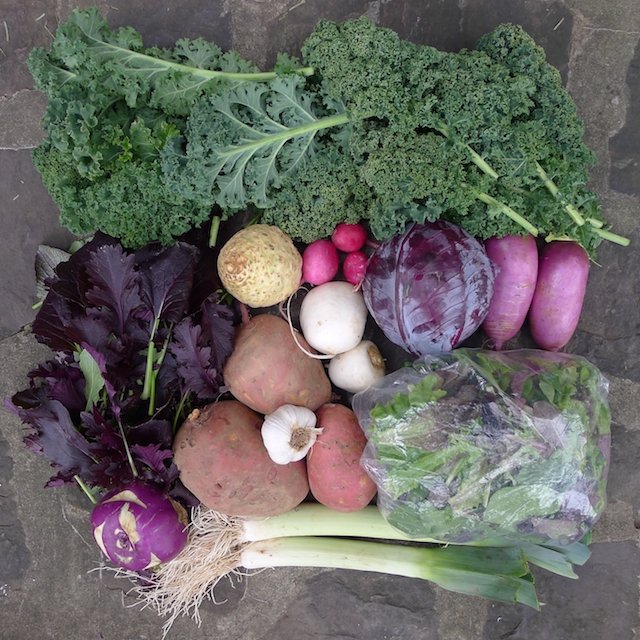 Late Fall Harvest #4 (Week B) should include kale, garlic, cabbage, lettuce mix, greens mix, sweet potatoes, an allium choice (leeks, onions), and root/stem choices (hakurei turnips, salad radishes, daikon radishes, celeriac, kohlrabi).

How I Enjoyed My Harvest
Farmer Food
by Dana Hunting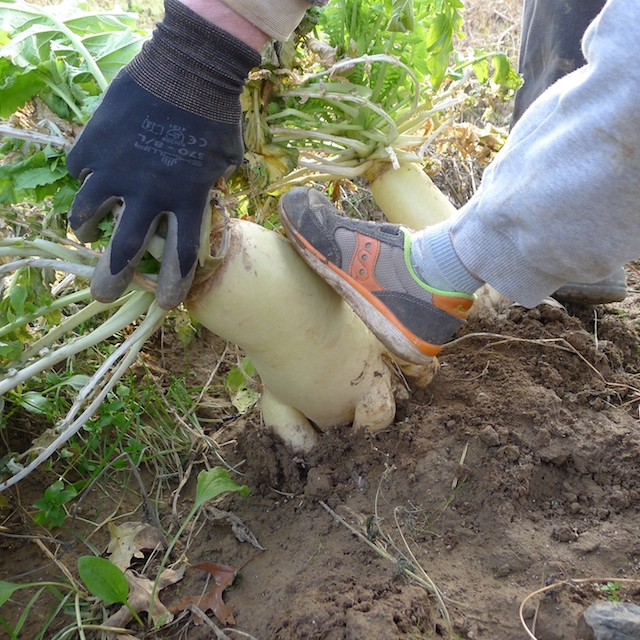 That's a cover crop daikon radish, probably 4 months old and 18 inches long by 6 inches wide. These huge roots scavenge for nutrients, loosen soil, add organic matter, and are impressive and intriguing specimens to behold. Daikons in the pick up room won't be this big.

Here are some ways we've been enjoying our share produce:
Sweet potatoes: chopped into french fry shape, covered with coconut oil and salt, roasted in the oven at 375 for about an hour while simultaneously roasting a chicken*.
Frittata: leeks, kale, sweet potato, cheese*, eggs*, bacon*.
Soup using miscellaneous roots: made a huge pot of chicken stock which then required soup making; chopped sweet potatoes, garlic, onions, kohlrabi, celeriac, radishes, and turnips and cooked until soft; also added a smoked ham hock*, salt, and rosemary.
Lettuce mix: salads and smoothies.
Kale: breakfast smoothies with fennel, frozen strawberries, and dairy kefir; also quesadillas with onions, sausage*, and cheese*.
Cabbage: cut in half, cut out core/stem, put in a baking dish with coconut oil, sprinkled with salt and pepper, baked at 375 for about an hour or until soft.
Sign Up Soon for Anchor Run's Winter CSA
by Dana Hunting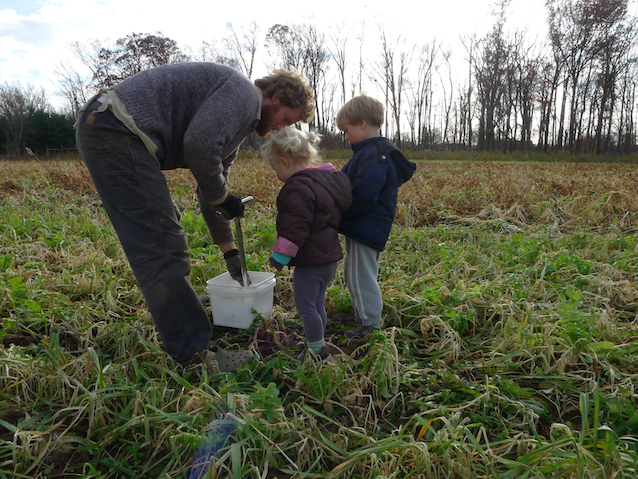 Collecting soil from random locations in Field 1 to mix and send to the lab for analysis to see how it's doing, what it needs, to compare it to the tests from 2009, 2012, 2015, to chart its improvement, and to determine what amendments and fertilizers could be useful. Five samples were sent from different parts of the farm that have been under our care for varying lengths of time and/or have different underlying soil properties.
Produce shares will include: a mix of fresh salad and cooking greens like lettuce mix, arugula, spinach, green and red mizuna, tatsoi, curly kale, baby red russion kale, and claytonia plus green and red cabbage, napa cabbage, potatoes, sweet potatoes, carrots, beets, hakurei turnips, scarlet queen turnips, daikon radishes, watermelon radishes, celeriac, kohlrabi, onions, garlic, and leeks (and some miscellaneous others). Quantities distributed will be similar to Late Fall shares, approximately 10-13 pounds each week (7-10 for Mediums).
Currently the Winter CSA is about 75% full. Our Late Fall CSA has about 100 members picking up each week but we'll cap the Winter CSA at or below 75 members due to our reduced growing footprint.
Log in to the website here. Sign up soon if you're interested, shares are limited!